Social media platforms have taken over the worldwide audience by storm, attaining more than 45% of the global population. With others in their life, that works out to 3.48 billion individuals.
Online users are going crazy about a popular photo and video sharing software. The degree of activity has increased with the addition of Instagram. Instagram models and companies based on Instagram profiles are both commonplace nowadays.
800 million users and billions of dollars in income have been produced by them using a social media mobile app development idea. The incredible features and user-friendly design of Instagram are attributed to its astounding popularity. These features cannot simply be duplicated. The solution must be improved.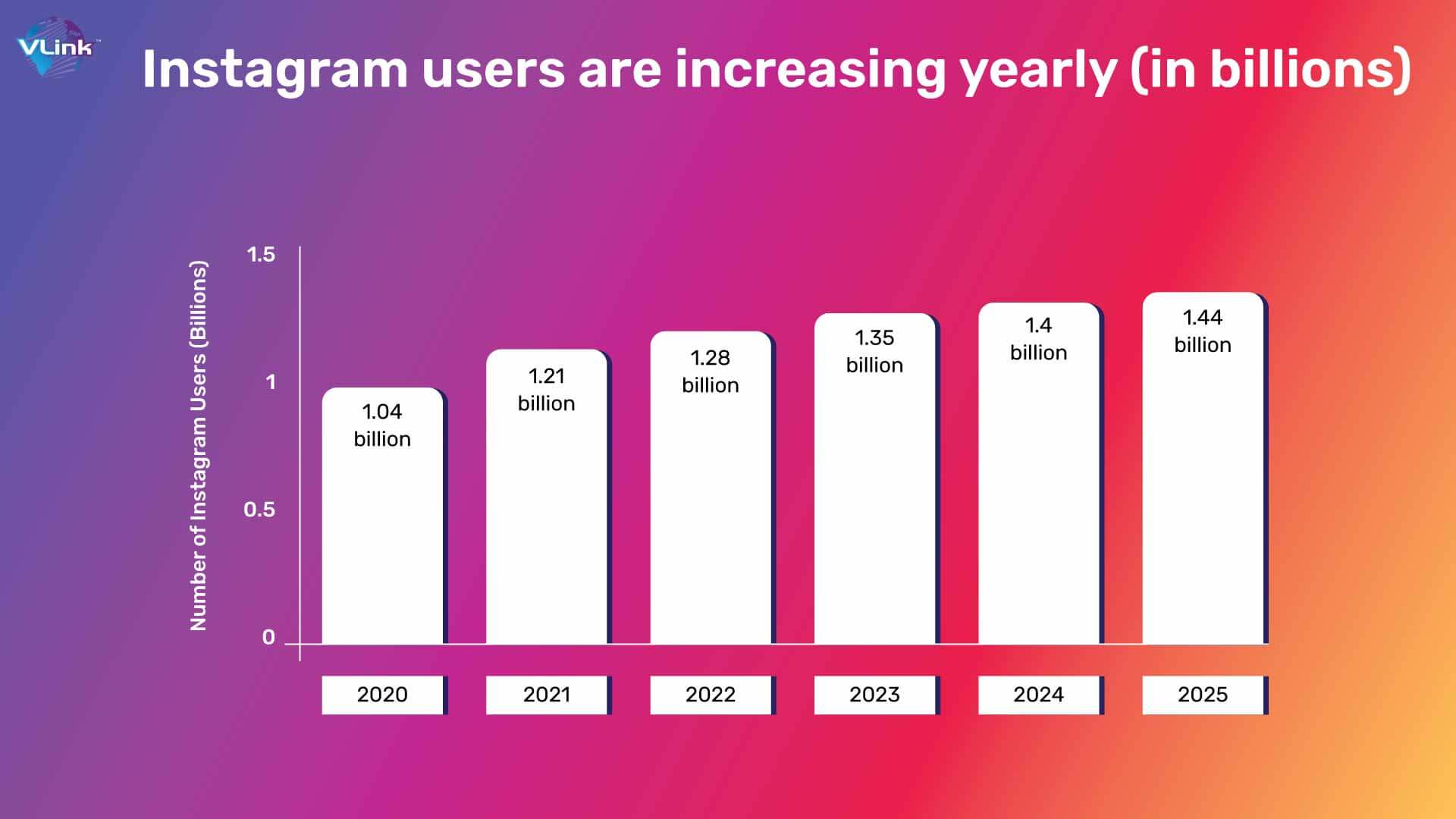 In this guide, we'll discuss all the crucial pointers that will help to build an app like Instagram. Let's begin:
Understanding Instagram in a nutshell
Instagram has effectively evolved over the past several years from a photo-sharing software to one of the most popular social media networks. Today, it encompasses much more with the trending mobile app development technologies. Let's examine Instagram as a photo-sharing app, photo-editing program, messaging service, and online store.
Instagram as a photo-sharing app:
Instagram's main function is picture sharing. You may create an app similar to Instagram by including only this one function in its feature set. Making an app similar to Instagram is feasible, starting with an MVP before expanding it with new features. Here are the features required for this app:
User profile

Uploading and deleting photos

Geolocation

Comments

User tagging

Integration with 3rd party social media
Instagram as a photo-editing app:
Instagram combines photo-sharing and photo-editing functions, as was already established. Users may add filters, alter a photo's size, tweak its brightness or warmth, add text or markings, and more. Within a single application, users may produce eye-catching material. The feature set include for this app:
User profile

Editing features

Filters, frames, stickers, etc.

Text adding/editing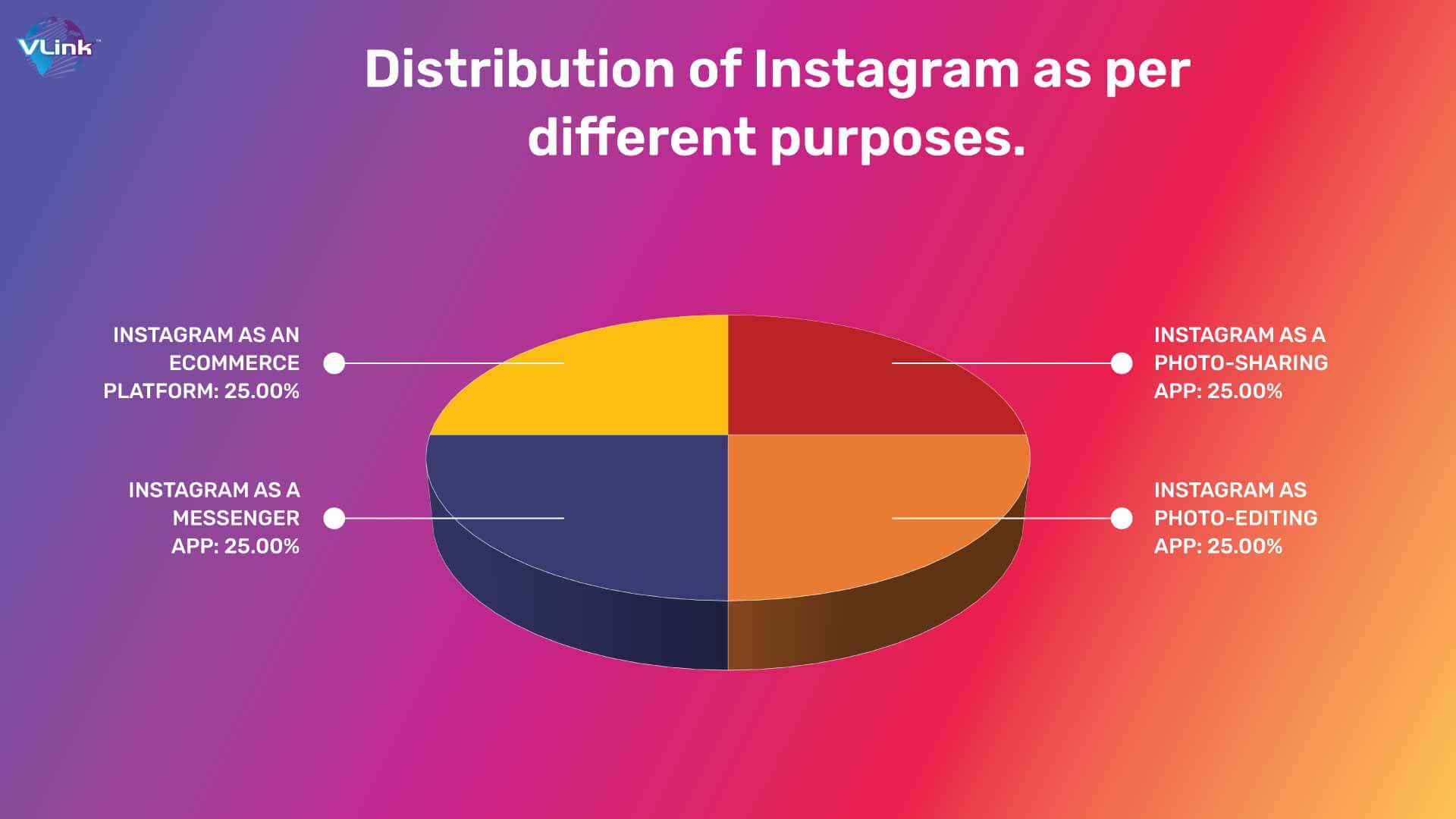 Instagram as a messenger app:
In the modern day, it is difficult to picture Instagram without the integrated messenger. Users may engage and exchange messages, highlights, and responses with this feature. Must-have features would be:
User profile

Text and audio chats

Ability to delete and send messages.

Feature for blocking users
Instagram as an eCommerce platform:
Instagram is always evolving. It evolved from photo-sharing software into much more. Instagram is now used by businesses as a platform for online sales. Approximately 25 million business accounts exist. Retailers may list their goods, advertise and promote them, sell them, and engage with customers.
The minimal number of features would be:
Business profiles

Product listings

Targeted ads

Paid posts

eCommerce analytics tools
Instagram has been around for more than ten years, but it still changes. Instagram Reels, IGTV, and shoppable posts are among the newest features.
Essential features of an app like Instagram
Instagram wouldn't exist without features like feed, authorization, content creation, editing, profile search, social features, and alerts. Here is why:
1- Authorization
To utilize social media, a user must first register an account. They join up using an email address, a different login and password, or other social networking applications. The majority of social networking applications strive to be as accessible as possible, but one stands out.
The user has to obtain an invitation from a friend in order to utilize the chat room software like Clubhouse. The user cannot access it if this is the case. Users found the air of exclusivity to be particularly alluring in 2021.
2- Feed
Users can engage with the information here. The fundamental user experience is embodied by the never-ending scroll of postings. You may create a feed based on suggestions to encourage users to spend more time in an app like Instagram. It takes into account user activity including views, comments, and favorites. The feed displays the kinds of things you'll probably like based on your prior behavior.
3- Content creation
Users can generate their own material in addition to watching that created by others. You may shoot photos and videos with Instagram and post them directly from the app or from your camera roll. To their dismay, the latter was initially inaccessible to users. The authors added library uploads after taking feedback. You must not make the same error they did and permit this to continue.
4- Editing
Users who wish to exhibit their personality and sense of style must learn how to edit their video and photos. With a result preview and customizable parameters, you may use video filters. However, the list of choices shouldn't be very long either. In the absence of it, you run the danger of offering your users too many options.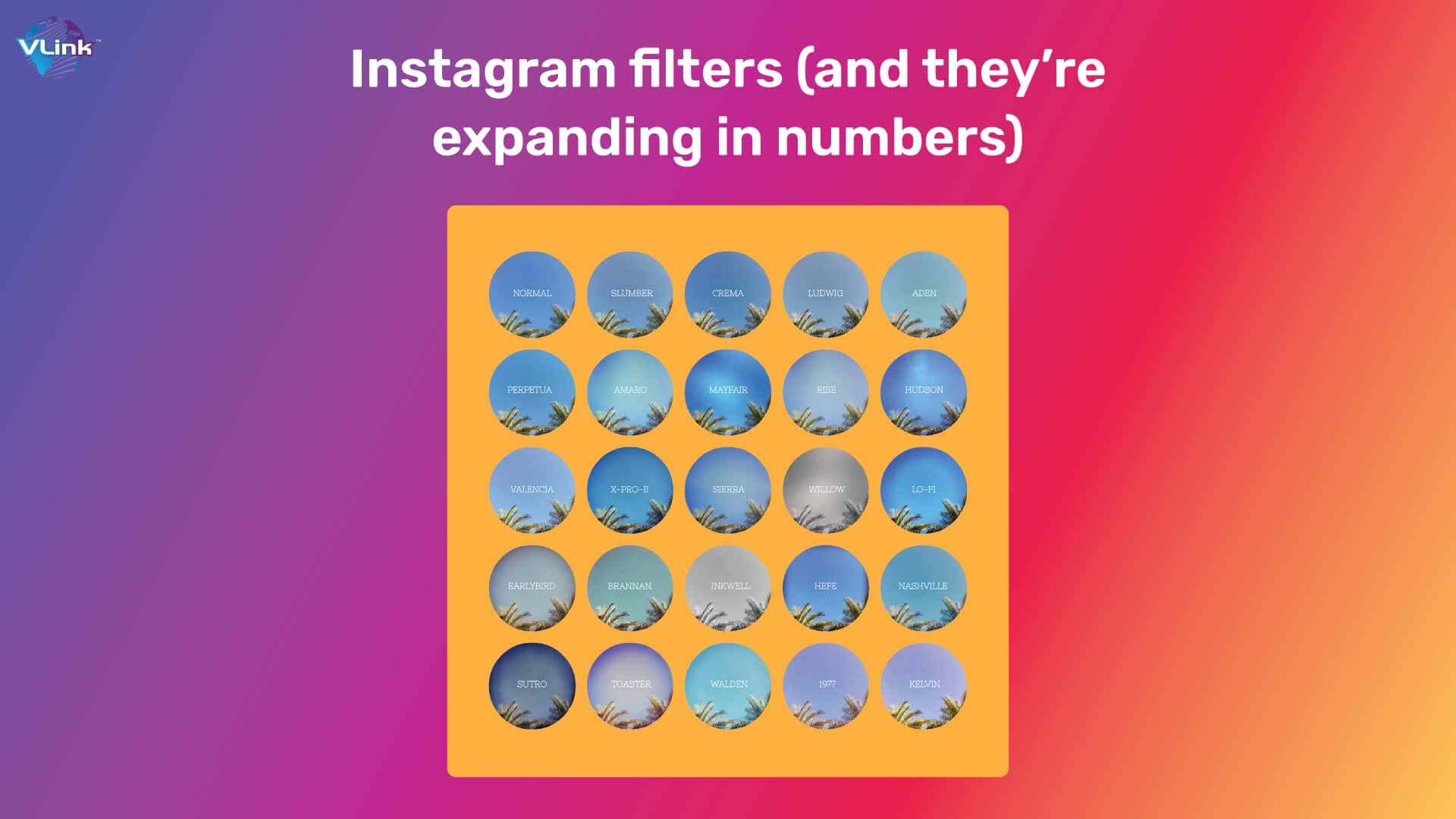 VSCO is a great illustration of simple editing. It's an app similar to Instagram where users can add visual effects, customize settings, and change skin tones.
5- Profile
The profile contains all of the user information and submitted stuff. A user avatar, bio, content stream, and contact button are some fundamentals. The customer should have the option to personalize their profile, but once more, don't go overboard. One's profile screen might end up being their home.
6- Search
Finding friends and learning about new users is made so much easier with this feature. Using a particular hashtag, users may look for posts, accounts, or anything else. Typographical errors by users might hinder them from obtaining their desired results. With search recommendations, it might be lessened, and the user flow made more seamless.
7- Social features
Buttons like share, like and comment are used for interacting with material and sharing it with followers may be found on many photo-sharing applications. Without it, it is difficult for a social networking app to flourish and expand. Make sure the social buttons are easy for the thumb to use throughout the UI/UX design to prevent strain. Because consumers will stay on your app longer if they tap on these buttons more frequently.
8- Notifications
Users are reminded to reply to their friends' remarks. You might also use another call to action to get them to download the app. User retention will rise as a result. Your audience will also find it convenient because they want to check your social media updates promptly.
9- Additional features
The key components of your social media app are complete. There are, nevertheless, a few less commonplace qualities that you might nonetheless take into account. Some of these might provide you with an advantage over competitors as Instagram hasn't yet adopted them all.
10- All-new formats
You can consider a distinctive content style while developing an app like Instagram. You will be highlighted in comparison to rival apps. You could use emotions, constraints, and combinations of novel characteristics to provide a novel experience.
You could add your own unique take on Snapchat-style picture masks, TikTok-style new content challenges, or Clubhouse-style conversation rooms.
11- Direct messages (DMs)
Instagram users started to believe that the comments section is underutilized over time, especially because content sharing is not permitted. Following that, developers added DMs to the app to create a new channel for conversation. You may even include video messages and audio calls.
12- Geolocation
Users may utilize geolocation to discover new locations, extending the app's functionality. It is vital to take into account during development if consumers may manually designate that geolocation if the connection is iffy. Continuous tracking will also be useful for providing location-based content and monitoring friends' whereabouts.
Steps to develop an app like Instagram
1- Conduct a Comprehensive Market Research
To start your app development adventure off properly, you must first comprehend the idea behind social media and photo-sharing applications. Start your trip by conducting thorough market research as a result.
The analysis of the market for related applications is the primary objective here. Consider these inquiries as you get started with your investigation. a distinctive idea in addition to your target market and the kind of platforms. Answers to the "Why," "When," and "How" questions will help you learn how to customize your app to your users' preferences.
2- Perform a Competitor Analysis
The next stage in creating an app similar to Instagram is to do a competitive study of similar applications. Your rivals are very important, and you may accurately identify their apps by doing an in-depth competition study.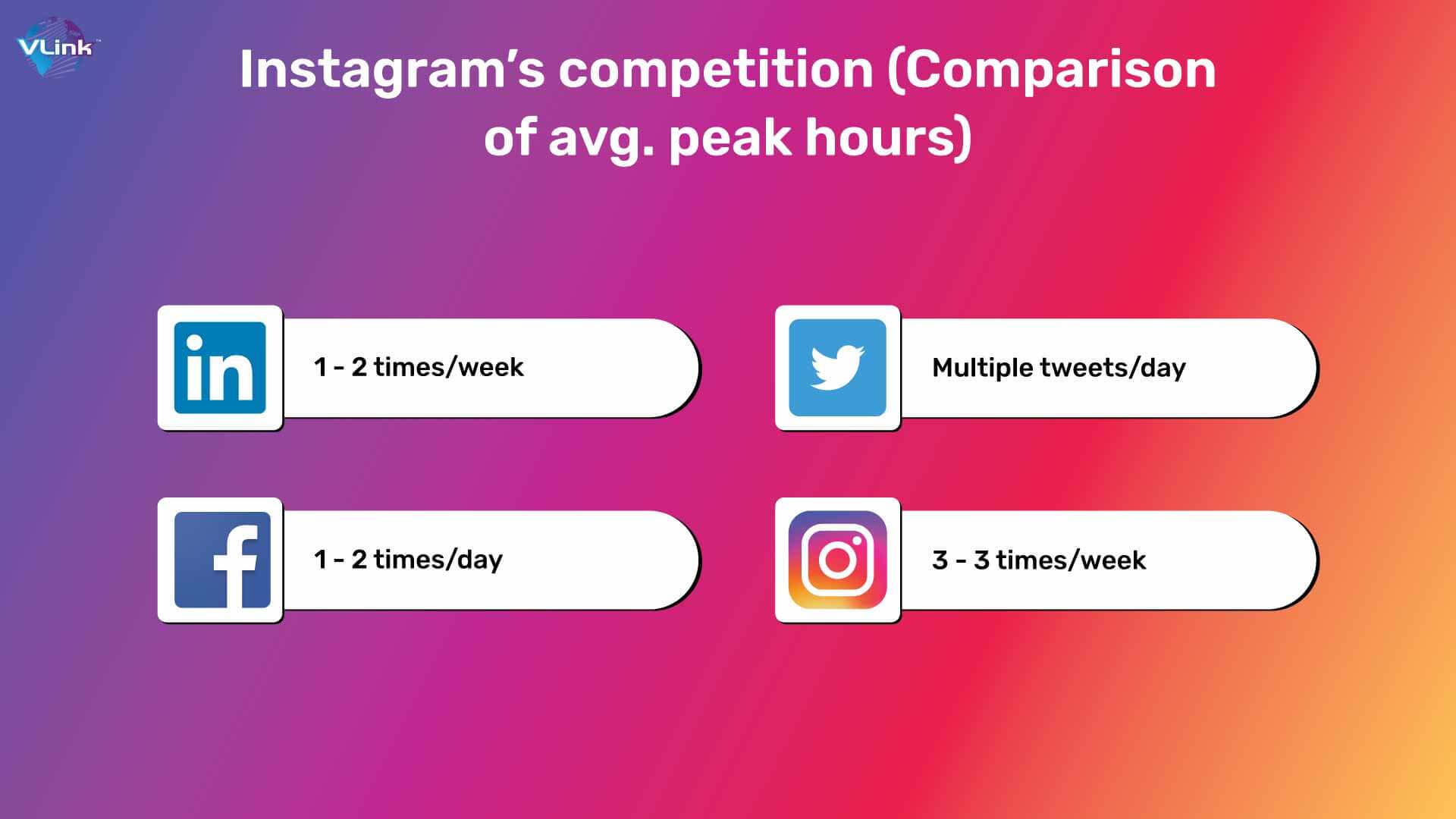 You'll be able to decide what should and shouldn't be in your app once you've learned about the advantages, disadvantages, and monetization strategies. No matter how complex your software is, you won't be able to compete in competitive marketplaces without a committed target audience.
3- Validating Your App Idea
The process of developing a new app may be exciting yet uncertain. You can never be completely certain of your intended audience's reaction. Asking your potential users for feedback is a good way to boost the chances for your software.
Ask them how to develop a version of Instagram that they would actually like using. You may immediately interact with your target audience, hold polls, and ask questions to achieve that goal. or a connected activity of any kind.
It will be easier to design a unique selling proposition (USP) for social media app development like Instagram once you have gathered their thoughts.
4- Craft an Appealing App Design
When delving into app design, you're essentially dealing with two critical factors.
The user experience, or UX, describes the user's journey across your application's displays and how they interact with it. Any successful app is built on a smooth, simple UX.
User Interface (UI) is another important component of your app since it not only complements but also improves the functioning of the app. In the end, everything comes down to what people see and engage with.
It is crucial to stay current with app design trends. Learn about Apple's Human Interface Guidelines and Google's Material Design Guidelines before adapting your design for both iOS and Android devices.
5- Choose the Best Technology Stack
The success of your project greatly depends on your decision on the optimum technological stack. Here is a brief overview of the technologies you should use while developing an Instagram-like app.
Frontend development: JavaScript & React.Js
Frameworks: React Native for cross-platform app development (Android as well as iOS)
Server-side: Python/Django
Database: PostgreSQL
Cloud: Amazon S3, Amazon EBS, and Amazon EC2
For administering an app like Instagram, this dynamic pair offers a strong backend framework. The user-friendly interactive and responsive user interfaces are woven together by these technologies. These technologies are mostly used to create apps like Instagram.
a flexible architecture that enables you to connect with the two main mobile platforms. It provides the scalability and effectiveness needed to manage large amounts of data with ease.
The high-performance cloud computing capabilities provided by AWS are crucial for managing enormous data volumes. Overall, the success of developing an app like Instagram greatly depends on selecting the appropriate technological stack.
6- Define & implement feature set
Choosing the feature set for an app like Instagram is a vital next step in the development process. Think about the features that will make your app stand out and appeal to your target market. An app's features may make or break it, so selecting them carefully is crucial.
Make adjustments to your feature set to meet the unique requirements and preferences of your users. Remember that originality is essential while using Instagram's feature set as inspiration. Consider the distinctive aspects you might utilize to draw in consumers and maintain their interest.
In order to create an app similar to Instagram, carefully select your feature set and make sure it perfectly matches the needs and expectations of your consumers.
7- Development & QA
When you're ready to start developing an app similar to Instagram, it's time to do so. Considering starting with iOS or Android? Your market research findings are crucial at this point.
In other words, start with the platform that appeals to your target consumers the most. The development phase progresses via many phases:
During this phase, programmers build code bases and include APIs, SDKs, and outside products.
In this stage, thorough testing is carried out to defend against errors and faults that can harm user experiences.
8- Choose Monetization Strategy
Instagram's success isn't just due to its alluring features; it also has to do with how it makes money. Your app's trajectory may be influenced by your monetization tactics.
There are many other ways to make money, including in-app advertising, premium memberships, and even e-commerce interfaces. Choose a plan that will enable long-term development and sustainability for your app.
9- Deployment & launch
When your app is prepared to launch, keep in mind that this is far from the end of the process. You must decide on revenue plans, establish launch methods, and consider post-development services. Additionally, get in touch with any mobile app development business, such as VLink, to help you with post-development services.
What will be the cost to develop a social media app like Instagram?
Taking the real-time impacts seriously, there isn't a specific website or portal that mentions the exact mobile app development cost. However, depending on a number of variables, the costs associated with developing an Instagram-like software might vary greatly.
Consider its complexity and sophistication, the features and functions it contains, the development team you choose, and other factors. A social networking app like Instagram typically costs between $50,000 and $250,000 to design, and sometimes considerably more.
The total cost depends on how many distinctive characteristics are needed. Additionally, it relies on the complexity of UI and UX design. It also relies on the location you pick to outsource the development of the app.
For instance, app development services in the USA may cost over $100/hour, or you may get services of the same caliber and level of technical skill in Europe for about $35/hour.
Here is a rough estimation of cost distribution for social media app development like Instagram. Have a look: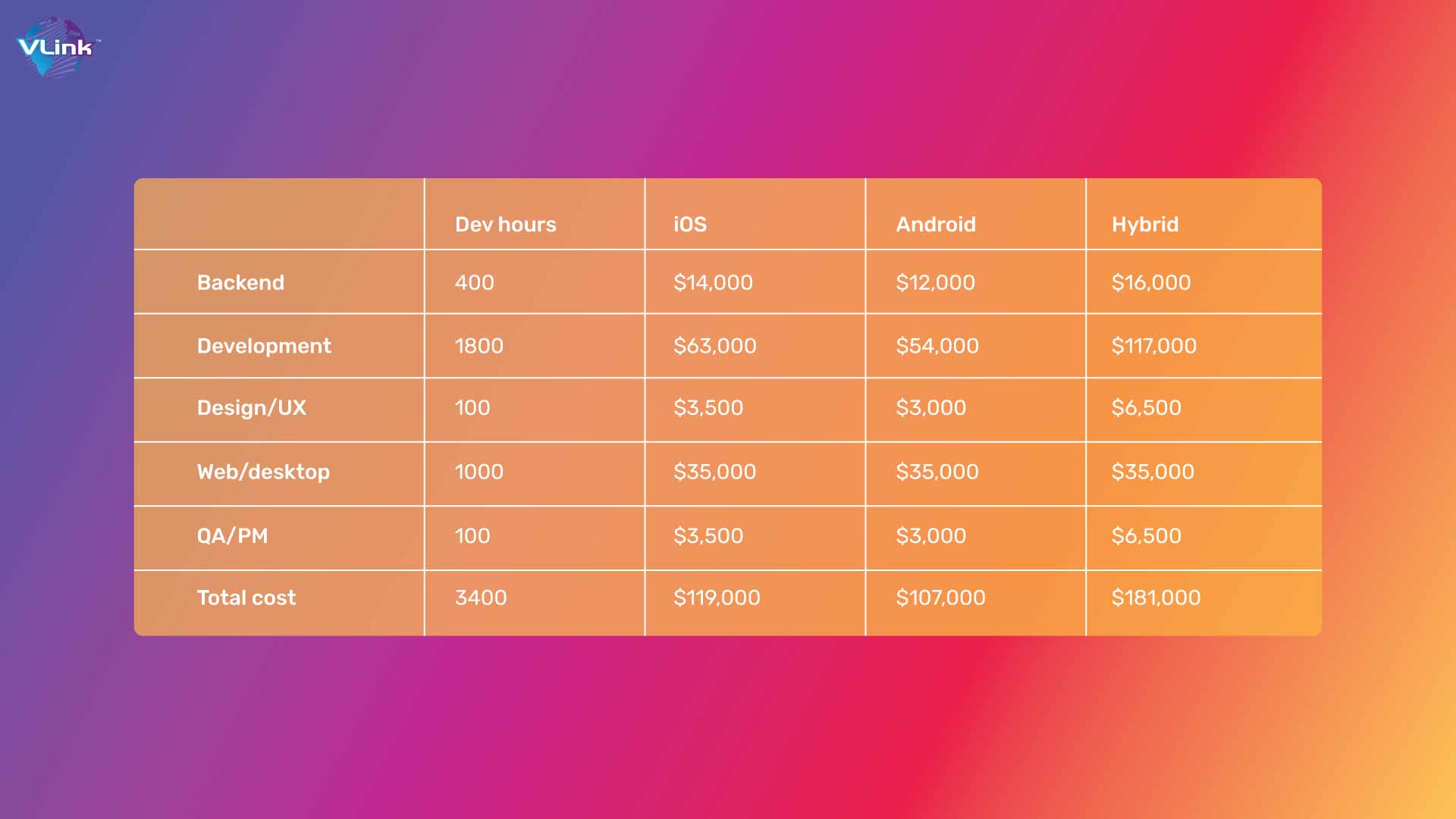 If you need to get an idea of how much social media app development costs, then feel free to consult with our experts.

How VLink can help in building a social media app like Instagram?
Starting the process of developing a social networking app is like entering a world of limitless opportunities of connecting digital with people across the globe. Understanding the subtleties of social media and creating one for your target audience is crucial in today's digital world, as online interactions have become an integral part of our daily routines.
You must collaborate with a reputable social media app development company, such as VLink, to establish a social media app. We can be your go-to tech partner to turn your creative ideas into ground-breaking reality because of our unmatched knowledge across all key mobile platforms, including Android and iOS.