Almost 4.9 billion people use social media platforms in 2023, reaching 5.85 billion by 2027. 45% of the world's population loves to spend their free time on social media platforms.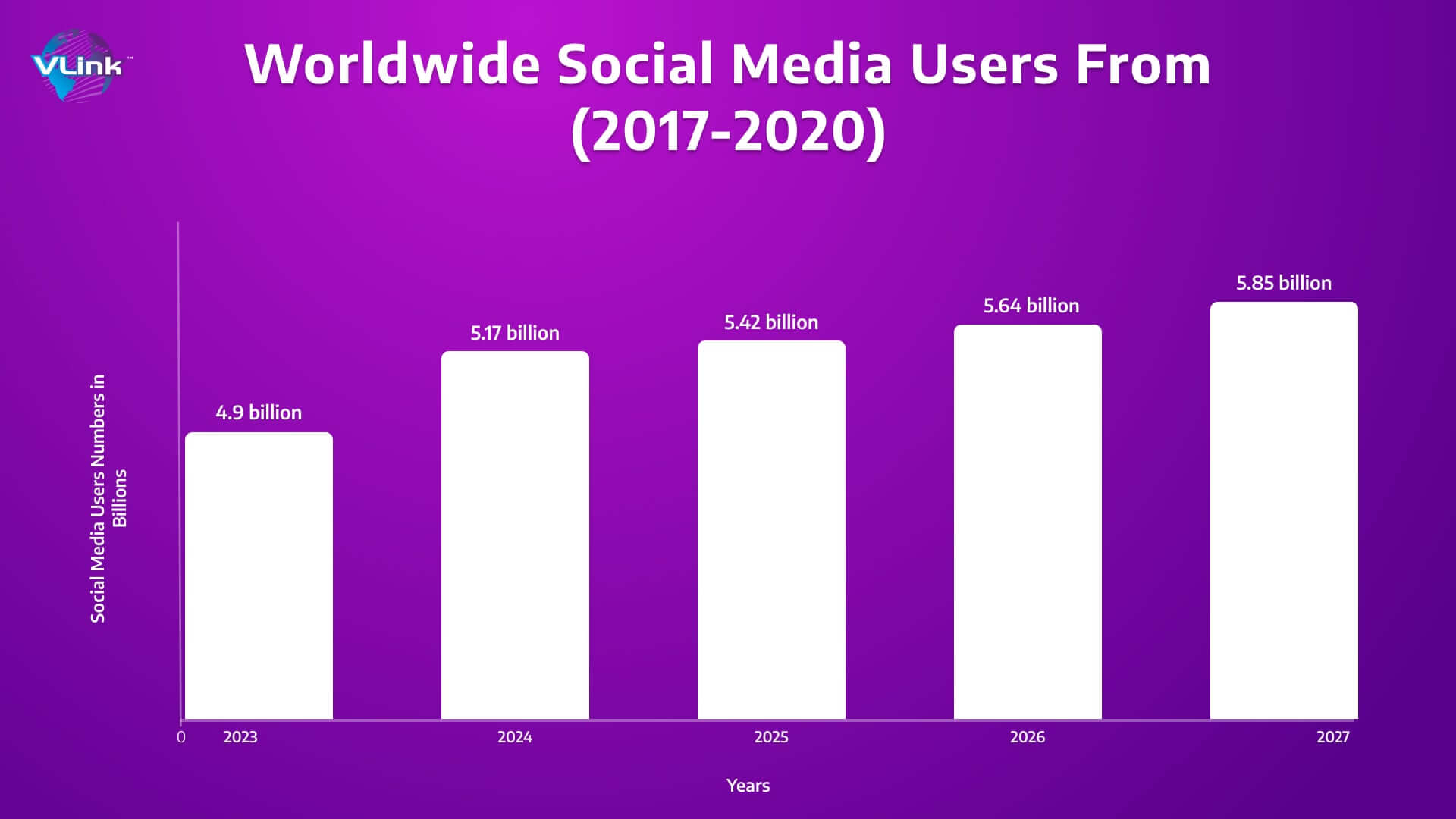 Video-sharing apps are gaining tremendous popularity today. And TikTok has become one of the most popular social media apps worldwide, reaching $18.04bn TikTok's global revenue in 2023.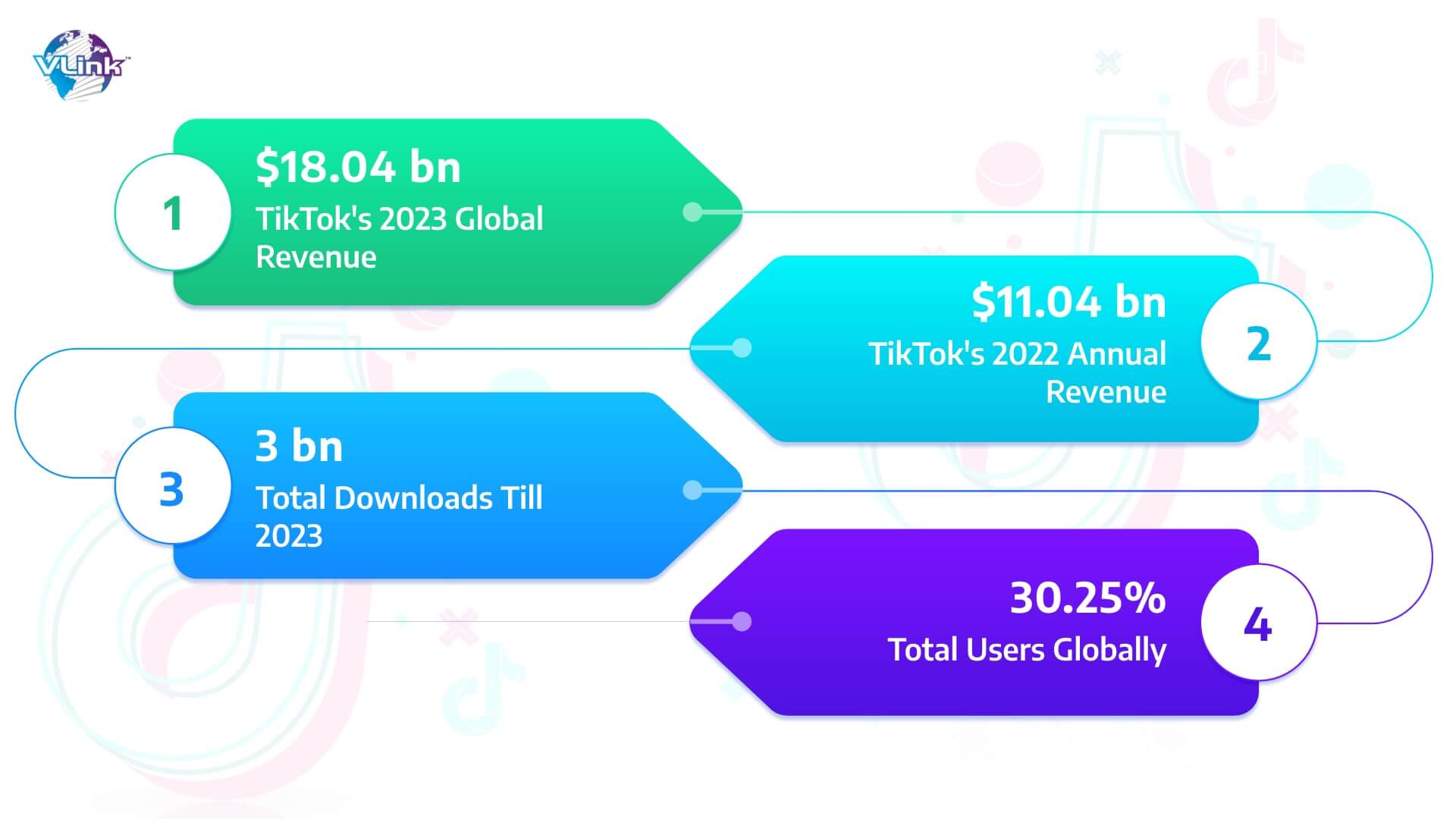 TikTok's unexpected but stunning success pushed many business owners to create a TikTok clone app. If you are one of them, this blog is helpful.
This comprehensive guide will help you with TikTok-like social media app development, such as features, tech stacks, and cost estimation.
So, let's get started!
Why Should You Invest in TikTok Like Social Media App Development?
Investing in TikTok-like social media mobile app development service can be a potentially lucrative opportunity for various reasons:
The rapidly growing user base

Monetization options

Global reach

Niche communities

User interaction

Higher revenue
In Q4 2022, TikTok generated $350 million in revenue, easily outperforming - to the tune of $250 million - Facebook, Instagram, Twitter, and Snapchat combined. The TikTok clone app is the right choice for business owners who want to begin startups with social media apps.

Facts to Know Before Creating an App Like TikTok
Here are some facts & stats from Frobes you need to know before starting TikTok social media app development project:
77% of businesses use social media to reach customers

The social media advertising US market is expected to reach $207 bn in 2023

39% of social media users report that they are addicted to social media

The social media advertising market is expected to reach $207 billion in 2023

TikTok had 1.4 bn monthly active users in 2022 and is predicted to reach 1.8 bn by 2023
Must-Have Features of Social Media App Development Like TikTok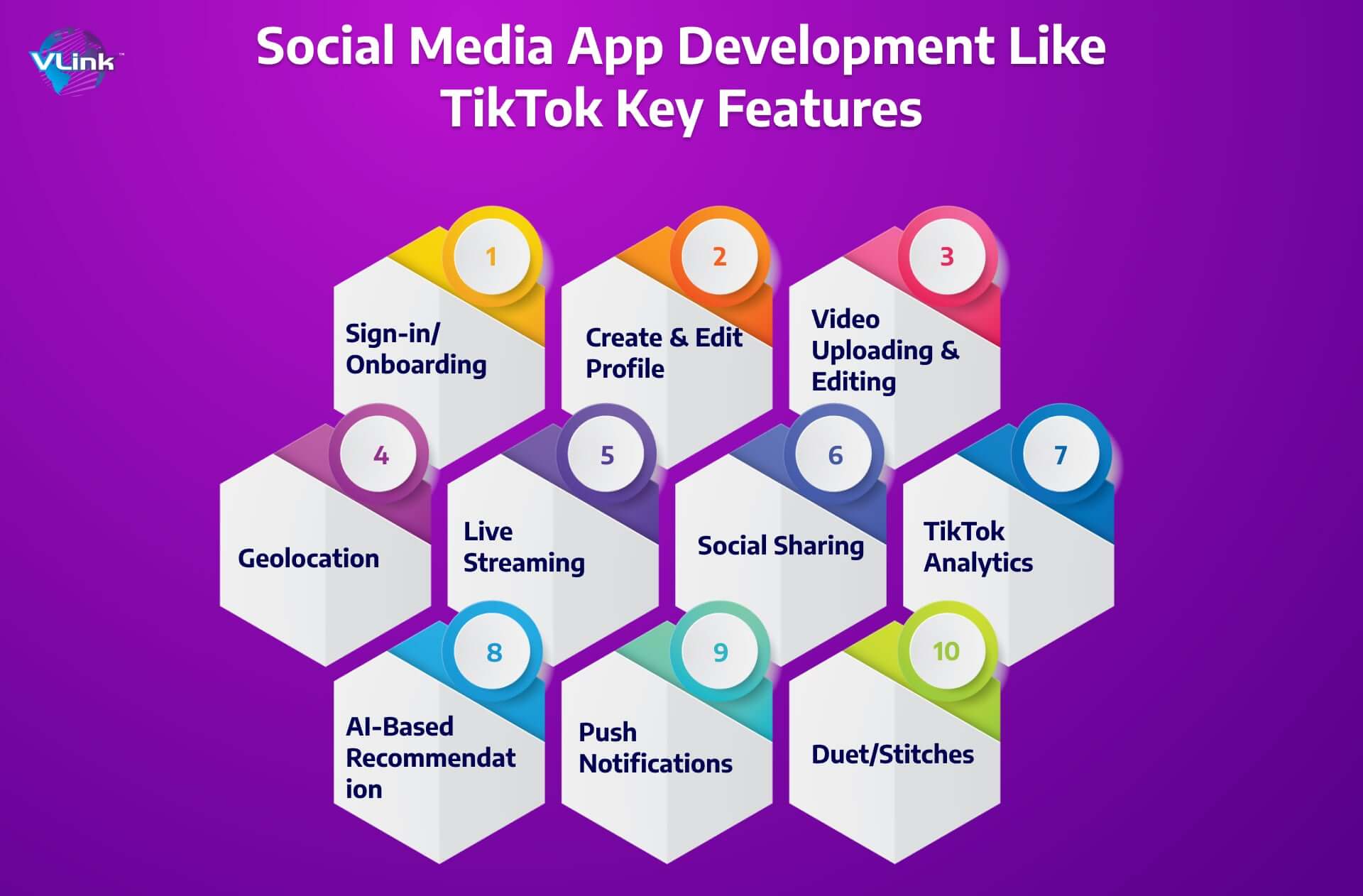 Sign-in/Onboarding
Keep your authorization page concise and intuitive by asking for only relevant information for a seamless sign-in/onboarding experience. You can contain basic user information, authorization details, password setup, and password recovery options.
Create & Edit Profile
This feature allows users to create & update their profile for a seamless user experience. They can contact TikTok audiences with profile updates and select the desired content types.
Video Uploading & Editing
With online video editing tools, TikTokers can upload ready-made or direct video content. Even they can modify the video style and give a personalized feel to your video content.
Geolocation
Through geolocation, TikTok facilitates the creation of live, location-specific content in real-time. This functionality allows users to receive notifications when TikTok influencers they are familiar with are nearby.
Live Streaming
Live streaming lets social media app users connect with their followers. Many content creators, celebrities, and social media influencers host live sessions to interact with their followers.
Social Sharing
In addition to displaying links to other social media accounts on your TikTok profile, you can distribute your video content across various social media platforms. This roster encompasses WhatsApp, Instagram, Facebook, and more applications.
TikTok Analytics
TikTok analytics is a suitable feature for businesses and influencers looking to grow their audience. You just need to convert your profile to a business account. It helps users to check the most famous content so that they can create better content.
AI-Based Recommendation
You can also browse and explore several TikTok videos even if you haven't subscribed. Based on the content type you frequently see; the app suggests your most viewed and liked videos through its artificial intelligence and machine learning systems.
Push Notifications
TikTok users can get timely updates thanks to its push notification feature. You can add push notification features via:
Firebase Cloud Messaging solution (Android)

Apple Push Notifications service (iOS)
TikTok also provides settings for selecting the frequency and notifications.
For instance, you can ruin all other notifications except live videos recommendation. It
makes the app more audience-oriented and helps to enhance the user experience.
Duet/Stitches
Duet is another exciting feature that promotes collaboration between TikTok users.
Key Steps to Make an App Like TikTok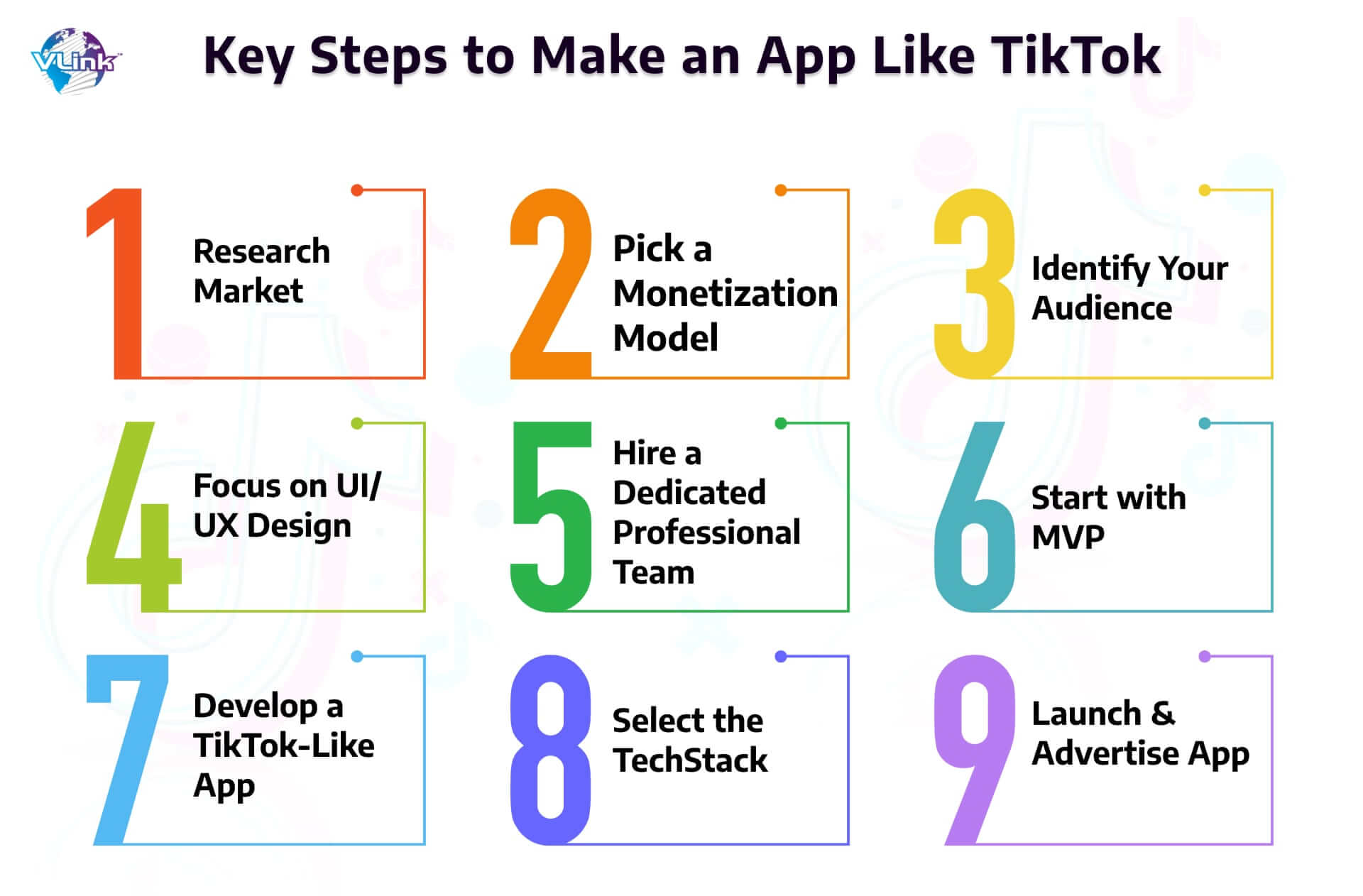 Step #1 - Research Market
Understand your audience when you want to create any social media app but don't know where to start. As a result, you'll get a clear idea about market dynamics, competitors, trends, and marketing strategies.
To further understand your audience, you can research to gather valuable insights. This information can guide your candidates in building an app similar to TikTok.
Demographics Profile

Behavioral Trends
Step #2 - Pick a Monetization Model
If you choose your potential users, decide on a future business strategy for great TikTok alternatives. Here are a few monetization models to help you create an app like TikTok:
In-app purchases

Advertising

Cost/Click

Cost/Mile

Cost/Action

Fundraising
Step #3 - Identify Your Audience
Now, it's time to know your audience.
For instance, TikTok has an audience originating from over 150 distinct countries, surrounding speakers of over 75 languages. However, covering such a broad audience at the app development's initial stage is challenging.
It would be better if you segmented your target audience.
For example, TikTok was initially launched in China only and then started expanding its audience.
Step #4 - Focus on UI/UX Design
In this era, where the first look and user's requirements matter most, you can't take a chance to avoid your app design's importance. The mobile app design process is vital in making and breaking your application.
So, identify the latest mobile app development trends in the app design and consider them for your social media app. Users neglected complicated and outdated designs.
Step #5 - Hire a Dedicated Professional Team
The dream of a successful social media app development without experts is quite impossible. Hire experienced developers who are well-versed in the latest market strategies is recommended. Ensure they know the user's journey and are great at delivering a successful project.
The professional team required for TikTok clone app development is:
Frontend Developer

Backend Developers

UI/UX Designer

QA Engineer
You can hire an in-house developer or outsource the development team per your fixed time and budget. Experts recommend you outsource your TikTok-like app development to save time and money.
Step #6 - Start with MVP
An MVP (Minimum Viable Product) is a functional version of a product that allows business owners to test the idea and gather customers' feedback. It keeps entrepreneurs from investing their entire startup budget into a product that might never become known to users or make it to the market.
With MVP, you may test your concept in less time and at a lower cost with fewer risks.
Step #7 - Develop a TikTok-Like App
Now, it's time to involve the software development team to assist you in building your TikTok clone. Initially, they outline requirements and timeframes to generate the app's essential functions. In this stage, developers provide tech stack, cost estimation, project deployment, and future updates.
Step #8 - Select the TechStack
A robust technology stack helps to build a world-class social media app like TikTok. Below are some required tech stacks for TikTok clone app development.
Web Hosting

Google Cloud, AWS, Digital Ocean

Database Management

MongoDB, SQL, MySQL

Programming Languages

Kotlin, Flutter, Java (Android), Swift, Objective-C (iOS), Xamarian, React Native (Hybrid)

Backend Programming Languages

Node.js

Analytics

Azure Stream Analytics, MixPanel, Google Mobile App Analytics

Notifications

Google Cloud Messaging, Apple Push Notifications

AR Filters Face Detection & Recognition

ML Kit, ARCore

Storage

Amazon S3, Azure Server

Geolocation

Google Map API for Android and MapKit/Core location framework for iOS

Chat

Socket.io, Twilio
Step #9 - Launch & Advertise App
As an element of a proactive marketing strategy, it's advisable to pre-plan the design of your app to ensure your target audience is informed about it. Consider embracing established advertising methods or enlisting the expertise of a marketing professional.
Several conventional techniques to promote your mobile app encompass running paid advertisements, partnering with bloggers and influencers on social media, and enhancing visibility on platforms like Google Play and the Apple Store.
How Much Does It Cost to Build a Social Media App Like TikTok?
TikTok app development cost relies on several factors like functionality, platform, complexity level, etc. It's pretty challenging to get the answer to the question, "How much does it cost to build an app like TikTok?"
The average price to build an app like TikTok may vary between $50,000-$100,000.
Build A Successful Social Media App Like TikTok With VLink!
VLink is a professional social media app development company. For over 13 years, we have been helping startups, SMBs, and established businesses get new technologies that boost their performance and help them reach new heights.
Our flexible social network cost approach allows all businesses to get the software.
Here are some reasons why you should choose VLink as your partner:
13+ years of expertise in the IT industry

Full-cycle software development services

Expertise development team

A great experience in integration into social media networks

FAQs
Frequently Asked Questions
How to ensure user privacy and security in your TikTok-like app?
To ensure user privacy and security in your TikTok-like app, implement robust data encryption, secure authentication methods, regular security audits, and precise privacy policies. Obtain user consent for data collection, offer granular privacy controls, and promptly address security vulnerabilities.
What challenges can you face when building a TikTok clone app?
When building a TikTok clone app, challenges may include:
Designing a user-friendly interface.

Implementing complex video recording and playback features.

Ensuring seamless video streaming.

Handling a large user base.

Addressing copyright and content moderation issues.

Maintaining data privacy and security standards while complying with legal regulations.
How TikTok, like a social media app, will help your business?
A TikTok-like social media app can benefit your business by enhancing brand visibility through engaging short videos, reaching a younger and broader audience, fostering user-generated content, and enabling creative marketing campaigns to boost brand recognition and engagement.