It is no secret that the stock market is one of the most promising strategies for earning wealth in every situation, no matter the crises, pandemics, and revolutions. But, making money on stock trading without any knowledge or experience is a very challenging task. Fortunately, with the integration of AI into stock trading apps, the dream is becoming a reality.
The North America Artificial Intelligence (AI) in Stock Trading Market is projected to grow at a CAGR of more than 50% during the forecast period, i.e., 2023-28.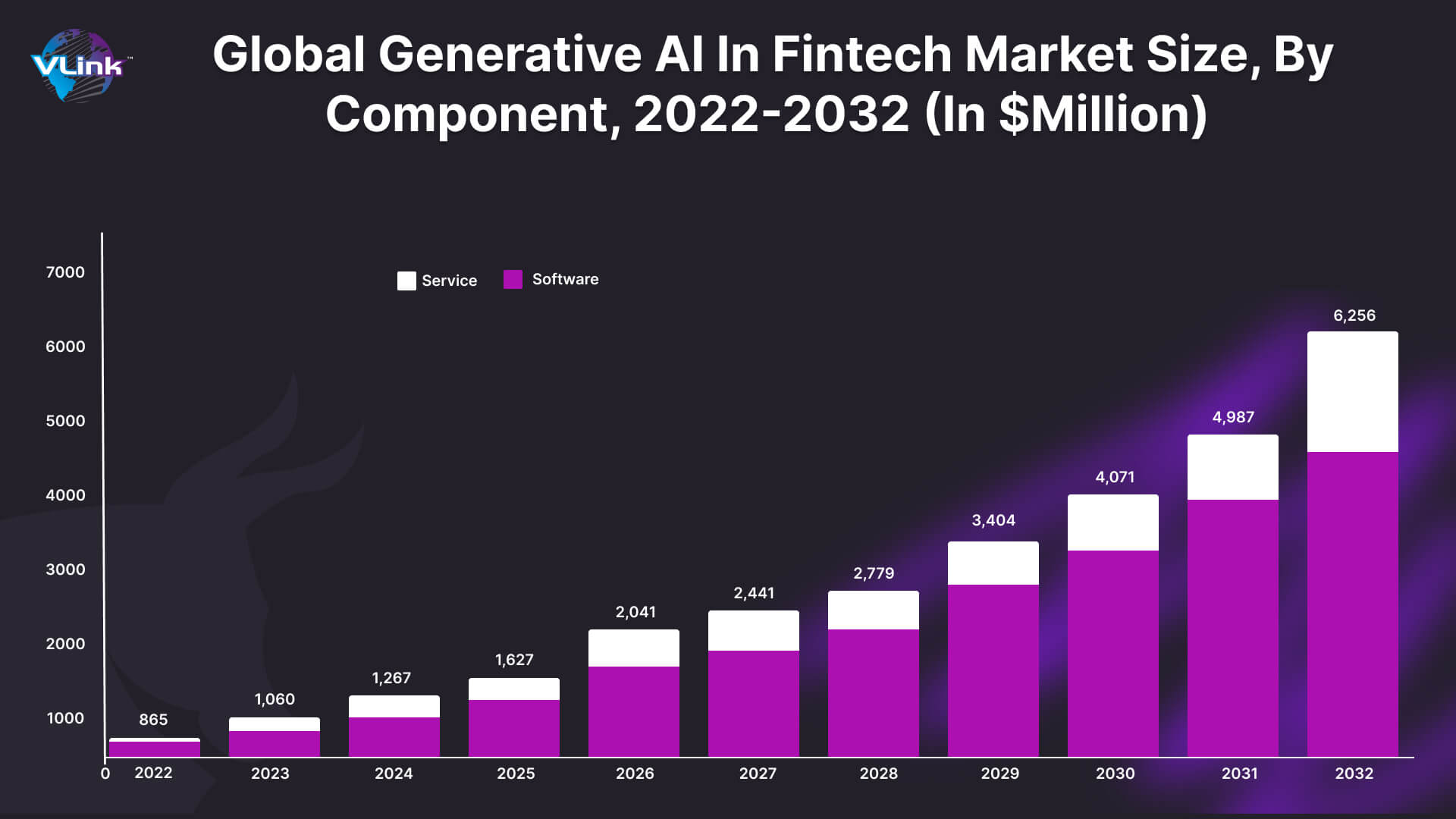 So, if you plan to integrate AI into the stock trading app, this blog will help you understand the approaches, challenges, and use cases.
Let's first start with its brief introduction!
What is an AI-Powered Stock Trading App?
AI stock trading app uses machine learning, sentiment analysis, and complex algorithmic predictions to understand complex and dynamic stock market activity, data processing, and data classification. It also helps to identify millions of data points and execute trades at great prices.
Artificial Intelligence traders also analyze forecast markets accurately and efficiently to mitigate risks and provide higher ROI.
Here are several types of AI stock trading apps:
Quantitative trading

Algorithmic trading

High-frequency trading

Automated trading
Why Should You Integrate AI into Your Stock Trading App?
Here are several reasons why you should AI integration in business processes for your stock trading app development: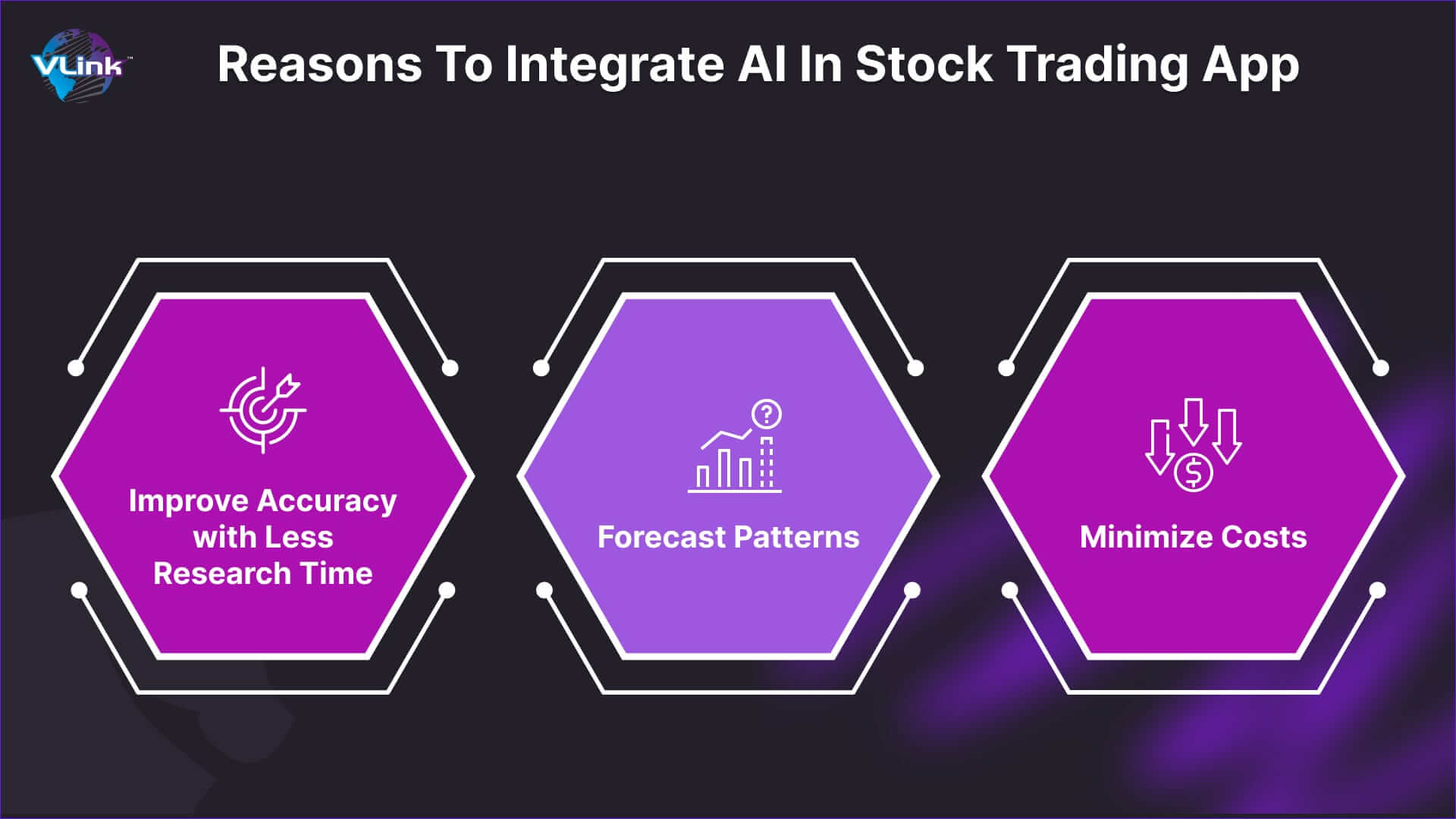 With AI-powered algorithms in their trade executions, investors may efficiently save time. They can also manage their transactions, give customers professional advice, quickly automate research procedures, and utilize data-driven strategies.
According to recent research, algorithmic approaches boost productivity by as much as 10%.
What else? Past financial data improves the quality of advice, thus increasing both accuracy levels while lowering the possibility of mistakes that can occur during trade executions owing to human participation.
With sentiment analysis integration, AI-powered stock trading can gather different textual and linguistic data to analyze patterns depending on objective material. Artificial Intelligence solutions in stock trading systems can determine distinctive market swings and fluctuations by identifying and inspecting news outlets and social media platforms.

Implementing advanced technology like AI in stock trading apps can automate some activities that may be repetitive for their human workforce.
Although there could be short-term financial ramifications for adopting this new system and paying for its upkeep, businesses, and investors can save a lot of money by using it.
The benefit of AI algorithms is that they are configured to operate constantly without taking pauses, enabling continual 24/7 stock market monitoring and being long-term cost-effective.
Top 5 popular AI-enabled stock trading apps in the United States
Here, we have the top 5 AI stock trading apps revolutionizing the worldwide market.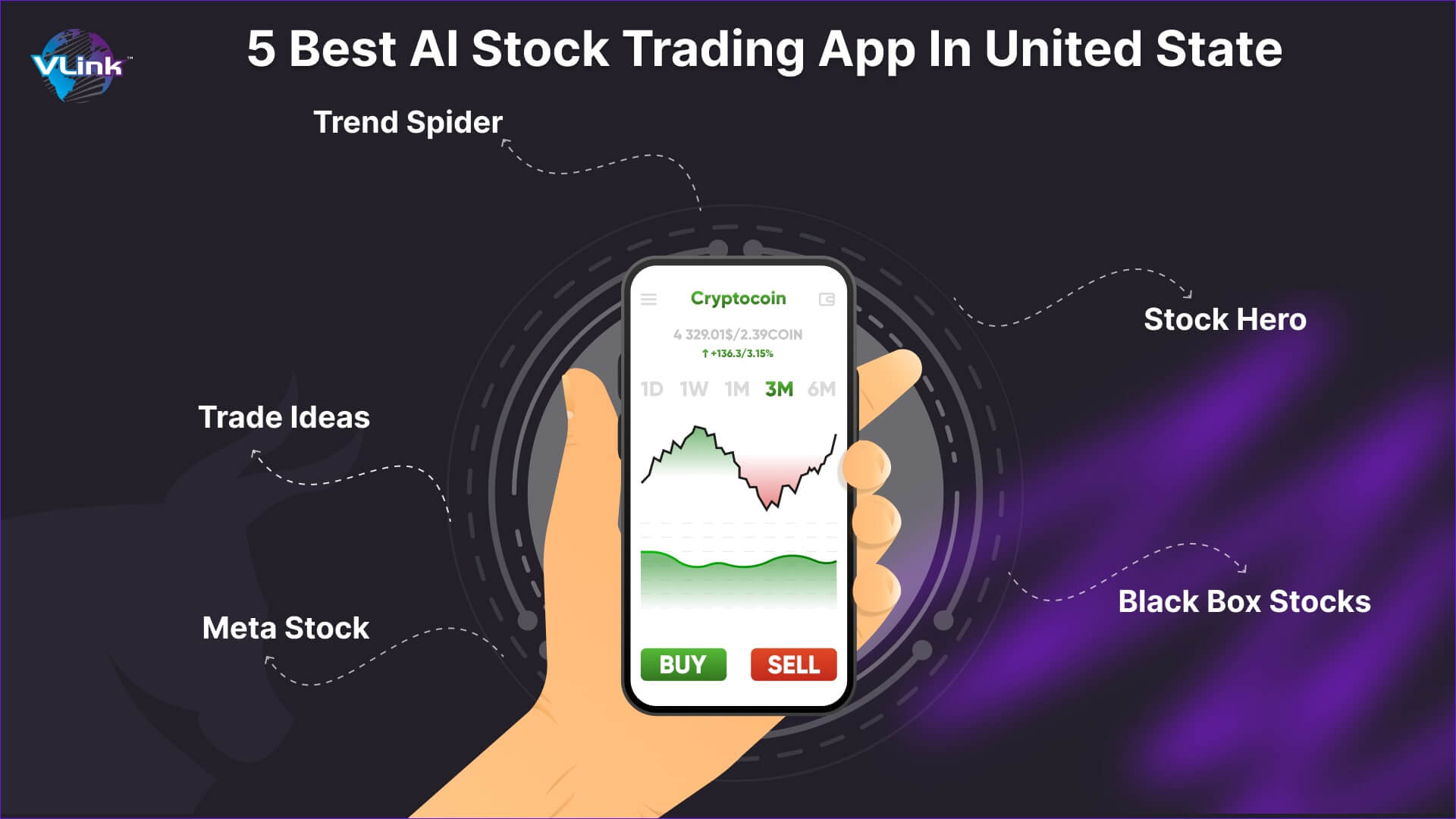 MetaStock helps investors identify several stock markets. This software uses technical analysis to systematically determine the best securities to invest in. With it, you can make and view charts for stocks, indices, bonds, currencies, etc.
MetaStock Features:
Backtests trading strategies

Forecasts future stock costs as per previous events

Provides 150+ indicators to analyze trading trends

Offers expert advice on trading charts depending on popular trading strategies

Tracks different options for plot risk and sentiment
MetaStock Pros & Cons:
Pros:
You can create QuoteLists with up to 600 symbols.

It supports intraday trading.
Cons:
It requires a lot of time to know about software.
Trade Ideas is an AI trading platform that helps traders to identify the stock market and provide recommendations for profitable trading opportunities. In addition, they can scan stocks in real-time, perform trading analyses, analyze market risks, personalize trading strategies, etc.
Features of Trade Ideas:
Builds trading strategies and executes them

Offers real-time stock racing

Operates AI-based investment algorithms to find trading opportunities

Supports simulated trading without any investment
Pros and Cons of Trade Ideas
Pros:
Provides exit signals depending on various risk management
Cons:
No mobile application is available.
TrendSpider is technical analysis software that enables traders to make better informed trading decisions. It offers tools to produce methods, identify trading opportunities, scanning markets, visualizing trading charts, etc.
With this AI trading software, you can also run backtests on various class assets through previous insights.
Features of TrendSpider:
Creates and customizes trading strategies

Generates live trading bots without any coding

Presents various methods directly in charts

Supports 55,000+ liquid tradable instruments

Provides real-time data on crypto, & stocks

Convert backtested processes now into live trading bots code-free
Pros and Cons of TrendSpider
Pros:
Automatically performs technical analysis of market data to find opportunities.

Adds trends and indicators from different timeframes in one chart.
Cons:
You can only use it in a single browser once.
StockHero AI stock trading platform creates automated trading bots for different stocks at your convenience.
The bots are created without code to perform tasks like backtesting strategies, trading stocks, getting recommendations, setting up trading conditions, etc. You can use this platform via web browsers and mobile applications.
StockHero Features:
Offers unlimited backtesting of trading strategies

Trades different stocks through a single click

Provides an aggregate portfolio of bots' performance

Executes both short and long-trading strategies

Integrates with TradingView to let bots buy and sell stocks
StockHero Pros & Cons:
Accessibility of all features.

It lets you rent a trading bot from a marketplace instead of creating one.
Cons:
Features are not suitable for advanced trading.

Offers limited trading indicators for technical analyses

Blackboxstocks provides features for trade execution, analysis, and community chat in a single solution.
This solution can help with scanning stocks to find opportunities, discovering trends in the market, collaborating with traders in the community, checking Opening Range Breakout for supplies, etc.
BlackBoxStocks Features:
Provides a variety of high-quality trading indicators and charting packages

Offers various filters to check specific market data

Trades securities privately with dark pools

Provides Proprietary Volatility Indicator to measure all real-time buy and sell opportunities on stocks.

Offers the Alert Log's Volatility tab for sorting and finding information
Pros & Cons:
In the community, you can easily share your trading strategies, charts, etc..

A multi-chart system to view stocks from different sectors.
Cons:
Beginner traders need help to use this software.
AI Use Cases in Stock Trading App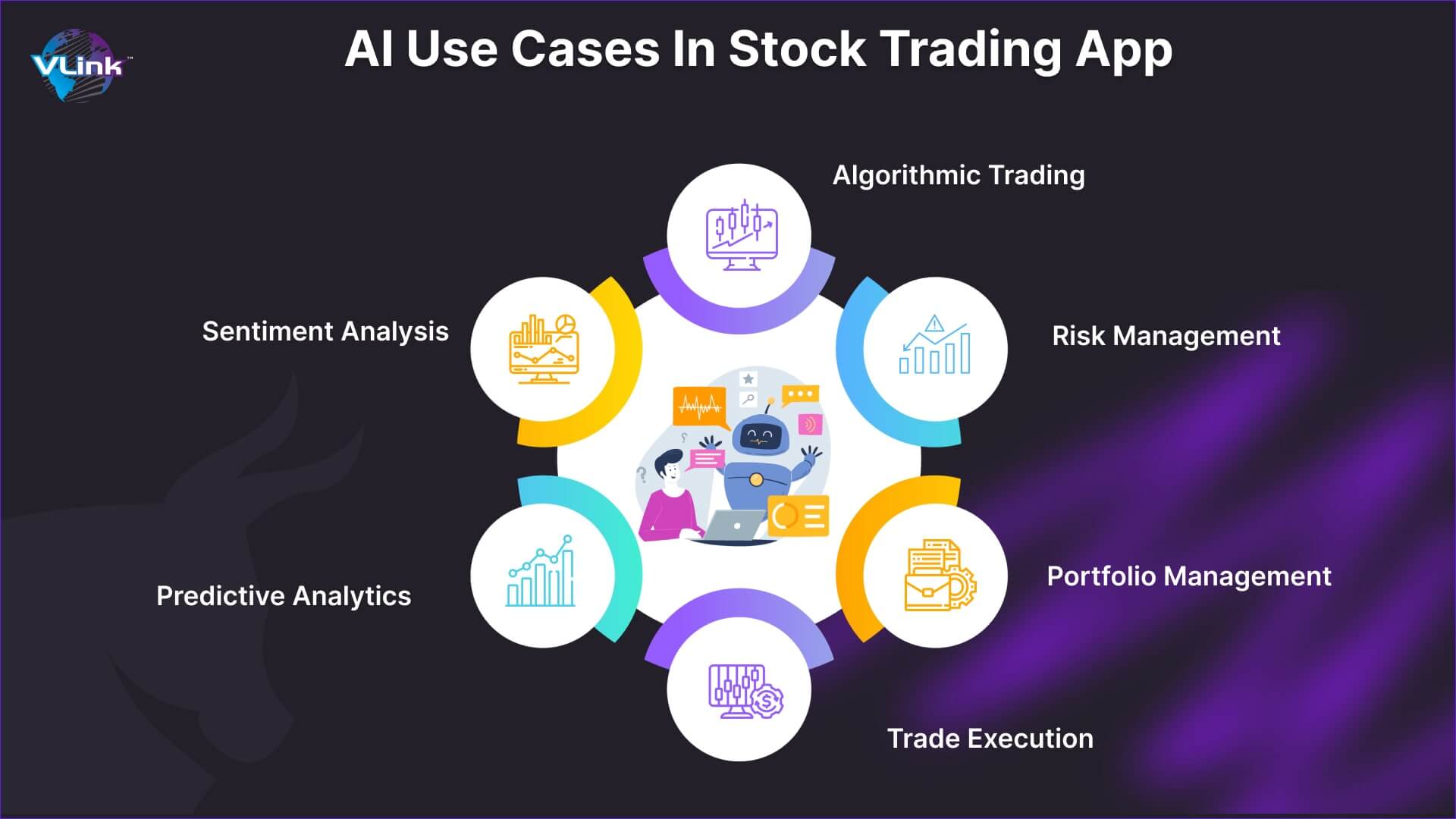 One of the most effective uses of artificial intelligence in stock trading is predictive analytics. The ability of AI systems to swiftly identify patterns that people would miss when studying enormous volumes of historical data allows traders to make more informed and precise investment decisions by using this data to predict future stock values.
Predictive analytics enabled by AI has the potential to significantly improve trading tactics, reduce risks, and increase overall profitability.
AI is helpful in the stock market by performing sentiment analysis. These AI algorithms can gauge public sentiment in real-time by scanning news articles, social media posts, and other information sources to determine sentiment toward specific stocks or the market as a whole.
It gives traders invaluable insight into investor behavior and a deeper understanding of market sentiment and investor behavior, allowing them to make more informed decisions and take advantage of market sentiment.
The use of AI has transformed algorithmic trading. Artificial intelligence (AI) offers traders sophisticated algorithms capable of responding to changing market circumstances and making real-time trading choices. Algorithmic trading employs pre-programmed trading instructions to execute transactions automatically by specific established criteria.
Additionally, these cutting-edge AI-powered systems can analyze enormous volumes of data at speeds that humans cannot match; this automation boosts productivity and reduces mistakes and emotions that come with trading.
Effective risk management in stock trading is crucial to safeguard assets and reduce losses, with artificial intelligence (AI) playing a critical role. AI algorithms have shown to be extremely useful for controlling risks by examining past market volatility, liquidity indicators, and other possible indications to create risk reduction techniques.
Artificial intelligence (AI)--driven risk monitoring systems offer real-time risk monitoring, warning traders of potential hazards and recommending actions they should take to prevent them.
An intricate process requiring in-depth knowledge of both market dynamics and specific equities is portfolio optimization. By evaluating massive volumes of data and making wise suggestions, artificial intelligence can help traders manage their portfolios.
AI algorithms can pinpoint the best asset allocation techniques, assess the performance of particular stocks, and provide recommendations for diversification, assisting traders in making data-driven choices to get the most out of their portfolio investments.
Similarly, AI has transformed how trades are executed in the stock market. Thanks to AI algorithms, traders may now place transactions at the best pricing with the least amount of slippage.
AI-powered trade execution systems examine market liquidity, order book data, and other criteria. This automation saves time and boosts efficiency while lowering transaction costs.
AI Integration into the Stock Trading App
There are several AI technologies, including ChatGPT. So, picking the right one for your trading requirements is essential. Consider data requirements, accuracy, and ease of use to choose the right technology for your stock trading mobile app development services.
Traders can use historical data to train AI algorithms and improve their accuracy. But, it's essential to regularly update the data (used to train algorithms) to ensure they are adapting to new market conditions.
Tracking AI algorithms regularly helps to make sound decisions. With human inspection, you can find any faults or inconsistencies AI algorithms create.
AI can be a powerful tool for the development of stock trading. But it's also a fact that it's not a replacement for human expertise. Merging artificial intelligence with human experience can lead to better trading decisions.
If you want to know how to integrate AI chatbot into your website, read the process!
Challenges to Integrate AI into Stock Trading App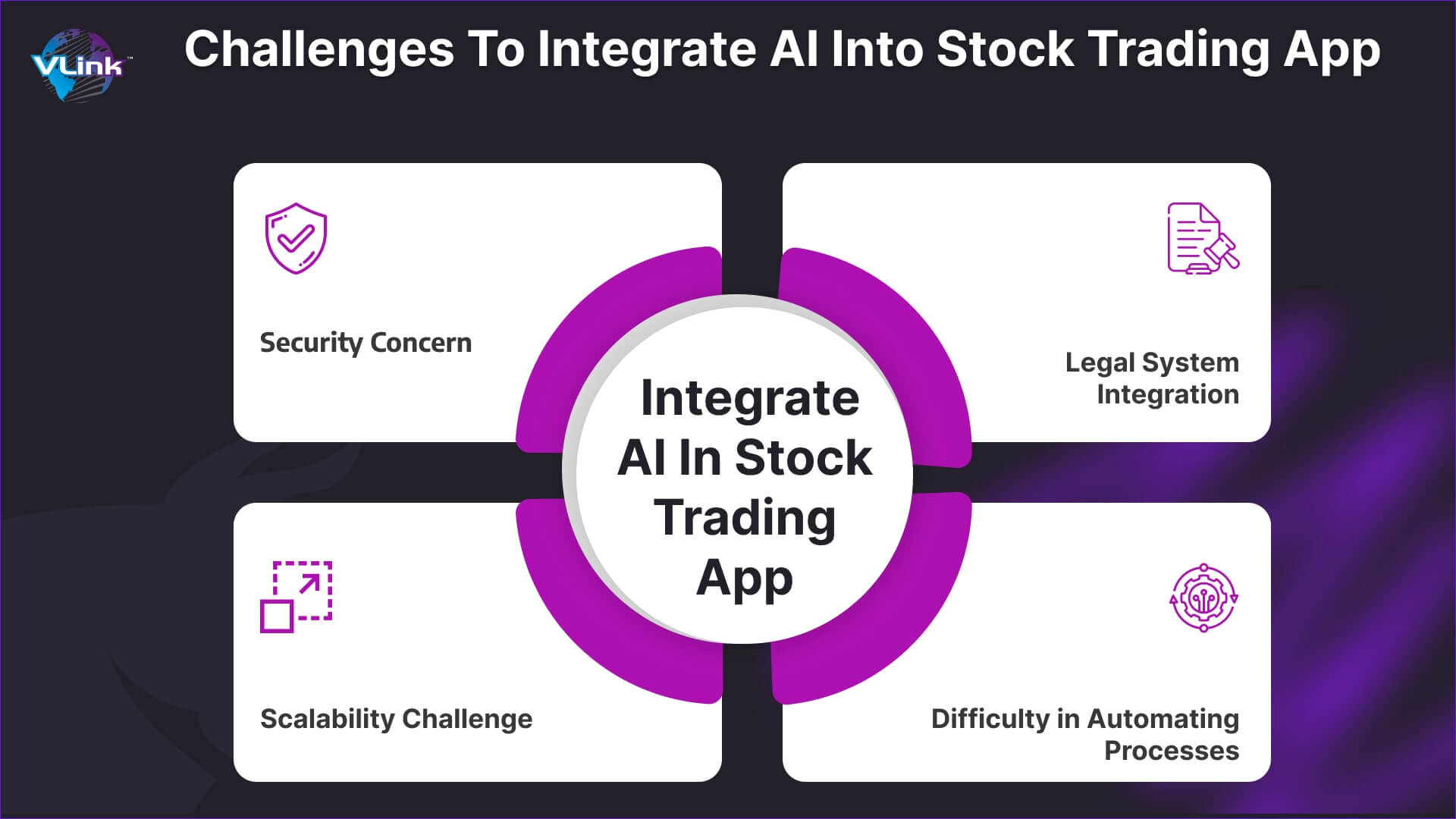 AI depends on ML, where systems learn from experience and enhance automated activities over time. Machine learning and AI development solutions are vital in determining the right processes in your trading app for automation.
For Example, Integrating AI-enabled chatbots for customer management, improving fraud detection, and streamlining different business processes. With the right direction, automating the process might be more accessible.
The excellent automation potential using AI frequently includes the assistance of a dedicated team of experienced developers.
It can be challenging to scale AI in stock trading apps, mainly when dealing with massive data and rising demand.
Managing additional workload effectively might be challenging. To handle this, the platform may utilize strategies like parallel processing, distributed computing, and cloud infrastructure. It improves performance and allows for smooth management of greater workloads.
Everyone in the financial industry is subject to tight laws and guidelines. They risk severe fines and penalties if they don't. For example, if a business integrates AI in a stock trading app to automate the process, make sure the process is fair and transparent to prevent producing unjustified results.
Strong data protection and security measures must be built into the FinTech app to address legal and ethical issues. Additionally, businesses must adhere to specific rules like GDPR or HIPAA, which are laws protecting the privacy of individuals. These actions are essential for abiding by the law and winning customers' confidence.
Financial organizations have a lot of security worries, especially when it comes to data security. A reliable and secure system is essential to protect sensitive data from prospective attackers.
Your financial app's AI algorithms should be developed and deployed with strong security safeguards. By doing this, breaches or unauthorized access that can endanger critical financial information are avoided. Security must always come first in designing and integrating AI in stock trading apps.
Consider VLink for Unique AI Stock Trading App Development Services!
VLink is one of the best AI & ML development companies with many years of experience delivering AI stock trading platforms integrated with algorithms, artificial intelligence, and machine learning technologies. Our professionals can turn your idea into AI stock trading software personalized to your unique business needs.
We help startups and established organizations shift their functioning from profitable to a reliable supplier of trading solutions. You can contact us for more information about integrating AI into the stock trading app!
FAQs
Frequently Asked Questions
How is AI transforming stock trading?
AI transforms stock trading in the world of finance by improving decision-making through data analysis, pattern recognition, and predictive modeling. Machine learning algorithms can analyze vast datasets in real-time, detect market trends, and execute trades faster than human traders. It can lead to more efficient trading, reduced human error, and the potential for better returns.
What technologies are utilized to build AI into stock trading apps?
To build AI into a stock trading app, technologies such as Python for data analysis, machine learning libraries (e.g., TensorFlow, PyTorch), cloud computing platforms (e.g., AWS, Azure), real-time data feeds (e.g., APIs), and database systems (e.g., SQL, NoSQL) are commonly used. Algorithm development and deployment often involve containerization (e.g., Docker) and orchestration (e.g., Kubernetes).
What is the difference between human stock trading and AI stock trading?
Human stock trading relies on human judgment, emotions, and experience, which can lead to bias and errors. AI stock trading uses algorithms to analyze data, identify patterns, and make objective decisions, often with lower latency. AI can handle large datasets, execute trades swiftly, and adapt to market changes more effectively.