The industry has already begun to be significantly impacted by artificial intelligence. It is becoming more obvious that mankind is on the verge of a new industrial revolution as businesses across a variety of industries have been able to effectively integrate AI technology into their operations.
If you're thinking whether it is the right time to launch an AI business, then you should know that today technology is paving way towards unmatchable efficiency in several industries. It's anticipated that AI will exist for a while. Companies can't wait to implement AI systems. As such, your suggestions are needed to close this knowledge gap.
Customers and companies alike stand to gain as a consequence. There isn't a universally accepted definition of artificial intelligence in use today.
But before we move further on to generate an AI-based business idea, it's important to analyze this market and have in-depth research.
Understanding AI Market Growth
Given that the technology is still in its infancy, its promise is yet mostly unrealized. An entrepreneur's lifetime may only offer the chance once or twice. Artificial intelligence and machine learning has the capacity to disrupt the world in countless ways, yet many people are attracted by this possibility.
Businesses are keen to use this technology to simplify their processes and outperform their rivals. To get started, all you need is one clever AI business concept.
The AI market is expected to reach around US$ 1,597 billion by 2030, with a CAGR of 38.1% between 2022 and 2030. The growing demand for AI technology across multiple industrial verticals is driving a significant expansion of the worldwide artificial intelligence market.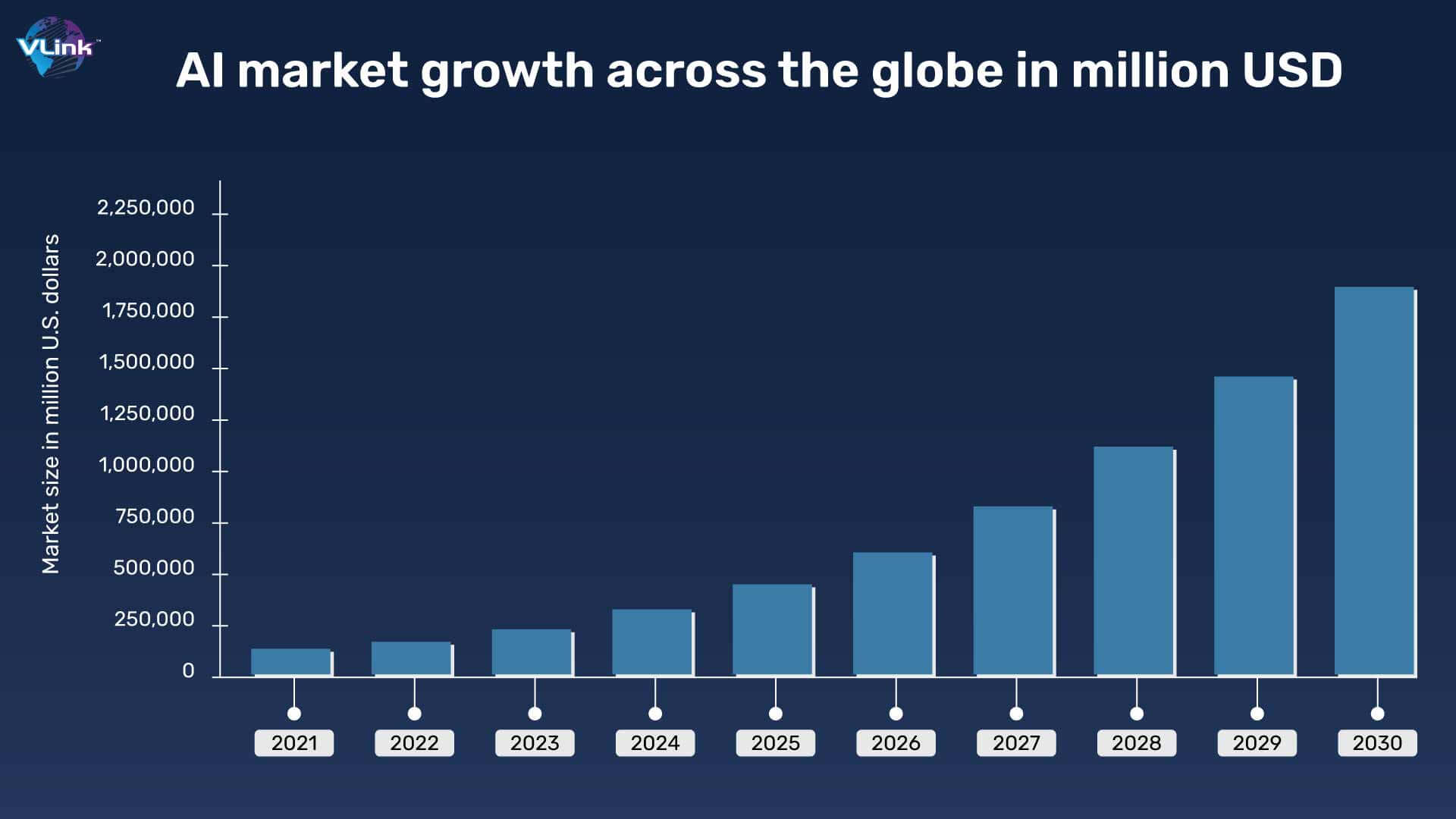 It is crucial to realize that improvements in AI technologies are opening up the field to additional applications in customer service, process automation, and data security, with natural language processing (NLP) leading the way in adoption.
But it's crucial to understand that the AI business is getting more and more cutthroat.
Top Artificial Intelligence Business Ideas to Implement
Personalizing education software is the finest application of AI for small enterprises. With the assistance of AI firms, personalized learning is being introduced into a variety of professional contexts and academic institutions.
This presents an opportunity for business owners who can utilize AI to design tailored learning routes for students based on their unique requirements, learning preferences, and development. This might involve personalized tutoring programs, online learning environments, and tools for creating educational content that are AI-powered.
The creation of an AI-based recruiting platform is one of the top AI business concepts. Artificial intelligence (AI)-driven recruiting applications are expediting the hiring process for organizations by efficiently selecting and shortlisting candidates. By adopting AI algorithms to assess resumes, conduct interviews, and predict member fit, HR managers may save time and money.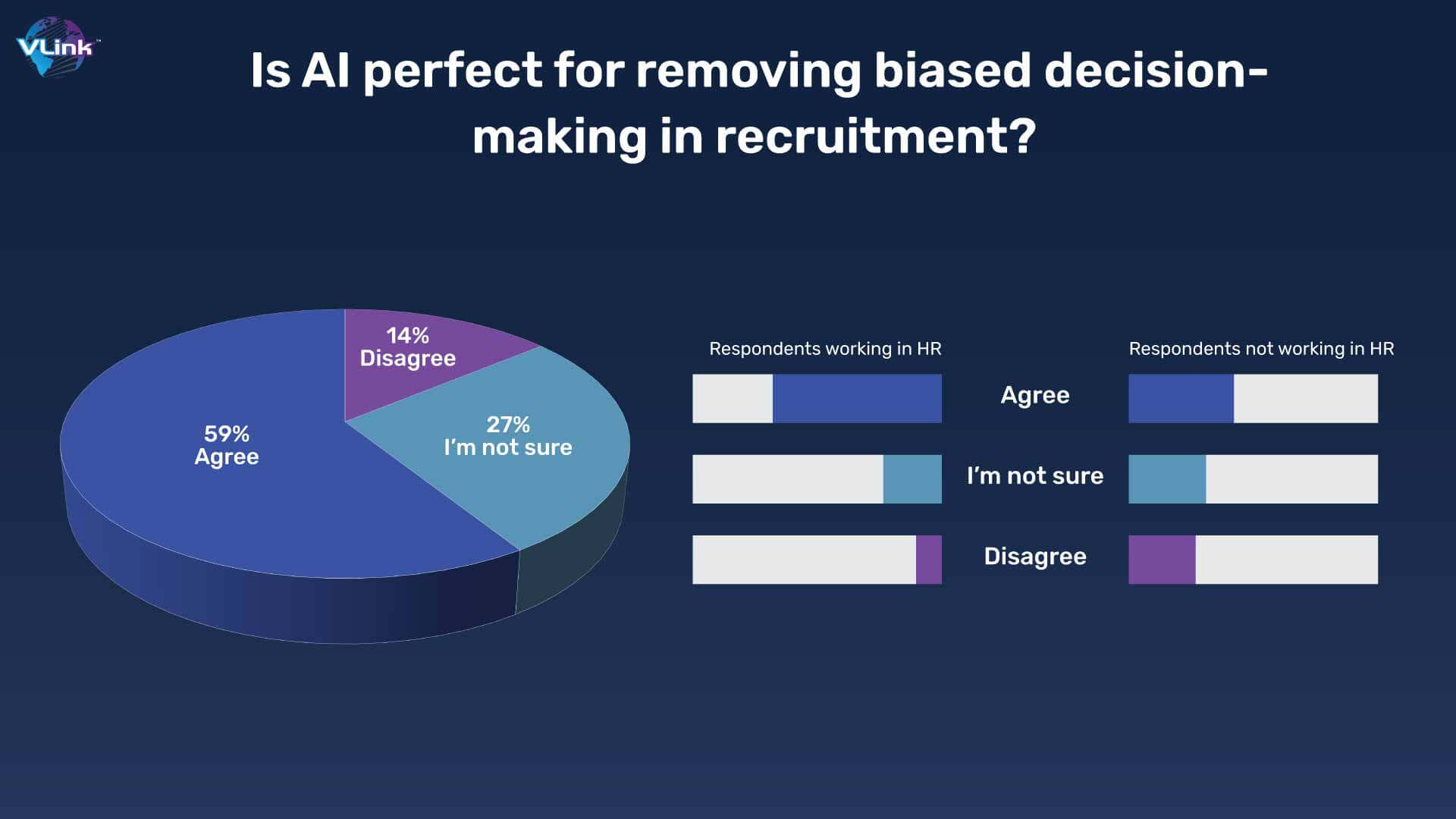 Additionally, they can speed up the recruiting procedure, freeing up more time for other responsibilities. Additionally, by removing the need for time-consuming human screening procedures and lowering the chance of choosing the incorrect candidate, AI-powered recruiting portals can assist organizations in lowering recruitment expenses.
Healthcare is a sector where commercial opportunities for artificial intelligence are booming. By using cutting-edge capabilities, medical AI businesses can help doctors detect and track patient deterioration.
There are currently treatments for illnesses and disorders that were formerly fatal. To get medical attention, a patient does not need to be admitted. Human life expectancy will rise on average. A return on investment can be possible for investors who support the proper artificial intelligence company.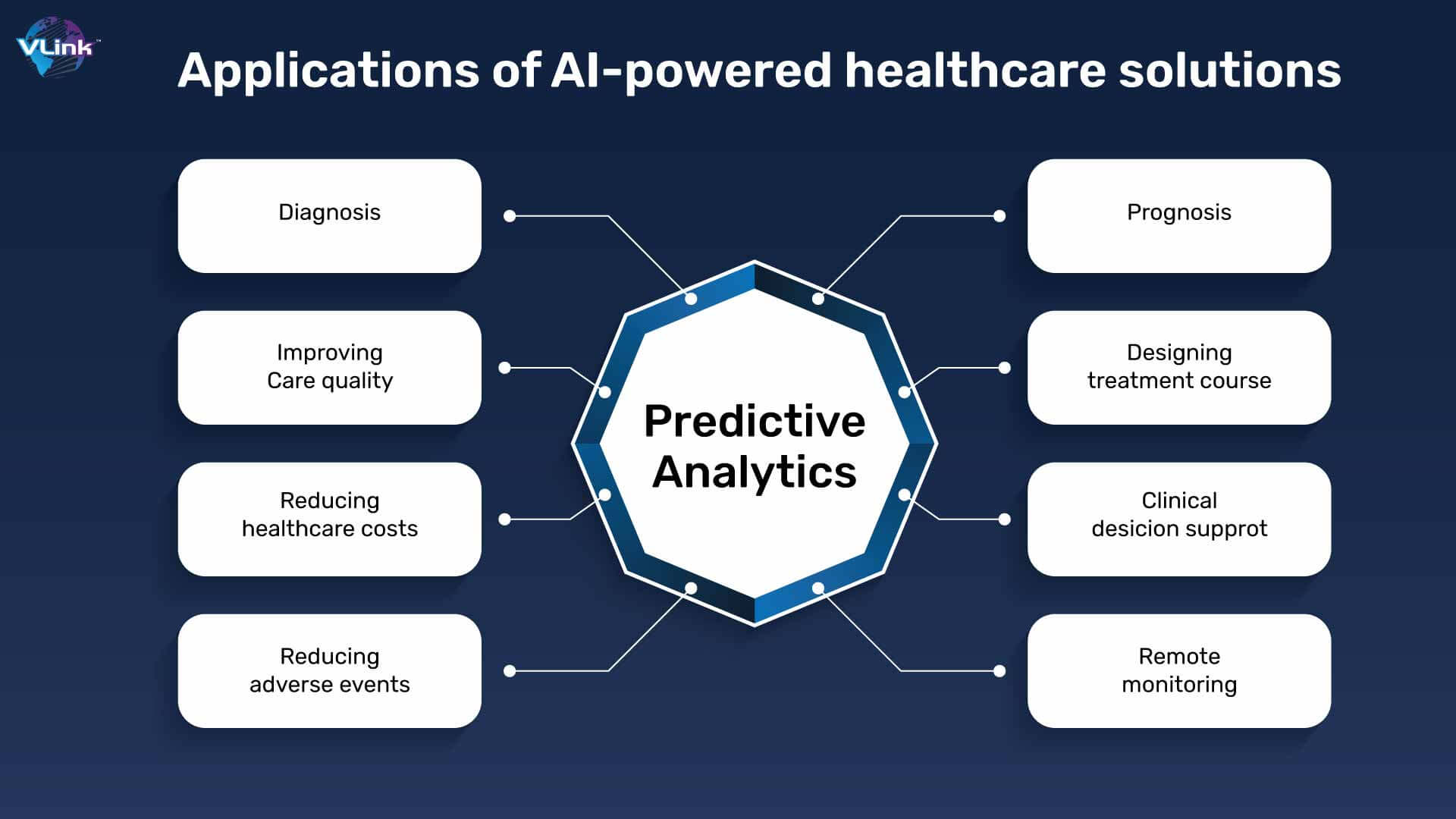 AI in healthcare companies is offering several benefits like saving huge expenses and improving patients' experience. The application of machine learning in healthcare settings, such as clinics, research facilities, and private practices, may save many lives.
The construction and architecture industry is a multi-billion industry, undoubtedly. According to data from the Census Bureau (census.gov), 1,364,000 new residences were started, and 1,419,000 construction permits were granted in August 2019.
Furthermore, the average cost of hiring an architect in the United States is between $2,500 and $4,545. Many often shell out large sums of money for brand-new construction designs.
The architecture design and manufacturing of building plans will also be far more affordable and faster. As a result, an AI company that uses AI to produce architectural designs is a feasible and maybe successful enterprise.
The retail sector is being revolutionized by AI-powered retail assistants, which provide individualized customer assistance, suggestions, and seamless shopping experiences. These assistants make customized product recommendations by using machine learning and natural language processing to understand user preferences.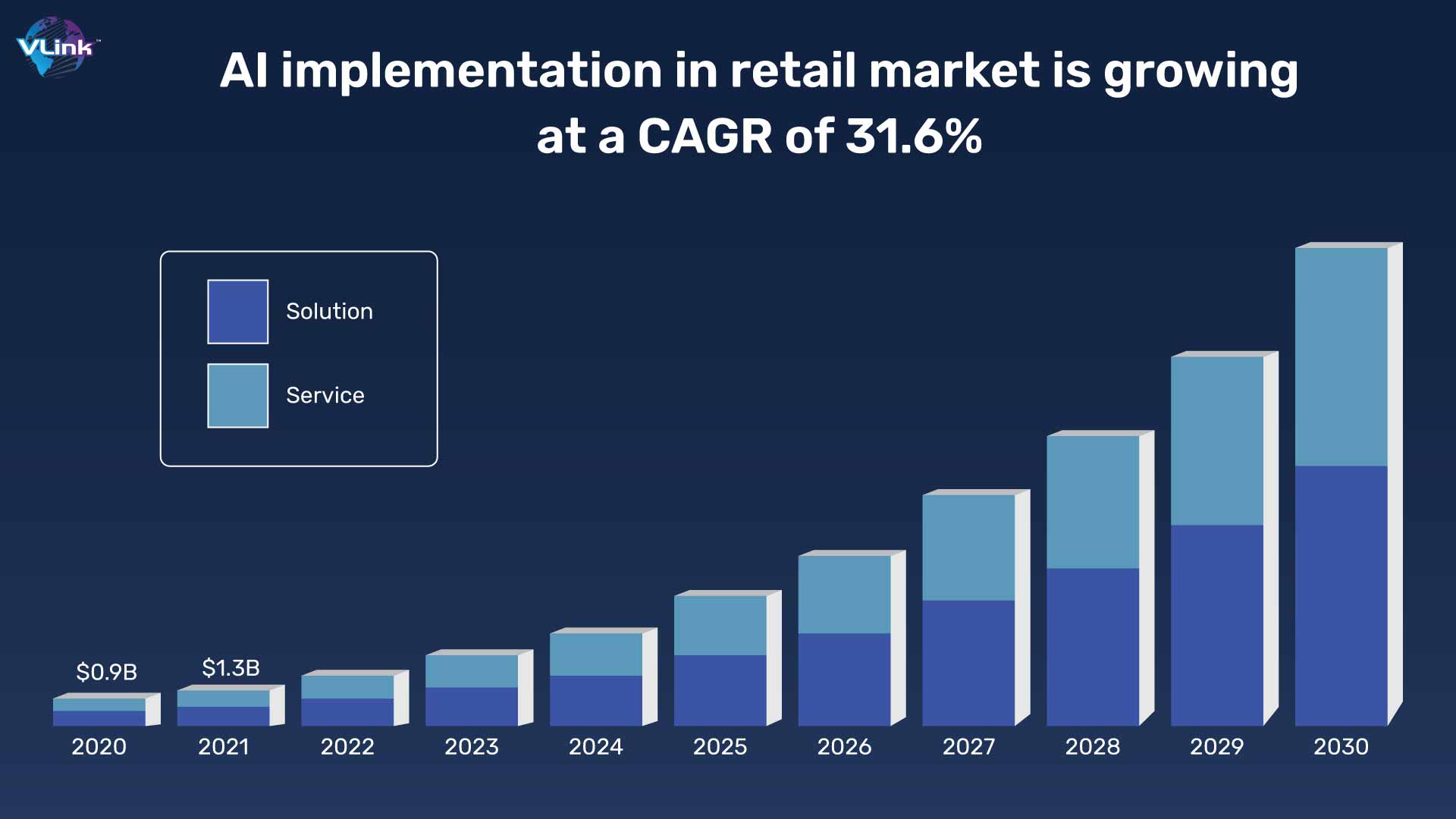 Given that the worldwide market for AI in retail is expected to reach $40.74 billion by 2030, businesses aiming to improve consumer engagement and boost sales should seize this very profitable opportunity.
AI-based marketing applications use AI algorithms to give firms useful information and automation options. These applications are a few of the noteworthy instances of AI-based business concepts that allow companies to precisely target their customers and provide individualized experiences.
AI-powered marketing tools help companies remain ahead of the competition and leave a lasting impression on their consumers by helping with everything from campaign development to customer behavior and preference analysis. As a result, they rank among the profitable AI business ideas in this cutthroat industry.
Imagine a company with simple, intelligent operations replacing complicated procedures. That is the brilliance of an AI supply chain and logistics business. Moreover, it is one of the top emerging trends in modern supply chainv businesses.
Simply put, AI logistics is the application of artificial intelligence to the optimization of intricate supply chain processes. It covers everything, from precisely calculating the amount of inventory required to guaranteeing prompt delivery of goods to even foreseeing unexpected problems.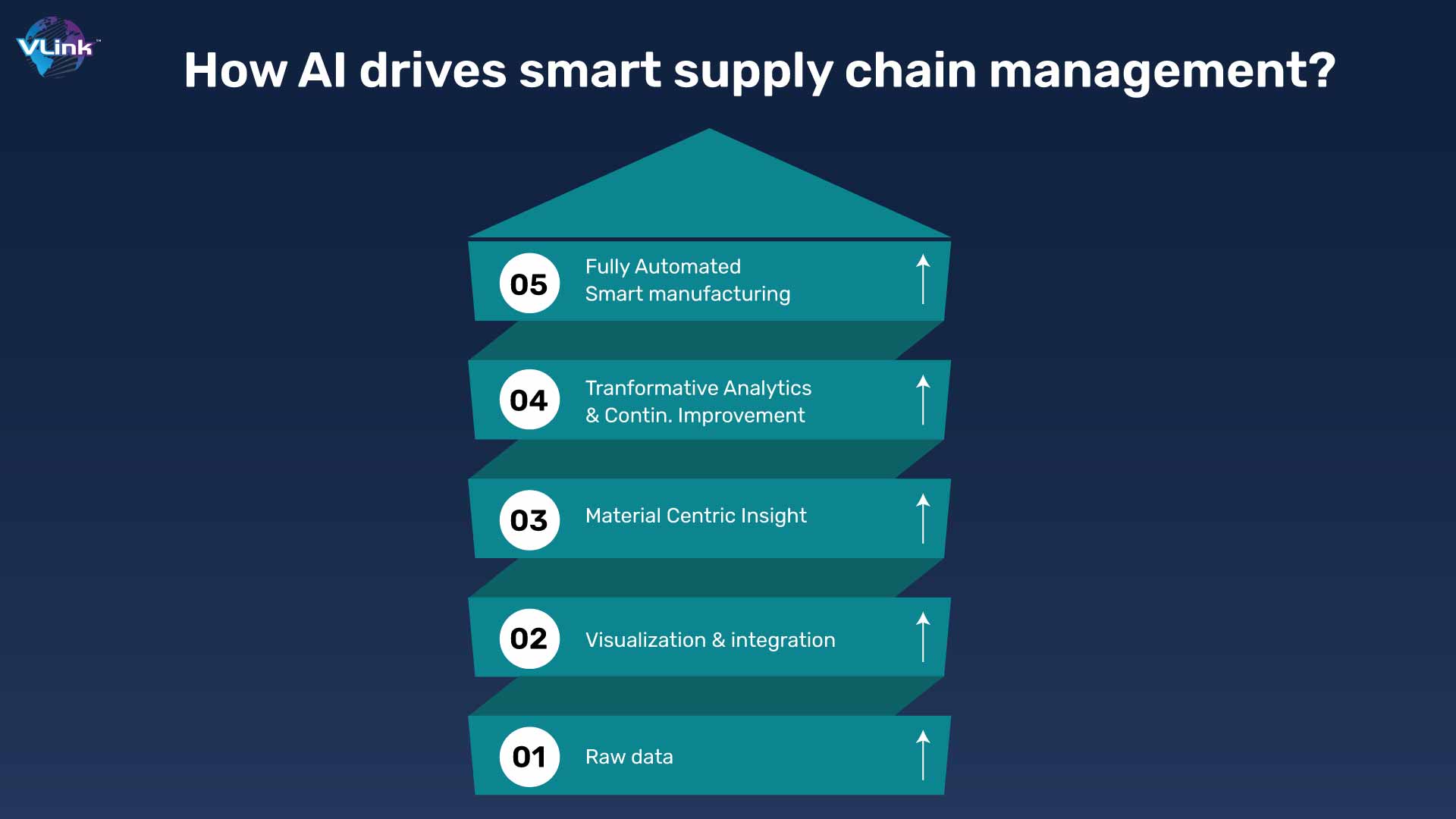 The success of this business depends on creating, improving, and applying AI systems that automate these procedures. This concept has enormous promise since businesses all over the world are eager to implement AI to increase productivity, decrease human error, and eventually cut costs.
The incorporation of AI is experiencing a transformational change in the entertainment sector. Through tailored suggestions and AI-generated content, technology is transforming content development and audience interaction.
Entrepreneurs and entertainment companies will have significant chances to use AI technology when the market for AI in entertainment reaches $99.48 billion by 2030.
In the modern digital era, which is characterized by cyberthreats and data breaches, AI-driven cybersecurity is becoming more and more important. The market for AI in cybersecurity is anticipated to reach $93.75 billion by 2030, making it a worthwhile AI business venture.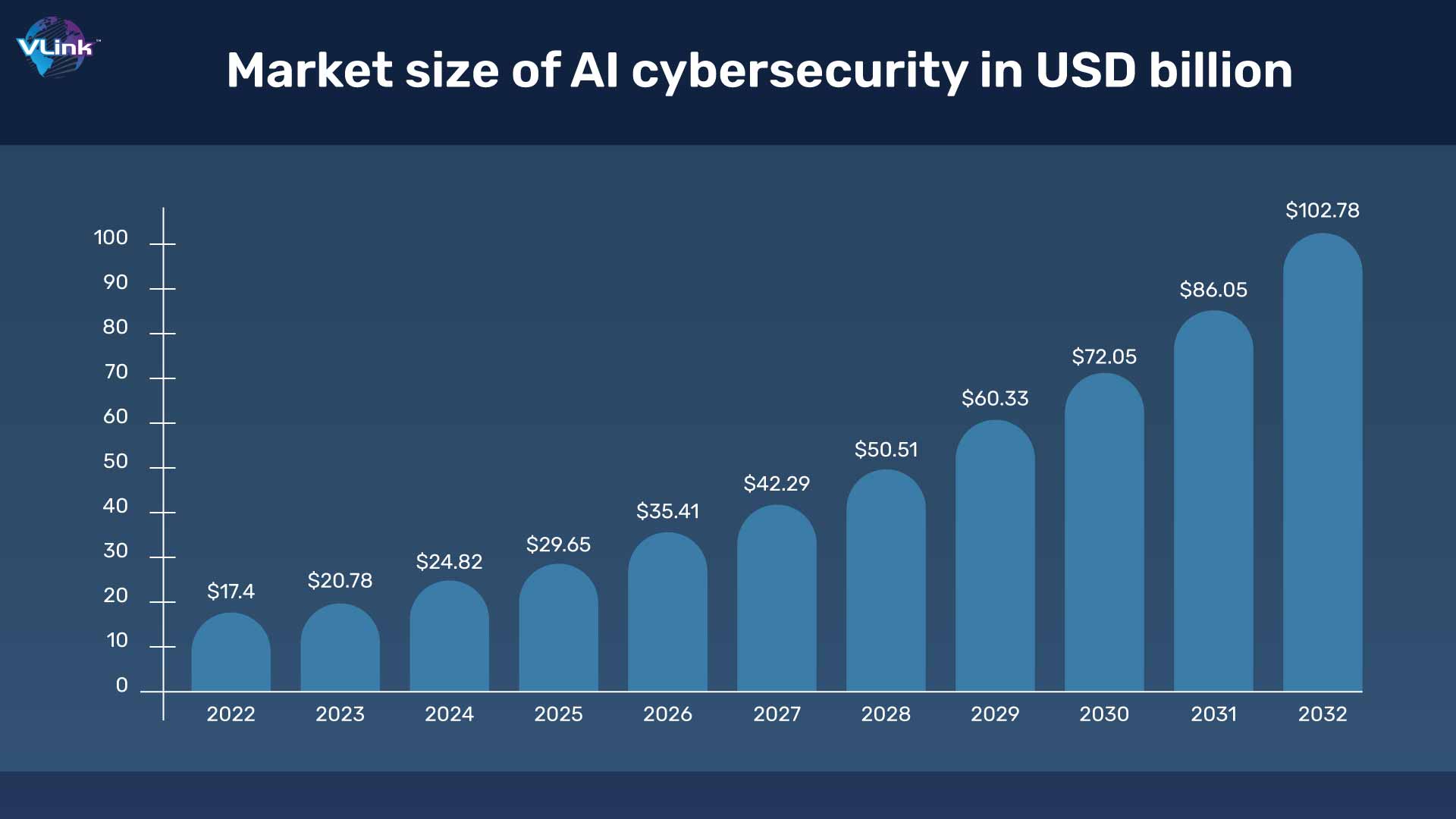 This technology uses machine learning algorithms to recognize and respond to cyber threats in real-time, securing sensitive data while defending enterprises against malware and security breaches.
A practical approach for ChatGPT business ideas is to build AI chatbots. You may teach a chatbot to serve consumers and answer their enquiries with the aid of Chatgpt-3. It can build rapport, interact with both present and potential users, and provide answers to questions.
The defined answers to customers' common queries help you stand out in this competitive environment and help you create a tone that is similar to a regular human discussion. Enterprises of all kinds are looking for intelligent, pre-built, and reliable chatbots. As such, providing an AI chatbot is a fantastic chance.

Why Should You Launch an AI-integrated Business?
Since AI technology is still in its infancy, its promise is yet mostly unrealized. An entrepreneur's lifetime may only offer the chance once or twice. AI has the capacity to disrupt the world in countless ways, yet many people are attracted by this possibility.
Businesses are keen to use this AI technology in product development to simplify their processes and outperform their rivals. To get started, all you need is one clever AI business concept. There will be more possibilities to enter this business because to the platforms and software available for AI development, which greatly lowers the entrance barrier.
It's critical to acknowledge that the AI sector is growing increasingly ruthless. Tech giants and successful entrepreneurs are fighting it out for a piece of the action. Your business has to stand out from the competition in the AI space by providing something special.
VLink Can Help You in AI Business Development & Launch!
Using the following lucrative business ideas, you may launch a company from nothing. Automating processes using AI-powered systems is already a reality, and when used properly, these technologies may aid company owners in making money.
VLink can assist companies in designing a variety of digital solutions and implementing AI business concepts that appeal to a variety of sectors, including developing AI-based apps, intelligent chatbots, predictive analytics, and generative AI consultancy.
Our cutting-edge artificial intelligence services not only have the potential to increase overall corporate productivity and efficiency, but also promise to increase consumer engagement and return on investment. To begin or scale your AI journey, get in touch with our AI engineers.
FAQs
Frequently Asked Questions
Is an AI business solution profitable?
With a fraction of the workforce of previous industrial giants like General Motors, the tech sector has already been able to produce enormous profits; AI promises to duplicate this success while also completely replacing some forms of labor, converting what would have been those jobs' wages into revenue for AI companies.
How much does it cost to build a complete AI-based business?
The cost of building an AI-based business varies according to the total complexity of the app, the location of the app development company, the amount of time needed for development, the features that will be included in the app, etc. can all have an impact on how much it will cost to build an app.
What is the future potential of AI?
Artificial intelligence's potential to increase productivity at work will benefit individuals by allowing them to do more. The human workforce is freed to concentrate on activities for which they are better qualified, such as those requiring creativity and empathy, while the future of AI replaces laborious or risky tasks.