Platforms for video conferencing have become an integral part of our everyday lives in the fast-paced digital environment of today, both personally and professionally. There are several systems available, including Google Meet, Microsoft Teams, Go To Meetings, and Skype.
With the continued use of remote work and online communication by businesses, schools, and families, Zoom has become the market leader among these platforms. Below the figure of video conference apps live up to their sales in %: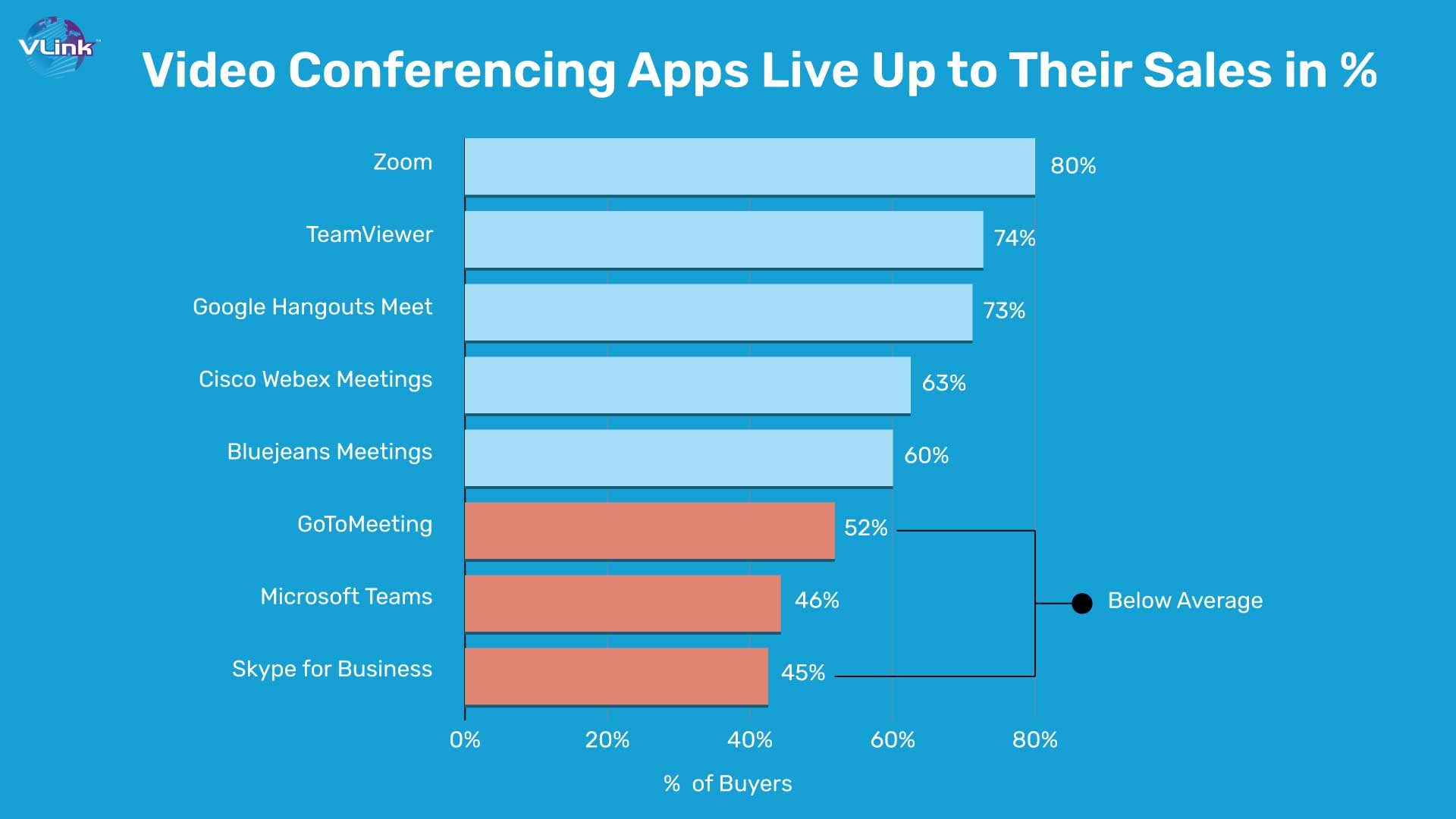 This blog will look into the stats about video conferencing apps, representing their user demographics, functionality, and trends that have changed the face of online communication.
These data will provide you invaluable insights into the remarkable success story of video conferencing software and Zoom, whether you're an entrepreneur looking for collaboration tools for your team or simply wondering about the influence of this virtual platform.
Let's examine the statistics behind the video conferencing system, which has grown to be a crucial component of our online society.
6 Incredible Video Conferencing Key Statistics & Facts
Here are some video conference app key statistics you should know in 2024 & beyond: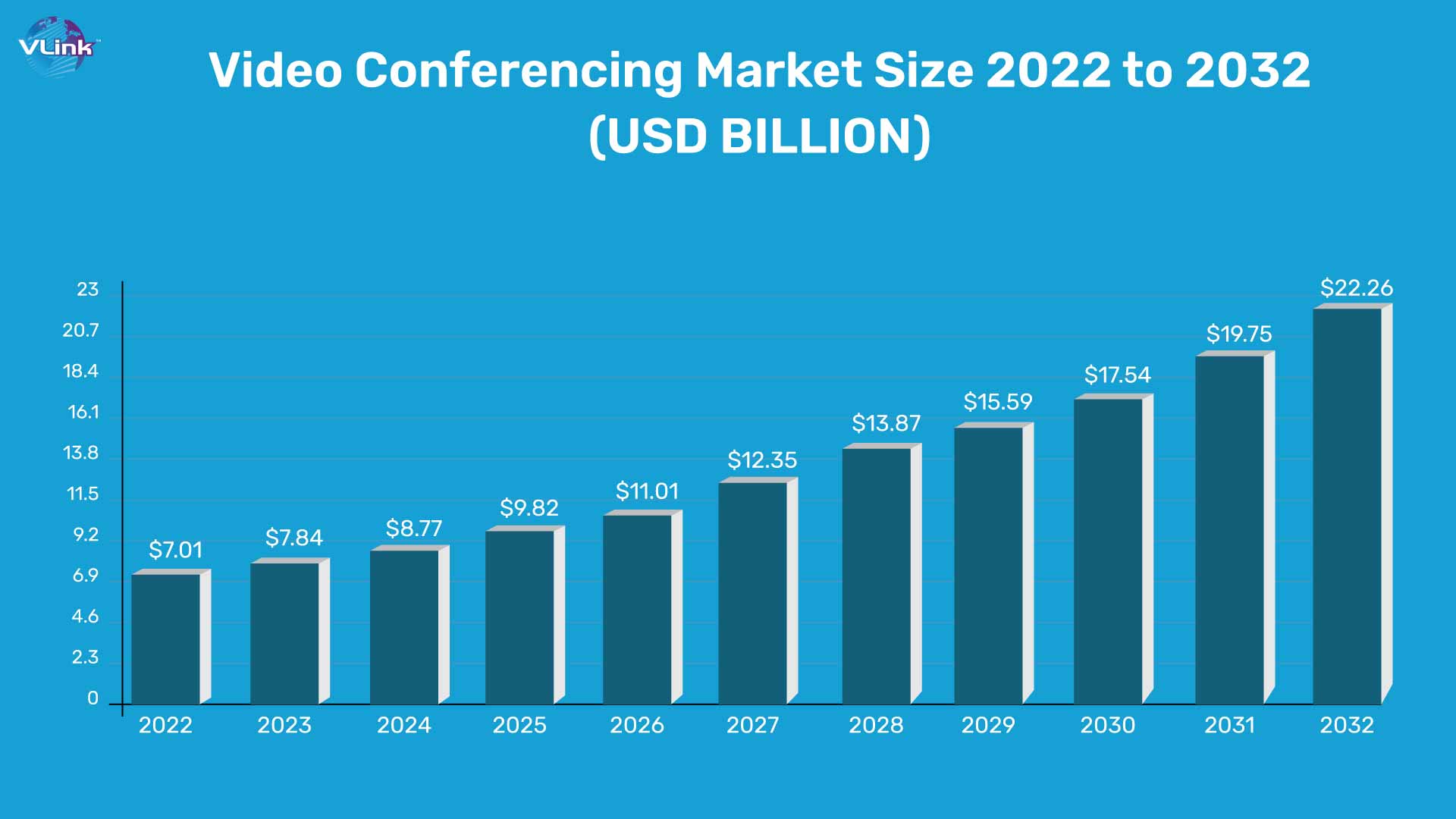 By 2025, 36.2 million Americans will be working remotely, which shows an 87% increase from pre-pandemic levels.

The video conferencing mobile app market is worth

$4.66 billion in 2023

.

The global video conferencing market size is expected to reach

$22.5 bn by 2026

.

Due to the greater adoption rate in the area, the North American video conferencing market had a revenue share of

over 39.0% in 2021

.

The adoption of new work methods by regional organizations is anticipated to drive a CAGR of around 14.0% for the

Asia Pacific video conferencing market

through 2030.

The

worldwide video conferencing market size

was valued at $7.02 billion in 2022 & is expected to grow from $7.76 billion in 2023 to $17.05 billion by 2030, exhibiting a CAGR of 11.9%.
If you are thinking of creating a Zoom like video conference app, you first need to know about its cost. The cost to build a video conference app like Zoom may range between $30,000 to $200,000.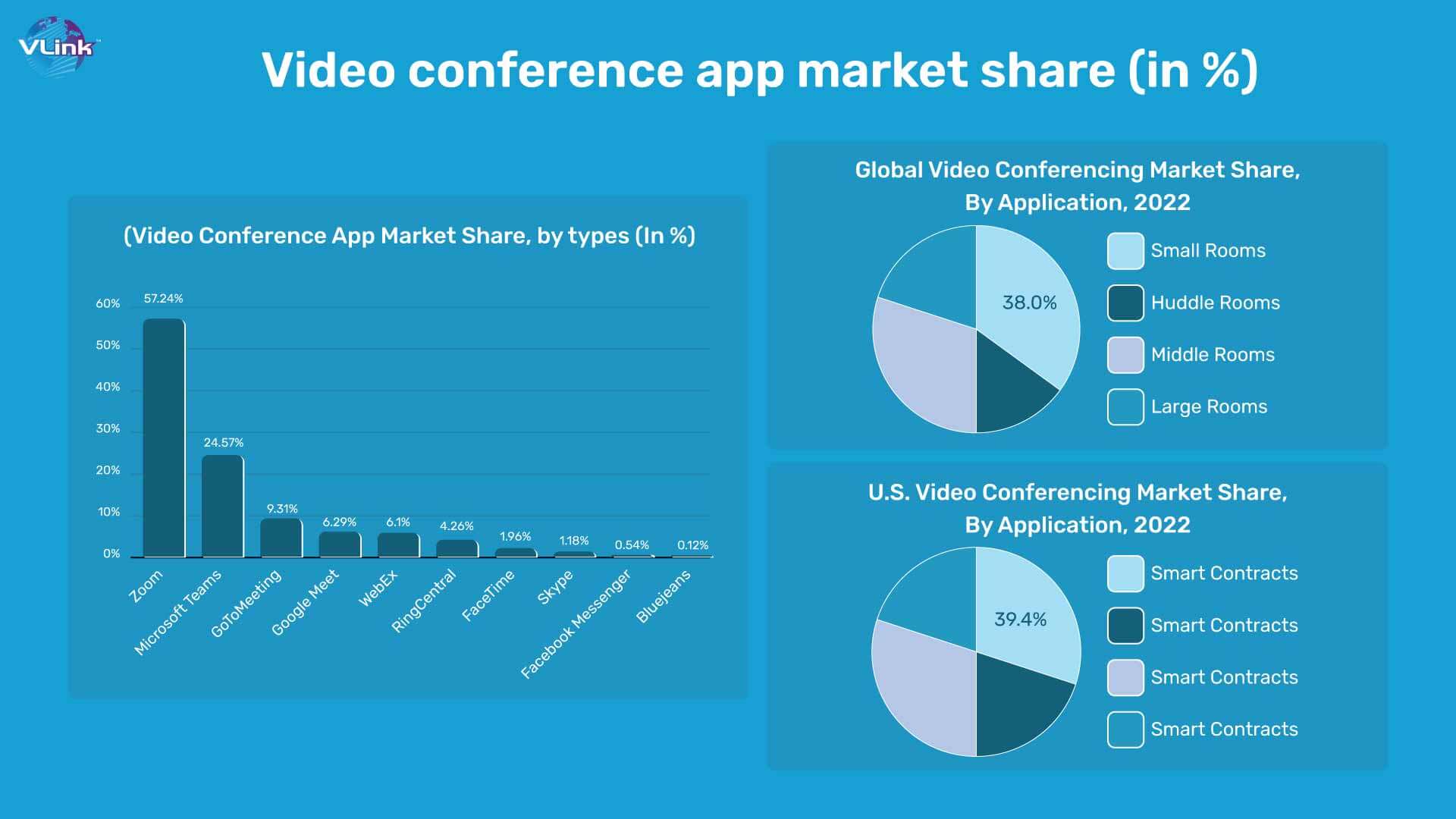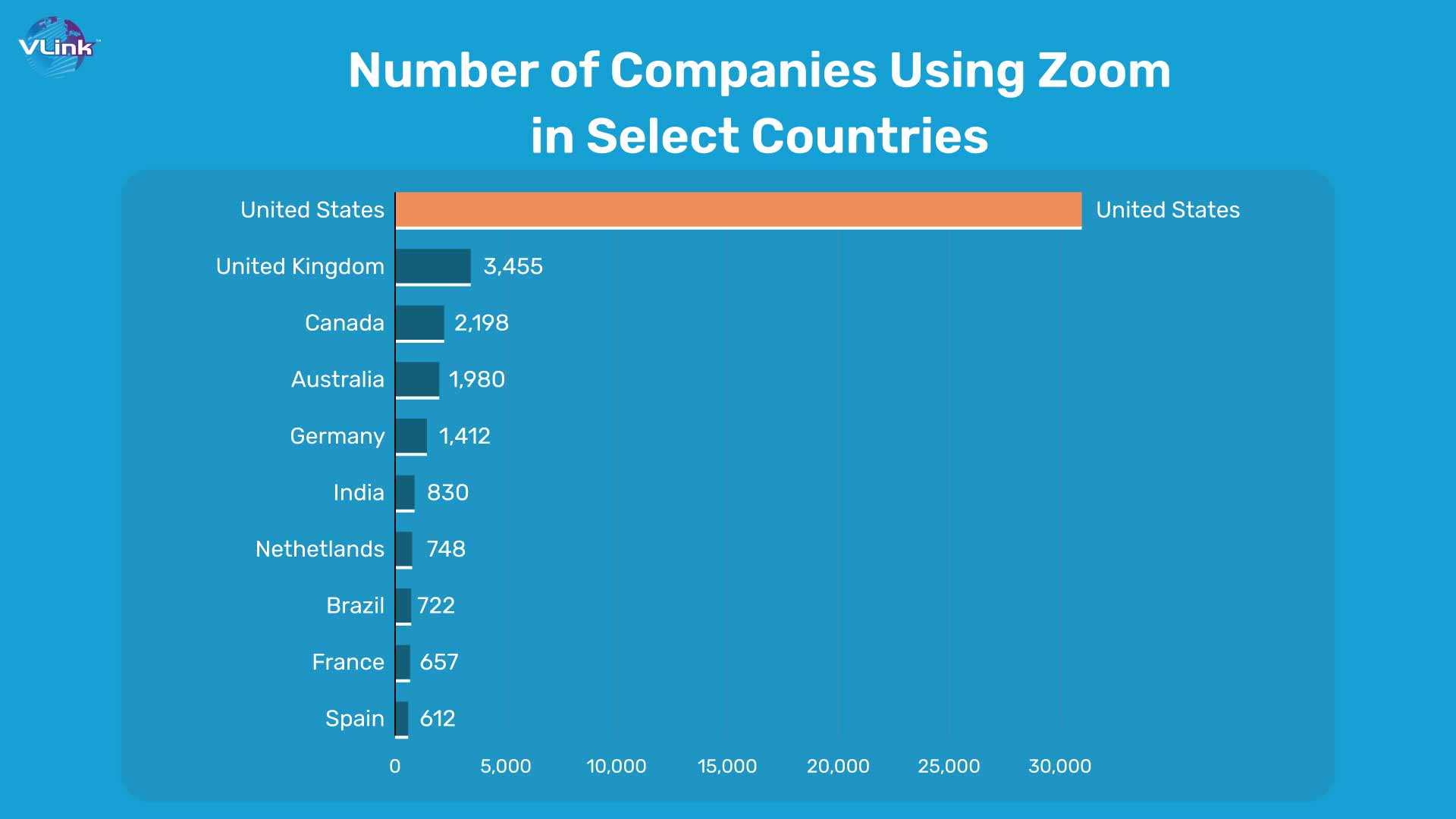 In Q2 2023, the mobile app of the popular video communication platform Zoom was recorded approximately

17.6 million downloads

in the Asia-Pacific region.

Zoom Video Communication's revenue increased by a margin of

nearly 7.5%

in their fiscal year 2023 compared to the fiscal year 2022.

The number of meeting minutes Zoom facilitates every year is now over 3.3 trillion.

In 2022, Zoom made $4.3 billion in sales, an increase of 7.3% from the previous year.

Previously,the Zoom app for mobile devices gathered 485 million downloads.

In the previous financial quarter, Zoom recorded earnings of roughly $1.021 billion, marking a surge of 54% compared to the preceding year.
Did you know Integrating Zoom into your website or app can be a game changer? Zoom SDK/API integratio increase user engagement, global reach and seamless communication.
Here is an image of video conference apps by usage & types: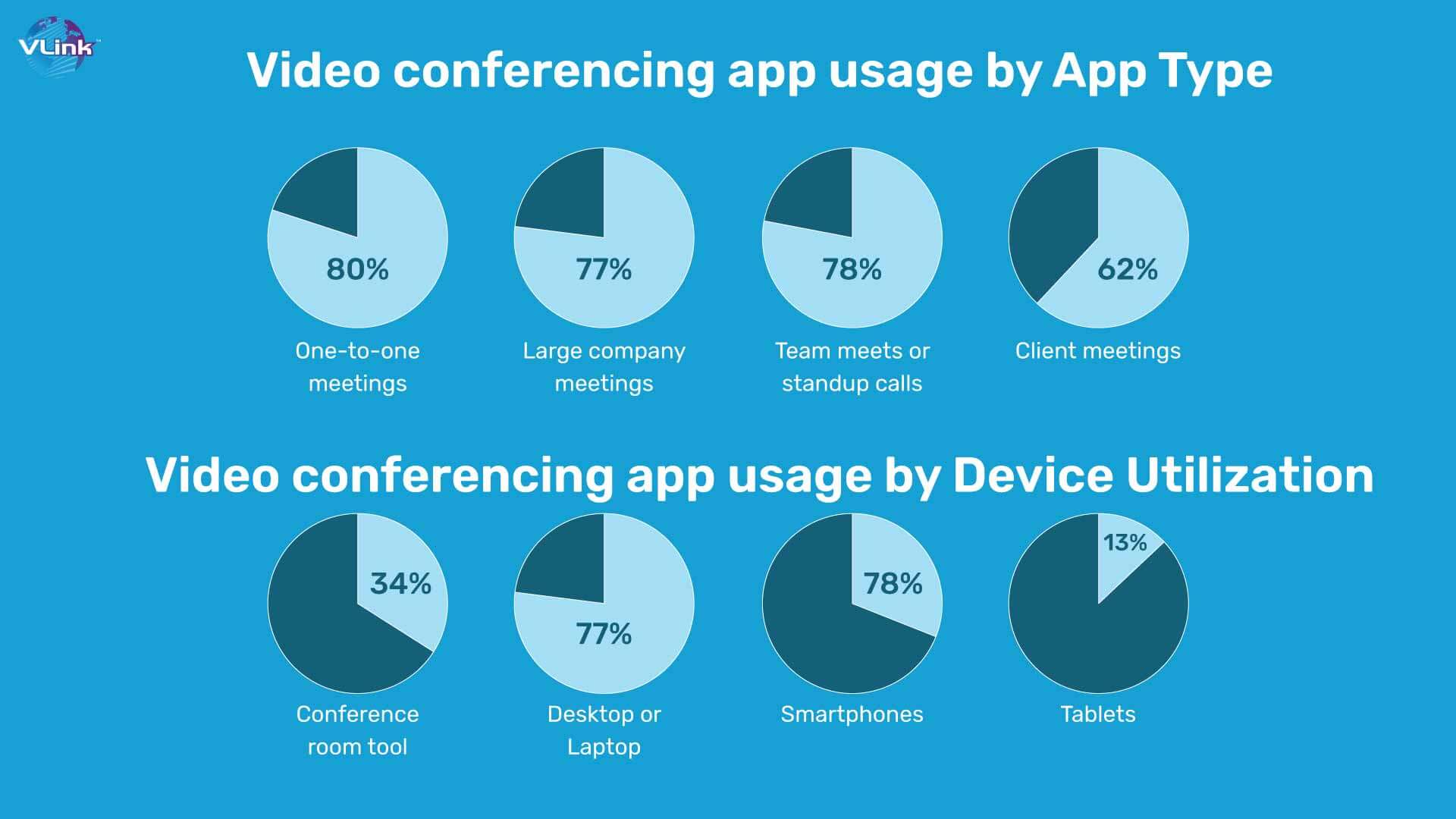 Since the epidemic, the landscape of the workplace has undergone significant transformation.

According to Mercer's research, 70% of businesses intended to use the hybrid approach.

Here are a few figures that illustrate work-from-home statistics:

Video conferencing cuts travel costs by 30%.

77% of remote workers

report higher productivity levels when working from home.

78% of employees say they use web conferencing tools for team meetings.

45% of professionals utilize video calling tools on a regular basis.

87% of team members say video calling has helped to speed up the decision-making process.
Are you planning to hire remote developers for your project? Here, a complete guide to hire remote software development teams.
The global video conferencing market is predicted to grow 9.95 bn in value by 2028 with a CAGR of 11.4%. Below are some key statistics about conferencing equipment:

Video conferencing stats show that the hardware market has the highest

revenue share of 47%

.

Video Conferencing Hardware is predicted to craft 3.6 million Units in 2022.

By 2023, the annual video conferencing software and seat license shipments will grow

to 86.7 million

.

89% of enterprises use different video conferencing platforms.

56% of CFOs will invest in video conferencing to reduce unnecessary travel.

77% of people have used desktop computers or laptops to access video calls.

34% of people have used dedicated conference room equipment to attend a virtual meeting.

31% of people have used a mobile phone to access video calls.

13% of people have used tablets to connect to video calls.
The company believes businesses are increasingly turning to web conferencing to improve employee communication and collaboration. Here are some of the basic remote work software spending statistics:
67% of businesses have enhanced spending on web conferencing software, the largest increase in remote software spending.

57% of businesses increased their investment in collaboration tools.

Businesses are paying more for remote desktop technologies, according to 52% of them.

Spending on security software has grown for 41% of firms.

Businesses have boosted their investment in learning management systems by 23%.

14% of companies now spend more on time-tracking technologies.

11% of companies have raised their telemedicine investment.

11% of organizations have raised their spending on "other" tools.

Products from Google and Microsoft presently dominate the market for productivity software.

The market share of Microsoft Office 365 is 53.95%.

Currently, Google Apps have a 41.46% market share.
Top 5 Trends for 2023 & Beyond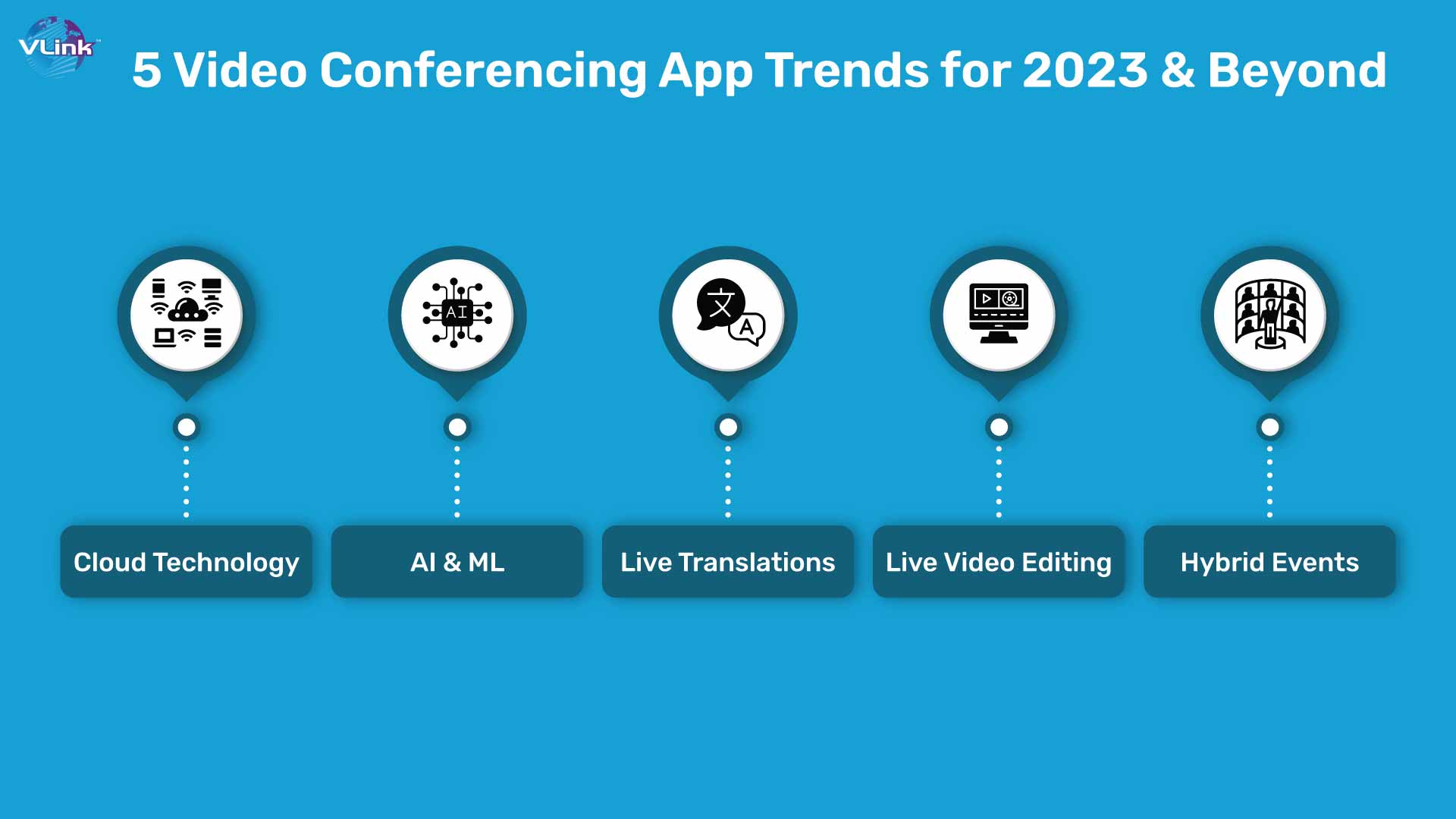 Technology for video conferences has advanced significantly in recent years. Better internet connections, together with higher-definition cameras and microphones, have made video conferencing a more practical choice for both companies and people.
Here are the following video conferencing trends for 2023 & beyond:
The use of cloud technology & cloud managed infrastructure services has been rising, and this is a big trend in video conferencing software. Users benefit from additional convenience with cloud-based conference apps thanks to features including accessibility for mobile work, database capabilities for uploading and retrieving files, and real-time task and project updates.
Cloud-based video conferencing is very simple to set up, may save expenses, and boosts productivity for remote workers. Finally, any device, including a laptop, phone, or tablet, may access cloud-based video conferencing software by simply using a web browser or application.

A recent technical development in video conferencing is the use of artificial intelligence (AI) and machine learning. For a better user experience, it is utilized to optimize connectivity, video compression, audio quality, and other factors.
By enhancing the algorithm to pinpoint the regions that demand higher resolutions, AI is enhancing video compression. Virtual backdrops that let users hide their environment and concentrate on the participant are another upgrade to video.
Machine learning & AI app development is improving audio quality by boosting speech recognition and detecting background noise to reduce it.
Do you know AI & ML can transform the app development? Learn how!
The practice of live translations during video calls is only getting started. Live translations during video conferencing conversations will be useful for multinational organizations with operations throughout the world.
In order to ensure that employees from all over the world can comprehend the meeting's content in whichever language they desire, companies like Google have started using live translations throughout their video conferencing meetings.
Instead of depending solely on AI to perform all translations, several sites are now offering live interpreting choices. In the upcoming years, video conferencing that offers accessibility for customers who speak multiple languages will become increasingly popular.
Trends offer a fantastic snapshot of the direction that some sectors are taking. Regardless of the video conferencing software you use, it's likely that your vendor has included at least one of the trends above.
Customers are eager to watch how these improvements grow throughout 2023 and beyond since, as of now, the trends mentioned above appear to be driving video conferencing mobile app development services.
Making sure the presentation is aesthetically pleasing when on a live video conference has become more and more popular. Many users are drawn to specific platforms because they provide production effects like virtual backdrops and easily accessible recordings.
Furthermore, when having company-wide calls, large-scale businesses may not always have a 100% participation rate.
A recording of the video conference will be easily accessible and contain things like a brief and uncomplicated opening and outro, as well as any editing tools for removing filler. This pattern has gained popularity since it guarantees that everyone invited can understand the information without participating in the live calls.
As the epidemic started, the majority of businesses have switched to online-only events. However, as the epidemic has subsided, some businesses are starting to feel more at ease organizing hybrid events as well as in-person meetings.
In fact, following COVID-19, 39% of events in the U.K. and 65% of events in Japan will provide attendees with the choice of in-person and video conferencing. Hybrid events are becoming more popular at work since they encourage more attendance because attendees won't need to travel. After all, they can readily access them online.

Consider VLink for Your Video Conferencing App Development Journey!
VLink offers high-performance video conferencing software for iOS, Android, and Windows. Every project we work on is unique and is built on a sizable library of reusable code components, which speeds up and improves the reliability of execution. Our dedicated team of developers comprehend the most recent advancements in mobile technology and create reliable, cutting-edge applications for our clients.
As a reliable video conference app development company, we provide completely customizable Real-Time Audio Video WebRTC Communication Solutions that will change the way you engage.
A straightforward video conferencing tool that works on all platforms (web, mobile, and desktop) and offers many more functions without the need for further software installation.
FAQs
Frequently Asked Questions
What is a video conferencing app & how does it work?
A video conferencing app is a software platform that enables users to conduct real-time, face-to-face meetings over the Internet. It works by capturing audio and video from a user's device, compressing the data, and transmitting it to other participants. The app also receives and displays incoming audio and video streams, allowing for interactive virtual meetings.
How to build a video conference app?
To create a video conferencing mobile app, you need to:
Select a development platform and programming language.

Integrate video and audio streaming APIs, like WebRTC.

Embed user registration and authentication.

Create a user interface for video calls.

Build features like chat, screen sharing, and recording.

Test and optimize for performance and security.

Launch and continually update the app.
What is the future of video conference apps?
The future of video conferencing apps is promising. They will likely continue to evolve with improved AI-driven features, enhanced virtual reality integration, and increased security measures. As remote work and global connectivity grow, video conferencing will remain a crucial tool for communication, collaboration, education, and healthcare.