No wonder, video conferencing app has been prevalent for a long time due to current trend of remote working. But currently, this term is on a whirlwind of demand in the business world, from small startups to established organizations.
Even the Video conferencing app market was worth $10.6 bn in 2022 and is expected to reach $19.1bn by 2027, with a CAGR of 12.6%.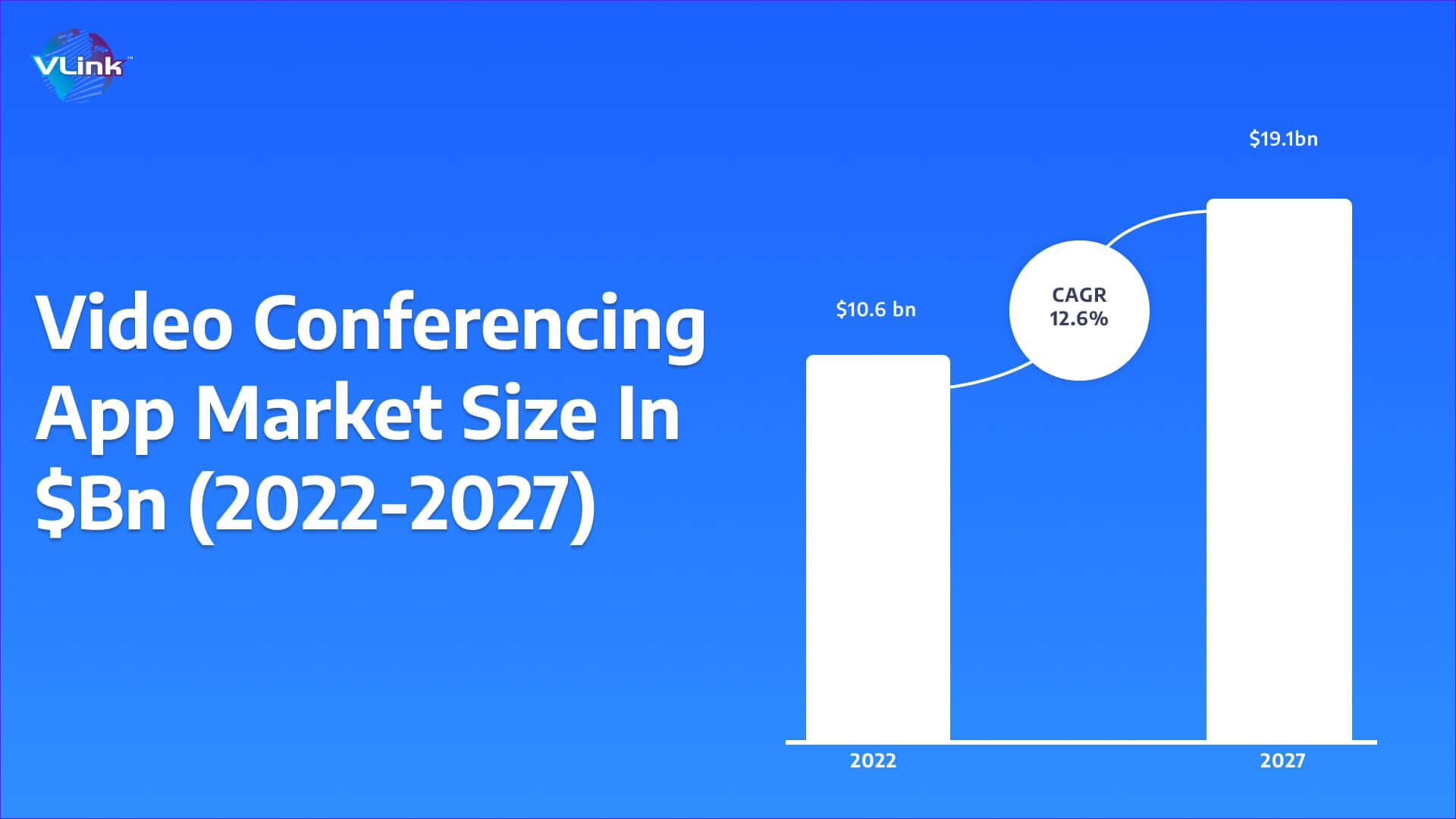 This video conference call app not only improves employee relations with each other but also provides geographic, financial and managerial pros. In results, businesses that complete this digital revolution will certainly take a considerable lead over their competitors.
In video conferencing services, Businesses claim that video conference meeting boosts productivity 94% of the time. In contrast, 90% of respondents claim that using video makes their idea clearer.
Google Meet, Microsoft Teams & Skype, there are several video conferencing software available in the market for both mobile and web platforms. But Zoom is holding the top spot with a market share of roughly 55% and 36.5 million global downloads.
With this growth, one question arises in many business owners: "How much does it cost to build a video conferencing app like Zoom?"
In this blog, you will learn the average video conferencing app development costs and price factors.
Let's first start with its basic introduction and market stats.
What is Zoom Video Conferencing App & How Does It Work?
Zoom - A video conferencing app - is ideal for virtual meetings and collaboration. It allows users to join cloud meetings through a unique link or ID, enabling video and audio communication, screen sharing, and document collaboration. Thanks to a user-friendly platform, Zoom establishes remote connections.
Zoom users create or attend virtual meetings using a special link or ID. Through an internet connection, this video conferencing software enables real-time video, audio, screen sharing, chat, and document collaboration.
Why Should You Invest in Video Conferencing App Development like Zoom?
Here are some stats from valuable resources on why you should invest in Zoom, like video conferencing app development:
Zoom generated

$4.3 billion in revenue in 2022

, a 7.3% increase year-on-year

It had 213,000 enterprise customers in 2022

Zoom recorded

3.3 trillion meeting

minutes every year.

89% of people use Zoom for business meetings & work purposes

63% of people use Zoom to contact their family and friends

The average time spent in meetings per week is 3 hours, with 30% of workers reporting that they spend over 5 hours per week in meetings.
If you are still unsure, the benefits of building video conferencing app development like Zoom are shown below figure: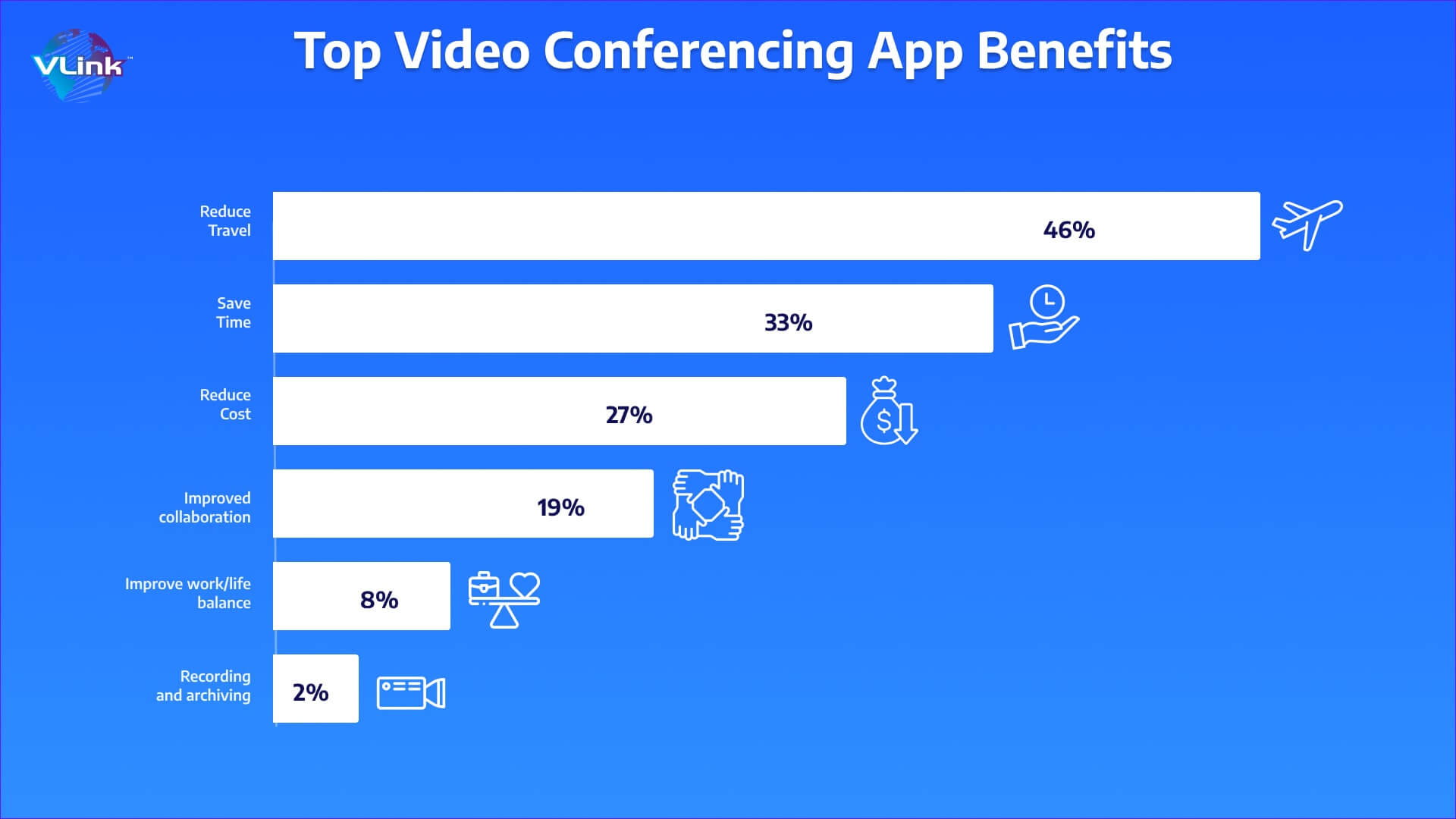 Now, let's come to the main topic, how much does it cost to develop a successful app like Zoom.
Cost to Build a Video Conferencing App like Zoom
The cost to create a video conferencing app like Zoom may range between $30,000 to $200,000. If you build an app from scratch, it may cost around $50,000 and go beyond this, depending upon the features and services you choose.
The exact video conferencing app development costs depend on several factors such as development platform, tech stack, app features, app design, team size, etc.,
Factors that Affect Zoom, like Video Conferencing App Development Costs
Creating Zoom-like video conferencing software or mobile apps requires a lot of effort and strategies. So, make sure to hire experienced developers for the same website or app. Your outsourced development team size also affects the cost of developing a video conference app. It would help if you outsourced the following strong team;
Project managers

Web video app developers

Qualitative analysts

UI/UX designers

QA testers
Are you planning to hire professional experts for your project? Read about dedicated team model how to choose dedicated software developers team.
The price to hire video conferencing mobile app development services depends on your outsourced agency's location. Here's a rough estimate of the average/hour rate in $ for various regions:
| | | |
| --- | --- | --- |
| Country | Per Hour Cost Range | Average Cost |
| India | $20-$150 | $30 |
| North America | $90-$230 | $180 |
| South America | $25-$115 | $50 |
| Eastern Europe | $30-$100 | $60 |
| United Kingdom | $35-$170 | $85 |
| Australia | $35-$150 | $110 |
Also read about top 10 countries for hiring best tech talent and remote software developers.
The selected platform also affects Zoom-like video conferencing app development costs. When compared to the cost to build an iOS app, the Android operating system is more expensive due to its device compatibility. In addition, you have the option of cross-platform or native.
Features also impact the cost of building video conference apps like Zoom. Let's check out basic & advanced features to create a video meeting app:
Basic Features of Video Conference App Development Like Zoom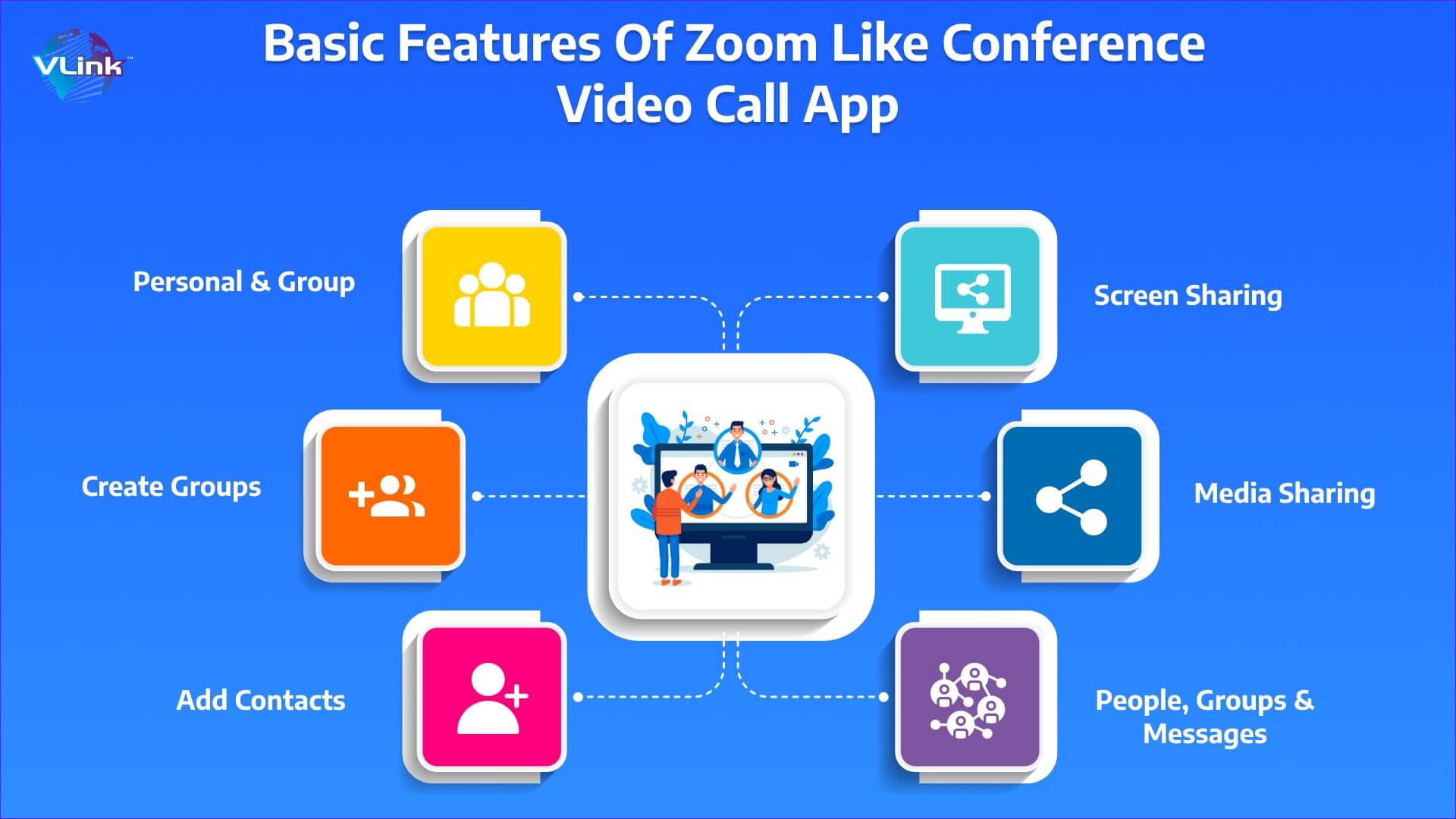 Personal & Group
Text messaging, chats, and phone conversations are the main features of an online virtual meeting application. You may add text, emojis, images, and other elements to the text messaging tool.
Giving customers the option to switch to their favourite language is another way to implement and utilize the localization function.
Create Groups
Building a group is also prominent in enterprises and business startups. Today's users frequently engage in multi-person chats.
Add Contacts
Every video conferencing program has an MVP feature to add contacts. Businesses may add contacts by username, email address, and phone number for the convenience of the users.
Screen Sharing
One of the most important features of creating a video conferencing program is screen sharing. The capability assists in keeping everyone on the same page in a business setting where users must cooperate with several people on the same project by making fruitful decisions.
Media Sharing
If you want to develop engaging video conference software, ensure you give your users the option to upload media of multiple formats and download them (in different sizes). In addition, make sure the media transmission is end-to-end protected.
You can even add high-level encryption technologies to the software. However, iT will directly enhance your Zoom, like video streaming and conferencing mobile app development cost.
Search Filter
Conference and meeting mobile & web applications have mostly replaced other forms of communication for consumers. It has given folks a purpose to connect and has caused the inbox to overflow with new groups and relationships.
Giving users a search option to discover their contacts, groups, or even messages will solve this organizational difficulty.
Here is an advanced feature set required to develop a video conference app like Zoom Cloud Meeting.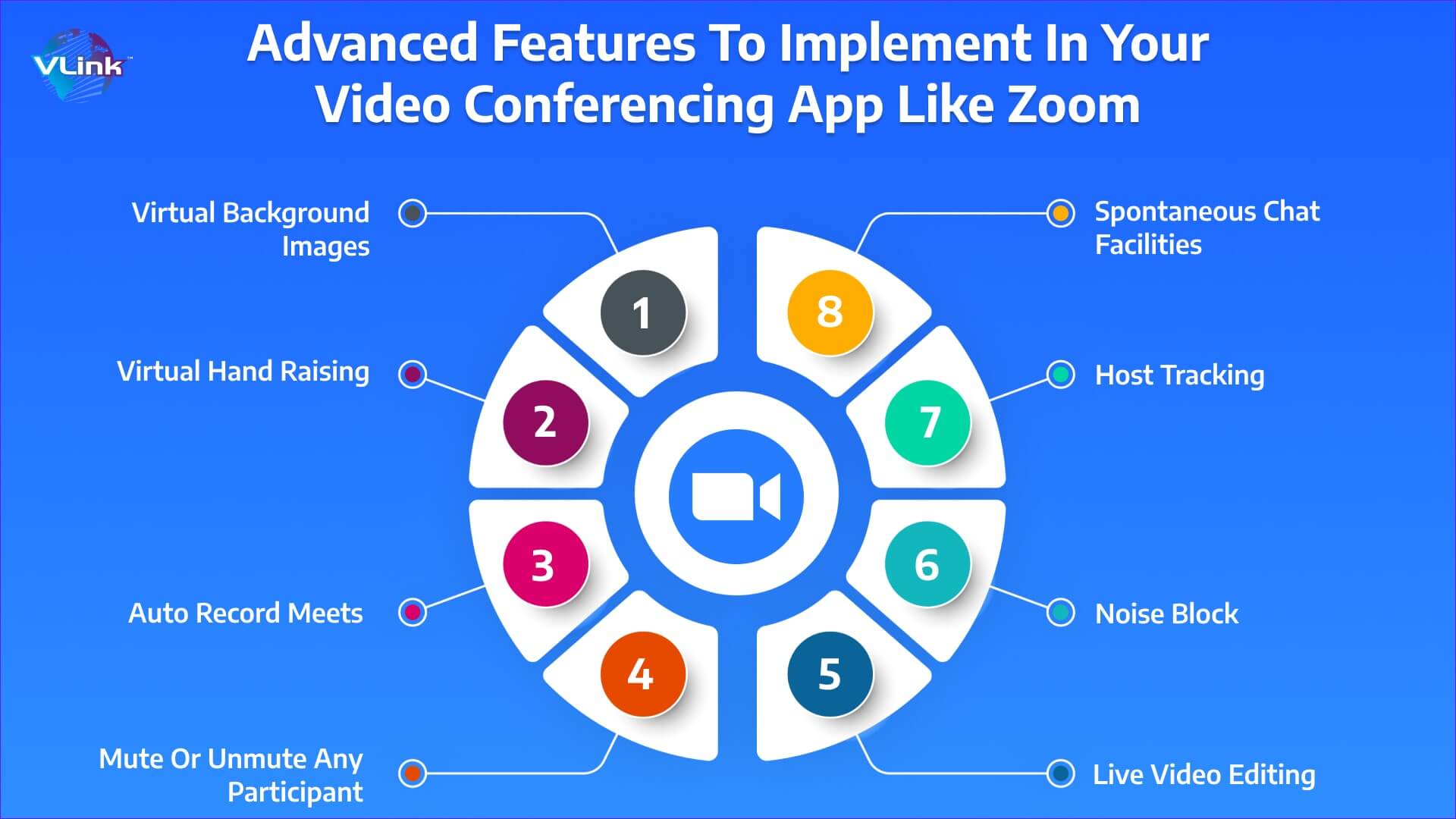 A basic inclusive app design will undoubtedly be less expensive than a minimal video app design with all of the following unique features.
Cloning, background filters

Whiteboards

Admin restrictions on attendance

Call recordings
These features ultimately raise the cost of video conferencing app development. So, it's essential to understand the design approach of mobile & web development solutions.

The complexity and expense of the app's development may increase if you intend to combine it with third-party services or APIs (such as payment gateways, calendaring software, or cloud storage).
Before starting this process, it's essential to know how to integrate Zoom into a website or mobile app.
Additional development efforts, such as capabilities for encryption, authentication, and compliance audits, may be necessary to ensure the security of video conferencing and compliance with data protection laws (such as GDPR or HIPAA).

Build the Best Video Conferencing App Like Zoom with VLink!
VLink is a leading video conferencing app development company in the United States. We provide high-performance video conferencing services for iOS, Android and Windows.
Our dedicated team of developers is specialized in building technical components of video-based solutions and products. They also have an in-depth practical understanding of streaming, transcoding, rate limitation, and infrastructure building.
Contact our experts to learn about Zoom-like video conferencing app development costs.
FAQs
Frequently Asked Questions
What is a video conferencing app?
A video conferencing app is a software application that allows individuals or groups to communicate and collaborate in real time through video and audio connections over the internet.
These apps facilitate remote meetings, webinars, and virtual interactions, enabling users to see and hear each other from different locations, often accompanied by screen sharing and chat features. Popular examples include Zoom, Microsoft Teams, and Skype.
How to make money through a video conferencing app?
To make money through a video conferencing app, you can:
Offer paid subscriptions with premium features.

Charge for hosting large webinars or events.

Provide consulting or coaching services.

Sell virtual event tickets or access.

Offer custom branding and integration for businesses.

Monetize through ads or sponsorships.

Create and sell add-on features or plugins.

Charge for technical support and training services.
What Tech Stack is Necessary to Build an App Like Zoom Cloud Meetings?
To build an app like Zoom Cloud Meetings, you'll need a tech stack including WebRTC for real-time video communication, a backend server (e.g., Node.js, Python), cloud infrastructure (e.g., AWS), databases (e.g., MySQL, MongoDB), and front-end technologies (e.g., React, Angular) for user interfaces on various platforms.
How to build a video conferencing app like Zoom?
To build a video conferencing app like Zoom, follow these key steps:
Market Research: Understand user needs.
Design UI/UX: Create an intuitive interface.
Development: Build features like video calls, chat, and screen sharing.
Security: Implement encryption and authentication.
Testing: Thoroughly test for reliability.
Scaling: Ensure it can handle many users.
Launch & Marketing: Release, promote, and maintain the app.
How does it long time take to build a video conferencing app like Zoom?
Building a video conferencing app like Zoom typically takes several months to a year or more, depending on the complexity, features, team size, and resources available.