In today's fast-paced digital world, On-demand app development services are growing rapidly. These apps help people to access home services, ridesharing, and food delivery at their convenience.
Consumers value on-demand services enough to spend $57.6 billion a year on them.
The on-demand industry is on the rise, promising to reach $335 billion by 2025. As a result, developing an on-demand app now seems quite promising.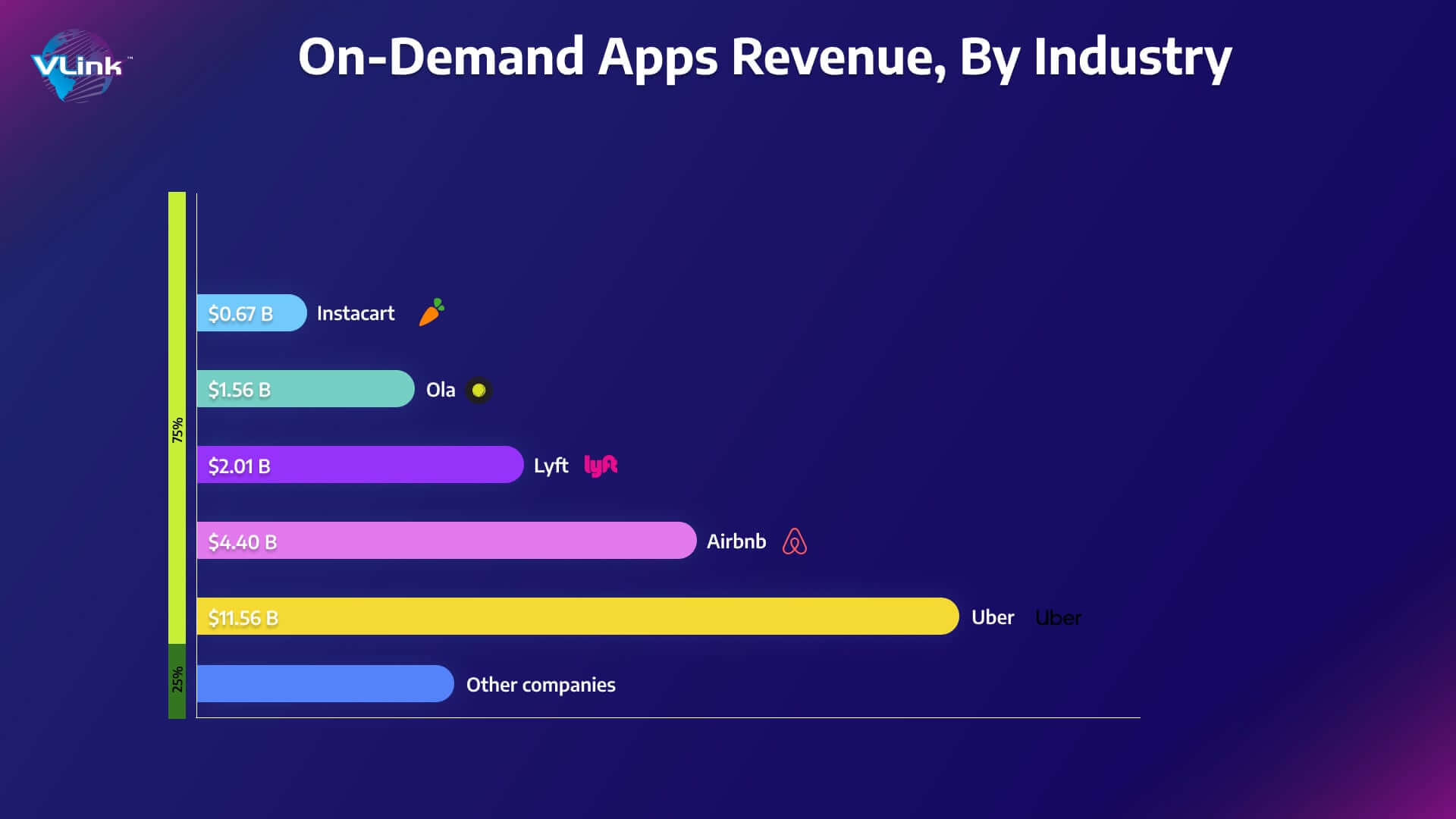 If you're a business owner looking to capitalize on this lucrative market, you'll need a customized on-demand app that meets your needs and your target market. In this blog, we'll explore the ways to get customized on-demand mobile app development services.
Why Should You Get Customized On-Demand App Development Services?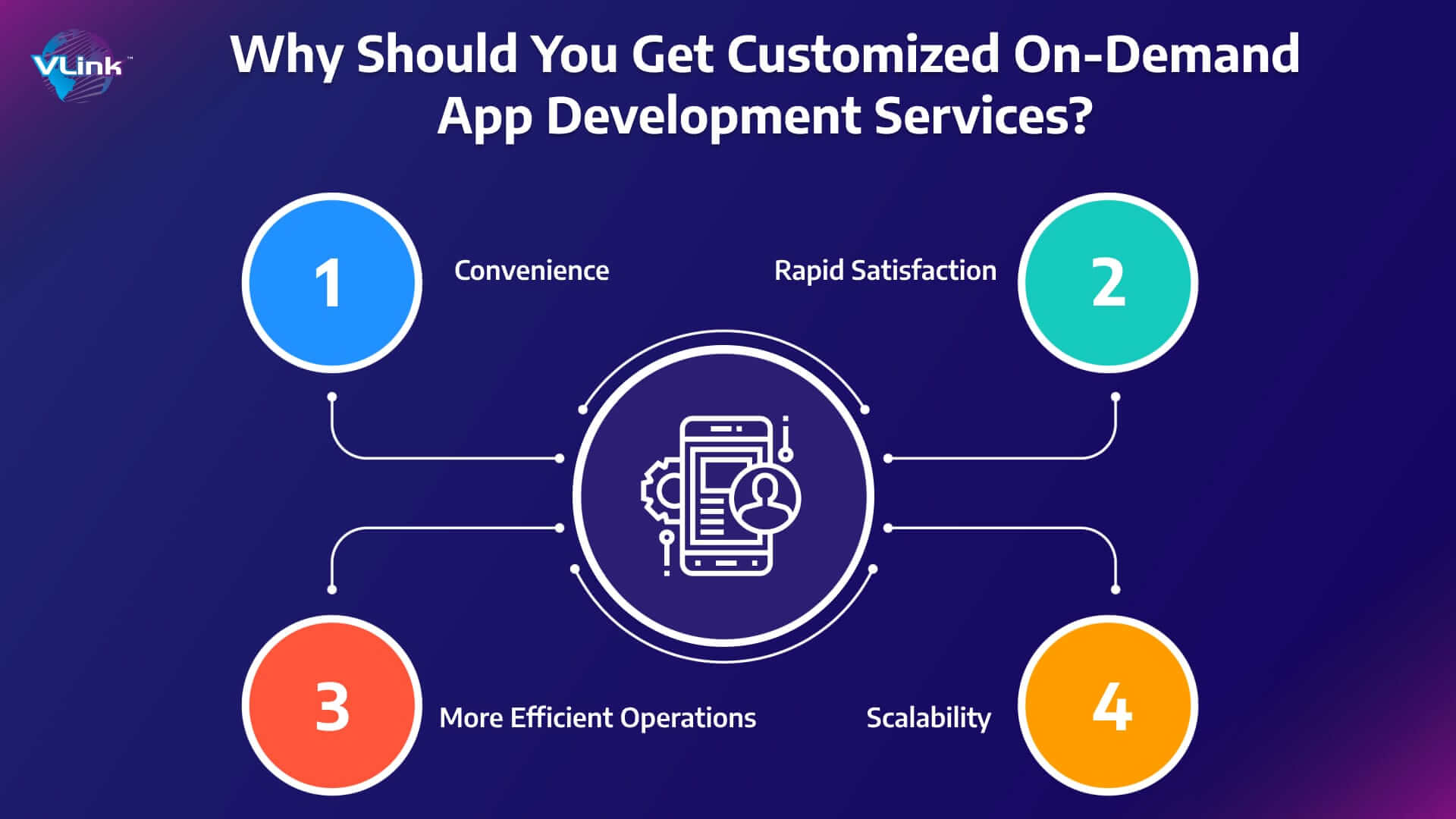 Here are several reasons why you should get personalized on-demand app development services for your business:
Convenience
On-demand applications offer unparalleled comfort. Users can access products or services on their smartphones with a few clicks, saving time by eliminating the need for lengthy phone calls or searches.
Rapid Satisfaction
In a culture where instant gratification is considered normal, on-demand applications provide users with instant solutions to their issues. Whether they are ordering takeout, booking a cab, or having groceries delivered, users want it now.
More Efficient Operations
They help by streamlining procedures, reducing mistakes, and boosting efficiency for both clients and service providers.
Scalability
Businesses can easily grow their operations with the help of on-demand applications. They can add more drivers, restaurants, or service providers to meet the growing demand.
Through data-driven insights, on-demand apps compile relevant information about user preferences and behavior. Utilizing this data helps with improving services and making informed business decisions.
How to Get Personalized On-Demand Apps for Your Business?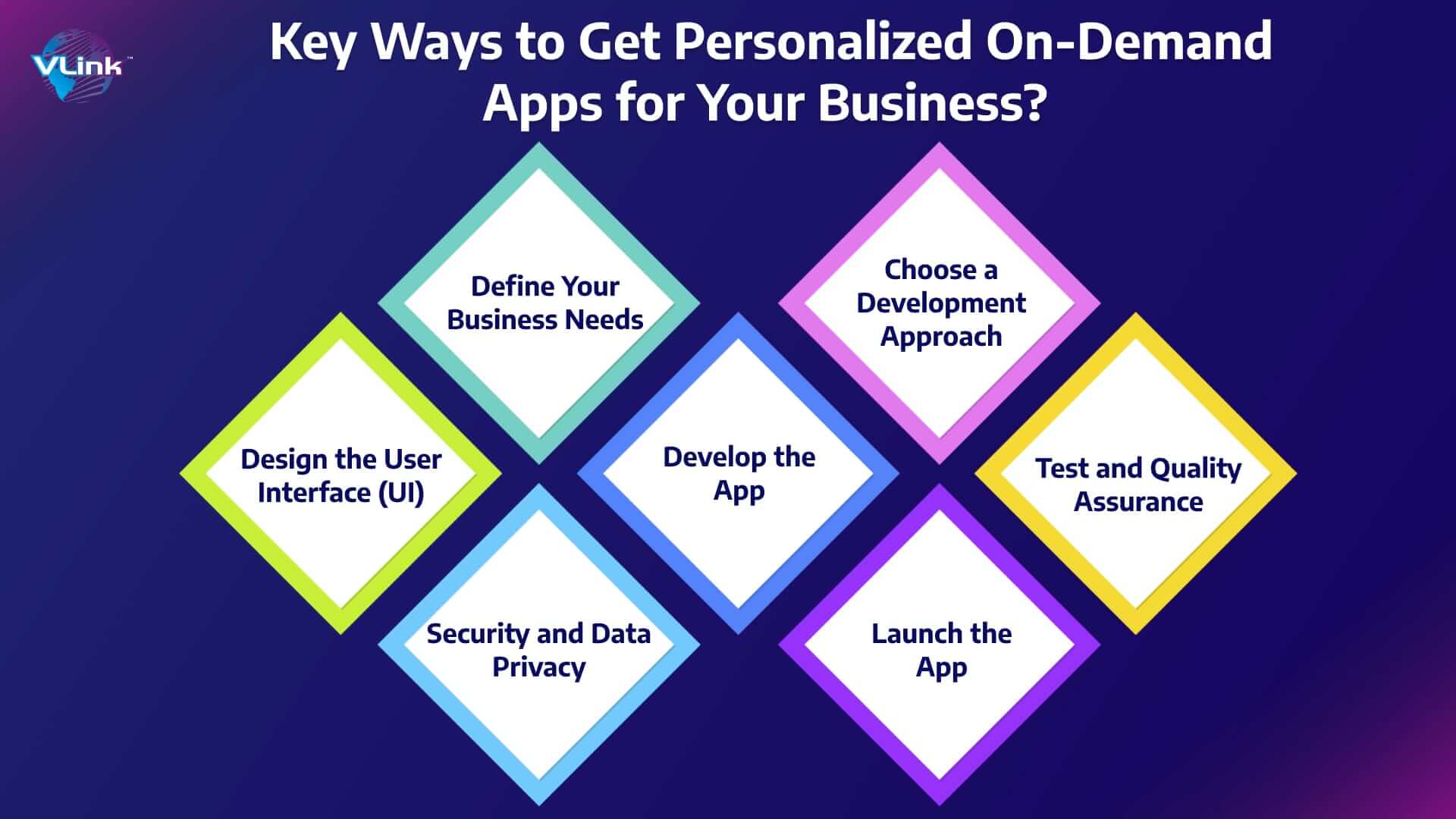 Here's a step-by-step guide for on-demand app development services:
Define Your Business Needs:
Identify the specific requirements and objectives for your on-demand app. Consider factors such as target audience, features, functionality, and your long-term business goals.
Research the Market:
Study your competitors and the existing on-demand apps in your industry. Understand what works and what doesn't. Identify gaps and opportunities for differentiation.
Set a Budget:
Determine how much you want to invest in on-demand app development. Your budget will influence the scale and complexity of the app.
Choose a Development Approach:
Decide whether you want to build a native app (iOS and Android) or opt for a cross-platform solution using technologies like React Native or Flutter. The choice may depend on your budget, target audience, and time frame.
Find a Reliable App Development Partner:
You can either hire an in-house development team or outsource the project to a reputable app development agency. When selecting a partner, consider their experience, portfolio, and client references.
Share Your Requirements:
Communicate your project's specifications, goals, and vision with your development partner. Collaboration and clear communication are essential for customization.
Wireframe and Prototype:
Create wireframes and prototypes to visualize the app's structure and functionality. It helps you and your development team align on the app's design and user experience.
Design the User Interface (UI):
Work on the app's user interface design, ensuring it's intuitive and visually appealing. Customizing the app's UI to match your brand identity is essential.
Develop the App:
The process of mobile app development for business involves coding the app, integrating features, and ensuring it's fully customized to meet your business needs. It's essential to maintain regular communication with your development team.
Test and Quality Assurance:
Different types of testing services is vital to ensure the app functions properly and is free of bugs. User acceptance testing (UAT) can help identify any issues before launch.
Security and Data Privacy:
Ensure that your app complies with data privacy regulations and follows best practices for security. Data protection is a critical concern for on-demand apps.
Launch the App:
Release on-demand app on the App Store and Google Play Store. Promote the launch through marketing and PR efforts.

Gather User Feedback:
After the app is live, gather user feedback and analyze app usage. Use this data to make improvements and updates on your apps.
Continuous Development:
The on-demand app development process doesn't end with the initial launch. Continuously update and improve the app to stay competitive and meet evolving user needs.
Marketing and User Acquisition:
Implement a marketing strategy to acquire users. Consider online and offline marketing methods, such as social media, advertising, and partnerships.
Provide Customer Support:
Offer excellent customer support to address user inquiries and issues promptly.
Monitor Analytics:
Implement tools to use in data analytics for tracking user behavior, app performance, and key performance indicators (KPIs).
Scale Your Business:
As your user base grows, scale your operations and expand your app's features to meet increasing demand.
By following these steps and working closely with your chosen development partner, you can get fully customized on-demand app development services that cater to your business's specific needs and objectives.

Contact VLink for On-Demand App Development Services!
Real-time operations and transparency are essential for every industry. VLink is a reliable on-demand app development company behind some of the most intuitive instantaneous applications in the world.
We help you serve your customers when they need it with our custom on-demand mobile app development services. We ensure your on-demand applications find a permanent place on your customers' mobile phones.
84% of Repeat Customers.

18+ Years of Experience

Dedicated Team

On-demand Developers

Scalable App Solutions

Intuitive & Friendly Interfaces

Transparent & Cost-effective Costs
Through an on-demand app, your users will have an amazing experience with all of your services. Here are advantages of VLink on-demand app development services that give your enterprise a successful breakthrough in industry.
User-friendly

Technically strong

Feature-rich app

Visually stunning applications
We take your business idea and mix it with ease and real timeliness to develop apps that make your brand a household name.
For more information about on-demand app development services, contact us!
FAQs
Frequently Asked Questions
How much does on-demand app development cost?
The cost to build on-demand apps varies widely depending on factors such as complexity, features, platforms (iOS, Android), and development location. Simple mobile app development costs can vary around $10,000 to $50,000, while more complex ones can exceed $100,000 or more. Customization and ongoing maintenance add to the overall expense.
What are the key features of on-demand app development?
Key features of on-demand app development typically include user profiles, geolocation services for real-time tracking, secure payment processing, reviews and ratings, push notifications, booking/scheduling capabilities, and in-app messaging for communication.
Admin panels for service providers and users, as well as analytics and reporting tools, are also essential. Customizable features may vary based on the specific on-demand service, such as ridesharing, food delivery, or home services.
What are the most popular on-demand apps?
Some of the most popular on-demand apps include Uber and Lyft (ridesharing), Uber Eats and DoorDash (food delivery), Airbnb (accommodations), TaskRabbit (services), Instacart (grocery delivery), and Amazon Prime Now (same-day delivery). These apps have gained widespread popularity for their convenience and efficiency in meeting users' immediate needs.