You'd be aware of how the world economy was affected by a historical peak in inflation, if you were interested in global news. While the expenses and product values are increasing consistently across the globe, investors found the real estate industry worth investing in.
Over the years, investment in real estate has proven to be a very good way of avoiding inflation. A performance no one can hide from a user of the Real Estate Crowdfunding Platform.
In the real estate crowdfunding market, which is expected to reach more than $239.78 billion by 2026, a validation of the crowdfunding investment platform can be seen.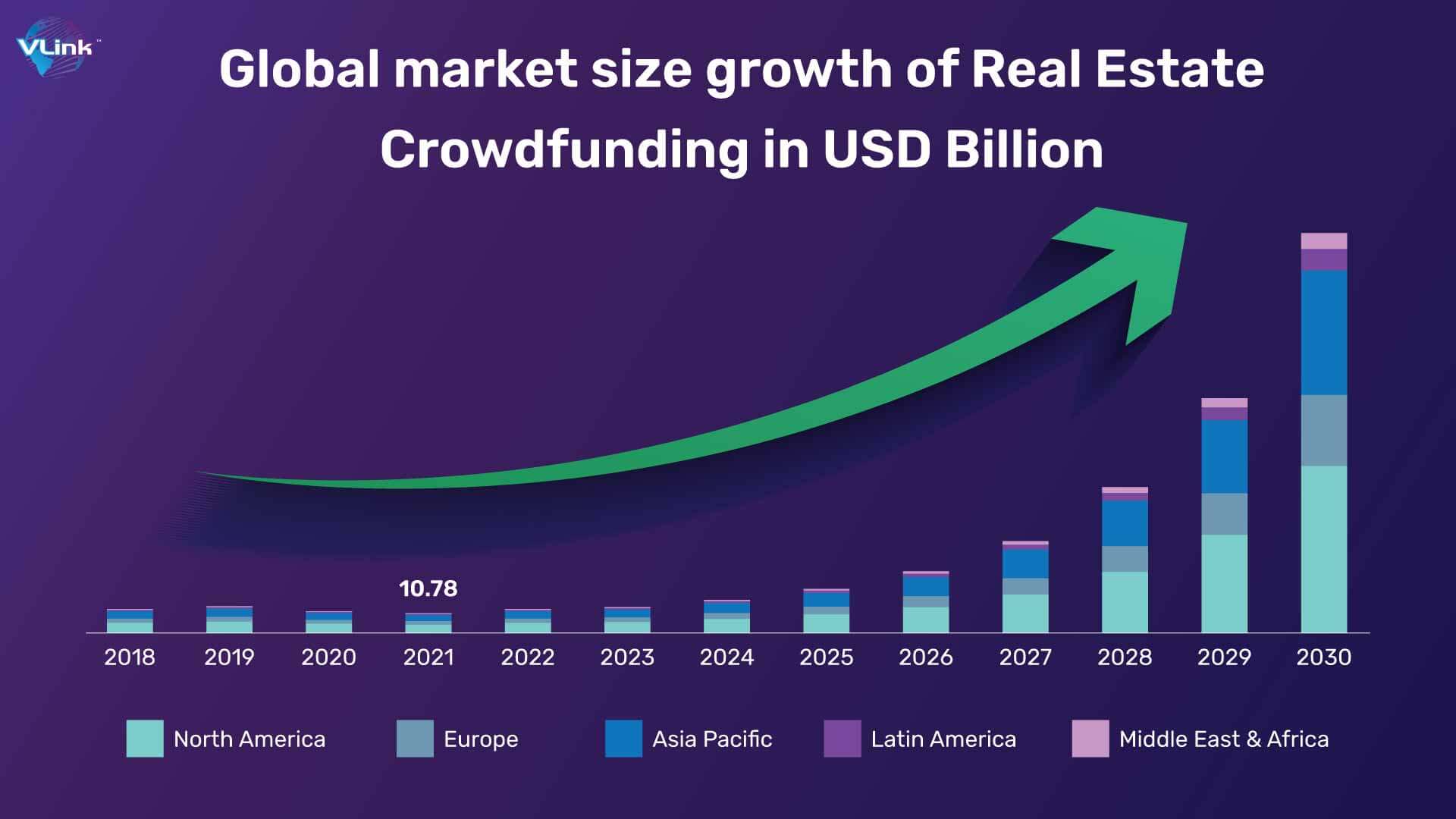 The US, China, Australia, the UK and Germany are projected to be major contributors over the period of forecast for real estate crowdfunding. These figures indicate that entrepreneurs belonging to these regions, or who are trying to locate them, have the potential for huge profits.
Now before we start with how real estate app development is also made for crowdfunding platforms, let's understand the concept well.
What is a Real Estate Crowdfunding platform?
Real estate crowdfunding refers to the practice of obtaining funds for a real estate company by collecting multiple individual contributions from investors who are not accredited.
Crowd funding is good for several reasons, including the improved ease of securing financial resources and the reduction in the monetary barrier which must be overcome by those who wish to participate as investors.
However, there is a possibility that current shareholders may have a smaller influence on the company's structure and less choice of shares to be disposed of with the increasing number of new shareholders. For both the parties involved, it will serve them well for a long time.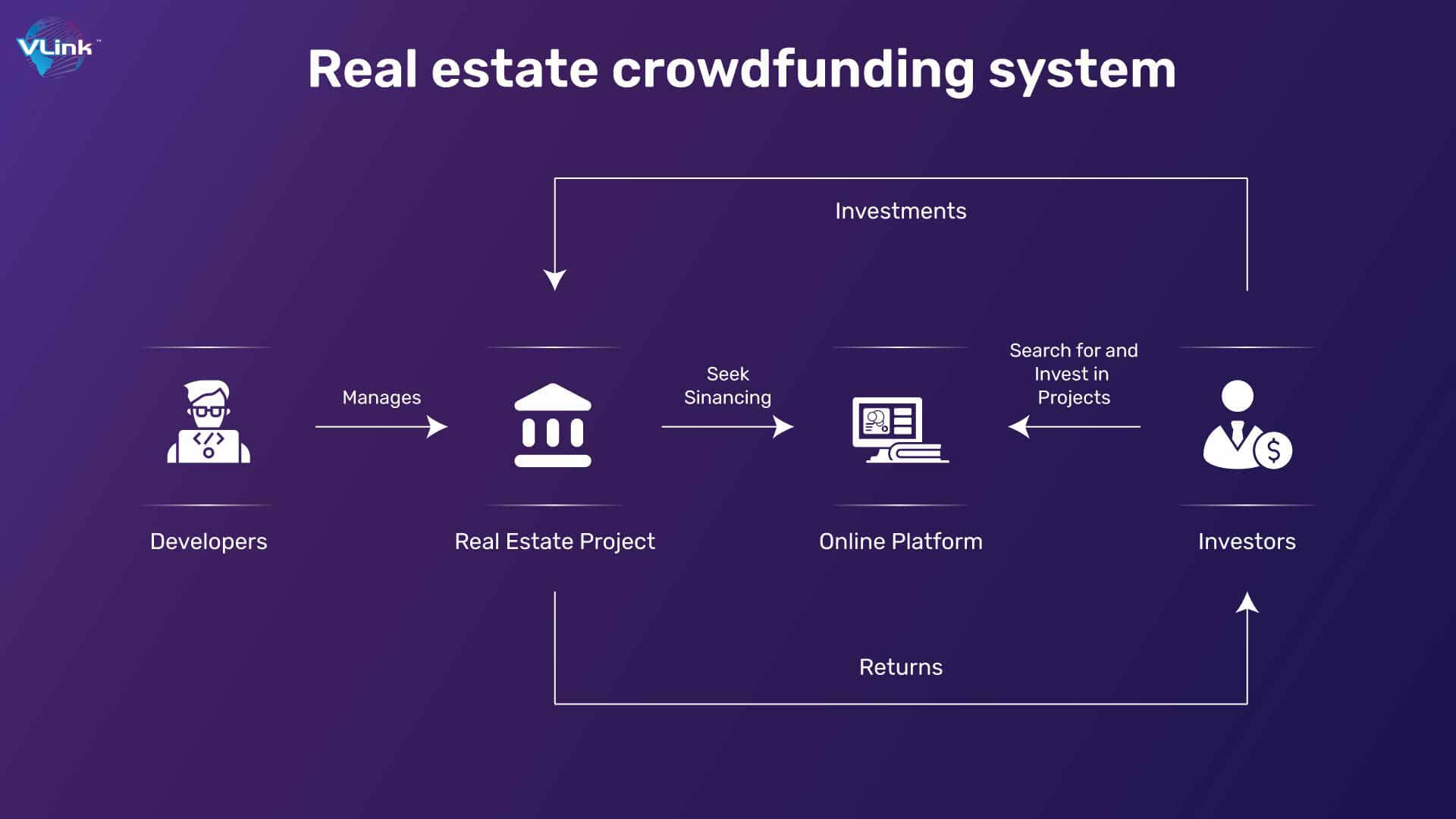 Furthermore, in order to analyze and evaluate investment prospects, these apps use advanced data analytics and machine learning algorithms, which help investors optimize returns. In conclusion, crowdfunding apps for real estate provide a bridge between investor and developer as well as an essential service in today's dynamic real estate market.
Real estate crowdfunding apps are a way for property developers and investors to connect themselves with each other while obtaining access to an investment opportunity. They simplify capital raising and asset acquisition through their use of innovative technologies.
In this way, users are interacting with each other directly in a mobile app without having to rely on traditional broking ways as intermediaries.
Also Read: Real Estate App Security: Ensuring Data Privacy and Protection
Role of Technology in Shaping the Future of Real Estate Crowdfunding
The growth and development of real estate crowdfunding is largely driven by technology. You must therefore know that innovation and efficiency in this sector are expected to be stimulated by utilizing advanced data analysis, artificial intelligence (AI) or blockchain technology. Here are some productive ways to utilize technologies in your real estate crowdfunding platform:
Improved Due Diligence and Risk Assessment
Platforms can use AI and ML algorithms to analyze large volumes of data in order to find potential investment opportunities, evaluate risks as well as make better decisions.
Tokenization of Real Estate Assets
The development of digital tokens representing the ownership stake in a property can be enabled by Blockchain app development technologies to tokenize real estate assets. This facilitates the ownership of fractional and increases liquidity on the market.
Streamlined Transactions and Reduced Costs
The elimination of intermediaries and reduced transaction costs can also facilitate transactions using Blockchain technology. This is likely to increase the effectiveness and accessibility of investment processes for a broader range of investors.
The working of a real estate crowdfunding platform
There are multiple stakeholders involved in the process of a real estate investment platform. The platform aims to create a common digital place where builders can raise the money they need, and investors have an opportunity to get involved.
When we're talking about property crowdfunding platforms, companies like Fundrise are the first name that comes to mind. The firm has collected $15 million in just two years, thanks to over a thousand donors.
In the same way as equity crowdfunding allows an investor to buy a property and participate in its ownership, real estate crowdfunding is similar. It is not necessary that, based on their investment amount, investors purchase whole properties and take part in a proportion of gains from these investments.
For instance, investors would have been paid revenue from renting property or the proceeds of sale. The Investment Committee of the Platform shall decide whether to invest in real estate. In that case, there are two options: first is the usage of platform's funds for forwarding purchasing of property, and the second one is to raise funds for purchase after launching the property on the platform.
If insufficient funding is raised in a crowdfunding round within the period required, every investor will be granted back the amount of money they have allocated for an opportunity.
Now that you know the working of real estate crowdfunding platform, let's move ahead to knowing the core reasons for choosing mobile apps for this business:
Why should you choose mobile apps for your real estate crowdfunding?
The vast majority of real estate purchasers do not wish to interact with property owners and realtors through agents or other intermediaries. But, in practice, it has not been possible; the use of mobile apps for property transactions is now useful.
Most property investors and tenants use mobile phones to search for realtors or owners, instead of communicating with them through agents. People are learning how to use technology, and they're looking at things like clothes, groceries, or property before making a purchase.
It is very important for the growth of businesses to have direct contact with their customers. You'll be able to do that in a matter of seconds if you use mobile applications for business.
You can offer more accurate targeting to your customers by using real estate mobile applications. This can be done by having information on your customers such as interest in buying properties, type of property, geographical location, demographic data, preferences etc.
Here you can clearly see, real estate crowdfunding platforms have the most weightage for Big data and analytics to get their objectives fulfilled.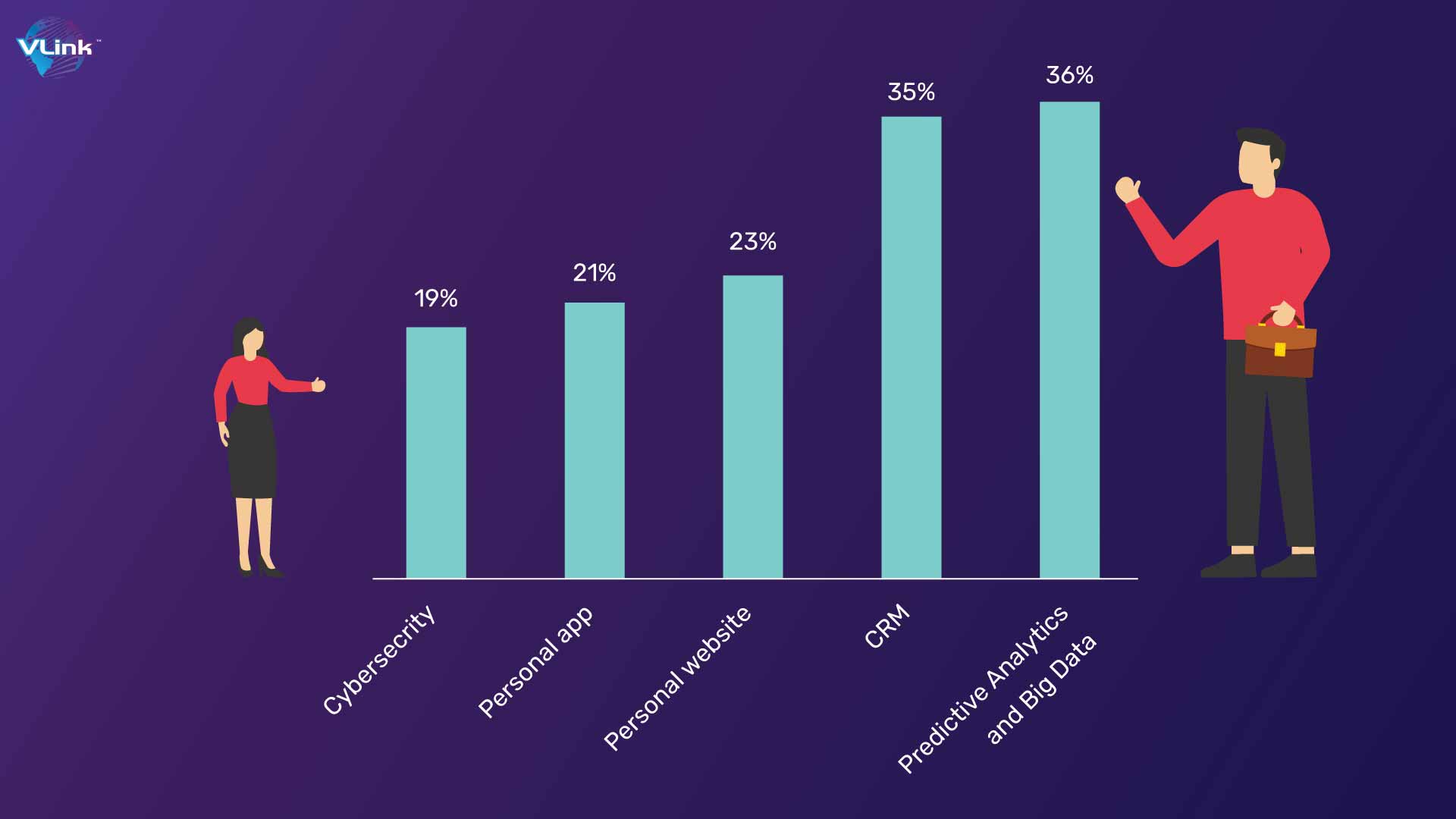 When you have the data, you can start preparing to convert potential customers into buyers. You'll be able to choose from a range of options, such as location specific messages that will make it easier for you to sell.
In all, nearly five billion people worldwide use a mobile phone. Young people are the majority of those with mobile phones, and they're looking for property or rentals through their phone. They could be the market you're looking for. If you have an app on your mobile device, it can be a great way to expand your business and attract the attention of smartphone users.
For that reason, mobile real estate applications will help you to increase your market presence and interact with interested buyers. So, going for mobile app development to showcase your property business will be a profitable deal in today's era.
With or without the real estate mobile application, there's no doubt you can be a successful realtor. It is, however, necessary to be exceptional for you to remain at the head of your competitors. It is possible to do this with an efficient and unique mobile device. Your idea for an app must be focused on the needs of your customers, and you must provide excellent user experience.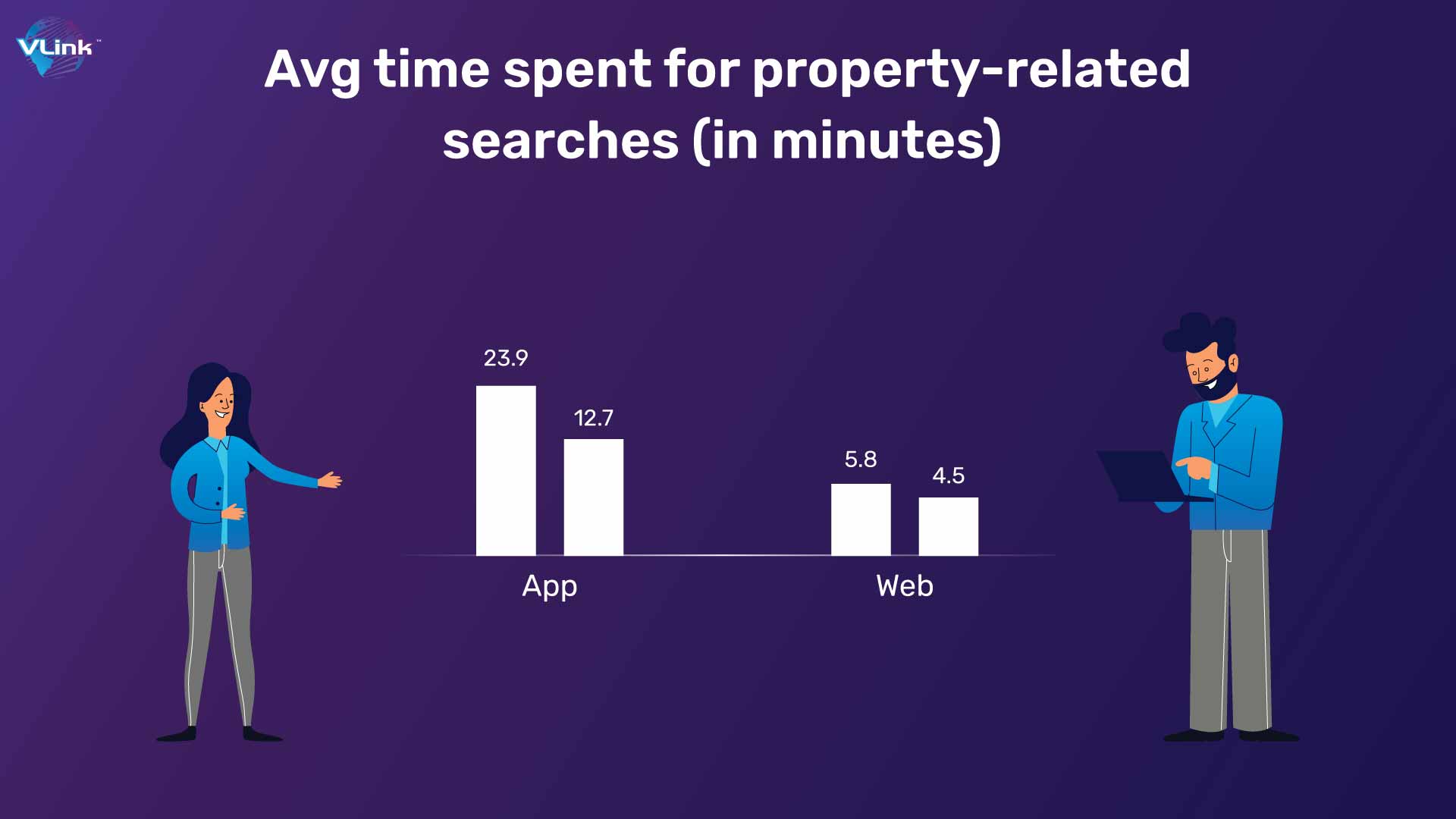 For example, your app will have to distinguish itself from its competitors. It is essential that you connect with real estate developers who will assist in the development of helpful apps for easy search, consultation and purchasing. To gain maximum benefit from the branding, you can create a custom application for real estate.
It is difficult to increase property sales and keep them constant. You will get the option to make calls, send text messages, and ask questions with mobile applications that enable you to generate revenue. In addition, your existing customer base is also supported using property applications.
With no intermediaries needed to carry out the process, you will be able to send notices, personalized offers, messages and more direct to your buyers. You may be able to connect directly with your customers when they need to buy a property, through potential marketing strategies.
You can make a lot of money selling property applications, even if you don't own any real estate business. You could be allowing third party owners of real estate to post their property in your app, such as.
Moreover, you can implement the following monetization strategies for your real estate crowdfunding platform to meet your business goals.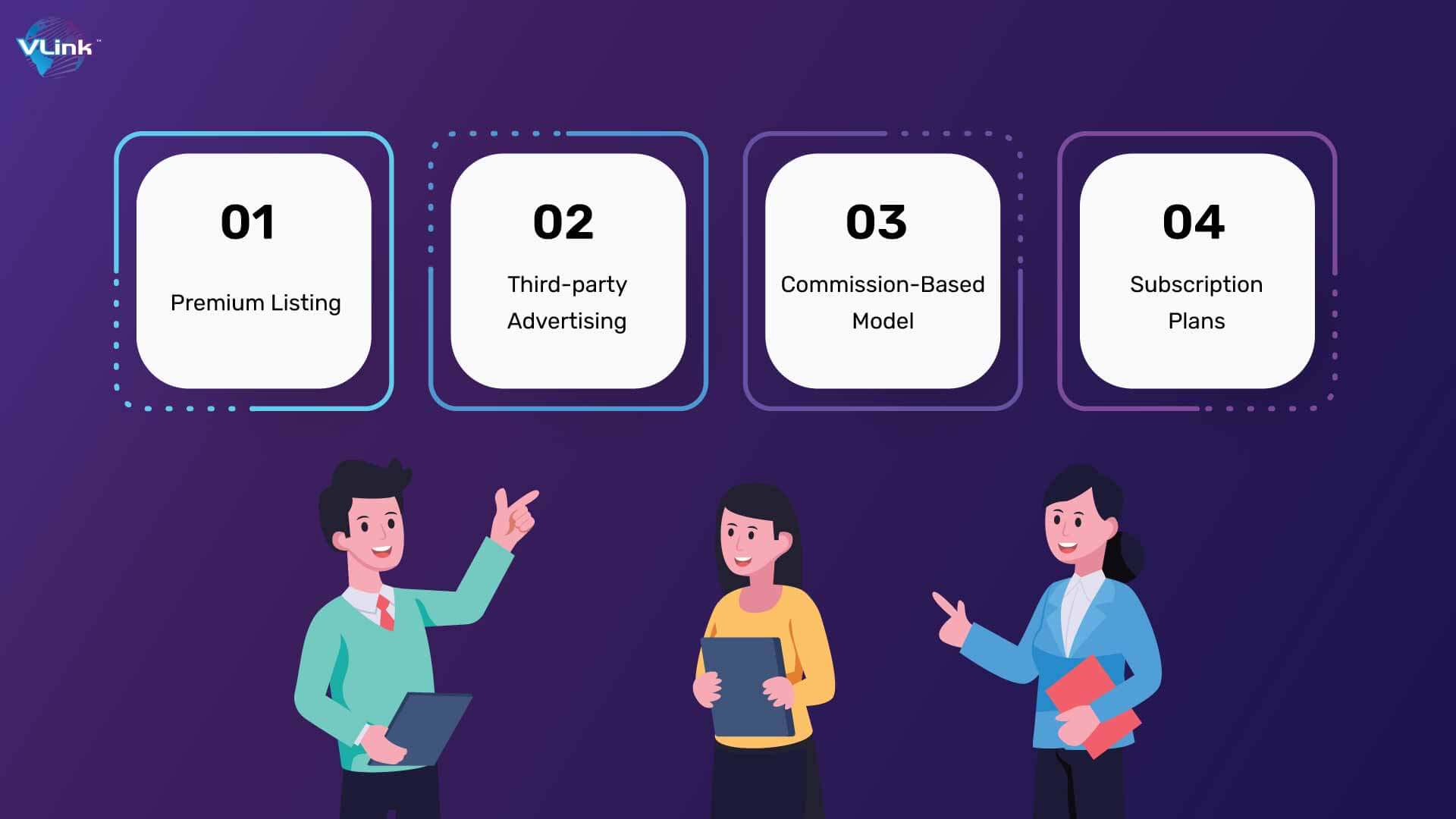 You'll get part of your share as a commission once an interested customer has shown interest in buying real estate. In this way, users will receive value added homes on their budget, and you'll make a profit.
People are already fond of mobile apps. In fact, as we've noted above, users spend around four hours a day browsing mobile devices and 90% of their time is spent on apps. For real estate, your users will find it easy to get attracted to the services you offer.
They will believe that you'll purchase the property they choose if you have a special advantage to offer. And buyers are tech savvy; they've been doing a lot of research before buying something. They're collecting a lot of data, such as the budget, prices, location, facilities and so on.
Before they buy a home, they match them with their preferences. This is why you can provide them with some of the most sophisticated features, such as dynamic search for real estate, mortgage calculator and so on.

How VLink can help with real estate crowdfunding platform development?
Crowdfunding and real estate investment trusts are gaining popularity among investors and real estate enthusiasts alike, while a lesser known method of making passive income is gaining popularity. A number of investment platforms for real estate have come to the market as a result of this high demand.
It would be more beneficial for you to understand, in the real estate sector, the greatest benefits of mobile app development. So, before you become ready to get started with real estate crowdfunding platform development, we suggest you reach this blog and explore the concepts as much as possible.
Furthermore, you can contact us and see how we can solve your problem if you want to learn more about the potential of app development for real estate. VLink offers a wide range of solutions for all development needs in the field of real estate and property business, from ideation and strategy to deployment.
FAQs
Frequently Asked Questions
How much does it cost to build a platform for real estate crowdfunding?
The development of a typical real estate crowdfunding website or platform will cost between $60,000 and $230,000. A range of development factors such as complexity of the website, required integrations, location of developers and features play the crucial role in determining the exact cost.
How businesses monetize real estate crowdfunding platforms to make money?
In the case of real estate crowdfunding platforms, investors can start with small amounts and be involved in financing a large RE project or group of projects. A crowdfunding platform is making money from management, advisory and selling fees through its connections with property developers and investors.
Is it good to have an app for my real estate crowdfunding business?
A mobile app for your real estate company can offer a number of advantages, including better marketing, cost effectiveness, increased revenue, convenience for customers, increased engagement, improved customer service, better data collection, and offline functionality. These advantages will assist you in reaching a larger audience, producing more leads, and ultimately growing your organization.