As smartphones have become integral to modern life, their pervasive usage has transformed how individuals consume information, interact with their surroundings, and participate in the democratic process.
In this rapidly evolving landscape, leveraging mobile apps has become a compelling strategy for political parties to bridge the gap between politicians and citizens, enhance outreach, and foster a more profound sense of political involvement.
In this blog, we will explore why you should embrace mobile apps as a potent tool for your political party.
Stay On!
Reasons Why Political Parties Leverage Mobile Apps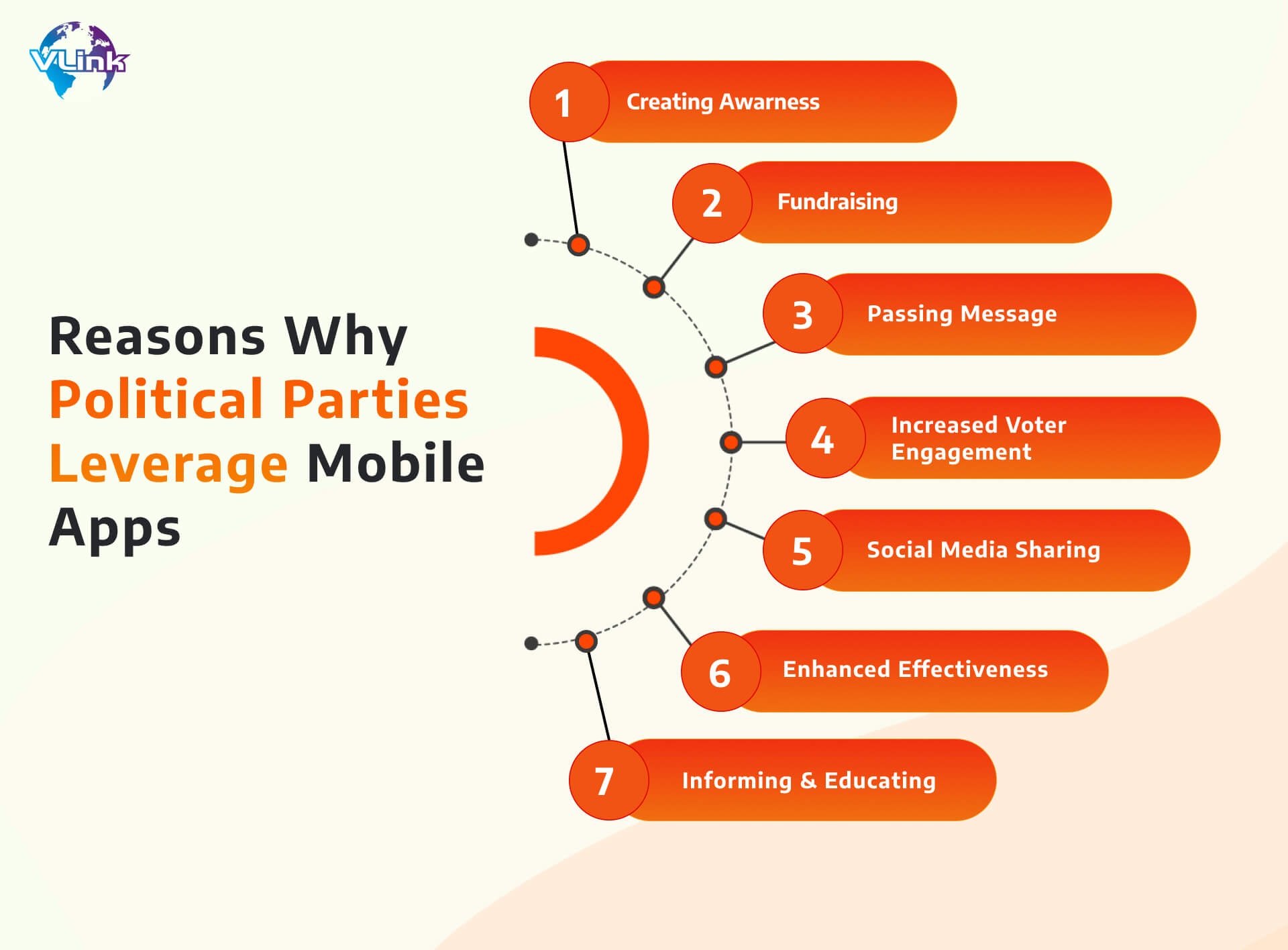 Mobile applications enable politicians to easily convey their objectives, strategies, and value propositions to their followers and audiences. Also, they can use apps to increase awareness for rallies, meetings, and other gatherings.
Enhancing the organization's popularity among the public can be achieved by leveraging the capabilities of charismatic leaders with the talent to influence public sentiments.
With social media channel integrated apps, politicians can portray their larger-than-life messianic image. It results in great support and votes for their cause.
Today, political promotional campaigns are characterized by their high costs, often reaching billions of dollars. To cover these substantial expenses, political parties frequently resort to conducting fundraising campaigns to accumulate the necessary funds for organizing rallies, investing in media advertisements, and employing other essential campaign methods.
India's current Prime Minister, Narendra Modi, utilizes his app to communicate messages to India's citizens effectively. Mobile apps facilitate outreach to a vast audience, taking advantage of their widespread presence and internet connectivity, allowing access to anyone, irrespective of location.

Through the app, supporters can delve deeper into their endorsed parties, fostering active engagement. Prospective leaders can express their authentic ideas and beliefs, encouraging citizens to share their opinions, thereby creating a friendly and inclusive environment.
Increased engagement within the app contributes to heightened public awareness, making it an effective tool for promoting the party's message and connecting with the people.
An excellent political news app has the potential to boost voter engagement. It provides a platform where voters can stay well-informed about ongoing events and actively participate in the political process through interactive features.
Among the numerous advantages of political apps, one stands out as particularly significant. Given the prevalence of politics on social media, including a feature allowing users to share the latest news across various platforms will attract a larger audience.
As sharing increases, so will engagement within the app, leading to heightened awareness among the public about political matters.
Political apps offer valuable benefits by streamlining various campaign processes, resulting in time and cost savings for campaigners. For instance, data collection and voter canvassing automation allow campaign employees to focus on other essential tasks.
In summary, a political app serves as a powerful tool, enabling effective voter influence, seamless connection with supporters, efficient data gathering, successful fundraising efforts, and enhanced productivity throughout the campaign.
Political apps serve as a valuable means of informing the public about critical issues that politicians need to address. By using these apps, people can better understand the state of their country, state, or city.
Previously, there was a challenge in ensuring politicians were honest about their agendas, primarily due to the need for a suitable medium. However, with the advent of mobile apps in politics, transparency, and information dissemination have improved significantly, making it easier for the public to stay informed and aware.
Numerous politicians conduct surveys to identify and understand the issues affecting the public and gauge their opinions on specific topics. These surveys are crucial in gathering valuable data, empowering politicians to make informed decisions and take substantial actions. Such precise interactions foster a sense of trust between candidates and the public.
Additionally, in the event of any occurrence, surveys can promptly collect essential information, which can then be utilized to address issues effectively and implement necessary actions.
5 Real Life Examples of Political Mobile Apps
The White House app

The White House app provides a plethora of excellent features for its users, including a virtual tour of the White House and a tour map. This app has become strongly linked with the White House and is among its most notable features. The official White House website offers an in-depth article covering the app and its various functionalities.
Congress+
Congress+ is a political application designed for both Android and iOS users. Through this app, users gain access to upcoming events and bills, along with the ability to track the regular activities of their representatives. Moreover, the app includes a notification feature, promptly updating users with the latest news and developments.
iCitizen
iCitizen is a viral political engagement app with over 300,000 downloads. It offers an array of impressive features that captivate political supporters. Users can actively monitor the political issues that matter to them, with the option to choose from 18 different policy verticals.
Additionally, the app allows users to follow their favored candidates closely and even conduct polls, enhancing the overall experience for its users.
Narendra Modi app
The 'Narendra Modi' app serves as the official application of the Prime Minister of India. Its primary purpose is to disseminate up-to-date information to the public while offering an avenue for the general population to contribute to various causes through donations.
An alluring feature of the app is its capability to enable direct messages and emails from the Prime Minister, providing a direct communication channel between him and the citizens.

Indian Politics
Indian Politics stood out as one of the finest political apps in 2018. Beyond offering comprehensive insights into all facets of politics, the app also delivered news on various related topics. Its users praised the app for its extensive range of information, making it a favorite choice.
The political mobile app garnered over 10,000 downloads on the Google Play Store.
Key Features Political Mobile App Development Must-Have
Here are some possible features that political apps must have for Android or iOS platforms are shown below figure: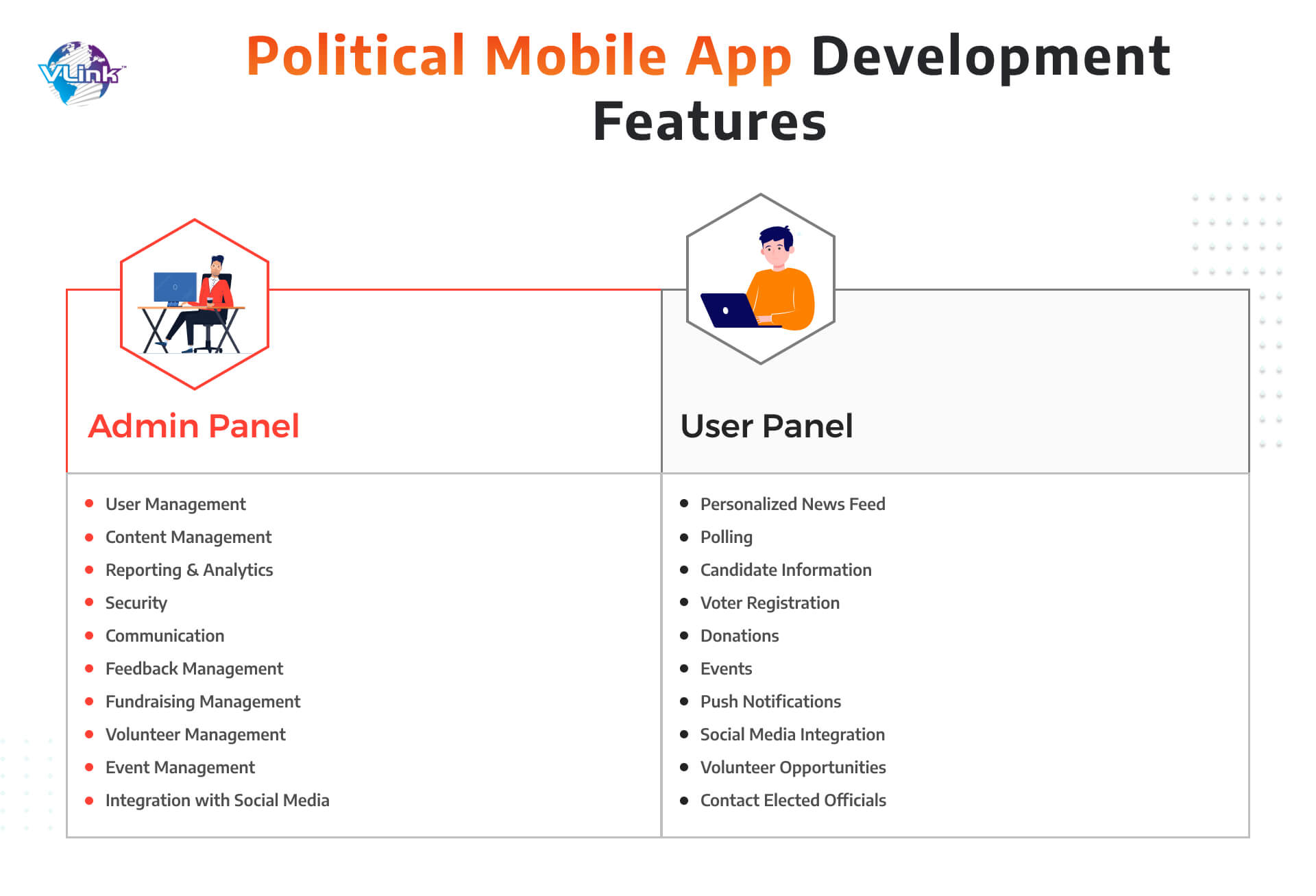 Consider VLink to Build a Successful Political Mobile App!
VLink is an app development company specializing in crafting cutting-edge online applications for small and large corporations spanning diverse industries. We excel in political mobile app development services, offering tailored solutions to meet the specific requirements of political parties, candidates, and their supporters.
As the foremost political app development agency, we can create apps that facilitate seamless communication, promote effective fundraising, enable efficient canvassing, provide real-time election results, and much more.
Our team's proficiency in employing the latest mobile app development trends, technologies and frameworks ensures the development of innovative and user-friendly apps, bolstering the efficiency and effectiveness of political campaigns.
With a wealth of experience, we have offered consulting services to startups, mid-level companies, and global brands, ensuring our ability to cater to various needs. We emphasize durability, privacy, and sustainability in every project, reflecting our commitment to delivering top-notch solutions.
Our mobile app development services include the following features:
A Talented Development, Web Development, And Project Management Team.

Non-Disclosure Contract (NDA)

Dependable Data Security And Privacy Mechanisms

Improved Project Management With Cutting-Edge Tools

Most Recent Technology & Stack Development

After-Release Assistance Maintenance Services For Apps
In addition, you can discuss hiring Political App Development Services with us.

FAQs
Frequently Asked Questions
How much does it cost to build a mobile app for political parties?
The cost of political app development can vary significantly depending on various factors such as platform, complexity, and features. Building an essential app for political parties usually prices between $10,000 and $23,000.
However, cross-platform app development with extensive features could cost anywhere from $23,000 to $55,000 or even more.
Here are a few factors that may impact how much mobile app development costs:
App Platform

Features And Functionality

Design And User Experience

Integration With Third-Party Services

Security and Privacy
It's essential to understand that building a political app includes ongoing prices. It requires regular maintenance, updates, and changes to keep it functional and compliant with recent security requirements.
How to develop a political mobile app?
To develop a political mobile app, follow these steps:
Define app objectives and features.

Choose a platform (iOS, Android).

Design a user-friendly interface.

Develop back-end functionality for data storage and retrieval.

Integrate social media and real-time updates.

Test thoroughly for bugs and usability.

Launch on app stores.

Promote through marketing and outreach.
How does a political party management app contribute to the effectiveness of campaign management?
A political party management app streamlines campaign management by centralizing communication, data, and resources. It enables real-time collaboration among campaign teams, simplifies volunteer coordination, and tracks fundraising efforts.
The app also facilitates voter outreach, event organization, and messaging dissemination. Providing data analytics helps strategize more effectively, making campaigns more efficient and responsive to voter needs.