The demand for UI/UX designers is rapidly surging in software development. The global UI & UX design software market was valued at $960.18 million in 2021 and is projected to increase at a CAGR of 22.25%, growing $ 3205.15 million by 2027, as shown in the figure below.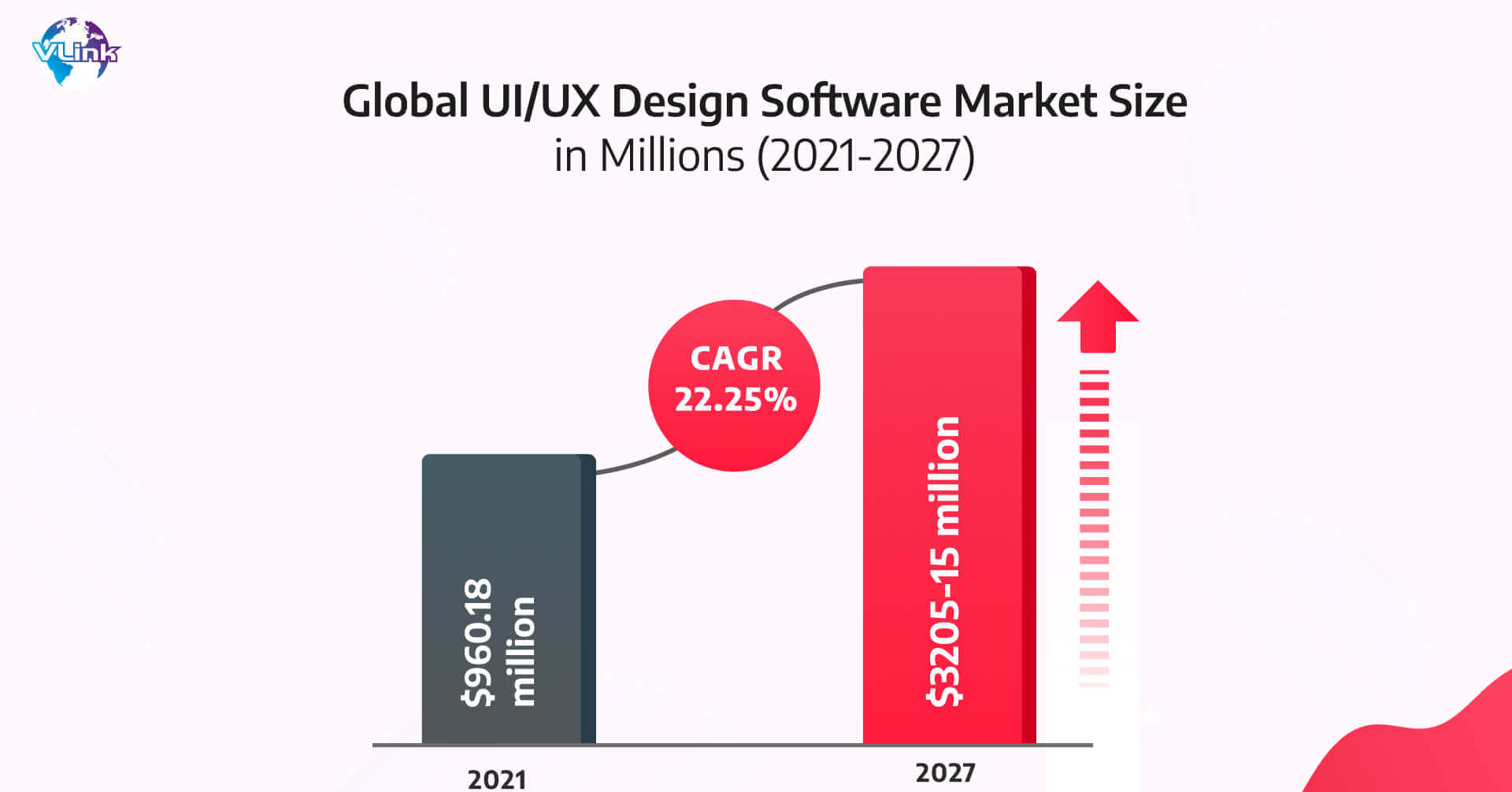 The terms UI and UX are closely related and play a vital role in software design. Effective UI and UX design can enhance a product's usability, aesthetics, and functionality, setting it apart from competitors.
But, a poor design can cause user confusion, frustration, and abandonment. So, hiring the right UI/UX designers for your project is essential.
Read this blog to learn about the UI/UX designer skills you must look for when hiring the right one.
What is the Role of a UI/UX Designer?
A UI/UX designer merges the skills of creating UX architecture and UI design. Here are the roles & responsibilities of both UI/UX designers:
Designing the interaction architecture

Planning information architecture

Iterating prototypes/wireframes and carrying out research

Creating visuals on a screen

Choosing colors and typography

Planning visual aesthetics

Designing mockups and layouts
Let's talk about both designers's responsibilities individually below:
UX Design Roles & Responsibilities
Conducting user research

Creating user personas

Considering the information architecture of a digital product

Designing user flows and wireframes

Creating prototypes

Testing products on real users
UI Design Roles & Responsibilities
Collaborating with product management and engineering

Conceptualizing original ideas

Building wireframes, storyboards, process flows, and site maps

Conducting user research and evaluating user feedback

Building and promoting design guidelines, best practices, and standards
Also Learn: The difference between UI/UX designer.
Skills to Consider When Hiring a UI/UX Designer
You must look for several skills when hiring a UI/UX designer. Let's take a look at these technical, soft & crossover skills:
Industry-Specific or Technical Skills For UI/UX Designer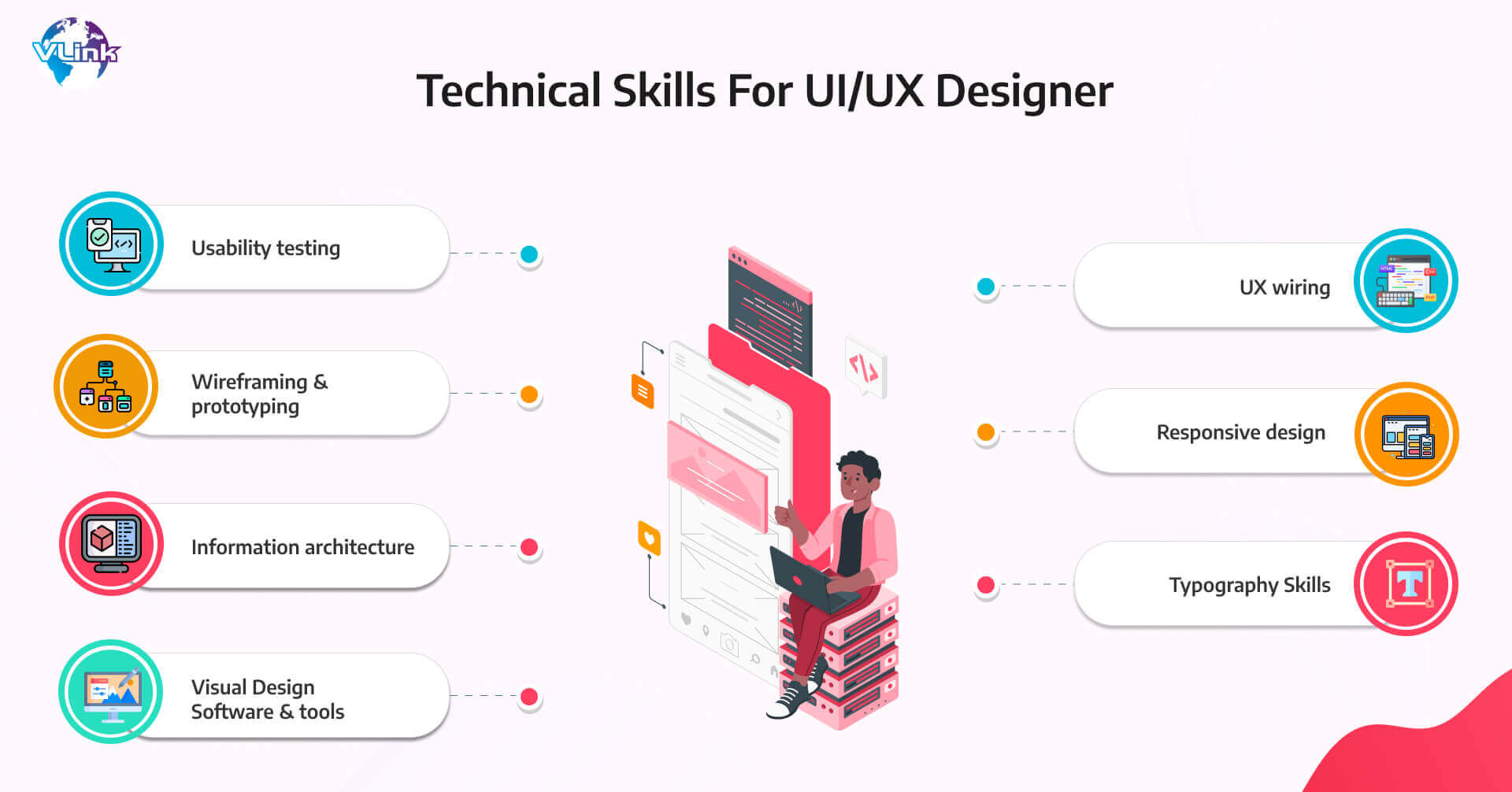 Gathering quality information from your user journey is one of the essential UI/UX designer skills you must look for when hiring experts.
Usability testing helps designers discover how the audience interacts with your designs they like or dislike. They can identify usability issues and areas for improvement, delivering user-satisfied design.
Also Learn: different types of software testing services.
One of the most important UI/UX designer skills is wireframing & prototyping. They must master these skills to create more effective and engaging user interfaces.
Wireframing involves visual representations of the user interface layout, functionality, and content. It is typically characterized by their need for more intricate graphic design elements such as color schemes and typography choices.
On the other hand, prototyping is one of the important UI UX design skills you must consider when hiring designers. Designers use this process to test the functionality and usability of a ready-made design and to collect users' feedback.
Another UI/UX designer skill is information architecture, which includes managing the contents of a webpage or app in specific patterns. Labeling, navigation, and search functions make it easy for users to navigate or use the website or mobile app.
A designer must consider how users will interact with their product. For that, you must possess good information architecture skills.
You can also create sitemaps of apps or sites to analyze requirements to develop fantastic information architecture.
Ensure your hired UI/UX designer must possess visual design software & tools. A few tools are shown below figure: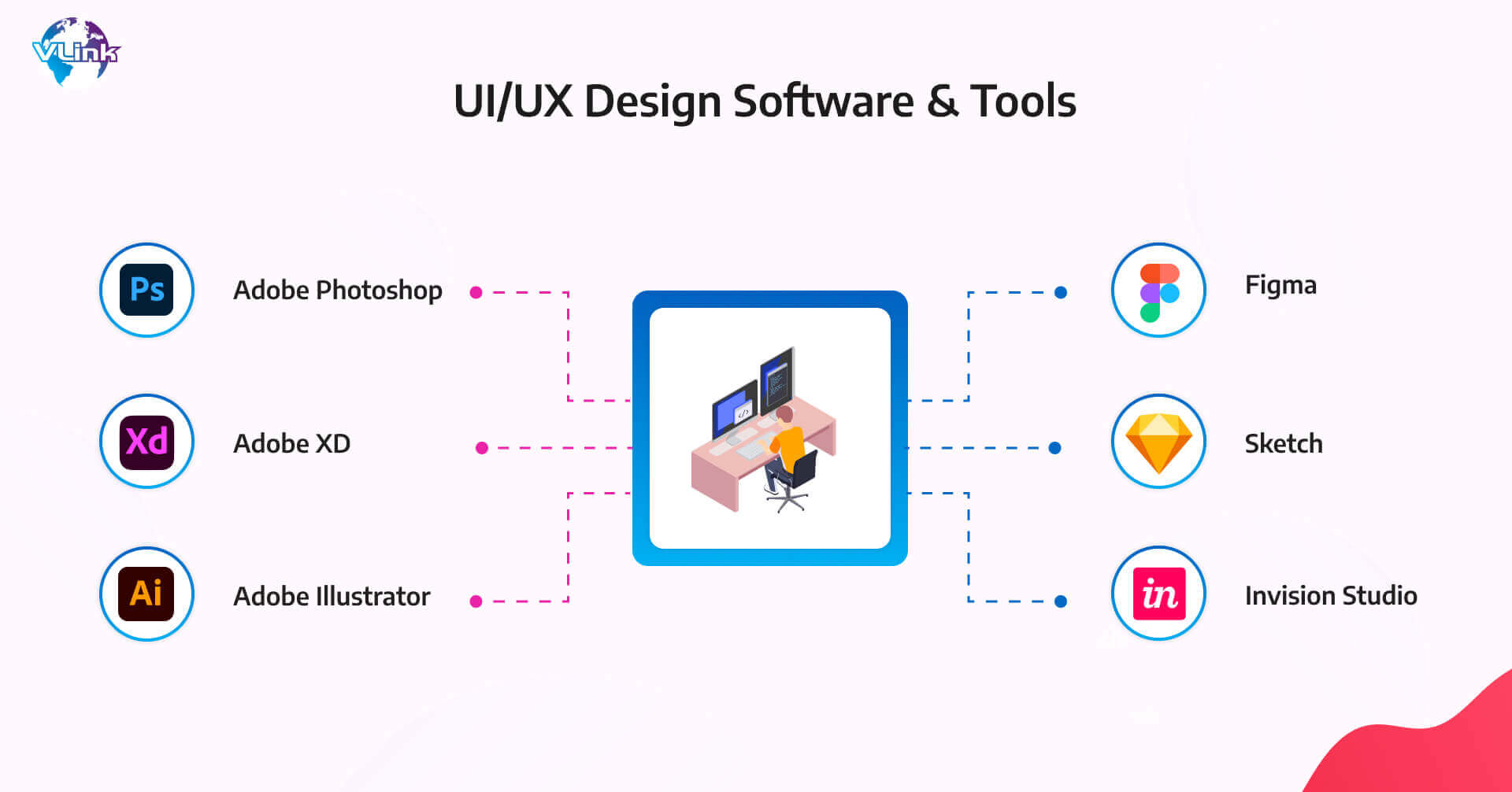 The language used within your design can greatly impact your user experience when interacting with the software.
Enhancing your language skills and studying great examples of microcopy can help improve your UX writing skills.
Ensure your UX writing is concise, useful, and reflects the brand values. It collaborates with visual design and interaction to create an atmosphere where users can achieve their goals.
Familiarity with responsive design is essential for UX designers as it ensures that designs adapt to varying screen sizes. It becomes increasingly crucial as mobile phones account for more than 50% of global website traffic.
Typography involves enhancing written language by employing a range of effects. It improves the user interface by guiding users' attention towards key on-screen elements.
Business or remote work or soft skills for UI/UX Designer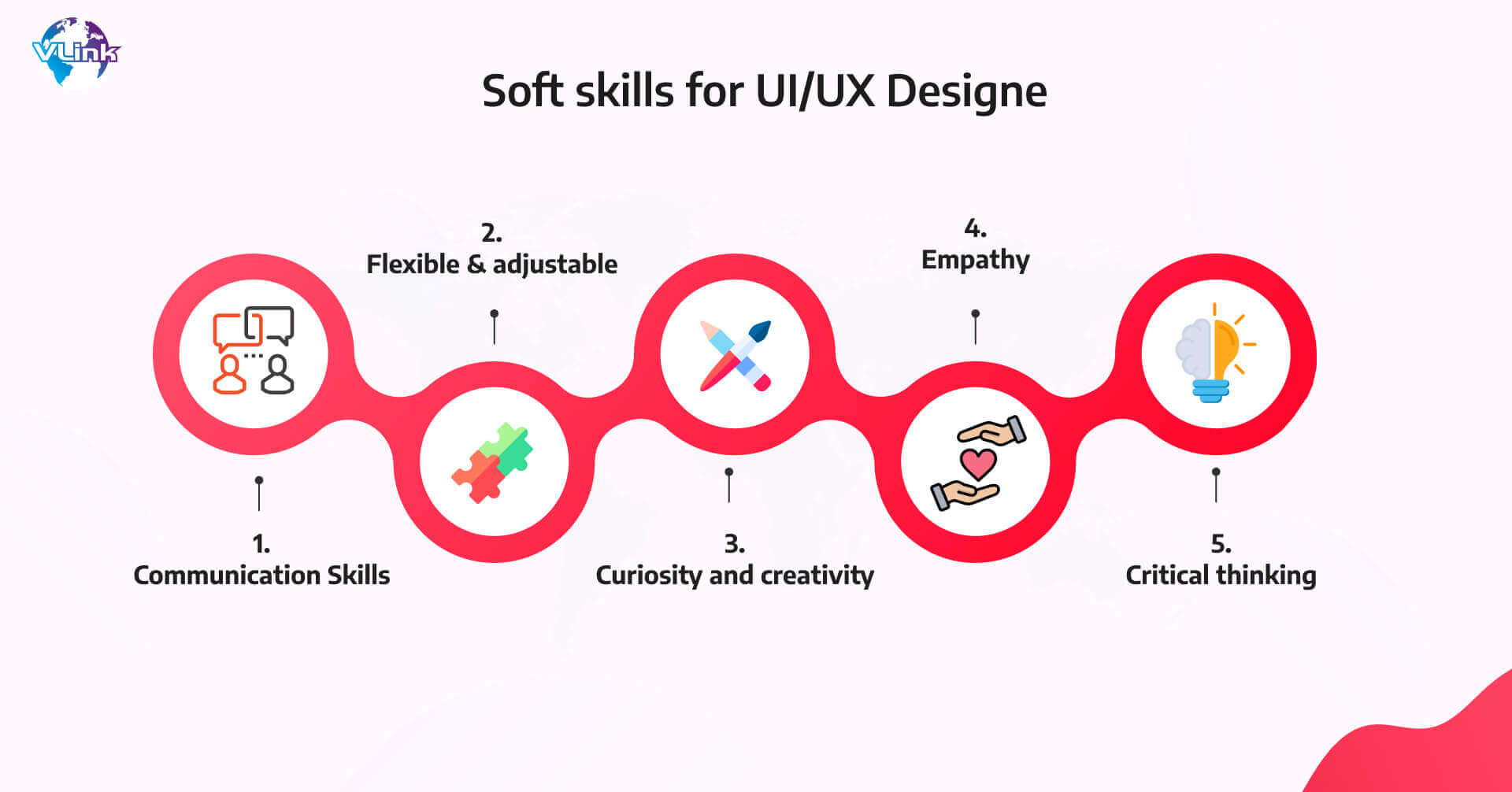 UI/UX designers not only engage in communication with their peers but also uphold consistent interaction with their marketing team and clientele. Effective communication abilities are crucial for conducting research and delivering presentations to stakeholders, particularly in a remote work setup.
Sometimes, UI/UX designers must avoid their opinions and focus on the audience. One of the most straightforward methods for understanding customer preferences involves asking open-ended questions and being responsive to changing necessities.
A UI/UX designer must know users' motivational aspects and pain points. Imagine you have the curiosity to find the decision-making factors and the creativity to find the best solutions. In that case, designing an engaging and rewarding experience is easy.
In addition, designers' creative mindset can lead to efficiently resolving their target audience's challenges.
UI/UX designers should cultivate empathy for their users. They must commit to conducting thorough observations and surveys, driven by a strong desire to challenge preconceptions and eliminate biases. This commitment also involves standing by their research findings, even in the face of opposition.
The ultimate objective is to advocate for users consistently throughout the entire process, whether during the design phase, implementation, or production.
UI/UX designers should collect significant information and put it to use in a relevant way. There are several ways to improve critical thinking skills, such as questioning basic assumptions, understanding your mental processes, and creating great planning.
Crossover Skills for UI/UX Designer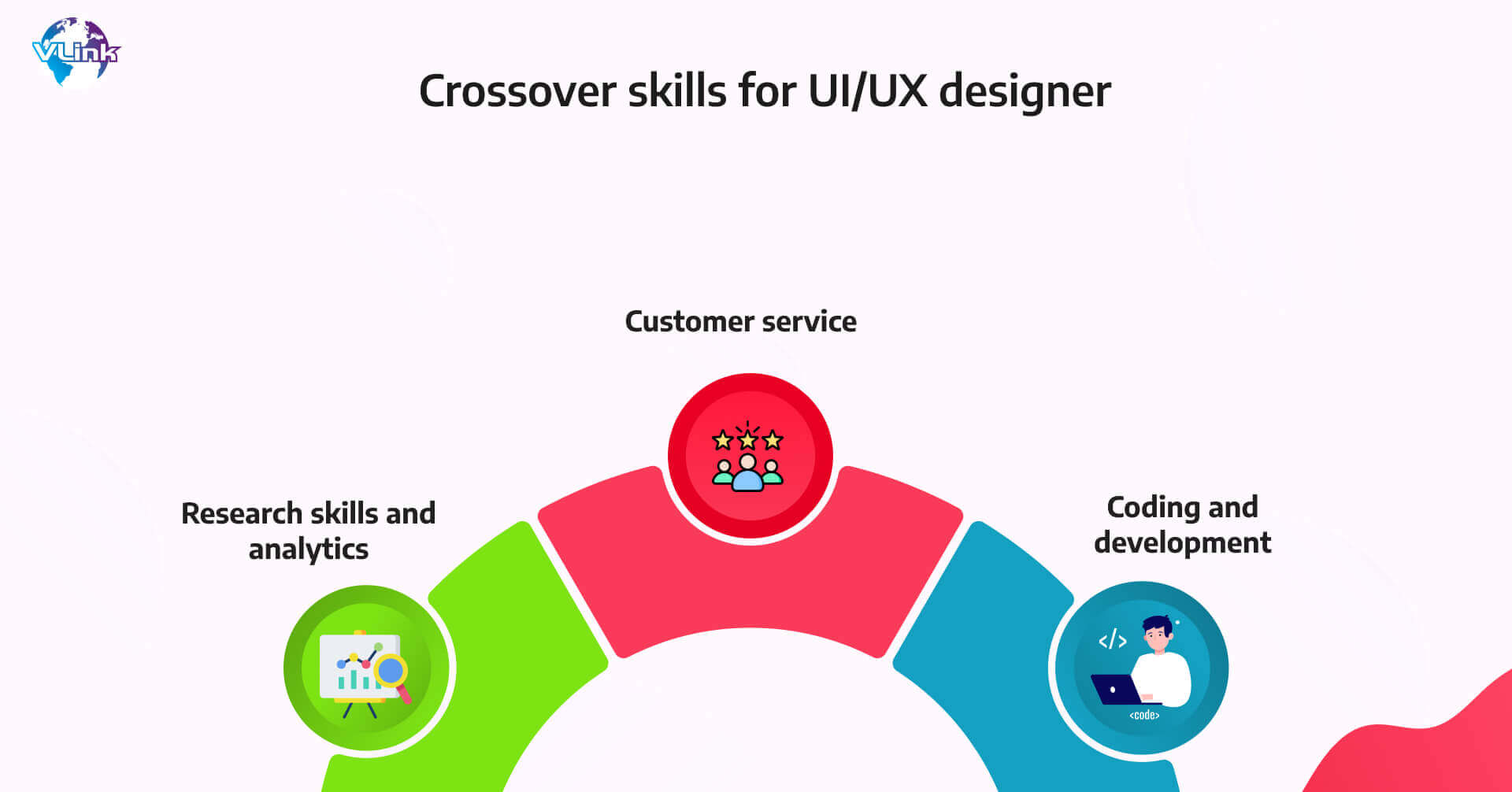 UI/UX designers should know how to gather quantitative and qualitative data about users through thorough research and analysis.
UX designers have various tools to achieve this goal, including user interviews, observations, and testing. They can also employ surveys or organize focus groups. Regarding focus groups, UX designers should be adept at selecting suitable participants and extracting valuable insights from informal conversations.
Additionally, they should be skilled at crafting open-ended survey questions that avoid biasing user responses. Furthermore, UX designers should possess a solid understanding of usability testing methodologies.
You can do these things via online research, user testing and interviews, questionnaires, card sorting activities, and online software like Google Analytics.

Understanding fundamental customer service principles can elevate your status as a UX designer.
Being able to cater to customer requirements and gauge their satisfaction effectively is essential for success in design. Customer service aptitude encompasses crucial attributes such as attentive listening, effective communication, adept time management, flexibility, and proficient problem-solving abilities.
While UI/UX designers aren't required to be coding experts, having a foundational understanding of HTML and CSS can be advantageous. This knowledge enables them to make minor adjustments to websites, a valuable skill for designers.
UI/UX designers often dedicate time to refining and testing website features, and being able to make these minor changes independently rather than relying solely on UI/UX developers enhances their efficiency.
Additionally, this proficiency fosters improved collaboration between designers and software engineers, resulting in more practical and feasible design solutions.
How to hire the right UI/UX designer for your mobile app development project?
Consider the skills mentioned above when hiring the right UI/UX designer for your mobile app development project. On top of that, here are some tips you need to follow;
Define your requirements

Find and shortlist candidates

Check out portfolios

Interview candidates

Sign a contract
How much does it cost to hire a UI/UX designer?
The expense associated with hiring a UX designer hinges on your specific approach. If you opt for local, in-house hiring, you must align with the prevailing rates in your local market. On the other hand, when engaging a freelancer or outsourcing company, the hourly rate predominantly correlates with their location.
For instance, in Ukraine, the average hourly rate for UI/UX design typically ranges from $20 to $40, significantly lower than US or UK rates, often three to four times less. In countries like India and Pakistan, hourly UI/UX design rates can be as low as $8 to $10 per hour. However, it's worth noting that some communication-related challenges may arise when hiring from these regions.
Moreover, the overall cost of design services varies depending on the specific task. For example, activities like crafting brand personas and conducting target audience analysis may command rates of up to $75 per hour.
In contrast, creating simple prototypes could cost $25 per hour or less. In some cases, freelance designers may not charge hourly rates; instead, they determine project costs based on your requirements, project scope, and deadlines.

Hire an Experienced UI/UX designer with VLink!
There's no best way to hire a UX & UI designer, as your hiring strategy must rely on your current requirements. Partnering with a dedicated UI/UX design agency like VLink is the most universal solution. It is ideal for both small and large designing projects.
With our design services, you can save lots of money because of lower hourly rates. In addition, you won't need to pay extra costs on vacations, bonuses, and taxes. Our experienced UI/UX designers approach each project from a business perspective. Ensure your product or service drives conversions, sales, and engagement.
Do you need help finding the right UI/UX designer for your project? Contact us for any expert assistance!
FAQs
Frequently Asked Questions
Why should you hire a UI/UX designer for a mobile app development project?
Hiring a UI/UX designer for a mobile app development project is essential because they specialize in creating user-friendly, visually appealing interfaces. Their expertise ensures a seamless user experience, enhances user satisfaction, and maximizes the app's functionality, ultimately leading to higher user engagement and the project's success.
What model must you consider when hiring a UI/UX designer?
Hiring models for UI/UX designers include full-time in-house, freelance or contract, remote teams, and outsourcing agencies. Each model offers different cost, flexibility, and expertise advantages.
What mistakes should you avoid when hiring a UI/UX designer?
Here are several mistakes you should avoid when hiring a UI/UX designer:
Neglecting portfolio review

Ignoring communication skills

Focusing solely on aesthetics

Not defining project scope clearly

Rushing the hiring process

Neglecting cultural fit

Overlooking user-centered design experience

Disregarding feedback from current team members