6 Things To Know About Digital Wallet App Development
With the advancement of technology & increasing use of smartphones, mobile payments have become more popular than ever. Over the past few years, digital wallets have become the fastest-growing segment of mobile payments. It's a great innovation for a cashless world that makes transactions quickly and securely without physical cards or cash.   
201 Views

5 minute
According to the latest McKinsey & Co U.S. digital payments statistics (2022), 89% of Americans now use digital payments, with a tendency to reach 100% in the coming years.   
 
So, if you want to keep your business competitive, dive into the world of digital eWallet app development. It can be a lucrative business opportunity but requires careful planning and knowledge of mobile payment systems.  
 
This blog will guide you through a comprehensive detail of digital wallet, including its basic definition, stats, process, development process, features, cost, tech stack, and many more.   
Let's first start with its brief introduction! 
Table of content: - 
1.Introduction  
2. What is a digital wallet app?  
Benefits of digital wallet applications 
3. Surprising Facts about digital wallet app development  
4. How does the digital wallet app work?  
Key features to incorporate in digital wallet app development  

5 use cases of digital wallet applications  
5. Step-to-Step Guide to Develop a Secure & convenient digital wallet app  
Technology stack for digital wallet app development  

Security Compliances for digital wallet application development  

5 Most popular digital wallet apps?  
6. Cost of digital wallet app development  
7. The Final Thought! 
8. Build Your Next Digital Wallet App With VLink?  
9. FAQs-  
What are the types of mobile wallet applications?  

What industries invest in digital wallet app development?  

How long does it take to create a digital wallet mobile app?  

Can I integrate my digital wallet app with other payment systems?  
What is a Digital Wallet App?  
 
A digital wallet - An electronic version of your debit & credit cards that allows users to digitally make payment through smartphones and the internet. Users can also access their financial information and quickly pay their bills. Plus, they can perform various activities, including mobile recharges, ticket booking, or other payments without carrying cash or credit cards.   
Benefits of Digital Wallet Applications 
 
There are several advantages of digital wallet apps for businesses.
Offers easy payment solutions such as QR scanner code & registered phone numbers.  

Allows feasible transactions on cryptocurrency trading apps.




Promotes fintech, banks, and other different businesses in an innovative way.  

Improves security in digital transactions through various measures such as 28-bit encryption, two-factor verification, biometrics, etc.   

Represents financial reports, including exchanges, & deals with financial planning.

Facilitates frictionless transactions.  

Enables easy cancellations and refund processes.  
If You Have Any Interesting Ideas for A Project Involving An eWallet App, Please Reach Out To Us.
Surprising Facts About Digital Wallet App Development  
 
Here are some surprising facts about digital wallet app development:  
The global mobile wallet app market was valued at $1.06 bn in 2020 and is projected to reach $4.91bn by 2026.  
As per IMARC, the worldwide mobile payment market is predicted to reach $3 trillion by the end of 2023.   
Between 2020 and 2025, electronic transaction use will continue to rise with a 26.93% CAGR.  
The B2B segment is anticipated to roll out the highest CAGR from 2021 to 2028 with the rapidly increasing use of smartphones for individual payments. 
39% of United States consumers use mobile payments more frequently, as per NFC World's news data.   
Digital Wallet Industry Growth From 2020-2025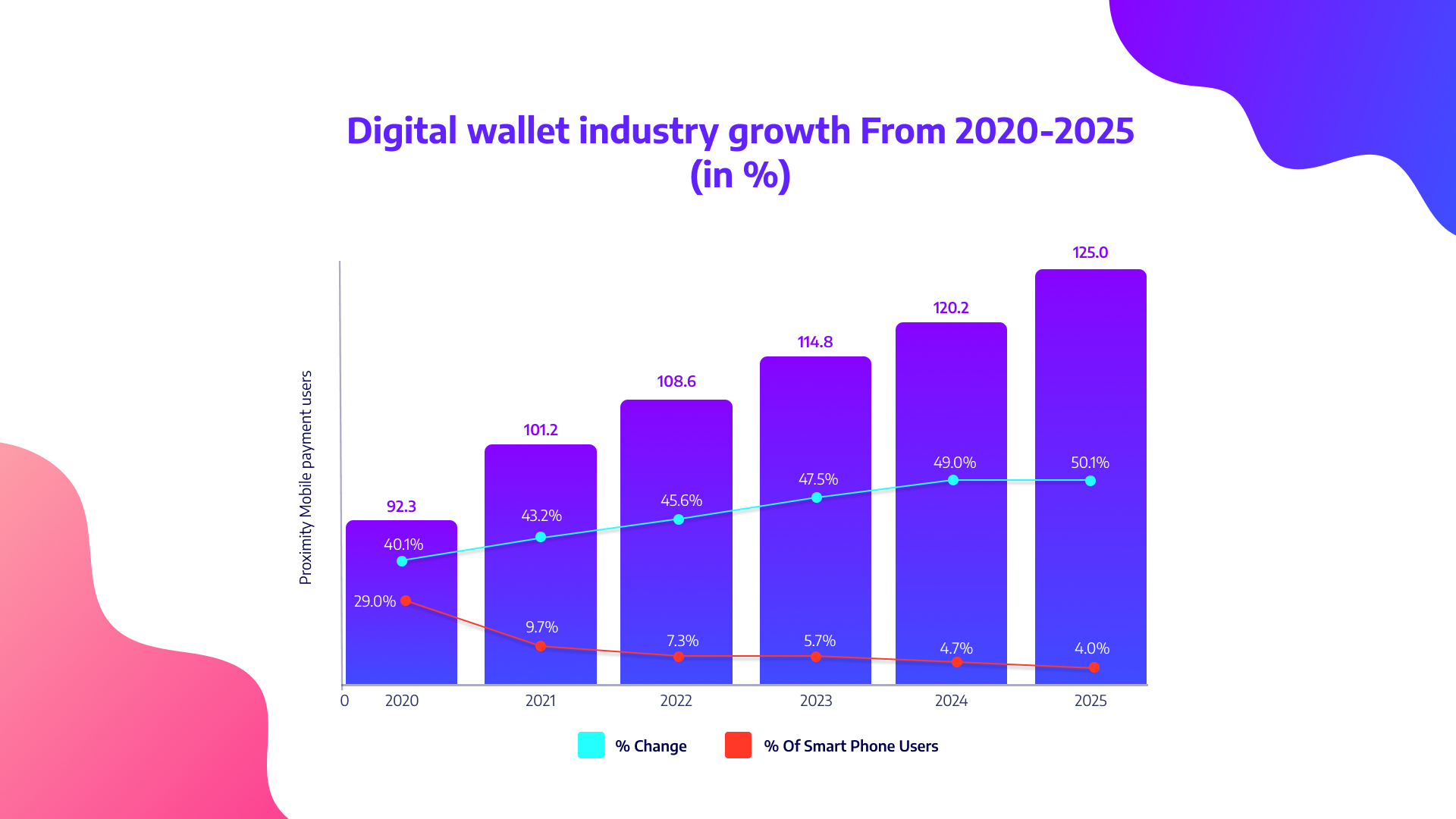 Mobile Payment App Market Share in United States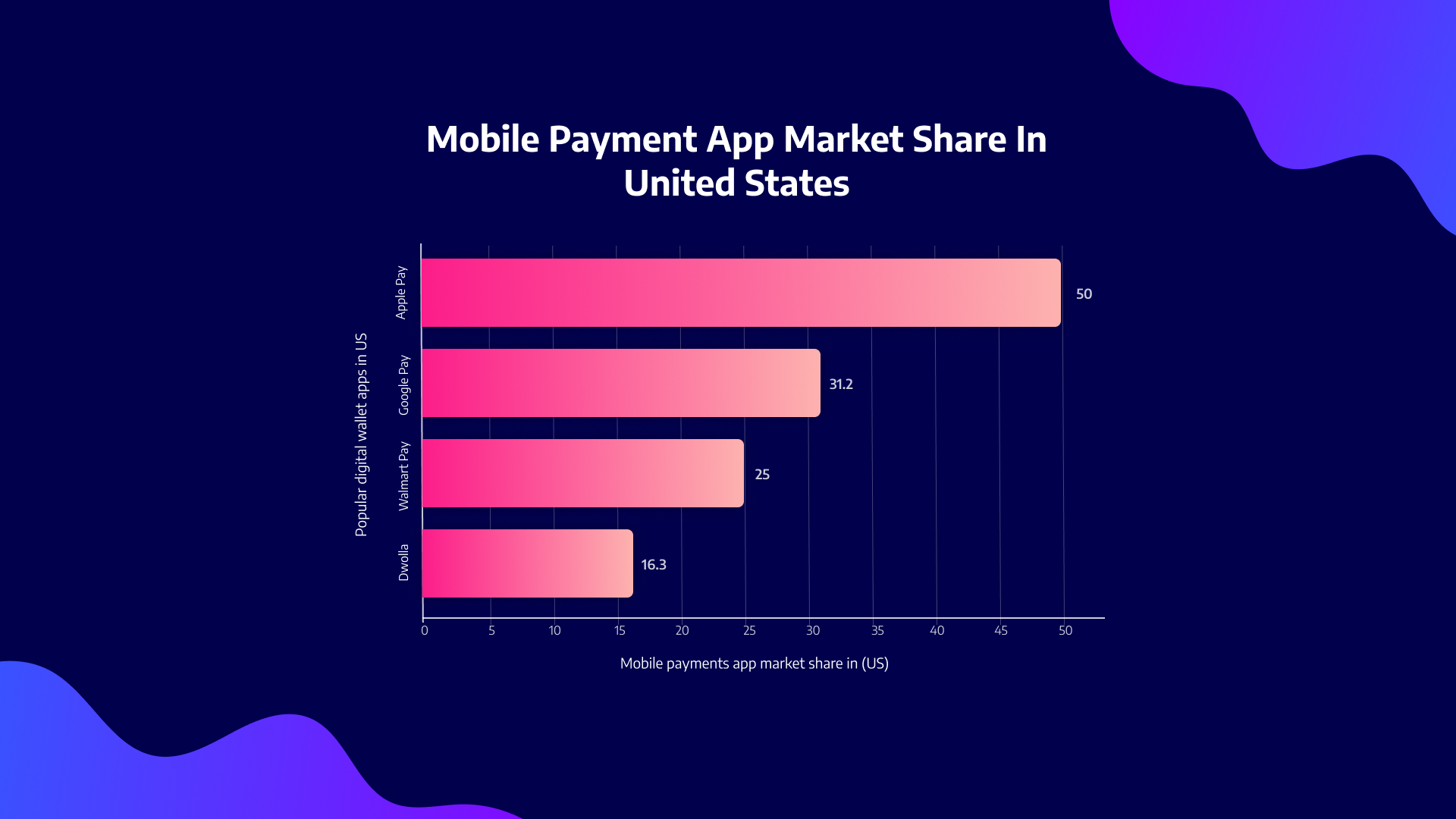 How Does the Digital Wallet App Work? 
Thanks to its several technologies such as mobile apps, mobile hardware devices, NFC, and tokenization, digital wallet helps to create a user-friendly, mobile, and secure payment experience. It securely stores the mobile device's payment information or account details.   
 
Users will enter their card or bank details into the app and select the payment method to make a payment. The application then securely sends the payment data to the merchant's payment gateway, which processes the transaction successfully and safely.   
 
eWallet apps use several technologies to facilitate transactions. Let's take a look at them.  
 
Quick Response (Q.R.) Codes - It allows payment by scanning Q.R. codes using their smartphone camera.   
 
UPI (Unified Payment Interface) – The real-time payment system facilitates peer-to-peer interbank transactions via a streamlined two-factor authentication process.   
 
Near Field Communication (NFC) – It facilitates the transmission of payment information between two NFC-enabled devices nearby.   
 
MST (Magnetic Secure Transmission) – It enables users to complete transactions swiftly and effortlessly without retrieving their wallet manually.   
 
Integrating these technologies to make payments in your eWallet design may be challenging. Therefore it's recommended you hire a dedicated digital wallet mobile app development company to carefully & securely create an eWallet app.  
Key Features to Incorporate in Digital Wallet App Development  
 
An eWallet app is divided into three panels: User, Admin, and Merchants. Each panel has their specific features that developers must incorporate into the applications. You can hire a digital wallet app creation company to get promising results.   
Have a look at three panels with their specific features:  
 
User Panel Features  
Signup via Social Login  

User verification through pin, pattern, and Face ID  

Add authorized bank account  

Check account balance  

Transfer money via contact number or Q.R. code scanner  

Pay & set a bill payment reminder  

View transaction history  

Multi-currency & multi-language support  

Chat support  

Push notifications  
Merchant Panel Features  
Log in to an interactive dashboard  

Add/manage products  

Create/edit profile  

User identification via pin, pattern, etc. 

Manage customers  

Add promotional offers & discounts  

Offer loyalty points and rewards  

Manage staff and employees  

POS integration  

Payment link generation  
 
Admin Panel Features  
QR code generation  

Manage users & merchants/vendors  

Real-time analytics  

Enhance the app's security  

Reporting & auditing  

User and merchant data control  

Transaction management  

App support and maintenance  

Dashboard management  

Manage offers  
5 Use Cases of Digital Wallet Applications   
Here are five really good use cases for eWallets:  
#1 - Merchant Payment Services  
 
One of the main reasons why Fintech businesses add digital wallets as a financial feature is Merchant payments. It makes transactions easier, safer, and more affordable.   
 
Customized and white-labeled merchant payments can become prominent in niche settings. You can use this feature for your sales process to make payment seamless for your customers.   
 
#2 - Contactless Payment and Point-of-Sale (POS) Technologies  
 
Contactless payments make POS transactions far easier. Thanks to a mobile wallet, you can enable contactless POS purchases to make the transaction process seamless for your users. Customers can easily and conveniently use their watches or smartphones in Point-of-Sale purchases.   
 
#3 - Digital Loyalty Schemes   
An eWallet can be an easy way to add a loyalty program.   
Loyalty programs encourage people to purchase more with your in-store. You can also offer some points per transaction. It will help to boost spending and engagement.   Some eWallet APIs can partner with other FinTech solutions like ACH money transfers, loyalty card
Certain electronic wallet APIs can also partner with other financial services such as ACH money transfers, loyalty card, or payment processor.   
#4 - Automated Savings  
Digital wallets are also a great way to increase automated savings. Having a savings account for emergencies or a budget for a specific purpose is good. But it often can be challenging to save. Automation in electronic purses can make saving easy.  
Consider an eWallet app development with smart contract technology. Build your secure digital wallet app with VLink.    
 #5 - Bill Payment Solutions 
One of the most popular use cases of digital wallets is automated bill payment solutions.  Whether for paying the water, electrical, or phone bills, we offer split-bill functionality & pay your debt on time thanks to smart contract technology.  

Step-to-Step Guide to Develop Secure & Convenient Digital Wallet App  

You must understand the steps to be effective and secure digital wallet app development with a Fintech software development company.   
Step #1 - Discovery Phase  
The initial stage of developing an electronic purse is the discovery phase. It determines the technical requirements to align with the business model of the proposed idea. Therefore, it helps to understand the complexities involved in the solution.   
This phase consists of various activities comprehending the mobile app idea. In addition, we conduct extensive research on target users, create a comprehensive project workflow, and build a detailed blueprint.   
Step #2 - UI/UX Design  
After the discovery phase, creating an intuitive and visually appealing interface that enhances users' experience is one of the most critical mobile wallet app development stages. For that, you need to hire a skilled UI/UX designer. They craft mobile app designs, including icons, buttons, and software features. This design helps developers in coding, ensuring the final product meets the expected results.   
Step #3 - Development & Testing 
The next mobile payment app development stage includes the development & testing phase. UI/UX design quality, integrated technology stack, and the skill set of mobile app developers determine the success of this phase.   
Step #4 - Digital Wallet App Launch 
This stage gives accessibility of your wallet app to users for download onto their respective. Finally, the app release consists of hosting the product on popular OS platforms like Google Play Store and App Store.  
Step #5 - Maintenance & Support 
The digital wallet app maintenance & support phase consists of user feedback to identify improvement areas. It helps businesses to connect to a crypto wallet app development company for error-free & secure eWallet app development services.    
Thinking of developing a secure, fast & seamless eWallet app? Hire experienced app developers!  
Technology Stack for Digital Wallet App Development 
Both startups and established companies prefer to hire fintech mobile app developers with great knowledge about technology stacks to build user-friendly, mobile-friendly & secure eWallets apps. The below Image represents some tech stacks that play a pivotal role in digital wallet mobile app development.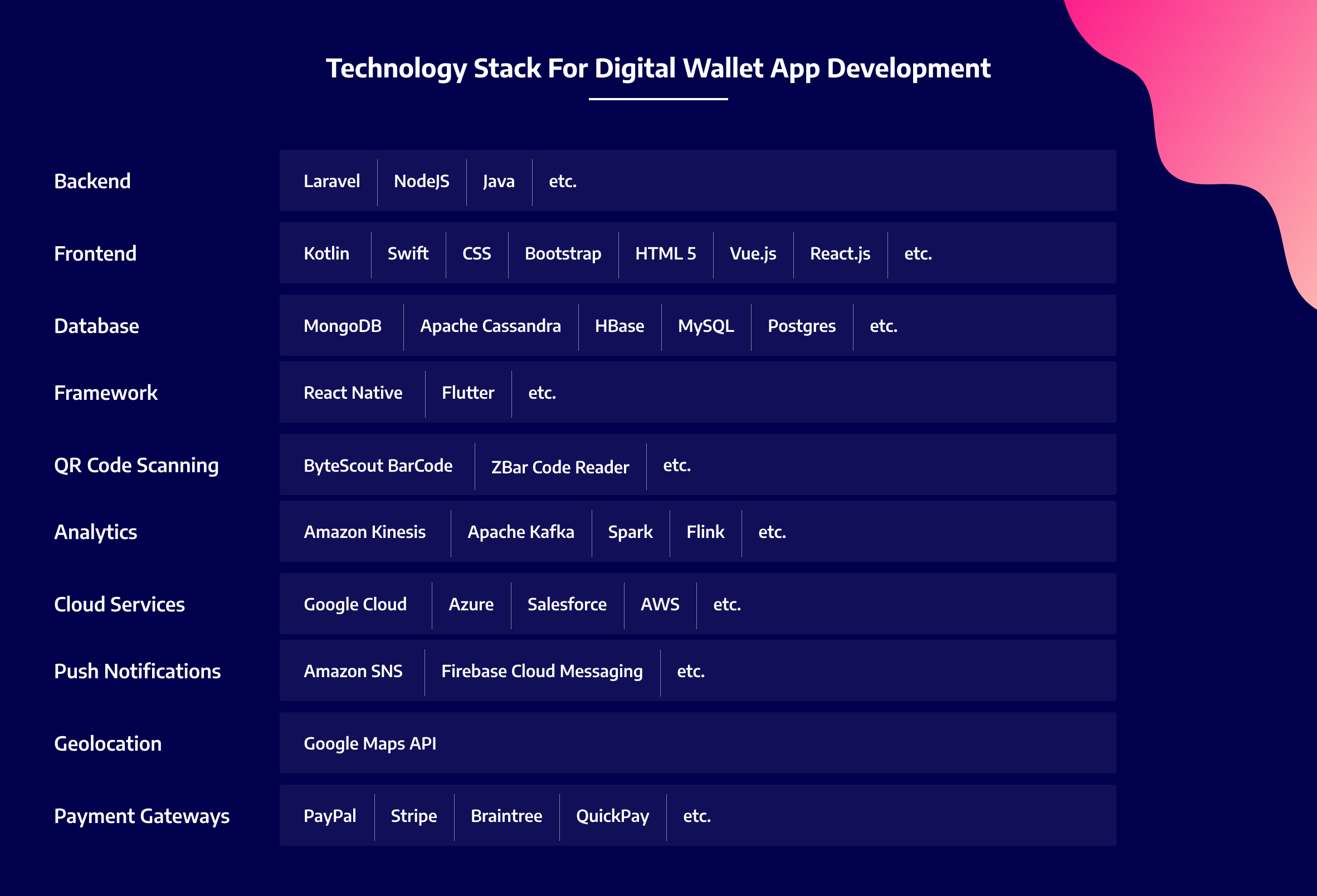 Security Compliances for Digital Wallet Application Development 
When building a secure eWallet app, it's essential to consider following security compliances to protect users' personal & financial data.  
1. Compliance with Data Privacy Regulations
Mobile wallet app programmers must comply with relevant data privacy regulations, including.
General Data Protection Regulation (GDPR)  

California Consumer Privacy Act (CCPA)
 2. Secure Login & Authentication  
Make sure to include strong encryption into your mWallet app development to protect users' sensitive information such as credentials, passwords etc. In addition, you can integrate multifactor authentication for an additional layer of security.  
3. Secure Data Transmission  
Encryption of all data transmissions between the app and server can enhance the security of communication. For this, you need to integrate your mobile payment apps with secure communication channels such as SSL/TLS.  
4. Protection Against Fraud  
mWallet app development must involve features that detect and prevent deceptive activities such as unauthorized access, and suspicious activity reporting.  
5. Secure Data Storage  
A well-designed and robust mWallet app can securely store user data and financial information, utilizing secure storage technologies such as encryption and hashing.  
6. Compliance with PCI-DSS
The app must comply with PCI-DSS (Payment Card Industry Data Security Standards) standards to ensure secure physical cards details processing.  
7. Regular Security Audits & Updates  
Digital wallets should go through regular security audits to identify vulnerabilities and implement timely security updates.  
Considering these security compliances, a crypto wallet app development company can create a secure and reliable mWallet app that instills user confidence.  
5 Most Popular Digital Wallet Apps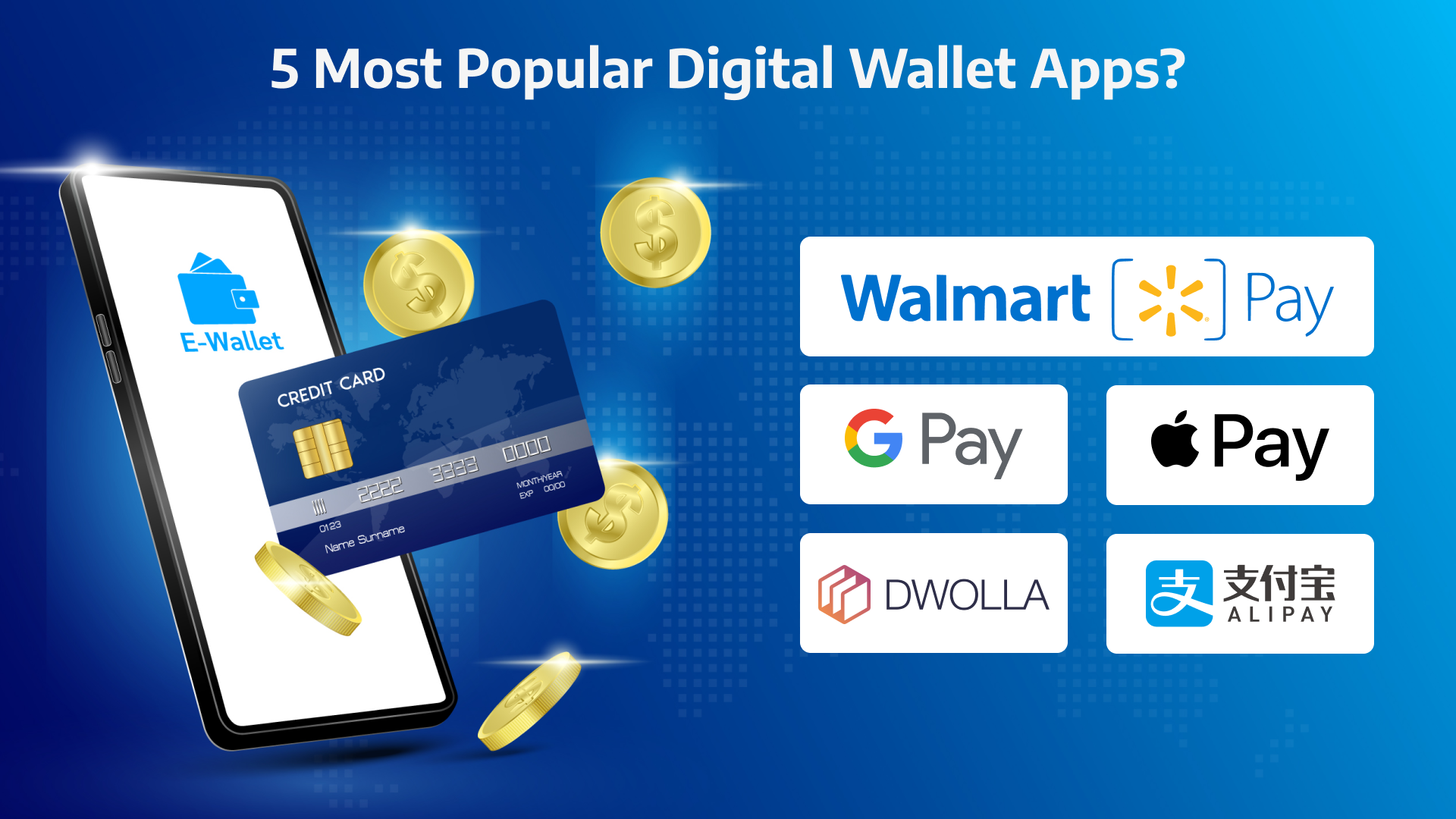 Cost of Digital Wallet App Development  
Digital wallet app development cost depends on different parameters, including features, business, and service types. The features and functionalities of the app and development style and stages also affect the price of eWallet app creation.   
It`s best to consider different factors to determine the average cost of mobile wallet development.   
Some of the factors are pointed out below: 
The platform on which your eWallet is developed  

App's features complexity 

The technology stack and tools  

UI/UX of an app  

Additional features & screens  

App testing and post-app launch maintenance facilities  

App developers' location and team size decides the price of their services.  
What is the Cost of Digital Wallet App Development?
Organizations seeking digital wallet app development services should contact an established Fintech software development firm. The price of building an electronic wallet app is often between $20,000 and $500,000.
But, if you want an advanced app with complex functionality like Apple Pay, you should expect to pay upwards of $80,000 to $150,000.
The price of creating a mobile wallet application for Android may range between $20,000 and $50,000.
On the other hand, a mobile wallet app development cost for the iOS platform may range between $25,000 to $55,000.
The Final Thought!
Digital wallets have revolutionized the market with simpler and quicker payment solutions. This market is expected to reach a net worth of $750.3bn by 2028. A large audience in the U.S. uses these mobile applications for paying in online & offline stores, bill payments, and top-up accounts.
As the digital wallet app market is expected to grow, it's the best time to partner with a Fintech software development company to bring your imaginative eWallet into reality.
Looking for a secure & user-friendly mWallet app development service? Go no further than VLink!   
Build your Next Digital Wallet App with VLink.
As a leading digital wallet app development company in the U.S., VLink offers secure, scalable eWallet apps for Android and iOS platforms with regular monitoring and testing networks. Our dedicated team of software developer, UI/UX designers, and testers strives to deliver next-generation payment systems with several functionalities and services on a single platform. 
Through our feature-rich digital wallet apps, we ensure our revolutionary payment system helps in staying ahead of the competition.
Hiring us as your Fintech Software Development Partner will provide you with the following.
Access to multiple payment options  

Intuitive and secure design  

Seamless and secure money transfer  

Secure & Speedy transactions  

Customized eWallet app solution  

Reduction in transaction fees  

Improved customer experience and loyalty  
FAQs
Frequently Asked
Questions
What are the types of mobile wallet applications with their examples? 
There are five types of digital wallet apps such as Closed Wallet (Amazon Pay), Semi-Closed Wallet (Apple Pay & Google Pay), Open Wallet (American Express), Cryptocurrency Wallet (Coinbase)& IoT wallets (Fitbit).
What industries invest in digital wallet app development?
E-wallets are the future of the finance area. Several industries invest in digital wallet apps, such as E-commerce, transportation, Food delivery, retail, etc.
How long does it take to create a digital wallet mobile app?
The time it takes to develop eWallet depends on the complexity of the app's features, security level, and other factors. Usually, a well-designed digital wallet app can take 4-12 months.
Is it possible to integrate a digital wallet app with other payment systems?  
You can integrate your digital wallet app with other payment systems for different payment options. Contact VLink to ensure seamless integration and proper security measures.