In recent years, the adoption of digital wallets in the US has been increasing steadily, driven by e-commerce growth and contactless payments.
According to reports, 82% of Americans now prefer payments through the best digital wallet apps in 2023. The revenue of digital wallets in North America is expected to grow to more than $80bn by 2026. Undoubtedly, the US mobile payment market is the second largest at $465.1 bn worth of transactions.
Whenever you hear the term "digital wallet", Apple Pay, GPay, and PayPal are some popular names that might probably pop up in your mind.
However, the market nowadays is overflowing with different mWallet apps that facilitate equally seamless & secure transaction processes. Apps like Cash App, Venmo & Zelle are also substantially making a breakthrough in the ecommerce industry.
In this blog, you will learn about the best digital wallet apps for Android & iOS platforms in the US based on consumer usage.
If you are a newbie about the "digital wallet" term, read important things about the digital wallet app.
The Best Digital Wallet Apps Market Share (US)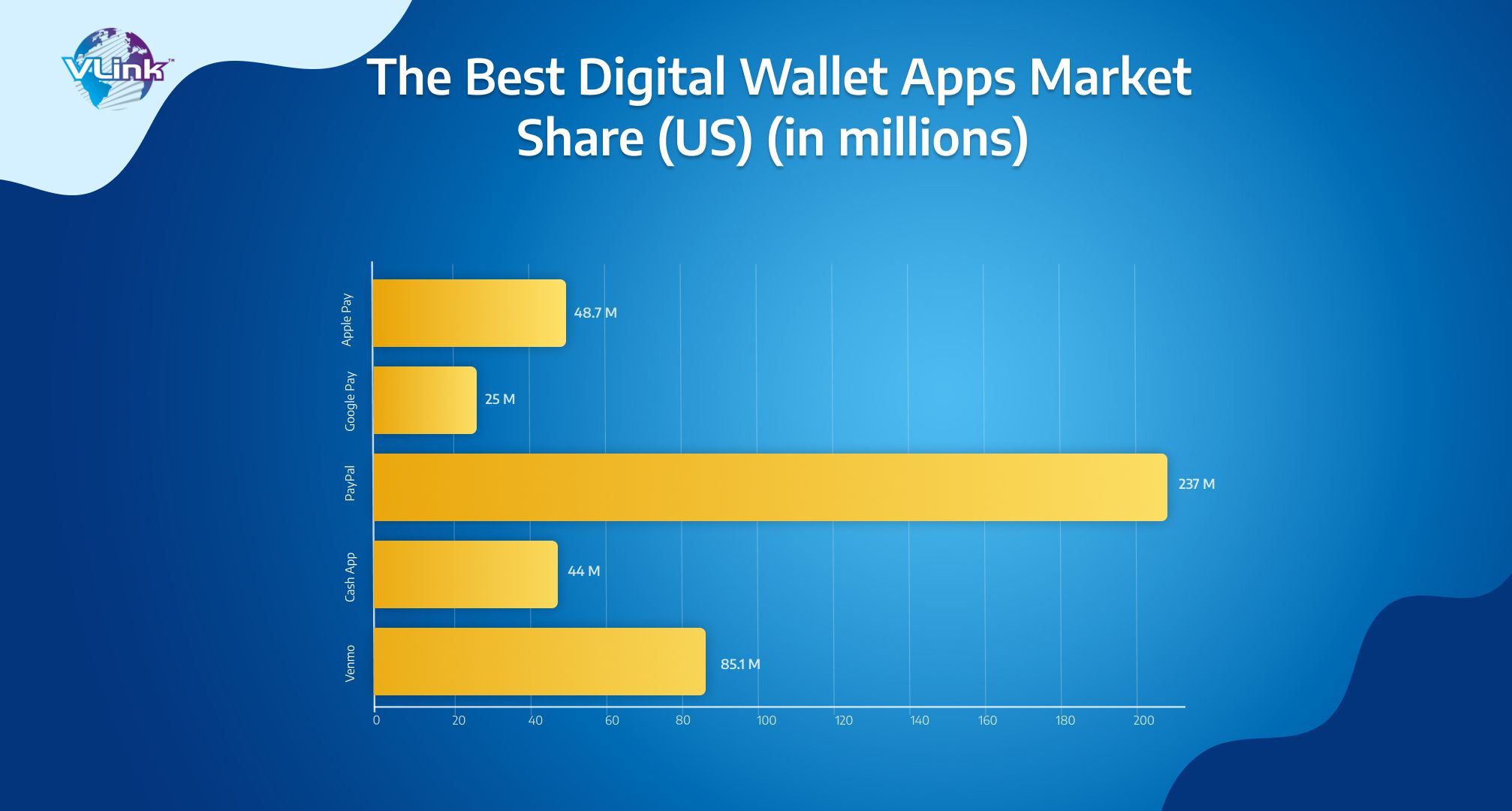 5 Best Digital Wallet Apps for Android or iOS Platforms in 2023
Let's discover the most popular digital wallets for Android & iOS in 2023:

Apple Pay facilitates private & secure transactions. Hence, it comes at the top of our list of the best digital wallet apps for iOS in the US.
These eWallets use NFC technology to power contactless transactions. Device Primary Account Number (DPAN) technology protects account information, transaction data and personal details.
Key Features of Apple Pay:
Available in 20 countries

Pay in-store and in-app through your iOS devices

Touch & face ID for authentication

Millions of websites & apps accept it

Built-in privacy & security
Pros: -
Simpler payments

Very secure

More privacy to your data

Better and improved experience

No additional costs for merchants
Cons: -
Only compatible with Apple devices

System performance issues

Not all terminals are integrated with a contactless payment function
Fees:-
Free to use Apple Pay.

3% processing fee is required for online payment using a credit card.
Some Popular Stores Use Apple Pay:
Albertsons

Best Buy

Disney

GameStop

Nike

Starbucks
Also Learn: how popular brands like Starbucks increase sales through mobile app development.
Amazing Apple Pay Statistics 2023
According to Apple Pay statistics, the number of Apple Pay users is projected to hit 48.7 million in 2023.

More than 85% of retail stores, restaurants and

commercial industry

in the USA accept the Apple Pay wallet app

.

40,145 businesses in the US accept Apply Pay.

2,00,693 websites in the US accept Apple Pay.

Across the globe 5,480 banks accept Apple Pay.

Ideal For iOS devices such as iPhone, Mac, Apple Watch, etc.
Like other mobile wallets, GPay uses NFC technology to make payments. You just need to tap your phone on an NFC-enabled payment terminal.
Google Pay is a fast & secure digital wallet, ideal for both personal & business transactions. Ordinary users, customers, and merchants can get benefits from this app.
Key Features of GPay:
Pay in-stores & in-apps via your Android device

Multiple-layered advanced security

Loyalty programs and rewards

Major banks support

Accepted in over a million online stores

Available in 28 countries
Pros:
Easy to set up

High level of security

Only bring your phone or smartwatch

Appealing promotion and reward systems

Completely free to use
Cons:
ATMs do not support the system

User get addicted to the phone devices
Fees:
As one of the best digital wallet apps in 2023, Google Pay doesn't require any purchase fee.

You must pay a 31% or 1.5% charge to withdraw funds from your GPay account.
Some popular stores use Google Pay:
McDonald's

Nike

Macy's

Walt Disney World

Crate & Barrel
Amazing Google Pay Statistics 2023:
More than 790,000 websites accept Google Pay in America

Millennials mostly choose Google Pay for digital transactions

Google Pay has around 25 million active users in the United States
Ideal for both Android & iOS platforms.
Cash App has reached a key milestone in Bitcoin payments development. It has become the most popular digital wallet app on the Google Play Store in the US. Square's cash app is a peer-to-peer money transfer service that allows users to send & receive money.
You can pay bills or shop, invest in stocks, and buy & sell bitcoins.
Also Learn: how to find and hire Fintech app developers if you want an user-friendly and competitive digital wallet for your business.
Key Features of Cash App:
Activity Tracking

Authentication

Customer Accounts

Customizable Branding

Electronic wallet Payments

Best Mobile Wallet Access

Multi-Currency

P2P Payments

Remote Deposit

SSL Security

Secure Data Storage
Pros:
Data breach prevention

Safest way to store bitcoin offline

Free money transfer
Cons:
Not FDIC insured

Can't cancel a transaction once authorized

Limited investing opportunities

Requires 1.5% commission for instant transactions
Fees:
Cash App charges $2 plus any costs the ATM owner imposes to withdraw money from an ATM.

If you want instant transactions to or from your bank account, this digital wallet will charge 1.5% of the amount.
Some Popular Stores Use Cash App:
Amazon

Wallmart

Dominos

Esty

StubHub

Wayfair
Amazing Cash App Statistics 2023:
There were 51 million monthly active users of Cash App in 2022

Cash App's gross profit reached $2.95 bn, increase 43% year over year

13 million users have a Cash App Card, which works similarly to a normal debit card.

76% of Cash App revenue comes from Bitcoin
Ideal for both Android & iOS platforms

Whether you need to pay a friend's restaurant bill or split the rent with your roommate, Venmo is one of the best digital wallet apps in 2023 for all transactions.
PayPal owns it and is becoming the most popular digital wallet in the US market due to its fast & secure transaction process. This fast & free digital wallet lets you keep your activities private & secure.
Key Features of Venmo:
Fast Payment Process

Shop with a Venmo card

Use Instant Transfer

Purchase an in-person or online wallet

Use QR codes for secure & seamless transaction
Pros:
It's free and easy

Has Interactive social features

Commissions are rarely charged

Debit & credit cards are available
Cons:
Charge fees for your commercial transaction

Doesn't have a feature to cancel payments
Fees:
Venmo Fees incur 3% charge for sending funds through credit card

1% to 5% for quicker access to cashed checks

It's free to send or receive funds from your linked bank account, debit card, Venmo balance, or prepaid card
Some Popular Stores Use Venmo:
Adidas

Amazon

Home Depot

Macy's

Nike

Samsung

Under Armour

Walmart

Wayfair
Amazing Venmo Statistics 2023:
There are around 77.7 million active users of Venmo in the US in 2022.

By the end of 2023, the company is expected to grow its active users by 85.1 million.

Venmo processed $244 bn in total payment volume in 2022, a 6% increase year-on-year.

Approx. 61% of Venmo users are male, while 39% are female.

35% of Venmo's customers are under the age of 34 for P2P payment services.
Ideal for Android & iOS platforms.
PayPal is an online payment system that provides buy now, pay later (BNPL) services, payment administration, and an online wallet discount site. It allows quick and easy transfers from your PayPal account to your bank.
It uses encryption technology to secure your account from fraud and other malicious activities.
Unlike GPay, you can't pay cashless in stores with contactless payment terminals. However, it's a trusted & most popular digital wallet app globally.
If you want wallet app like PayPal for Android platform, you need financial services to unlock new opportunities for growth in the Fintech industry.
Key Features of PayPal:
Allows for in-store purchases

Has two-factor authentication

Easy way to transfer funds

Secure encryption technology

24/7 transaction monitoring

Buy and sell cryptocurrency
Pros:
Offers simple usability

Quick registration

Cooperation with well-known trading platforms

The high degree of protection

No Cost to use
Cons:
Relatively low transaction speed
Fees:
Unless a currency exchange is required, using PayPal to purchase products is free.

Sending and receiving money is also free.
Some Popular Stores Use PayPal:
Microsoft

Airbnb

Adidas

eBay

HomeDepot
Amazing PayPal Statistics 2023
PayPal recorded 435 million active accounts as of 2023.

PayPal generated net revenue of $27.5 bn in 2022 and its net revenue is expected to grow by 7.5% in 2023.

The Total Payment Volume is expected to grow to $1.49 trillion in 2023.

There are 29 million merchant accounts on PayPal as of 2023.

75% of Europeans trust PayPal over other mWallets.
Conclusion!
So, many popular digital wallet apps are available in the US market, which is growing rapidly and generating higher revenue. So, if you want to grow your business in today's competitive market, you need to develop an effective & secure digital wallet.
Build your Digital Wallet App with VLink!
If you are looking for a dedicated fintech software development company to build the best digital wallet app for your business, VLink is the right choice! From contactless payments to highly secure bank authorization, our eWallet development services will keep you ahead of payment revolutions.
In addition, you will get customized digital wallet development services for secure payments.
Do you need a digital wallet app like Apple Pay for your business? Contact us today!
FAQs
Frequently Asked Questions
How can I make my digital wallet popular?
You should include several features to make your digital wallet app popular. These are Ease of Use, Speedy Transactions, Security, Multiple Payment Options, Rewards and Loyalty Programs, Wide Acceptance and Financial Inclusion. 
Why does my business need to adapt digital wallet payments?
Your business must adopt digital wallet payment as it encrypts and stores users' payment data. Other reasons merchants use digital wallet apps include improved customer experience, less manual work, ease of access, and access to real-time data. 
How can I select the best digital wallet app development company?
As the market is filled with many digital wallet app development companies, it's very challenging to find the right one. Ensure you know a few things about them before hiring, including their experience in the relevant industry, portfolios, previous clients and development process. 




However, for an effective, fast & secure digital wallet app, you can contact VLink!
What is the future of mobile wallets?
With the continuous revolution of technologies, digital wallets' future looks promising. In coming years, mobile wallets could replace physical wallets, allowing users to store their confidential details in one secure & convenient app.