8 Reasons Why Custom Software Development is Important for FinTech Industry
In today's highly competitive digital market, uniqueness has become critical for successful software development. That's why modern companies, especially the fintech industry, increasingly use custom software development solutions.
201 Views

5 minute
The global FinTech market value is projected to grow at a CAGR of 16.8% from 2023 to 2028.
The fintech industry constantly needs innovation to survive, and custom software development can provide the desired level of innovation. A custom software development solution can boost Fintech's digital acceleration, increase financial inclusion, and deliver efficiency through real-time payments.
That's why customized finance development service is gaining popularity.
Still confused about building custom software for your finance business? This blog will explore stats and eight reasons to go with personalization.
Table of Content:
1. What is the custom software development for Fintech?
2. Incredible Stats about Custom Fintech software development
3. Reasons Why Custom FinTech Software Development is on Rise
Personalization Services

Highly Scalable Solution

Enhanced Security

High-Performance Applications

User Convenience

Seamless Integration

Stay Relevant

Continuous Support & Maintenance
4. Conclusion!
5. Build Your Custom Fintech Software Development Solution with VLink
6. FAQs–
What factors do you need to consider when hiring a fintech development company?

Is custom software development right for your finance business?

What is the difference between custom software vs ready-made software?

What are the popular fintech solutions a software development company offers?
What is Custom Software Development for FinTech?
The goal of designing personalize software or mobile apps is to create software specifically crafted to meet the demands of a particular business and improve the user's experience and optimize operations at various levels of the organization to promote growth development.

Digital payment methods, invoicing systems, and P2P lending solutions drive FinTech custom software. Companies and startups are studying FinTech as Blockchain and Cryptocurrency emerge.
Today's FinTech answer is smart contracts. Blockchain intelligent contracts decentralize transactions for corporations. Custom software development allows firms to make improvements as needed.

Incredible Stats About Fintech Software Development
With more people using smartphones and the internet, customers are more likely to access financial institutions' services via technology. Introducing fintech software development into the company is advantageous and unavoidable.

Today's clients have become accustomed to having access to all their financial information at their fingertips, making it inevitable that Fintech will replace traditional business means.
Here are some incredible stats about customized fintech software development solutions:
And according to Goodfirms:
On average, a custom software development project takes about 4.5 months.

The average cost of building custom software with basic features comes to $36,000.

Depending on the complexity, the cost of customized software development projects ranges from $3,000 to $120,000.
Also Read: Importance of custom software development services in Healthcare industry.
Reasons Why Custom FinTech Software Development is on the Rise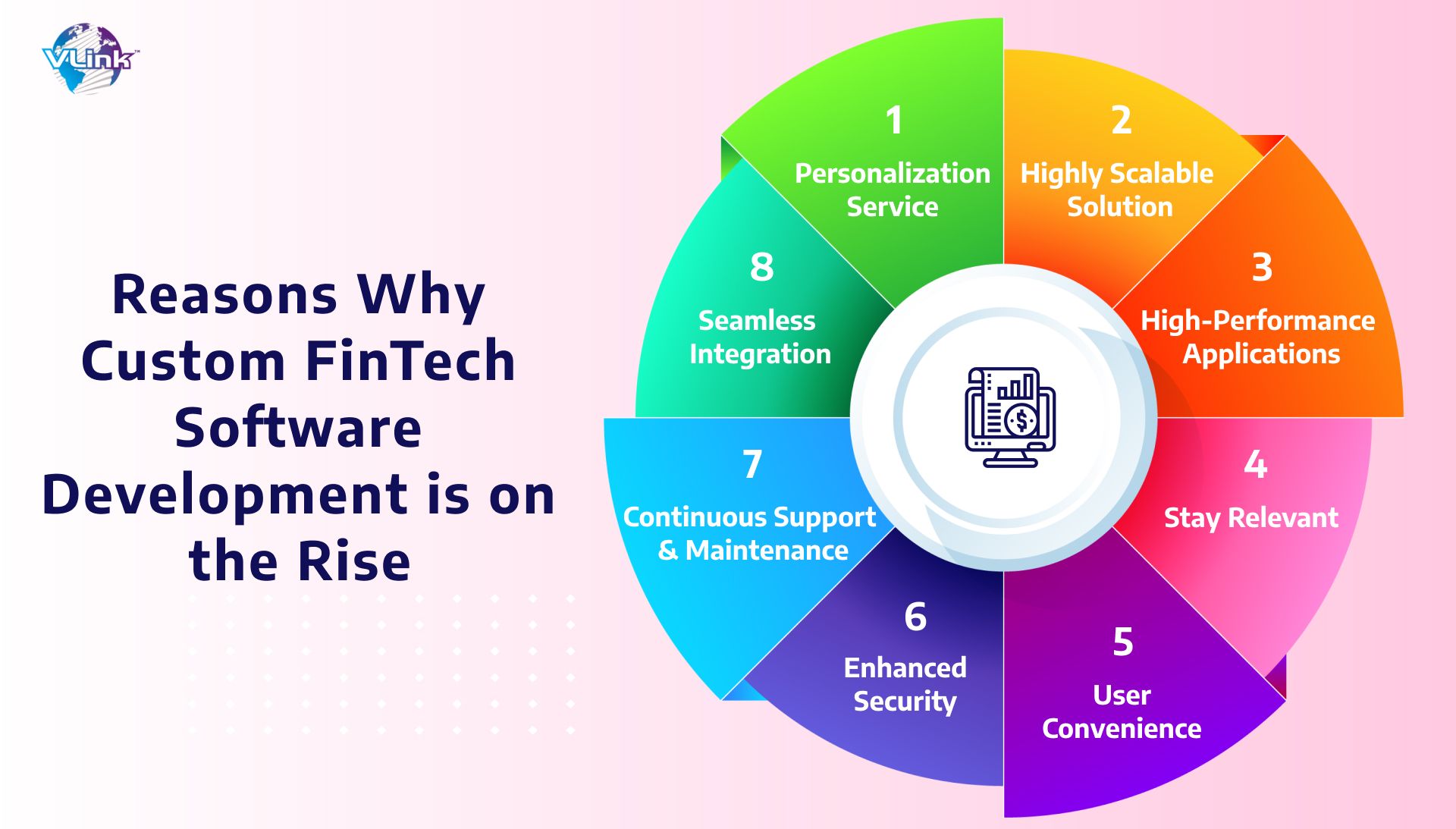 According to the BCG's report, fintech startups have doubled in the last two years. There were 12000 fintech startups worldwide in 2019. And it's expected that this number will reach 26000.
Developers create unique, future-ready, custom solutions to finance businesses to stay ahead of the curve. Here are eight reasons why custom fintech software development is gaining popularity.
Personalization Services
When conveying your company's essential message, generic ready-made software often falls short. This type of software may have many different features and functionalities because it is designed to serve multiple companies.

A distinguishing characteristic can give you an advantage in today's highly competitive business world. Because of this, working with a seasoned developer who understands your company's needs might result in high-quality software that meets your objectives.
Also Read: How to find and hire fintech app developers?
The one-of-a-kind piece of software that you create is yours to keep. It is possible to have a brilliant software development team assist you in designing an intuitive and creative solution that includes all the features you want with the technology you want.
Highly Scalable Solution
Scalability, the capacity to develop and adapt to changing requirements and demands, is essential. Your software must adapt to your company's growth swiftly and simply. As a result, you may have issues with performance and client satisfaction.

Developers can help with custom financial software development to accommodate future growth or service expansions, such as increasing users or needing additional data storage. Because they start with scalable technology, you obtain goods that meet your present and future demands.
Enhanced Security
Financial institutions keep customers' sensitive information, like social security numbers, bank and investment account numbers, and credit card numbers, on file. These data sets must be protected from hackers to be helpful. Hackers target financial services organizations to steal sensitive data 300 times more often than in any other industry.
In addition, the Financial Industry Regulatory Authority (FINRA) now has federal legislation requiring financial services organizations to safeguard client data. Because of this, more firms will seek FINRA-licensed financial experts to protect their companies and customers.

Custom fintech software development may help your company's cybersecurity, regulatory compliance, fraud detection, and prevention efforts. Biometrics and artificial intelligence (AI) are two valuable advancements that may help your financial software solutions remain nearly hackproof and more comfortable for your consumers.

Your organization may have shunned cloud computing because of the threat of cyberattacks. Thanks to recent data privacy protection advancements, you may safely use cloud computing and avoid physical infrastructure requirements like in-house servers.

High-Performance Applications
Customized fintech software development may boost your company's productivity in various ways.

AI-powered chatbots may respond to consumer inquiries at any time of day or night, providing customers with an alternative to on-demand developers. Reduced infrastructure costs result in a more streamlined and cost-effective cloud computing operation.

After the product is ready, you won't have to spend time addressing user design, quality assurance, and data privacy issues.

Investment robots may undertake tedious jobs like data input and planned asset rebalancing, freeing your in-house providers to focus on more strategic and specialized activities through Robotic Process Automation (RPA).
User Convenience
Additionally, specialized business apps provide faster and more dependable assistance in the event of an issue. You may even get 24-hour assistance from customized software development businesses.
Using a custom solution, you can connect directly with the team that planned and built the application. They'll be able to get to the bottom of whatever problem you're having faster.

Seamless Integration
Software apps play a vital role in ensuring the smooth functioning of business operations. Customized services meet the existing systems that a company employs.
Well-integrated, custom software offers real-time visibility, enabling accurate data management and analysis. Therefore, personalized tools can streamline business operations, automate workflows and empower informed decision-making.

Stay Relevant
Maintaining relevance in today's economy requires the use of FinTech. FinTech transformation is becoming increasingly important due to the growing number of FinTech businesses. Click here to read an example of financial IT infrastructure modernization done by VLink for an insurance and financial firm.
Blockchain, for example, is quickly rising to prominence in the context of smart contracts and transactions. User preferences are better served by data analytics. The number of people turning to robot advisers is rising due to the increased need for instantaneous investing guidance.
Branchless banking and cashless transactions are already well to become a reality. As a result, companies must change to FinTech to remain relevant. It's critical to use specialized software to do this.
Continuous Support & Maintenance
Continuous support & maintenance is another reason custom software development makes sense in the fintech industry. A dedicated team ensures your app is updated and all issues are fixed quickly.

It helps to increase the investment value and reduce the risks associated with outdated software.
Conclusion
In cases where ready-made software can't meet your company's specific needs, hiring custom software developers is the viable option. We have discussed the 7 top reasons FinTech app development services are crucial for enterprises and startups.

Improved productivity and ongoing assistance give you an advantage over competitors who rely on less efficient alternatives.

Do you want a custom FinTech software but don't know how to build custom financial software for your business? Get in touch with VLink!
We can provide the most excellent solution for your business needs.
Build Your Custom Fintech Software Development Solution with VLink!
VLink is a dedicated custom software development company that provides full-cycle custom finance development services and consulting solutions. We help companies transform their financial services with emerging technologies for improved operational efficiency, transparency, faster response time and better customer experience.
Our developers have delivered many successful custom fintech solutions, including P2P lending systems, payment gateway development and smart mobile payment systems. With the latest technologies, such as Blockchain, IoT and AI, we build smooth-running, user-friendly and secure financial software & apps.

To bring your project to real life, contact our experts today!
FAQs
Frequently Asked
Questions
What is the difference between custom software and Ready-made software?
A quick comparison between custom software and ready-made software is shown in the table below.



Criteria

Custom Software

Ready-Made Software

Functionality

Project Dependent

Platform Dependent

Flexibility

Can add more features

Difficult to customize features

Costs

Lower in long-term

Costly in long-term

Security

More secure

Lack of security

Maintenance
Easy to maintain
Difficult to maintain
What are the popular fintech solutions a software development company offers?
Blockchain-Based solutions, investment system, payment app, innovative insurance software are some popular fintech solutions that a software development company offers.
What factors must you consider when hiring a fintech software development company?
When hiring a fintech software development company, you need to consider technical competence, functionality, development methodologies, security and developers' soft skills.
Is custom software development right for your finance business?
Yes, custom software development is great for finance businesses with unique needs. Custom software development is the best way out if your company has unique requirements. You can select a custom software development company like VLink for increased efficiency, & ongoing support.