It's no secret people love to order their favorite meals online. 63% of customers prefer to order food online through mobile apps. The Online Food Delivery Market was valued at $160.3 bn in 2022 and is estimated to grow $483.9 bn by 2032, as shown in below image: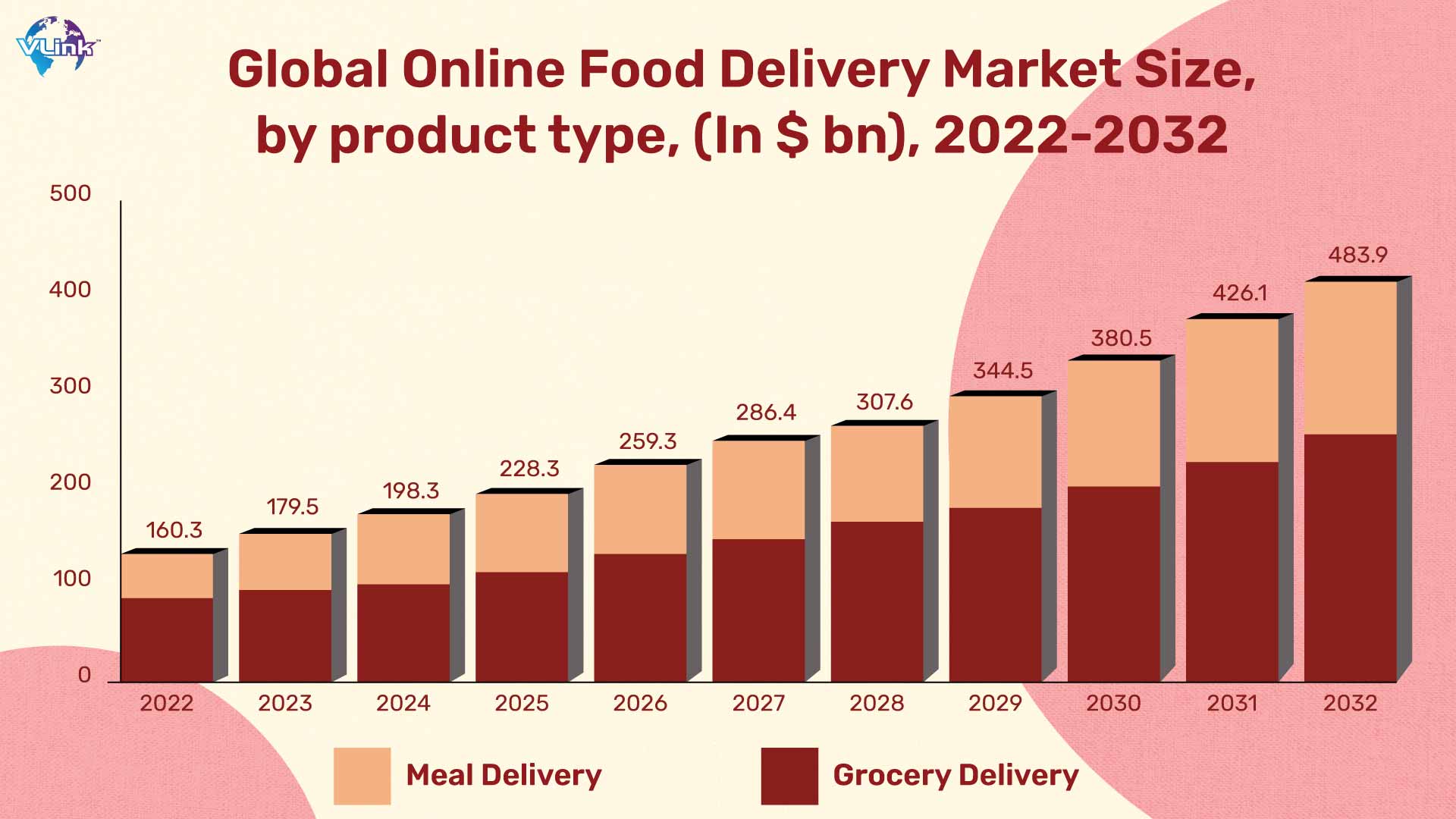 Online food delivery apps have modernized and elevated the restaurant sector. There are several food delivery mobile apps, such as DoorDash, Uber Eats, Postmates, and Grubhub. With a market share of 65% DoorDash dominated the online food delivery market in the United States as of February 2023, as shown in the figure below: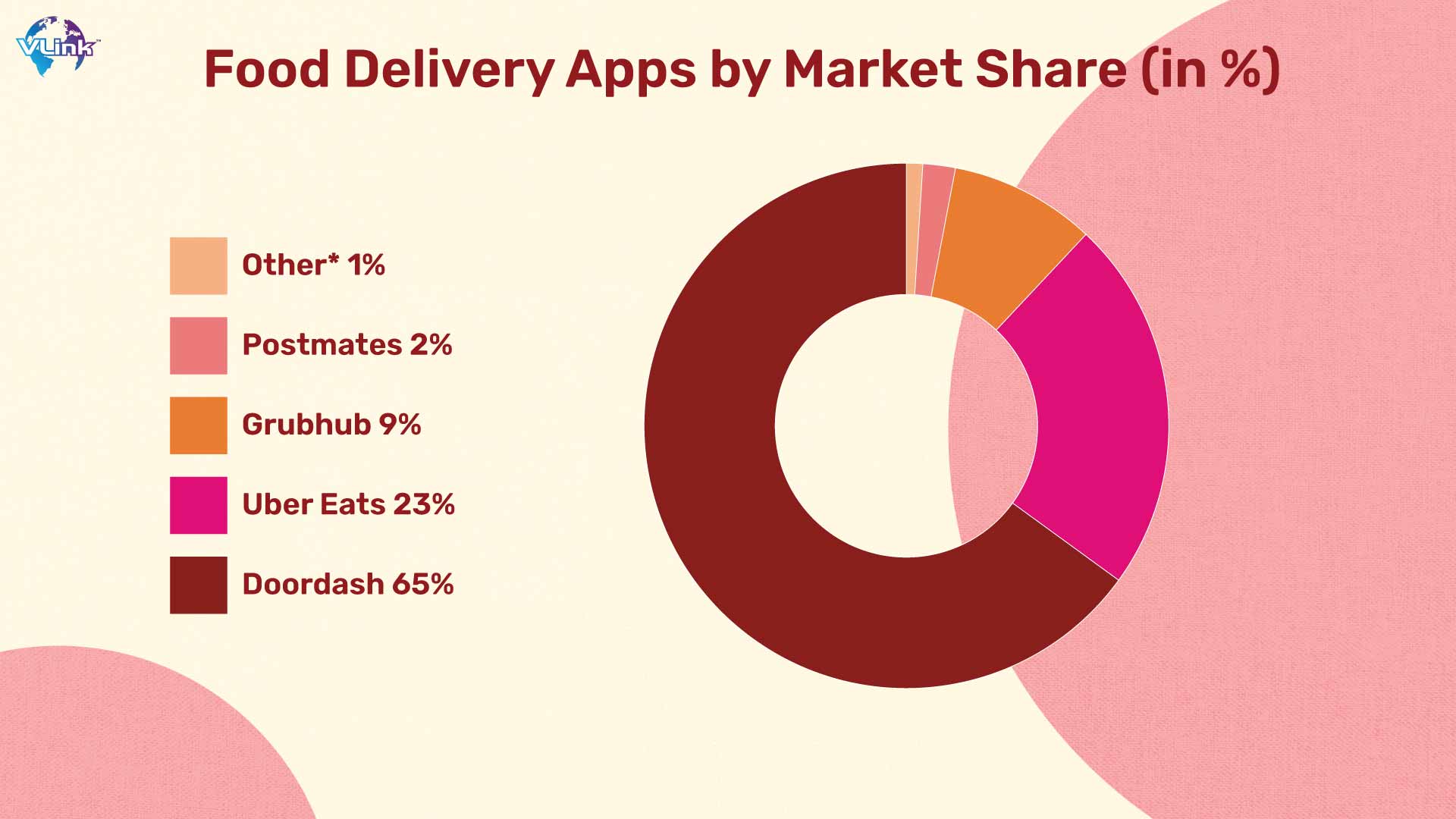 In comparison to other apps, DoorDash is extremely user-friendly and has a wealth of features. That's why it has gained popularity and success in the restaurant industry. Food delivery mobile apps not only help the user but restaurant owners as well.
If you want to build a DoorDash like app, it's probably one of the best opportunities for business owners to evolve in this business. Do you wonder how much it costs to make a DoorDash app?
Certain factors could lead your food delivery app development, like DoorDash, to cost anywhere from $25,000 to $100,000 or even more. However, to get a cost estimation of food delivery app development, you should need to understand different criteria.
Now, if you are ready to discover the exact cost of a food delivery app like DoorDash, read this blog.
Let's start with some incredible stats.
Why Should You Build a DoorDash Like a Food Delivery App? Incredible Market Statistics!
Here are some stats on why you should develop DoorDash like food delivery app development:
Costs to Build a Food Delivery App like DoorDash
DoorDash, a food delivery app development, costs an average of $65,000. Although it's a rough estimation, here is a more detailed cost breakdown of DoorDash-like food delivery app development:
A basic on-demand food delivery app prices range between $30,000 to $50,000.

An on–demand food delivery system with multiple features like the DoorDash app costs between $52,000 – $100,000.

A Quick Service Restaurant app development like McDonalds or Subway prices can range between $60,000 – $80,000.

An advanced food delivery and marketplace app with high-end features costs $100,000 and above.
The food delivery app development process relies on different factors, such as simple app design, advanced app design, and complex app design.
| | | | |
| --- | --- | --- | --- |
| App Model | Per Hour Rate | Cost to build an app like DoorDash | Time Duration |
| Simple app design | $20/hour | $17000 – $30000 | 3 to 4 months |
| Advanced app design | $50/hour | $35000 – $60000 | 5 to 8 months |
| Complex app design | $120/hour | $60000 – $80000 | 9+ months |
Factors That Affect the DoorDash Like Food Delivery App Development Cost
Crafting user experience in restaurant app helps in gaining more customers. When it comes to developing a DoorDash-like food delivery app, there are several things you need to consider. From features to tech stacks to development stages, these factors could lead your food ordering app development cost anywhere from $25,000 to $100,000 or even more.
For a detailed discussion, the top seven factors that create a high influence in creating food delivery apps like DoorDash are:
The features are considered into three categories:
Dasher Panel,

Restaurant Panel

Customer Panel
As every panels'requirement for features is different, we will discover every panel separately. The basic elements of the app like DoorDash are shown in the below figure: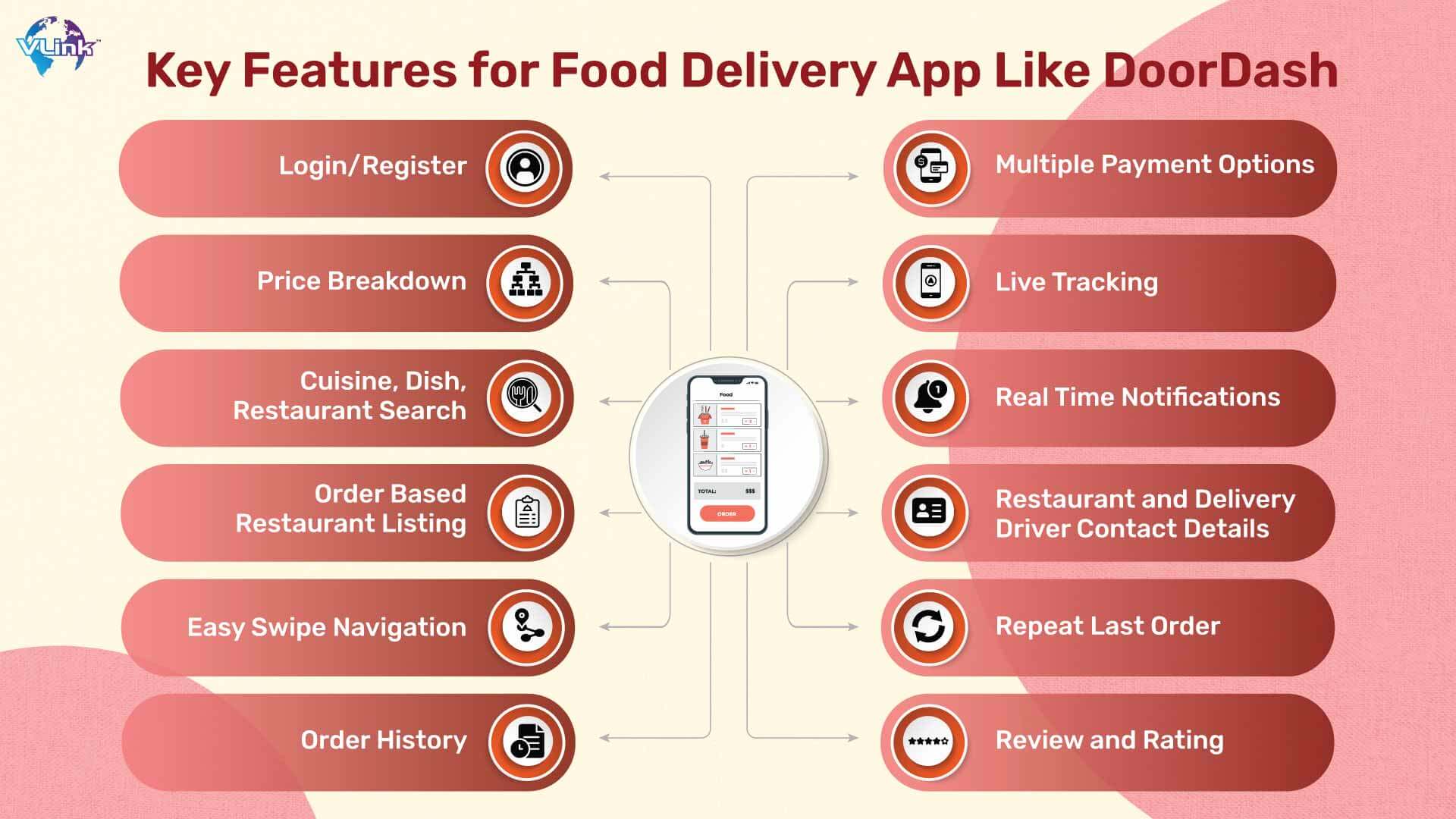 You can also add advanced features like restaurant video suggestions, a food catalog with calorie intake, and integration with wearable devices. It will make your food delivery app trending and engaging.
Cost for customer panel:
The price for designing a customer app panel for a single platform begins at $10,000, while the cross-platform customer app panel development costs can range from $12,000.
Advanced features of DoorDash, like the food delivery app, are shown in the below figure: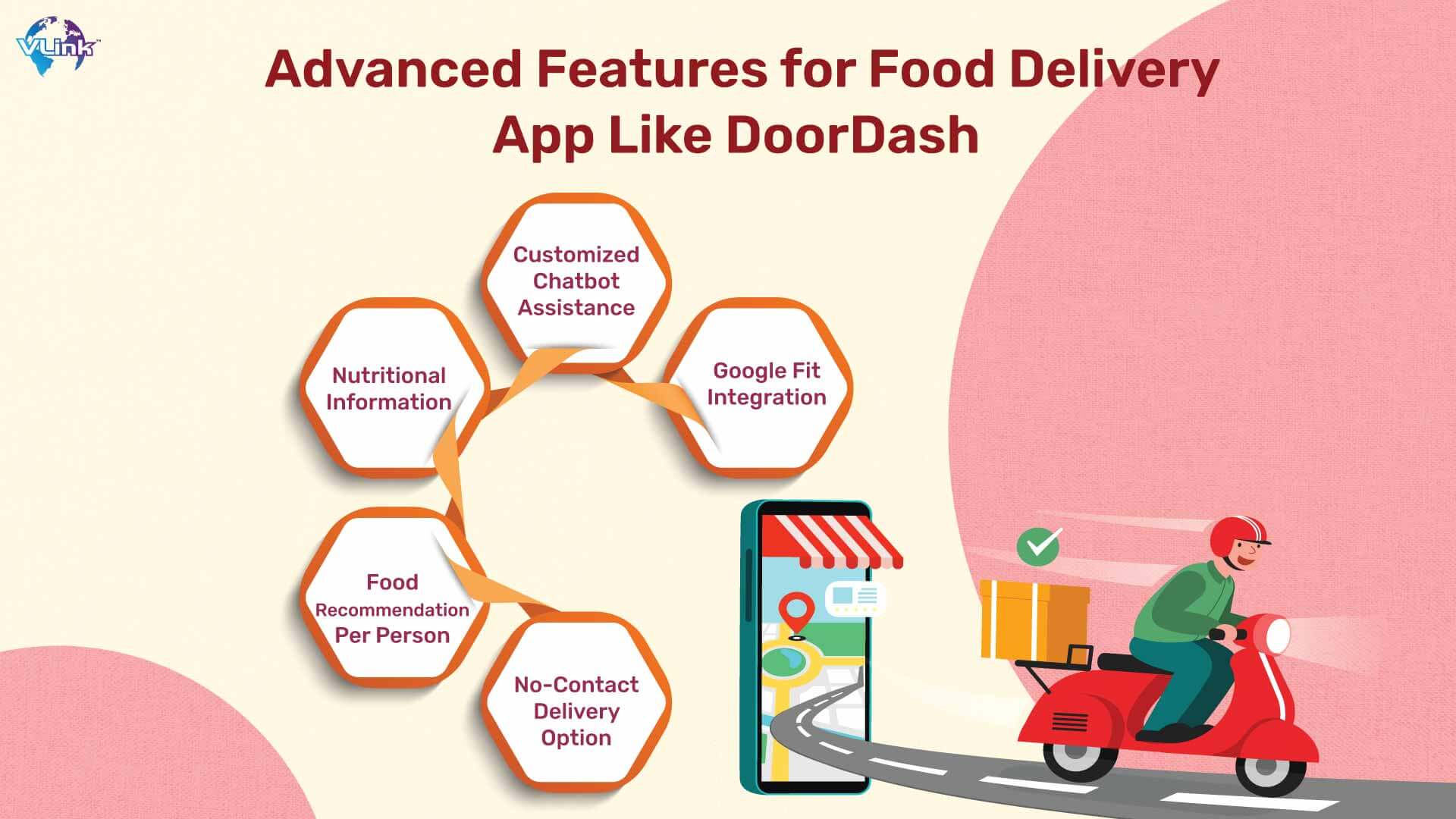 Average DoorDash-like app development costs based on the above features:
| | | | | |
| --- | --- | --- | --- | --- |
| Features | Restaurant Panel | Customer Panel | Delivery Panel | Admin Panel |
| Search Menu | Login Process | Sign In/Sign Up | Tracking Location | Payment Management |
| Food Items | Catalog Management | Manage Menu Card | Order Details | Information Management |
| Profile Management | Time Management | Customer's Review | Coordination with Clients | Order Management and Tracking |
| Cost to develop each platform | $20000 | $25000 | $16000 | $30000 |
| Cost to build cross platform | $11000 | $13000 | $10000 | $1500 |
Here are the costs of 10 features in basic food delivery apps:
| | |
| --- | --- |
| App Features | Cost in ($) |
| Cuisine listings, sub-menus, and products | 2000-3000 |
| Search filters for pricing, delivery costs, and diverse cuisine options | 500-900 |
| Add to cart and order history | 1500-2500 |
| In-app messaging and chat support | 3500-4000 |
| Signup with 2FA | 1000-1300 |
| Sign in or order as guest options | 1200-2000 |
| Delivery tracking via live location | 2000-3000 |
| Online payment | 800-1500 |
| Push notifications | 1200-1500 |
| Reviews & ratings | 1000-1500 |
Another factor that impacts the cost of building a food delivery app is design. For this, you might need to observe your customer's thoughts and offer an intuitive and user-friendly design interface to your users. The advanced and simple interface provides high prices.
If you are building for Android or iOS platforms, you'll require 30 to 35 screen designs and code. The cost is significantly enhanced if you create native apps for both Android and iOS.
Imagine you develop a food delivery app that works on Android and iOS but has similar functionality and a single codebase. In that case, your dedicated team will pick top Flutter app development, which has an intermediate priced lower than creating native apps.

Factor #3 - Location of your app development agency
Your development team's location affects the hourly rates they charge for creating an app. Mobile app development services fees reflect their local tax requirements and business costs.
For quick reference, the most expensive countries for developing digital products are the UK, Australia, and Germany. You may discover mid- to expert-level developers within your price range in the US and MENA countries due to their medium pricing. The lowest hourly development expenses are found in places like Pakistan, India, and the Ukraine.
In several nations, the price per hour varies. In comparison to Asian countries like India, where the typical rate ranges from $20 to $120 per hour depending on the complexity of the app, you may have to spend double or triple as much if you engage a mobile app development for business from the United States.
The cost breakdown of food delivery apps like DoorDash based on location:
| | |
| --- | --- |
| App Development Costs by Region | Hourly Rate, $ |
| Eastern Europe | 40-60 |
| Western Europe | 80-100 |
| USA | 120-150 |
| UK | 100-130 |
| Asia | 25-40 |
Because they incorporate cutting-edge technology, frameworks for augmented reality and virtual reality, a costly cloud managed infrastructure services for hosting, smart contracts, and custom machine learning algorithms, advanced applications demand significant development expenses.
Also Learn: Top 10 trending web frameworks for app development.
Additionally, developers must make use of various databases, development frameworks, and programming languages using the top mobile app development technologies. Taking this into account, the platform you select also influences the entire cost.
Compared to native Android apps, native iOS apps are more expensive. The reason for this is that Swift is still in its infancy, and Swift developers are more costly than Kotlin and Java developers. A typical native food delivery app would cost $50,000.
The most expensive choice is a pair of two native applications, one for iOS and the other for Android. From a logical perspective, this is equivalent to employing two separate development teams, one that works only for Swift and follows seemingly comparable procedures. At the same time, the other builds on Java or Kotlin. You will spend about $100,000 on these two native applications after covering launch expenses.
The third choice is to release an iOS and Android-compatible cross-platform meal delivery app. For this kind of app, cross-platform developers should choose the top Flutter app development tools. It's the most cost-effective choice from a financial sense because it is equivalent to obtaining two applications for the price of one.
Technical development has many phases, from app discovery and proposal to testing and maintenance. Here is a summary of the costs associated with each of these development stages:
For an additional 22% of the project cost, several app development organizations additionally provide app maintenance services. In order to outsource the full project, an app development company often charges an upfront fee.
Alternatively, they may use a subscription-based business model with IT staff augmentation services. Here are cost estimations of food delivery apps like DoorDash based on development stages:
| | |
| --- | --- |
| Food Delivery App Development Stages | Costs |
| Discovery | 2,000 – 5,000 |
| Design | 12,000 – 16,000 |
| Development | 25,000 – 65,000 |
| API Integration | 5,000 – 8,000 |
| Testing | 8,000 – 15,000 |
| Launch | 500 – 1,000 |
Users have several worries, particularly about app security and data privacy. Additionally, there is a need for formal approval under Google's app publication guidelines.
These issues become even more important when considering a meal delivery app. Because of these apps are preserving users' residential and business addresses,
Users are registered using personally identifiable information, such as their phone number and email address, and their financial data, such as payment card information, is processed.
Your developer must follow certain procedures during QA software & testing services to guarantee total privacy and security. First and foremost, the backend needs secure code that is free of errors, crashes, and viruses. To make sure the software will thwart hacking efforts, your testing team must also undertake ethical hacking evaluations.
Also Learn: the importance of software testing.
While end-to-end encryption and penetration testing are necessary for all apps, their costs might range from $1000 to $5000 depending on your developers and the conditions of your contract.

How Does a Food Delivery App Like DoorDash Make Money?
Apps for food delivery like DoorDash make money through a number of important techniques.
The commission fee that they charge restaurants is normally between 15% and 30% of the overall order amount. By setting them a charge, they encourage eateries to work with them and increase the menu selections available to customers.
Second, DoorDash frequently charges clients a delivery fee that fluctuates based on variables like distance and demand. This charge aids in defraying the expense of delivery personnel and logistics.
Additionally, they could provide a membership service like DashPass, which charges a monthly fee in exchange for perks like free delivery and discounts.
Last but not least, agreements in advertising and promotion with restaurants also help them make money because the eateries pay for the app's improved exposure and marketing. In the cutthroat meal delivery market, DoorDash is able to make significant profits because of its complex strategy.
Consider VLink to Build a DoorDash-like Food delivery app!
As a leading food delivery app development company, VLink delivers high-quality apps that make dining easy and food delivery efficient. No matter how you are looking to innovate the food and restaurant industry, our experts will provide online food ordering and restaurant development solutions.
Through our responsive restaurant mobile app solutions, we specialize in providing your customers with online meal ordering, a digital food menu, online payments, and much more. Our variety of services include:
Restaurant finder app development

Food delivery app development

Food ordering app development

Inventory management solutions development

Restaurant

PoS software development
For more information about restaurant mobile app & food delivery app development solutions, you can contact us!
FAQs
Frequently Asked Questions
What are the best food delivery apps in the market?
Some of the best food delivery apps in the market include DoorDash, Uber Eats, Grubhub, Postmates (now part of Uber Eats), and Instacart (for grocery delivery). These apps offer a wide range of restaurant choices, convenient delivery options, and user-friendly interfaces to satisfy diverse customer preferences.
Why should you build a food delivery app like DoorDash for your business?
Building a food delivery app like DoorDash can benefit your business by expanding your customer reach, increasing revenue through commissions, and capitalizing on the growing demand for convenient dining options in today's market.
How to build an app like DoorDash?
To build an app like DoorDash, follow these steps:
Market Research: Understand your target audience and competitors.

Plan: Define features, tech stack, and business model.

Design: Create user-friendly UI/UX.

Development: Build the app with experienced developers.

Testing: Ensure functionality and security.

Launch: Deploy and market your app.

Maintenance: Continuously update and improve.