As the demand for EVs continues to rise, there's a growing need for efficient and effective EV charging management software. This software plays a vital role in ensuring that EV charging infrastructure functions seamlessly.
By 2030, the US is poised to welcome a fleet of 48 million electric vehicles, as per Mckinsey & Company. As the EV landscape thrives, the demand for EV charging management software is primed to skyrocket.
Reports suggest a need for a staggering 30 million chargers in the US, with 1.2 million destined to serve the public, the remainder falling under the domain of homeowners. This situation is where the magic of EV charging management truly unfolds, making it a strategic win.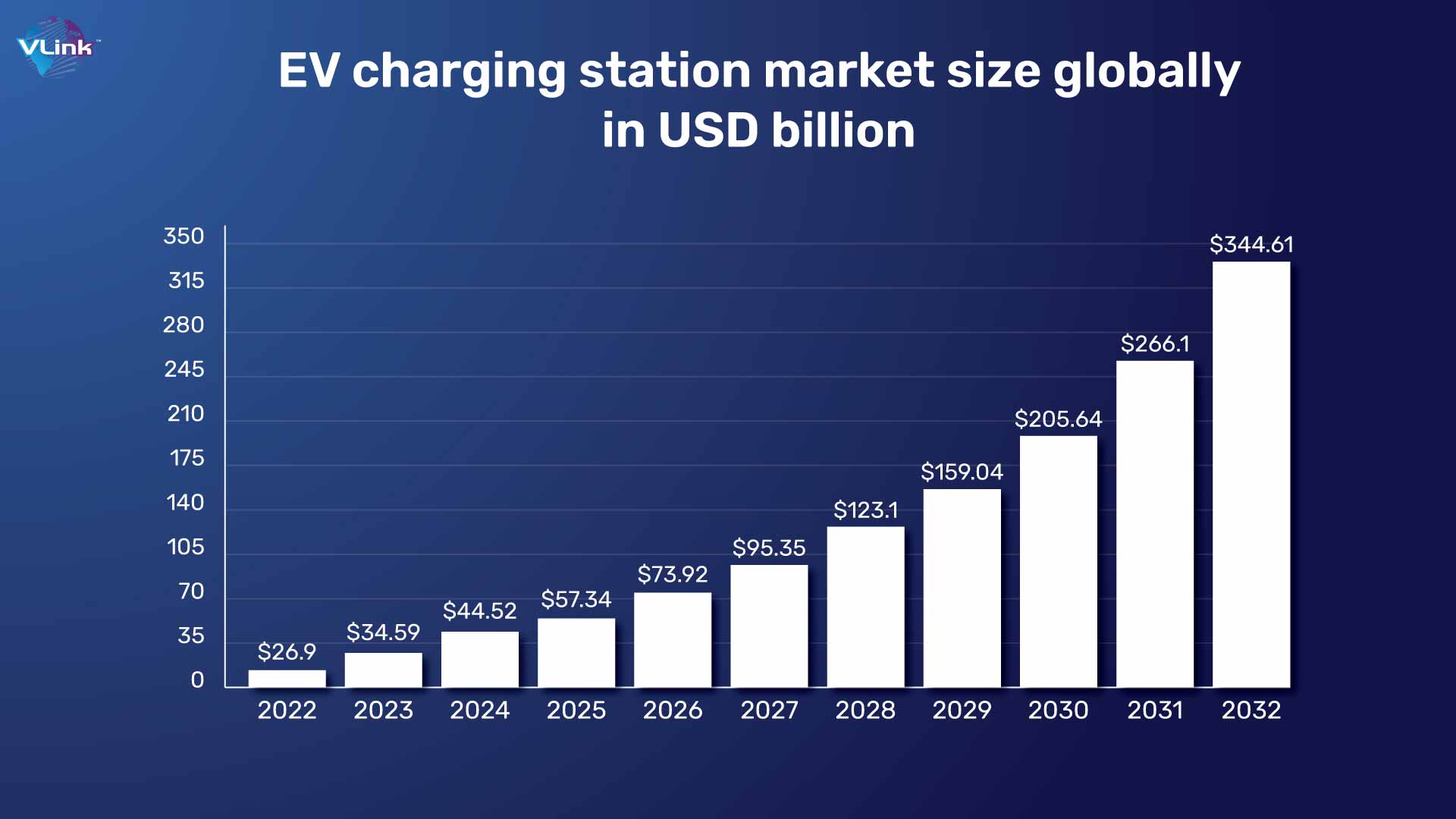 So, if you're eyeing the EV industry and pondering the development of EV software, you're right on track. This blog provides all the details about knowing the cost of building an EV charging managing software and the factors affecting it.
What is EV Charging Management Software?
An EV charging management software has the ability to manage and regulate the operations to the EV ecosystem. It includes setting up users accounts, locating nearby charging stations, tracking EVs charging status, providing payment gateways, and a lot more.
It's a fascinating web of components that expedite the charging process, featuring billing management, charging station monitoring, payment processing, and station management.
The EV charging software market has been riding high on the electric vehicle revolution. Time to peek at some riveting market stats:
The crown for the world's largest electric vehicle charging systems market sits firmly on the head of the Asia-Pacific region, with a projected value of a whopping 30.8 billion U.S. Dollars by 2028. That's a colossal 42 percent compound annual growth from the 2.6 billion U.S. dollar market in 2021.

Fast forward to May 2023, where the US is gearing up to boast a whopping 138,100 plug-in electric vehicle (EV) charging outlets. California stands tall with nearly 44,600 charging outlets, a mix of public and private installations.

It's no surprise that China, a massive player in the electric vehicle market, continues its impressive journey.

The National Electric Vehicle Infrastructure Program has showered Texas with the most funding in 2022.

In January 2019, electric vehicle charging infrastructure patents worldwide had a common theme - wireless or inductive charging. They accounted for a remarkable 22 percent of all patents.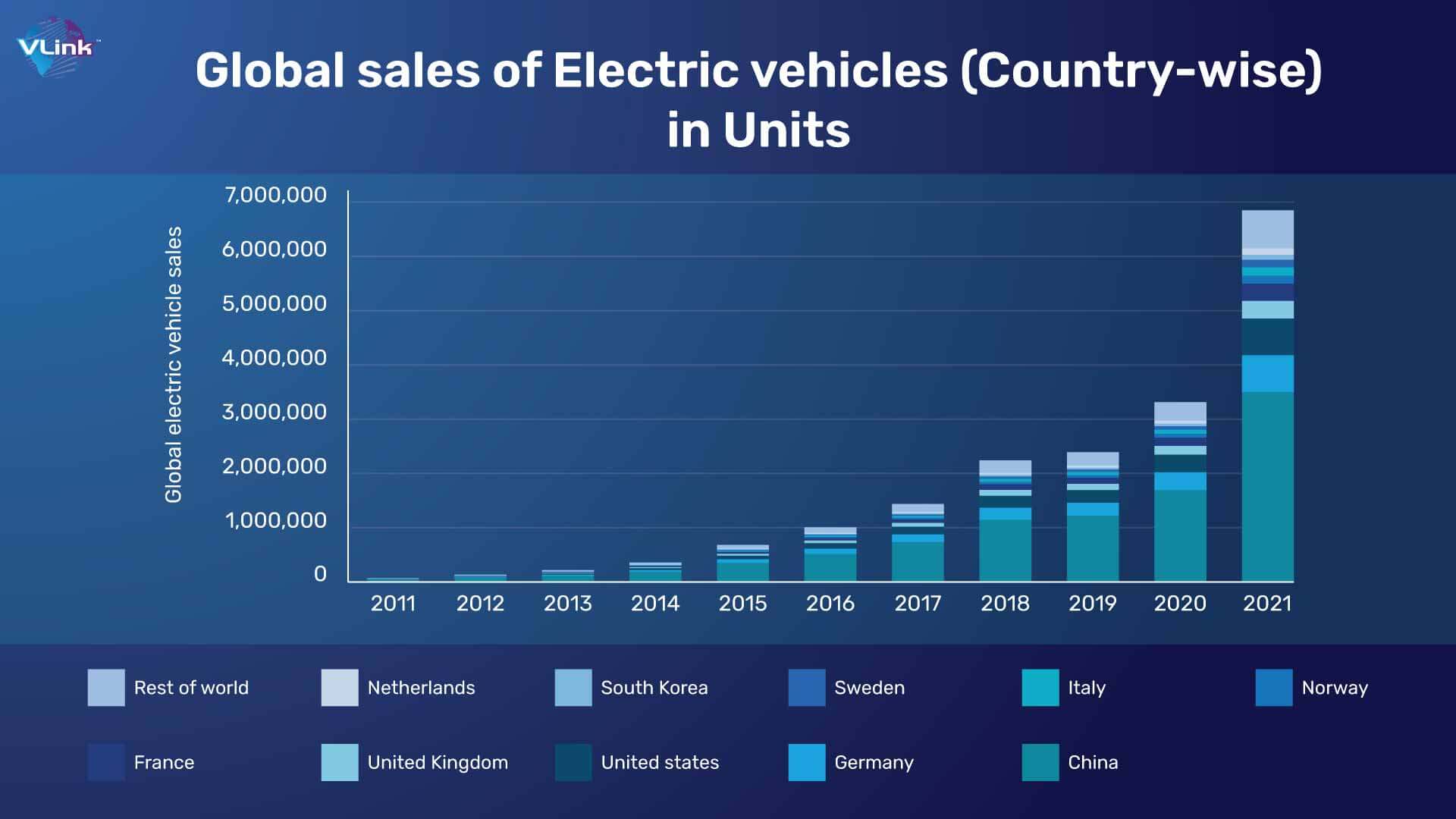 With these stats in mind, it's crystal clear that the EV charging market isn't hitting the brakes anytime soon. The time is ripe to invest in an EV charging management app idea like PlugShare and propel your business to new heights.
Key Features of EV Charging Management Software
Now that you've got your hands on the hottest charging station management system, let's dive into the must-have features for your software. Let's break it down:
User Authentication
Implement a solid user authentication system that provides secure access for EV drivers to charging stations. This could involve creating user accounts, integrating RFID cards, or using mobile apps for authentication.
Payment Processing
This feature offers multiple payment options for users, like credit card payments, mobile wallet integration, and subscription-based models. Make sure payments are both secure and hassle-free.
Real-time Monitoring
Real-time monitoring is the ticket here, catering to both users and operators. It helps with proactive maintenance and quick issue resolution to keep those stations up and running.
Data Analytics
Integrating data analytics is your gateway to understanding charging station usage. This data empowers operators to make informed decisions about optimizing and expanding their infrastructure.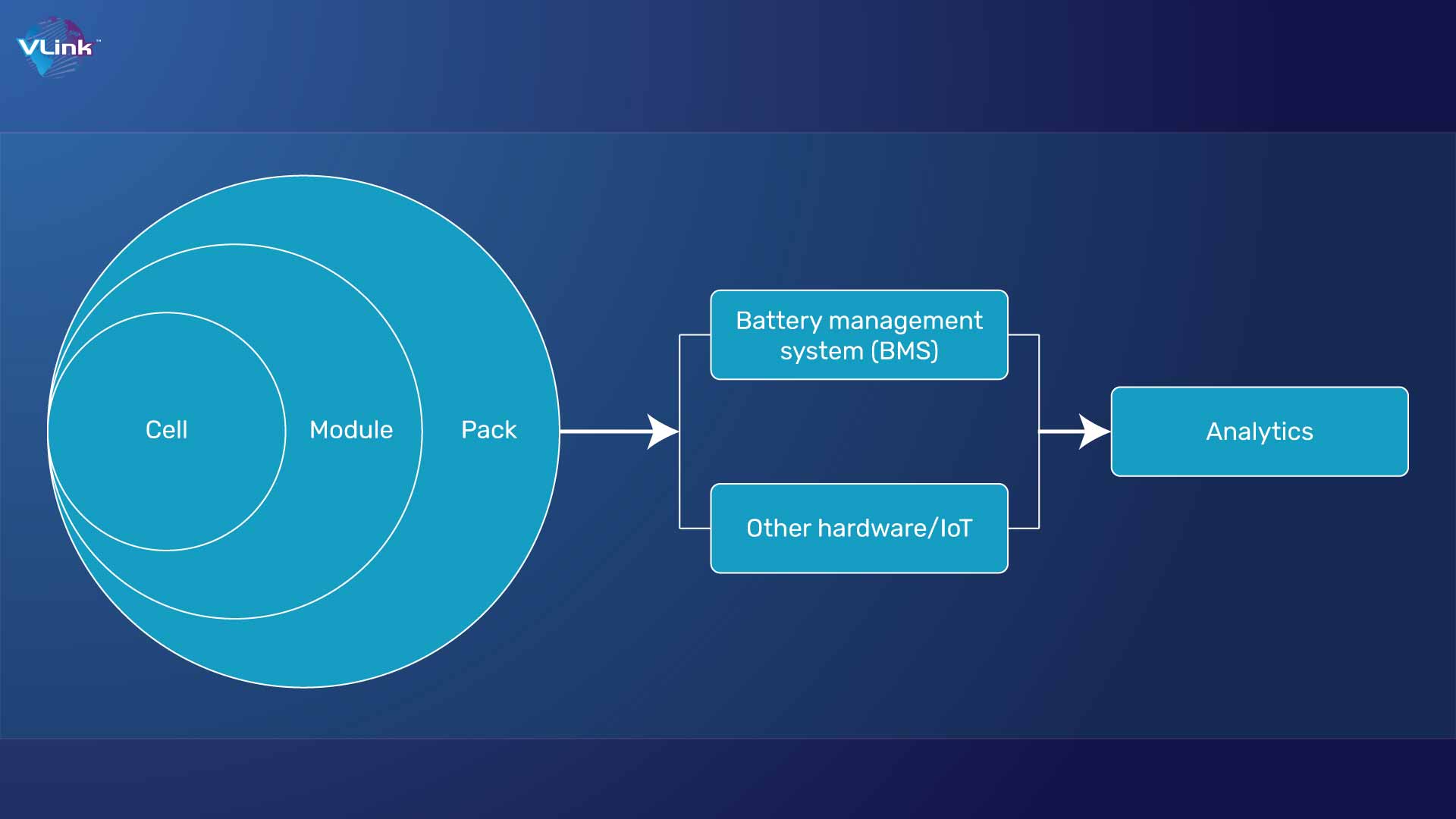 Charging Station Management
Operators can efficiently manage and configure charging stations from a distance with this feature. It allows them to set pricing, track usage, and perform diagnostics.
Reservation System
A reservation system allows users to book charging stations in advance, ensuring availability when they need it, cutting down on wait times.
Charging Station Locator
This nifty feature helps users find nearby charging stations using GPS or location services. It's a game-changer for EV drivers planning their routes.
Integration with Multiple Hardware
To ensure compatibility with various charging station hardware, this feature offers software flexibility to work seamlessly with a wide range of setups.
Scalability
Design your software to scale as the demand for charging stations grows. This flexibility is key to accommodating a larger network.
Security Measures
Implement robust security measures to safeguard user data, payment information, and the integrity of your charging infrastructure. Building trust with users hinges on solid security.
Reporting & Analytics
Provide operators with reporting tools to generate usage reports and valuable analytics. This data is a goldmine for optimizing operations and making strategic decisions.
Support & Maintenance
Exceptional customer support and maintenance features are a must. Prompt responses to user inquiries and swift resolution of technical issues are vital for keeping customers engaged.
Regulatory Compliance
Ensure your software complies with local and international regulations and standards, including the Open Charge Point Protocol (OCPP) for seamless interoperability.
A fleet management software development solution for EV chargers empowers users to create a customized permissions system tailored to their business needs.
Factors Influencing The EV Charging Management Software Development Cost
The cost of developing a software for Electric Vehicle (EV) charging management can be influenced by several factors. Here are some key aspects that can impact the overall development expenses:
1- Feature Complexity and compatibility:
The more features and functionalities you want to incorporate into the software, the higher the development cost. Advanced features like payment processing, user authentication, real-time monitoring, and reporting will increase the complexity and, consequently, the cost.
Also, if you want the software to be compatible with multiple platforms (iOS, Android, web browsers), this will increase development costs compared to a single-platform application.
2- Features List
The range of features plays a crucial role in determining the cost of developing EV charging station software. More complex software with a comprehensive feature set typically incurs higher costs. However, having a software solution that effectively addresses the specific needs of the EV charging industry can lead to greater market adoption.
3- UI/UX Design
A well-crafted user interface and user experience (UI/UX) are essential when developing robust EV charger software. An intuitive UI/UX can enhance user engagement and retention rates. The cost of developing EV charging management software can vary due to the need for extensive testing to ensure the design functions seamlessly.
4- Location of the Development Agency
The cost of designing EV charging software may fluctuate depending on the geographic location of the software development company. Hourly development rates are typically lower in regions like Asia compared to the UK and the US.
5- Maintenance
Software maintenance quality and efficiency significantly affect the overall cost of developing EV charging station software. Ensuring that web and mobile applications run smoothly on all platforms while providing optimal performance is essential for the longevity of the software. Maintenance costs include expenses related to bug fixes and the adoption of new technologies to meet market demands.
6- Tech Stack
Building software for EV charging stations necessitates a robust technology stack. Choosing the right technologies can result in quicker market acceptance and position a business for future success. It's important to note that the cost of developing an EV charging station finder app depends on the technologies used to implement features and functionality.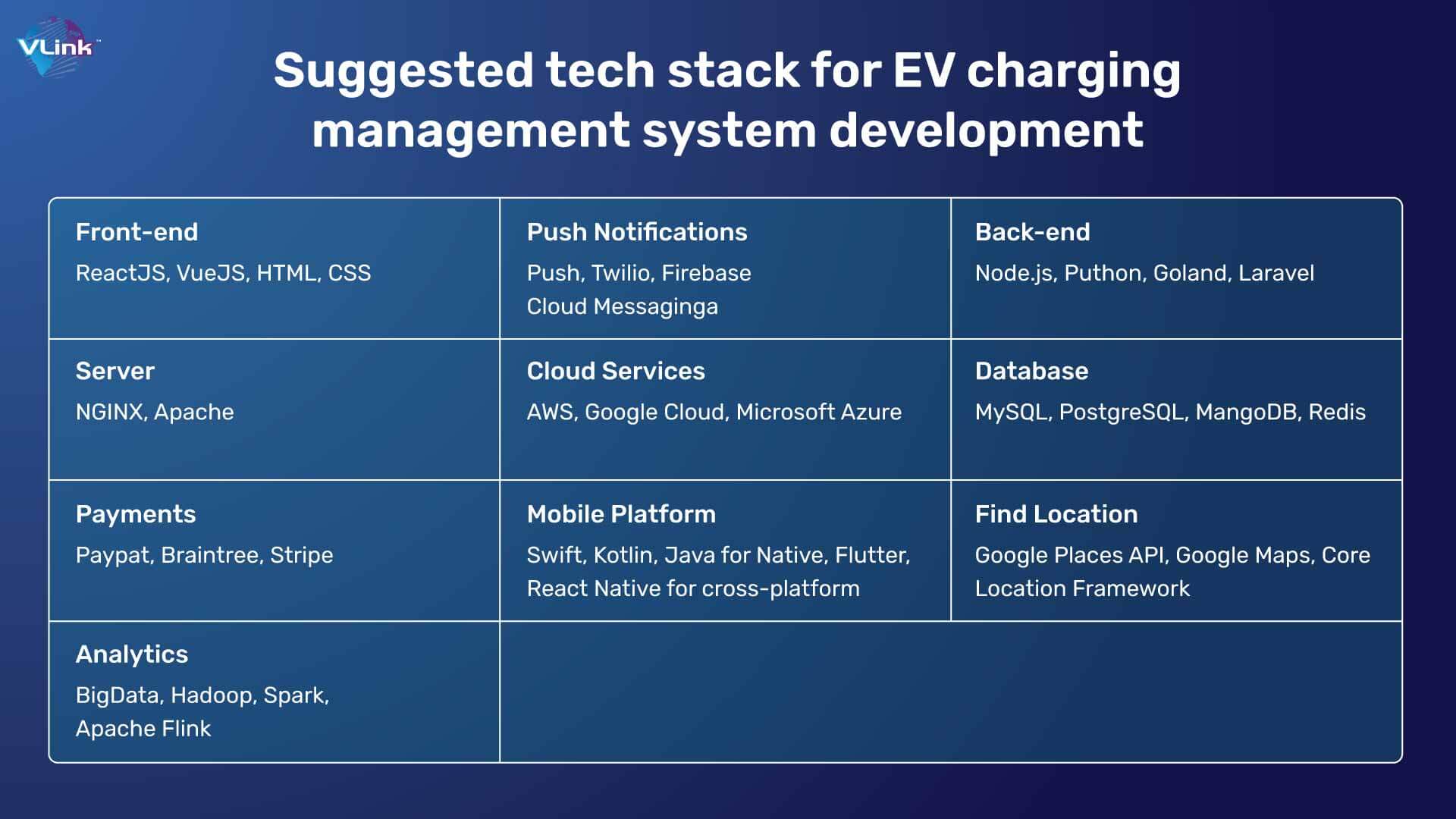 7- Team Size
The size of the software development team is another critical factor in determining the cost of EV charging management software development. You have the option to outsource the project to a dedicated team of developers. While this may reduce the overall budget, it could impact software quality due to their potential lack of experience and resources. Hiring a dedicated team offers industry expertise at a rate optimized to maximize return on investment.

Determining the cost of EV charging management software development
Even though it is rather difficult to offer an exact estimate of the EV charging software development cost, a team of experts can help you offer an expected budget based on your business' custom requirements.
In a nutshell, the cost of developing software for EV charging typically falls within the range of $10,000 to $25,000. However, this cost can vary significantly due to various influencing factors, such as the hourly development rate, the technologies employed, the scope of features integrated into the software, and the size of the development team.
It's essential to note that providing an exact cost estimate for EV charging management software development is challenging. Instead, seeking assistance from an organization with a wealth of experience in creating similar software can help you obtain a more accurate budget estimate tailored to the specific needs of your business.
Deploy VLink's solutions for your next EV management software development
EV charging management software is the backbone of a robust charging infrastructure. It orchestrates the charging process, optimizes energy usage, and provides critical data insights. By managing charging stations efficiently, it not only ensures a seamless experience for EV owners but also contributes to the sustainability of our planet.
VLink, as a seasoned player in the software development sector, has the expertise to assess your unique requirements and propose a budget that aligns with your project's scope and objectives. Their experience in creating software solutions for the electric vehicle industry positions them as a valuable resource for estimating the cost of EV charging software development.
To receive an accurate estimate for your project, it is advisable to engage in a consultation with VLink. They can analyze your specific needs, project complexity, desired features, and scalability requirements to provide you with a more precise budget. This approach ensures that the cost estimate is tailored to your business's individual demands and aspirations.
FAQs
Frequently Asked Questions
Which features impact the cost of EV charging management software development?
EV charging management software offers features such as user authentication, charging station management, real-time data monitoring, and payment processing.
How does EV charging management software contribute to sustainability?
By optimizing energy usage and reducing carbon emissions, EV charging management software contributes to a greener planet. EV ecosystem is playing (will play) crucial role in maintaining green transportation across the globe.
How does data security become crucial in EV Charging Management Software?
Data security is of utmost importance, as it involves user information, transactions, and energy consumption data. There should be some robust security measures implemented to protect the mobile app's data and other necessary information.