CRM solutions are rapidly evolving globally, driving the fact that 90% of businesses with 10+ employees utilize CRM systems to meet the dynamic requirements of their customers.
According to Grand View Research, the worldwide market for CRM (Customer Relationship Management) was assessed to be worth $58.82 billion in the year 2022. And it's predicted to reach a remarkable CAGR of 13.9% from 2023 to 2030. Salesforce Integration Solutions alone capture one-third of global CRM users, as shown in the figure.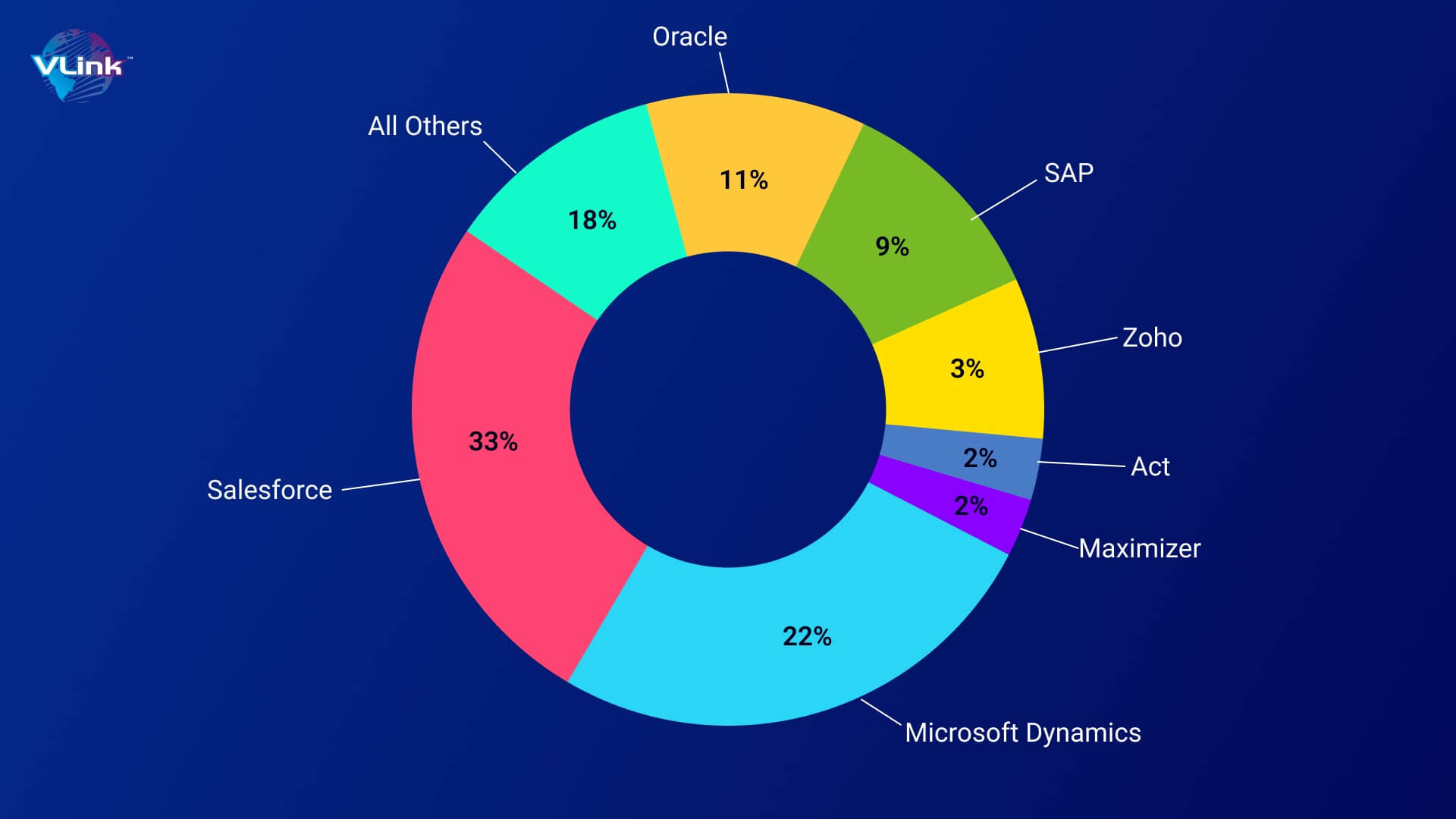 Experts recommend using Salesforce because of its simplicity. But it also provides several valuable features and benefits essential to sales departments' performance.
Whether you want to close more deals, boost the sales funnel efficiency, or improve custom relations, Salesforce integration's possibilities should be on the table. In this blog, you will learn everything about CRM integration.
What is Salesforce CRM Integration?
Salesforce CRM integration refers to connecting and combining Salesforce Customer Relationship Management (CRM) software with other software applications, systems, or platforms to enable seamless data exchange, streamlined workflows, and enhanced functionality.
Integration aims to create a unified and efficient environment where different systems can work together, share data, and automate processes.
Types of Salesforce integration
App-Based Integration

Code-Based Integration

Salesforce Data Integration

Business Process Integration

User Interface Integration
Why is Salesforce Integration Important? Time for Facts!
Here are several facts & stats from verified resources on why Salesforce integration is essential:
More than 150,000 businesses use Salesforce

In the 2023 fiscal year, Salesforce reached a record high in its revenue, with a total of $31.4 billion generated

65% of SMB businesses adopt a CRM within their first five years

50% of teams improved their productivity thanks to mobile CRM

Salesforce customers have seen +38% better forecasting and +36% sales productivity
Benefits of Salesforce CRM Integration Solution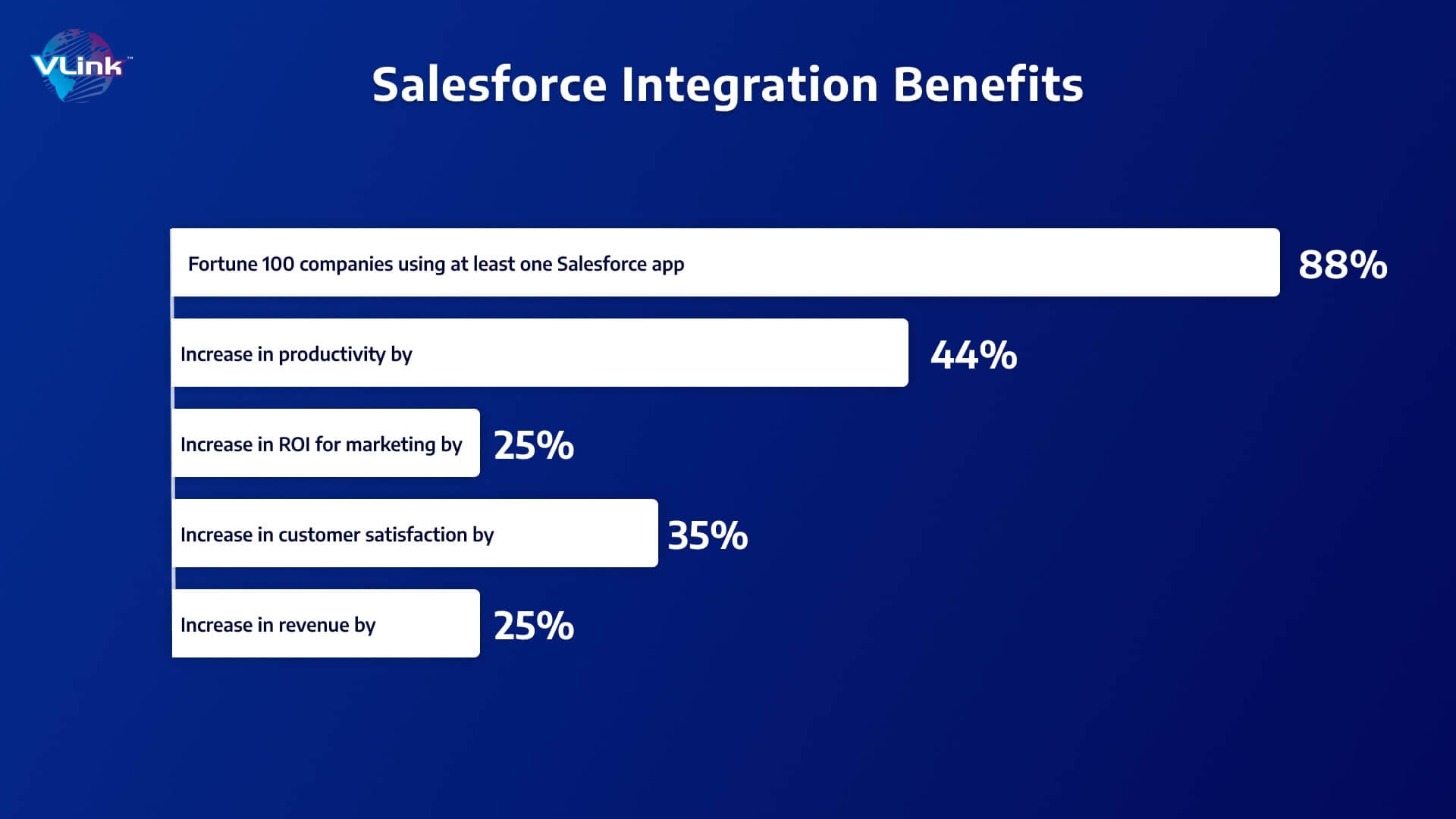 Sales representatives manage extensive volumes of data from Salesforce integration solutions and external platforms. For instance, they often rely on ERP accounting software to oversee inventory, monitor sales metrics, and maintain customer particulars. For that, you need to understand what ERP is and why you should invest in it.
Since ERP systems like SAP and CRM solutions like Salesforce house substantial sensitive data vital to sales representatives, the manual amalgamation of data from both reservoirs can be exceedingly time-consuming.
In this scenario, the integration of Salesforce and SAP emerges as a valuable solution, effectively preventing the necessity for manually compiling datasets. As a result, this integration streamlines operations and can elevate team efficacy by as much as 44%.
An example of Salesforce-SAP integration is how augmented performance and heightened productivity can be attained through such integration endeavors.
Integrating Salesforce CRM provides a comprehensive perspective on customer data, enabling you to refine your offerings and elevate customer experiences through well-informed choices. The ability to access real-time data seamlessly across various systems is paramount—data fragmentation hinders optimal decision-making.
With effortless access to synchronized data, you can assess analytical dashboards, swiftly adapt to evolving trends, and make quick decisions, all while leveraging immediate customer insights.
The availability of unified and current data empowers decision-makers with precise insights, facilitating well-informed decisions that steer the expansion of the business.
Integration can automate processes by enabling data to flow seamlessly between Salesforce and other systems. This ensures that information is up-to-date and accurate across platforms, streamlining workflows and reducing the need for redundant data entry.
Integration allows you to centralize customer data within Salesforce from various sources, such as emails, social media, and other applications. This comprehensive view of customer interactions and history enables better-informed decision-making and personalized customer experiences.
Key Features of Salesforce Integration Solution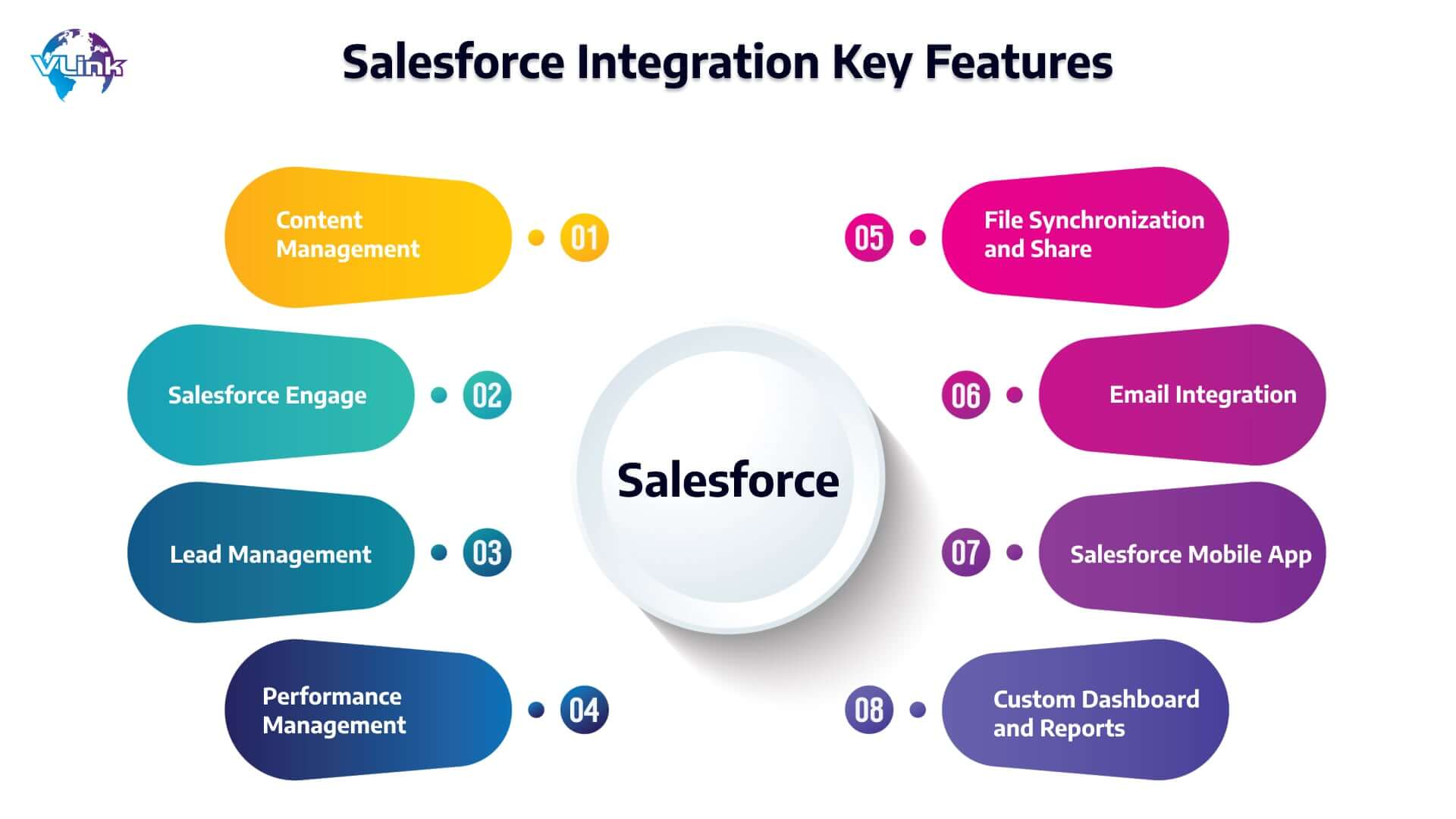 This feature ensures seamless customer contact management by providing effortless access to their comprehensive details. It offers a transparent overview of their interaction records, history of activities, important contacts, and more.
This functionality enhances customer engagement by offering a holistic perspective of their activity history and delivering personalized messages when the likelihood of a response is elevated. It operates as a connector between sales and marketing teams, facilitating the exchange of marketing content with sales to amplify the company's selling potential.
This aspect of Salesforce or any tailored CRM solution functions as a rapid lead conversion instrument, granting entry to current contacts within the timeline and the originating point of the leads. Furthermore, the inclusion of automated email templates enhances strategies geared towards revenue generation.
Salesforce undertakes lead analysis and promptly designates the most promising leads to the appropriate team member. Consequently, potential leaders are kept from the cracks, fostering revenue growth.
Also Learn: How popular brand Starbucks have increased sales through mobile app development.
This functionality enhances the company's sales process execution by establishing metric-driven objectives for teams. Additionally, it maintains an ongoing loop of feedback and incentives to improve performance and achieve the set goals.
One of the standout attributes of Salesforce is its file synchronization capability, seamlessly harmonizing files across various systems and enabling effortless sharing from any device, anytime. This feature is equipped with multiple filters that simplify access management, control permissions, and the retrieval of specific documents from a pool.
Email integration stands out as one of the extensively utilized and indispensable attributes for enterprises, streamlining functions and elevating their communication dynamics. Integrating Salesforce with platforms like Gmail, Outlook, and other email systems facilitates harmonizing events, contacts, emails, and other critical elements, expediting workflows.
In addition, it furnishes a comprehensive perspective of affiliated customers, aiding in the composition and dispatch of emails to contacts, regardless of their global location.

Users gain the capability to retrieve data, initiate conference calls, jot down meeting notes, review events, and effectuate account updates irrespective of location or time.
Furthermore, the integration of the Salesforce app facilitates swift and uncomplicated file and document sharing, heightening flexibility for remote work scenarios. Additionally, including offline data updates streamlines the process of expediting deals.
Salesforce's dashboard and reporting functionality presents an immediate and dynamic snapshot of the business, portraying its real-time performance in the market. This capability aids in recognizing prevailing market trends, quantifying activities, and crafting bespoke sales projection reports without IT intervention.
Creating a personalized dashboard is effortlessly achieved through a straightforward process of dragging and dropping elements within Salesforce, allowing for the seamless monitoring of team achievements.
Best Practice for Salesforce Integration Solution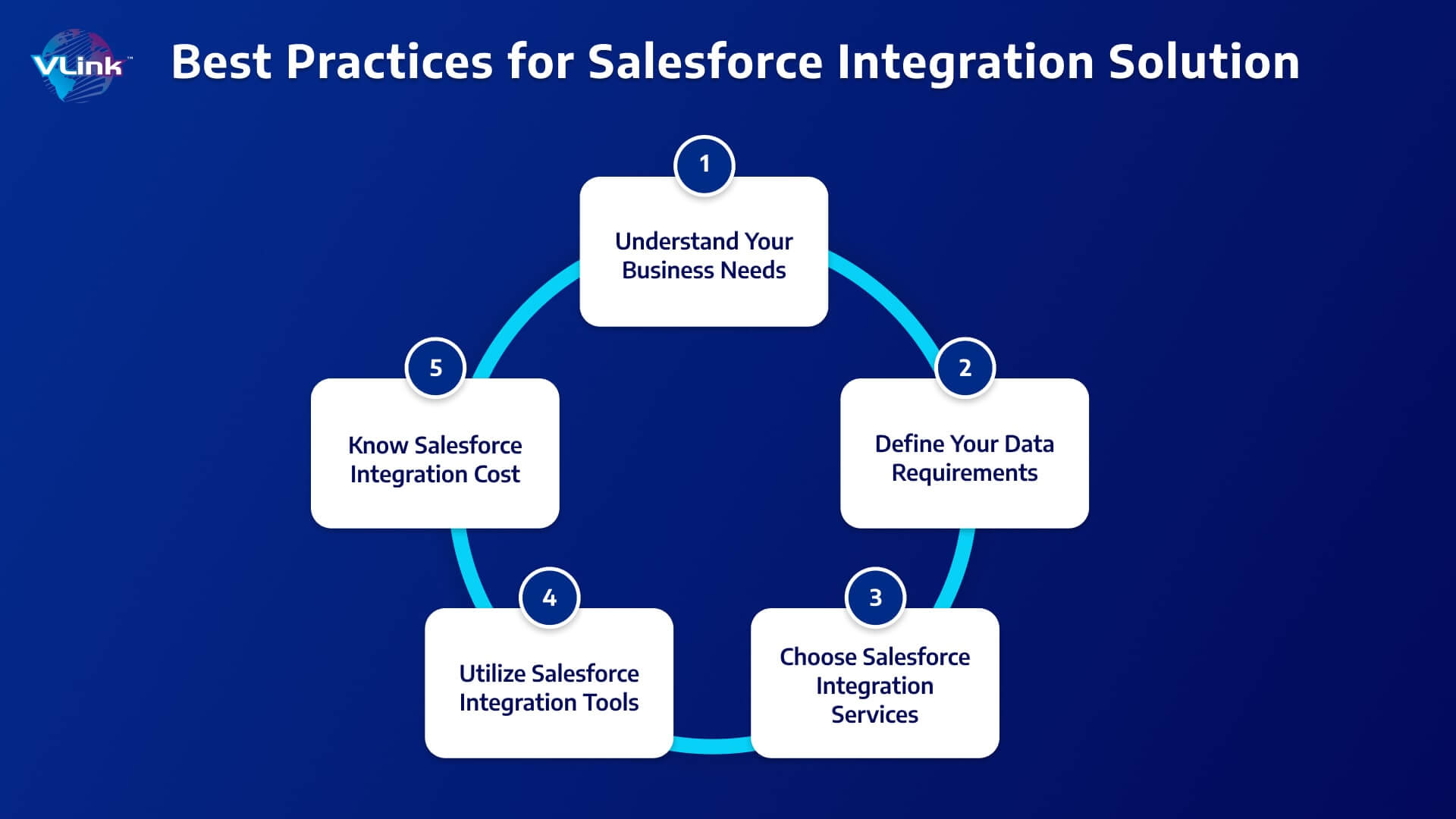 Understand Your Business Needs
Salesforce integration can be confusing with several apps and systems. So, it's essential to understand your needs and define your objectives clearly. The identity of specific strategies for integration and desired results as a proper plan drives the force behind successful Salesforce integration solutions.
Know Salesforce Integration Cost
Before starting your Salesforce integration process, you should know cost of CRM development or Salesforce integration. Also, ensure if your budget allows you to engage in that spending. If you can't afford to spend the estimated cost of what you will get, you should reconsider the option.
Read About: how much does it cost to build a successful mobile app, if you are planning to create a salesforce mobile app.
Define Your Data Requirements
Before starting the Salesforce integration procedure, it is advisable to clearly understand the potential expenses associated with custom CRM development or Salesforce integration.
It entails assessing whether your budget aligns with the anticipated costs or whether your financial resources can support this investment. If the projected expenditure surpasses what you are prepared to allocate, it's prudent to reevaluate the feasibility of pursuing this avenue.
Utilize Salesforce Integration Tools
Harness the optimal capabilities and best software development tools for Salesforce integration that align with your business prerequisites. Purpose-built tools such as connectors, APIs, and frameworks are meticulously crafted to guarantee harmonious interoperability and expedite the integration workflow.
Choose Salesforce Integration Services
For a seamless integration experience with Salesforce and to attain your intended objectives, you should contemplate collaborating with a well-regarded Salesforce integration service provider (such as VLink).
The intricacies of Salesforce integration demand careful consideration; any inadequacies in the process could lead to data complications, time wastage, costly mistakes, and customer dissatisfaction.
Therefore, entrusting the process to esteemed Salesforce integration specialists who offer comprehensive support from deployment and testing to ongoing maintenance and consultation is prudent.
Implement Salesforce integration with a trustworthy VLink!
VLink, a reliable Salesforce Integration Solution Provider, helps you unlock the full potential of your IT infrastructure and revolutionize business operations. Our Salesforce integration solutions are testimony to the success we have delivered to our worldwide clients.
Whether on-premise or cloud-based integration, We guarantee a smooth and efficient incorporation into your current infrastructure. Our Salesforce integration services can bring limitless advantages to your businesses when done professionally, from streamlined processes to increased productivity and beyond.
To integrate Salesforce CRM into your business, contact us!

FAQs
Frequently Asked Questions
What are the most popular salesforce integration tools?
Some of the most popular Salesforce integration tools include MuleSoft, Zapier, Jitterbit, Dell Boomi, and Informatica. These tools provide a range of functionalities, such as connecting Salesforce with various apps and systems, automating workflows, and ensuring smooth data exchange to enhance business processes and efficiency.
What is a real example of a salesforce CRM integration solution?
An example of Salesforce CRM integration is linking Salesforce with an email marketing platform like Mailchimp. It automatically synchronizes leads, contacts, and campaign data for streamlined marketing efforts.
How do you integrate Salesforce with another platform?
To integrate Salesforce with other platforms, follow these steps:
Identify Integration Needs: Define what data and processes need to be integrated and choose suitable tools.
Select Integration Method: Utilize APIs, connectors, or middleware like MuleSoft or Zapier.
Configure Integration: Set up connections, data mappings, and workflows.
Test: Thoroughly test the integration for data accuracy and process efficiency.
Deploy: Implement the integration in a controlled environment.
Monitor and Maintain: Continuously monitor and update the integration for optimal performance.