Top 9 Retail Tech Trends to Watch in 2023 & Beyond
Retail has been one of the top industries to adapt quickly to evolving technologies in the past years.
As the disruption continues, we will see an exciting tech landscape in retail in 2023 and beyond. Worldwide retail sales are expected to grow by 4.5%, increasing $30.3 trillion by 2023. And US digital retail sales are expected to reach $5.5 trillion by 2027.
201 Views

5 minute
Many retailers use retail technologies to enhance customer shopping experience, improve operational effectiveness and increase revenues. From the rise of personalized experiences to the increasing demand for Metaverse, AI & IoT, retail tech trends will shape how eCommerce business owners do their business in the digital age.
In this blog, we will explore the top 9 retail tech trends to watch in 2023 and beyond.
Table of Content:
1.Retail Technology Statistics (2021-2028)
2. Top Retail Tech Trends in 2023 for Digital Transformation

Personalization

Artificial Intelligence

Internet of Things

Predictive Analytics

Omnichannel Experience

Metaverse

eWallets & Digital Payments

Voice Assistants

In-Store Analytic Tools
3. Importance of Technology in Retail Industry
4. Conclusion!
5. Consider VLink To Implement Retail Tech Trends into Your Solution!
6. FAQs–
What technologies do retail stores use?

What is a trend in retail technology?

What are the challenges many companies face in the eCommerce industry?
Digital Retail Market Statistics (2021-2028)

Here are some incredible statistics on retail technology from (2021-2028):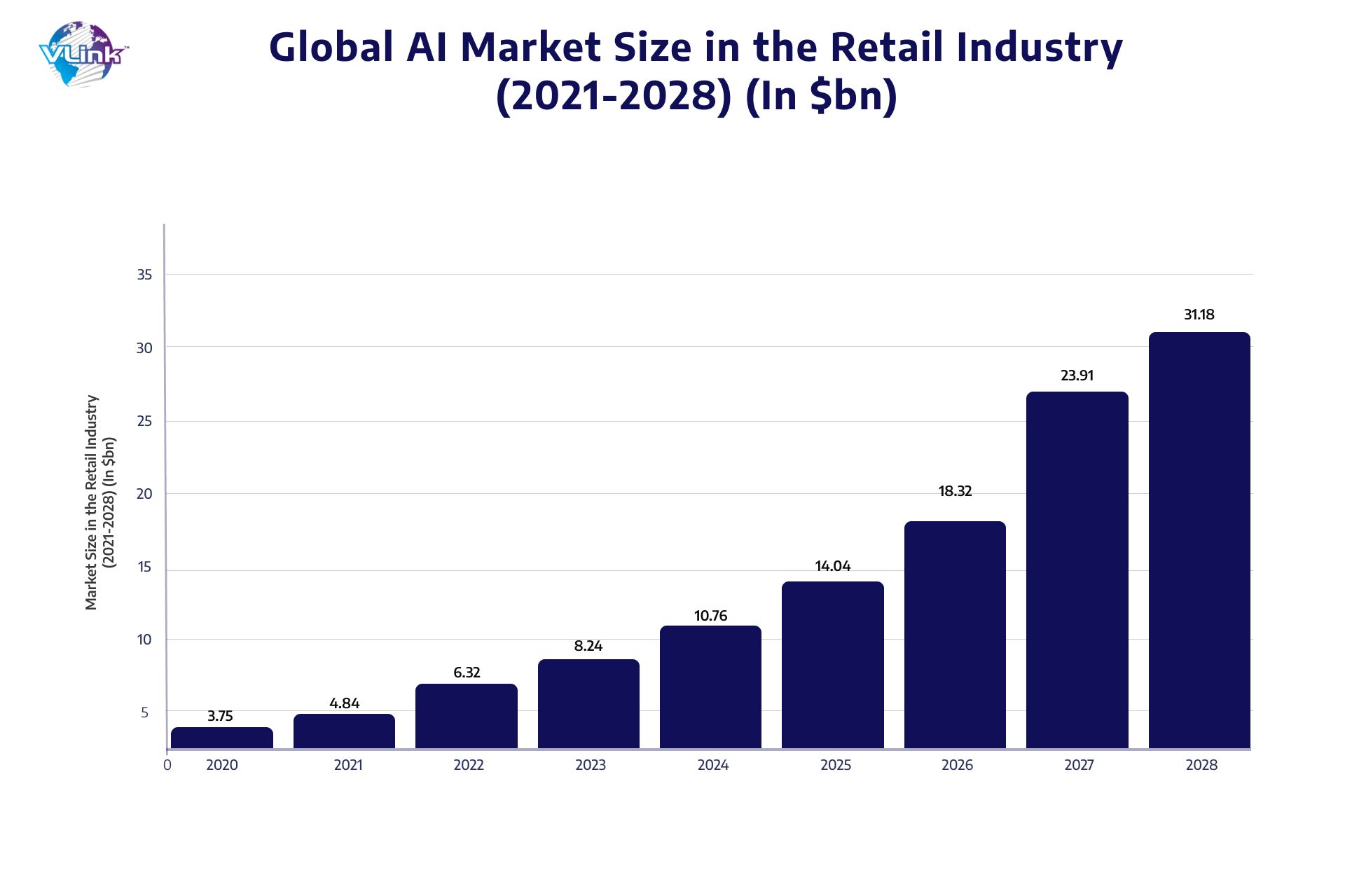 By 2024, experts forecast that 72% of US retail sales will happen in brick-and-mortar stores.
Surveys show that 10% of retailers use automation throughout online shopping.
With 2.64 billion people shopping online, retailers need technology to deliver an omnichannel retail experience.
Retail e-commerce sales in the US are expected to reach $604.5 billion in 2024.

A few facts about the digital retail market are shown in the image below:

Top Retail Tech Trends in 2023 for Digital Transformation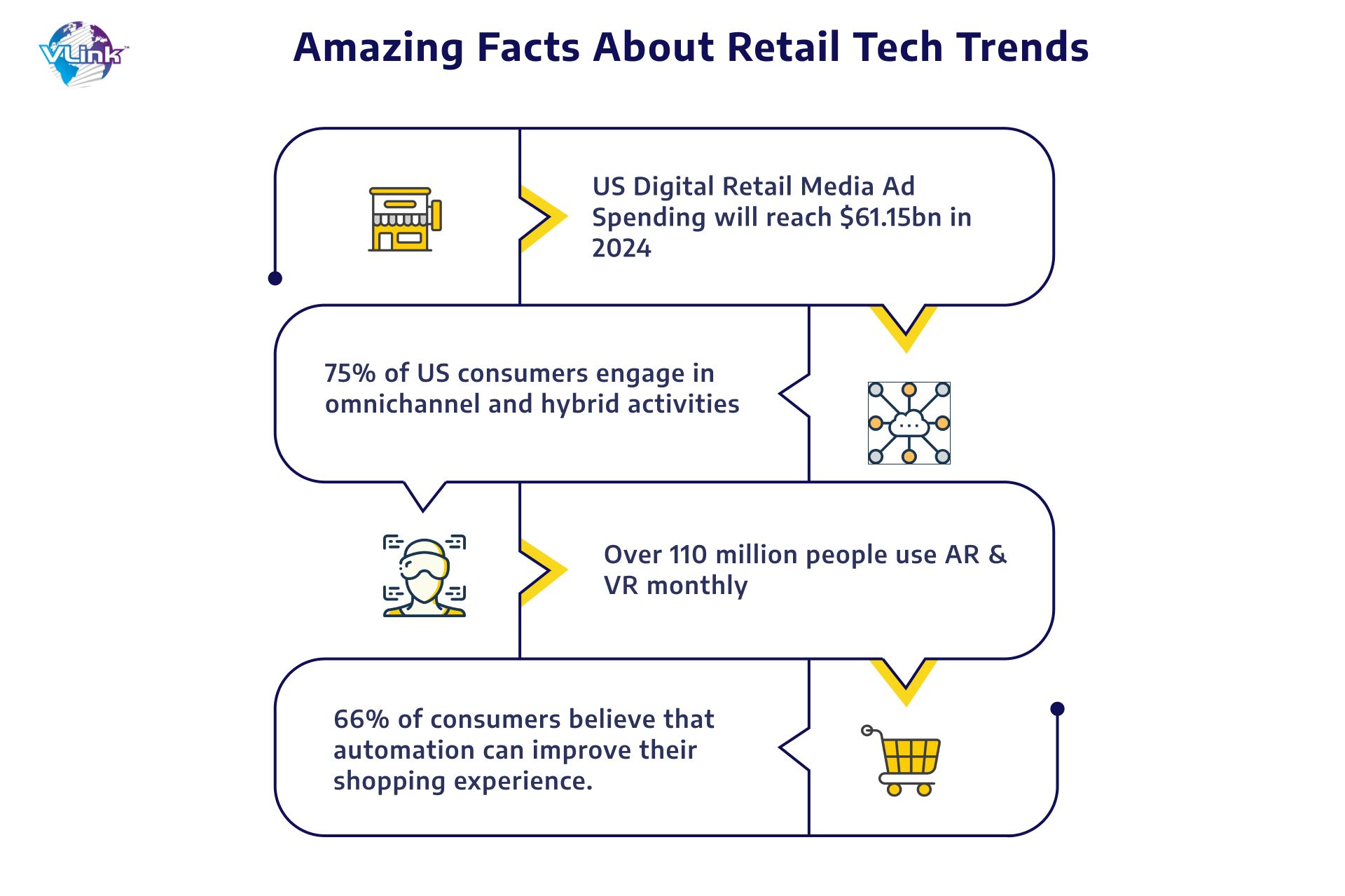 Personalization Will Remain the Key to Improved Customer Experience
This concept has always been important in the retail industry. It was easier back in the day when all shopping was only in-store. However, with the rise of online shopping, retailers have been using online personalization for years.

Global reach, 24x7 accessible and more sales are few reasons why retailers and sellers should have eCommerce website.

This year, retailers will master the personalized approach by leveraging CRM and marketing automation tools, data and analytics services, mobile applications, chatbots, and more.
Artificial Intelligence Will Gain More Importance

Artificial Intelligence (AI), especially when combined with machine learning, can be leveraged to solve several problems and increase revenue in online and physical stores.

For example, machine learning and AI development services can be used for supply chain/inventory management, chatbots, and analysis of the factors that affect the in-store experience, such as the layout, colors, music, temperature, and more.

Although AI can process data more efficiently than humans, it cannot replace human decision-making. It uncovers valuable insights that allow humans to make proactive decisions.

AI market size in the retail industry is shown in the figure below:
The Internet of Things Will Improve Supply Chain Management

According to several experts and analysts, the Internet of Things still has much room to grow in the retail industry. The worldwide IoT in retail market size was valued at $28.14bn in 2021 and is expected to reach $177.90bn by 2031.

Retailers aim to achieve better inventory management and provide easy checkout solutions. Offering an omnichannel experience to every customer is crucial for retailers and IoT solutions play a pivotal role in delivering it.


Predictive Analytics Will be the Game Changer
Predictive analytics provide insights into the possible outcomes of specific actions. These analytics tools provide recommendations on what to do next. Analyzing the vast amount of data can provide a massive advantage for retailers if they know how to benefit from it in 2023 and the future.
According to a survey by Alteryx and RetailWire, nearly 350 retailers found that 81% of respondents gather shopper insights, and 76% consider insights for their performance.
Retail analytics will overtake predictive analytics as one of the top retail tech trends in 2023 & beyond.
Also Read: 5 Uses of retail analytics: how better experience can lead more sales.

Omnichannel Shopping Experience Will Continue to Grow
Another top digital trend that impacting the retail indutry is delivering omnichannel shopping experiences to customers. It becomes a basic feature for all brick-and-mortar stores that want to thrive in their eCommerce business in today's competitive retail market.
In the last several years, multiple studies have shown that seamless and flexible omnichannel shopping apps make the audience spend more, thus boosting the brand's revenue.

Moreover, strong omnichannel approaches provide higher retention rates, thus converting shoppers into lifetime customers.

Continue the Rise of Metaverse
As AR & VR technology advances, most retailers are turning to Metaverse to engage customers in a new and exciting way.
According to a report by McKinsey & Company, metaverse value is projected to be $5 trillion by 2030, with an estimated $2.6 trillion impact specifically on e-Commerce.
Metaverse allows retailers to create immersive and interactive customer experiences. It also enhances the customer experience and enables retailers to gather valuable data based on customers' demographics.
Since Metaverse continues to grow, it will undoubtedly become a rapidly growing tech in the retail industry. So, it's a retail tech trend worth watching in 2023 & beyond.
eWallets & Digital Payments for Contactless Transactions
In the future, we expect rapid growth in cashless and contactless shopping as many retailers adopt these transaction approaches.

According to National Retail Federation's report, cashless payments continue to rise in the United States, with 67% of consumers prefer to use smartphones or cards for transaction purposes. So, eWallets & Digital Payments have become one of the most popular retail tech trends in 2023 & beyond.
The digital wallet offers retailers a simple, flexible, and secure way to meet consumers' payment requirements. Apple Pay, PayPal & Venmo are best digital wallet apps in 2023 & beyond.
Are you thinking of secure digital wallet app development? Consider VLink as your partner! We will build an eWallet app for your retail business that will protect your users from cyber risks and increase your sales.

If you are planning to build a wallet app for your business, it's essential to know 6 things about digital wallet development.
Voice Assistants Will Retain their Upward Trend

51% of all US online shoppers use voice assistants throughout their shopping journey. Google Home, Amazon Alexa, and Apple's Siri are the most popular Voice assistants.
Amazon is gaining top ranking in the US smart voice search market. There were nearly 64 million monthly users of Amazon Echo last year in the United States, more than double of Google Home.
Voice search offers ‍a new & latest dimension to your omnichannel retail strategy. It's a faster, more accessible, and hands-free way to search.

In-Store Analytic Tools Will Grow your Business
You can gather and process your customer data with retail technology in brick-and-mortar stores. Getting insights from online consumer activity is a well-known practice. You must expand it to your real-life stores to stay ahead of the curve.

AdMobilize, ShopperTrak, and Dor help businesses determine foot traffic and collect consumers' demographic insights.

A customized system provides insights into your staffing situation, conversion rates, and audience behavior.
The Importance of Technology in Retail Industry
The power of cutting-edge technology in the retail industry can't be denied in 2023 & beyond. From innovative trends to changing customer behavior patterns, technology helps retailers streamline their store operations and save costs.
Additionally, retail tech helps gather valuable data about real customer experiences and brand loyalty.
If you want to emerge these modern technologies fit your business model, consider consulting an experienced tech vendor. Companies that offer retail software development solutions will help you select and implement the right technology to keep up with tech trends in retail.
Conclusion!
We hope our list of top retail tech trends in 2023 & beyond gave you a fresh dose of inspiration. From the increasing use of personalization to the growing importance of AI and IoT to the rise of Metaverse, these trends will shape the digital retail business in the E-commerce industry.
Consider VLink to Implement Retail Tech Trends Into your Solution!
If you are looking for retail app development solutions based on the latest trends, VLink is the right choice! We are a trusted offshore software development company expert in driving digital transformation and helping retailers stay ahead of the curve.
Our dedicated team of developers offers a range of solutions to help retailers streamline their operations and create a better customer experience. To know more about retail tech trends, you can contact us today!


FAQs
Frequently Asked
Questions
What technologies do retail stores use?
Some retail stores use electronic POS, inventory, and customer relationship management systems.
What is a trend in retail technology?
Retail sustainability, geolocation, robotic store assistants & remote video analytics are popular tech trends in the retail industry.
What are the challenges many companies face in the eCommerce industry?
Cybersecurity, targeting the right customers, offering high-quality service, and creating customer loyalty are challenges many companies face in the [eCommerce industry](https://www.vlinkinfo.com/industries/ecommerce/).