We know the importance of well researched designed websites and mobile apps to build a strong brand image and strengthen its reputation in the marketplace. On top of that, it takes resources, effort, and money to create fashionable, appealing designs for software development projects.
A recommendation to choose qualified designers and developers! Hiring in-house designers and developers can be quite time-consuming.
But what if you only have a little extra time and money to pay for everything? Hire a qualified designer with a specific amount of corresponding expertise working diligently remotely under a flexible engagement model!
In this blog, we will learn about the benefits of hiring dedicated UI/UX developers for your mission-critical product design project.
But before we deep dive into the topic, let's first understand the work of UI/UX developers.
What does a UI/UX developer do?
A UI/UX developer, often called a UI/UX designer or simply a designer, plays a crucial role in creating user-friendly and visually appealing digital products, such as websites, mobile apps, and software applications. While UI (User Interface) and UX (User Experience) are distinct design aspects, professionals in this field often handle both responsibilities, especially in smaller teams or organizations.

UI/UX Design Market Stats 2023
Here are the incredible UI/UX design statistics for 2023 from reputable resources:
Online consumers report that 88% would only visit a website again if they had a positive user experience.

Poor usability contributes to the demise of 70% of internet enterprises.

Only 55% of businesses now test their user experiences.

Your website's conversion rate might increase by 200% with better UI and 400% with better UX design.
Also Learn: why is UI/UX important in mobile app development?
10 Key Benefits of Hiring an Experienced UI/UX Developer for Your Project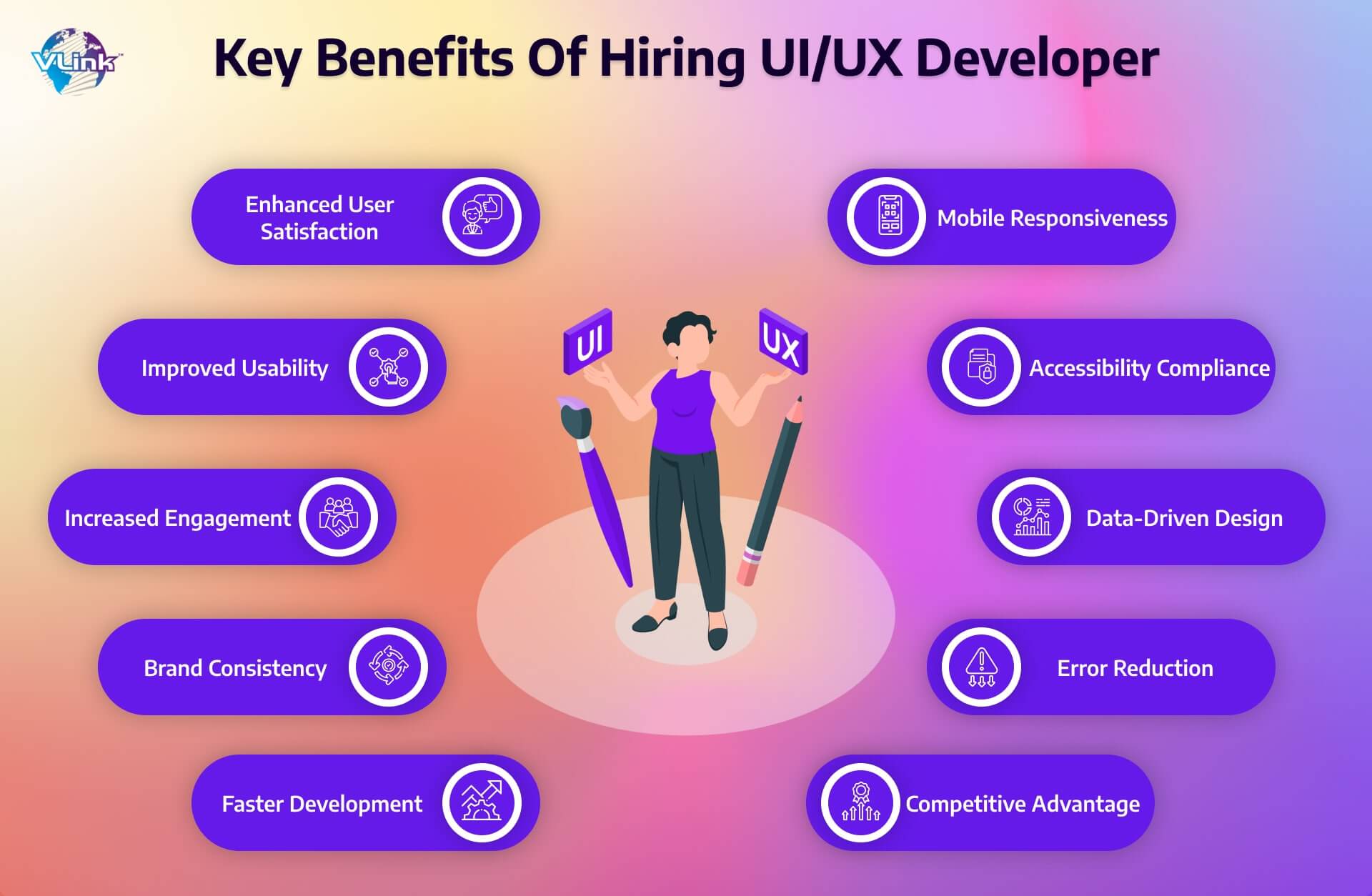 The main aim of UI/UX developers is to create a seamless and user-friendly experience. With a deep understanding of user behavior and preferences, experts can create interfaces that appeal to the target audience through grasp of user behavior and preferences.
An easy-to-navigate and visually appealing app can result in higher retention rates and positive reviews.
Experienced UI/UX developers know how to create user-friendly interfaces. Through usability research, they understand the demands and pain points of the target market. Improved usability leads to minimized learning curves for users and reduced support requests.
Also Learn: importance of software testing for seamless product performance.
An important metric for every software or product is engagement. Highly skilled UI/UX developers utilize several strategies to enhance user engagement. They build interactive parts, create beautiful images and put effective CTA buttons.
These techniques encourage visitors to explore the platform's features, stay longer and take desired actions, including making purchases or subscribing to newsletters.
Also Learn: How popular brands like Starbucks have increased sales.
Design consistency plays a vital role in creating a strong brand identity. Thanks to the expertise of professional UI/UX developers, your project will adhere to established brand requirements.
They maintain consistency of color schemes, typography, and aesthetic features across all screens and platforms. This uniformity helps strengthen user's trust in the brand.

Expert developers are knowledgeable about design patterns and industry best practices. Giving the development team detailed design specifications and resources may accelerate the software development methodology. It reduces misunderstandings or misinterpretations, resulting in a faster development cycle and quicker time to market.
In today's mobile-driven landscape, it is crucial to have a responsive design. Even the global number of smartphone users is predicted to continuously grow between 2024 and 2028 by in total 496.7 million (+10.71%). A dedicated team of UI/UX developers must understand the challenges in creating strategies that work flawlessly across various screen sizes and devices.
They ensure your app looks great and performs well on smartphones, desktops and tablets, delivering a consistent user experience across all platforms.
If you are a startup owner, a manager looking to innovate or a budding entrepreneur with a killer app idea, read a complete guide to mobile app development for business.
Professional experts in UI/UX are experienced in accessibility guidelines and principles, such as WCAG (Web Content Accessibility Guidelines). They make your project inclusive and user-friendly for individuals with disabilities. It strengthens your user base and shows your commitment to social responsibility.
UI/UX developers with many years of experience utilize data and user feedback to guide their design choices. They test designs through user testing, gather analytics, and iterate on methods based on real user behavior.
With this data-driven approach, your project continually evolves to meet user needs and preferences, resulting in higher user retention and satisfaction.
Well-designed interfaces reduce user mistakes and frustration. Expertise UI/UX developers find and fix possible issues before they become critical through in-depth usability testing. By minimizing user errors, your project may keep a good reputation and reduce support expenses.
In an overcrowded digital world, having experienced UI/UX developers may give your project a competitive edge. Users are more inclined to pick an app that offers a satisfying and effective experience. User interface (UI) & user experience (UX) experts can help your software stand out and attract consumers in today's fiercely competitive market.

Consider VLink for hiring the right UI/UX developer for your project!
The dedicated designer recruiting strategy is advantageous for startups and small enterprises who wish to grow swiftly without expanding their workforce. It also benefits business owners who want to swiftly and cost-effectively expand their workforce by hiring and onboarding remote professional, highly experienced designers.
Additionally, it enables organizations to concentrate on their most important problems and address them successfully with the aid of qualified designers. So why not go for it when you have too many perks on your plate that would provide positive results?
Our skilled designers at VLink collaborate directly with you to develop and deliver solutions that satisfy business requirements and design standards. We provide a flexible hiring approach.
Please send us the details of your design project to receive a pool of designers with matching skill sets and hire and onboard the right-match UI/UX designer quickly!
FAQs
Frequently Asked Questions
Why hire dedicated UI/UX developers instead of freelancers?
Hiring dedicated UI/UX developers offers several advantages over freelancers. They provide consistent availability, fostering better collaboration and communication within your team.
Dedicated teams Developers often have a deeper understanding of your company's goals, culture, and long-term vision.
They can also offer ongoing support and maintenance. In contrast, freelancers may have limited availability, need more time to grasp your business context fully, and need more commitment from dedicated team members.
What should you consider when hiring a UI/UX developer?
When hiring a UI/UX developer, consider their portfolio, showcasing their design skills and problem-solving abilities.
Assess their understanding of user-centered design principles, proficiency in relevant tools (e.g., Adobe XD, Sketch), and ability to collaborate effectively with other team members.
Soft skills like communication and creativity are also important.
Where can you find the right UI/UX designer for your project?
You can find the right UI/UX designer for your project through various platforms like LinkedIn, design-focused job boards (e.g., Behance, Dribble), freelance marketplaces (e.g., Upwork), design agencies, networking events, or by seeking referrals from colleagues in the industry.