The increasing popularity of social audio apps such as Clubhouse has excited investors to develop a social media app-like Yalla.
With Yalla and other apps taking center stage, it's clearer than ever how these platforms can bring people together, encourage dialogue, and build communities. Yalla's success story invites entrepreneurs and visionaries to set out on their unique journey, demonstrating the endless potential of social media.
In this blog, we will explore an exciting journey into the world of social media app development. We'll dive into the nuances, difficulties, and tactics associated with creating a social media network from scratch that is comparable to Yalla.
Whether it be an aspiring tech entrepreneur or an app developer, this investigation looks to be a fascinating experience.
From ideation to technical implementation, revenue tactics to user interaction, we'll reveal the fundamental components and crucial knowledge required to start this thrilling project. Come along as we reveal the design for a digital environment that fosters community growth, voice recognition, and relationship building.
A Brief Introduction to Yalla App Journey
In 2016, the Yalla app started as an Arabic-speaking social networking site. After being established in Dubai, it quickly developed into a comprehensive digital hub that provides a variety of services to its users.
With features like interactive games, live audio chats and instant messaging, Yalla has emerged as a major player in the Middle East and North Africa. Its emphasis on fostering online communities, enabling real-time connections, and delivering interesting content can be credited with its growth.
Yalla has become a well-known and significant platform in the area by effectively filling the gap in Arabic-speaking users' online social experiences.
Clubhouse is most popular social media app. For that, you need to know the cost to build a social media app like Clubhouse.
Steps to Develop a Social Audio App Like Yalla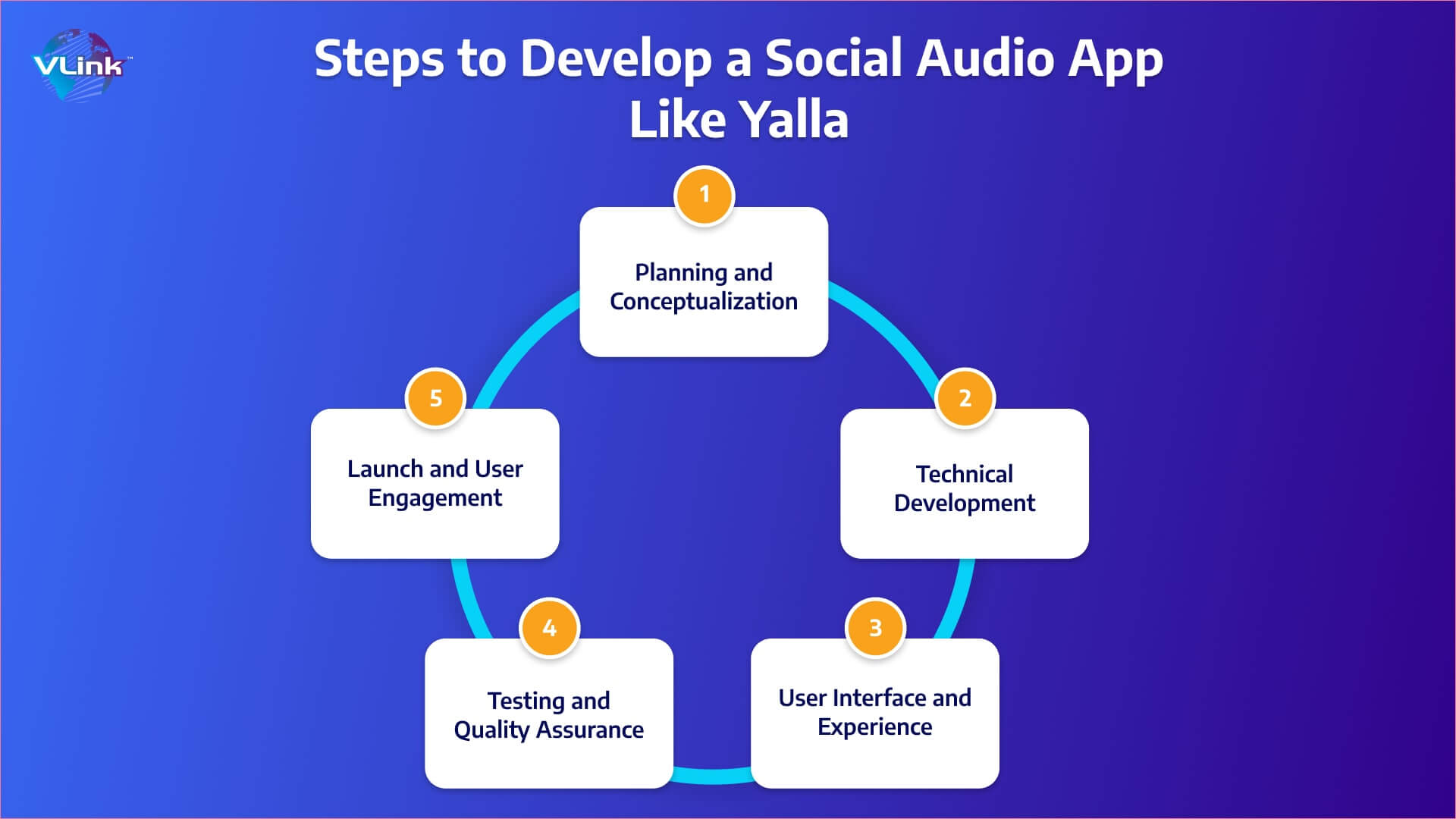 Creating a social audio application such as Yalla can be a challenging yet worthwhile project. The following five essential steps will help you navigate the process:
Developing a concept and development plan for your social audio app is the first step. Here are several things to consider:
Define Your USP: Clearly state what makes your app unique from others on the market in your USP definition. For example, Yalla's success stems from its emphasis on Arabic speakers. Your app should stand out from the competition with a unique feature or target user base.
Market Research: Examine the competitive environment. Examine comparable apps, such as Yalla, to determine their advantages and disadvantages. Seek for opportunities or gaps that your app can fill. To ascertain user preferences, think about holding focus groups or surveys.
Target Audience: Specify who your target market is. Are you concentrating on a particular area, interest group, or language group? Tailoring the features and content of your app requires a thorough understanding of your target audience.
Business Model: Determine the revenue-generating strategy for your app. Subscription models, in-app advertisements, and premium features are examples of common monetization techniques. Select a model that complements the idea behind your app and your intended users.

A strong technical foundation is necessary to build a social audio app such as Yalla. The technical steps to take are as follows:
Platform Selection: Choose if you want to create apps for Android, iOS, or both. Select the

best software development tools

and technology stack that are right for you.

Backend Development: Manage user authentication through real-time chat and audio streaming to build a strong backend infrastructure. Servers that can handle audio data and user interactions with low latency are required.
Audio Quality and Latency: Ensure high audio quality and low latency for real-time interactions. Employ voice-optimized codes to prioritize low-latency network protocols.
Scalability: Consider scalability from the outset. Your infrastructure should be able to withstand growing loads without sacrificing efficiency as your user base expands.
A visually appealing and easy-to-use interface is essential to the success of your social audio application. That's why you must focus on:
Wireframing and Prototyping: Make wireframes and prototypes to visualize the app's layout, features, and user flows. Ensure you have intuitive and easy to navigate user interface.
Design: Create a visually appealing user interface that embodies the brand of your app with a unified design. Take note of fonts, color schemes, and iconography.
User Profiles: Provide user profiles with customizable options. It should be possible for users to add interests, bios, and profile pictures.
Social Features: Provide features that encourage social interaction, like the capacity to send friend requests, follow other users, and start or join audio chat rooms.
Here is an image of must-have features of social audio platforms like Yalla: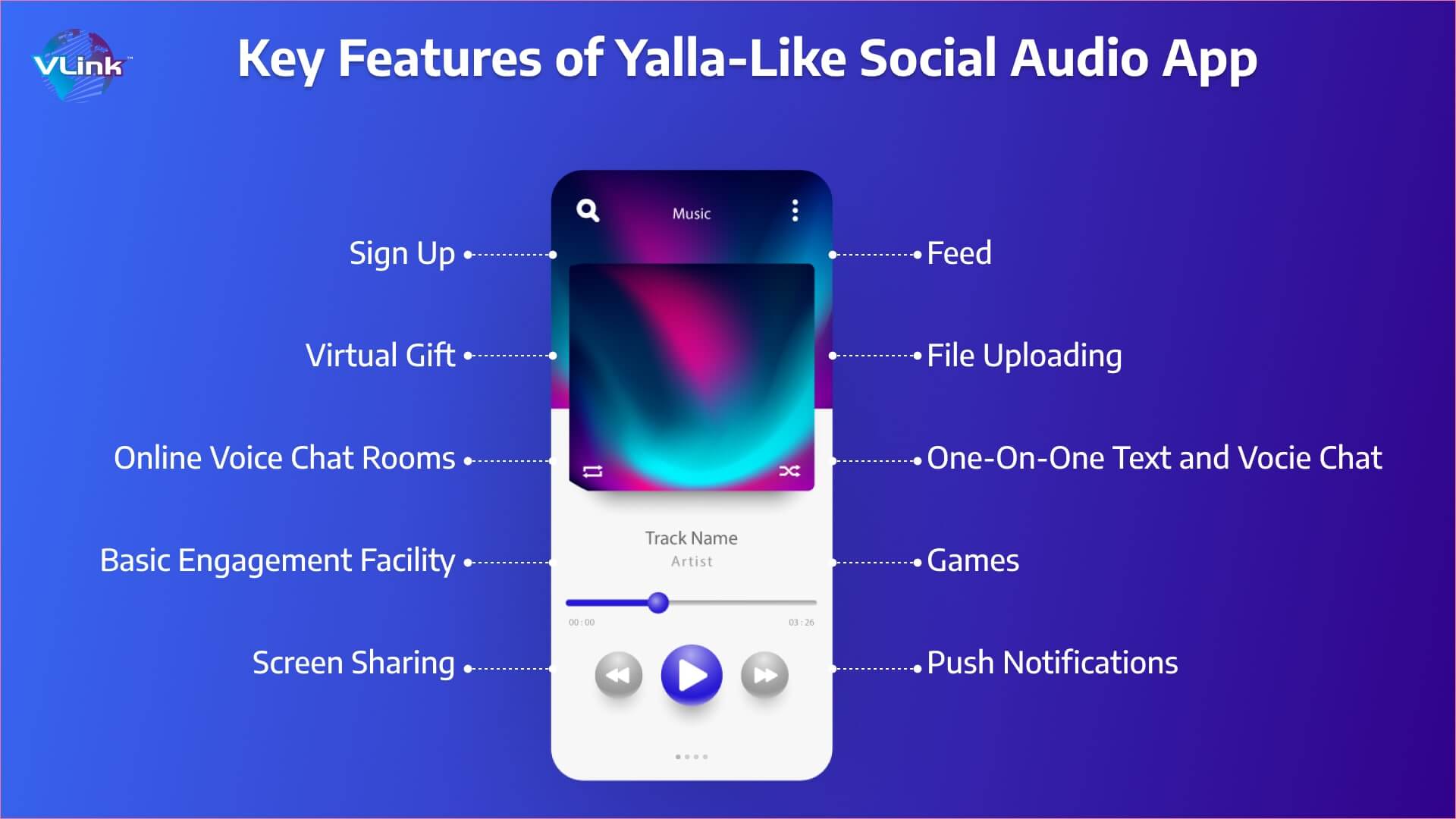 To guarantee a flawless user experience, thorough different types of testing, and quality assurance are necessary prior to the release of your social audio app:
Functional Testing: Check the app thoroughly for errors, malfunctions, and functional problems. Verify that every required feature functions.
Performance Testing: Check the application's responsiveness, load times, and audio quality. Make the app as efficient and quick as possible.
Security Testing: Implement robust security measures in place to safeguard user information and privacy. Check for weaknesses and make sure data is encrypted while being transmitted.
User Acceptance Testing (UAT): Use a small user base for beta testing in order to get feedback and make changes based on actual user experiences.
After developing and testing your app, it's time to launch and engage with your user base:
App Store Publication: Upload your app-to-app marketplaces such as the Apple App Store and Google Play Store. Ensure that you adhere to their submission requirements.
Marketing and Promotion: Use marketing strategies like influencer partnerships, social media, and public relations campaigns to publicize the launch of your app. Make a stir to draw in first-time users.
User Onboarding: Make sure new users have a seamless onboarding process. Provide them with instructions or tutorials to assist them in utilizing your app.
Community Building: Develop a robust and encouraging community inside your app. Urge users to communicate with one another, send out invitations to friends, and produce interesting content.
Feedback and Iteration: Engage users on a regular basis, get their input, and make the required adjustments. Keep an eye on user reviews and quickly address any issues.

How Much Does It Cost to Develop Yalla-Like Social Audio App?
Costs associated with creating a social media app from scratch can run anywhere from AED 150,000 to AED 500,000 or more. It's crucial to remember that these numbers are only approximations and may change based on a number of variables, including the features and complexity of the app.
The other cost factors that go beyond technicalities are another aspect that we haven't taken into account here. The location of the agency has a significant impact on the cost to build a successful mobile apps.
For example, developers in India charge between $40 and 80 per hour, but in the USA or Australia, that rate jumps to $120-160 per hour. The next factor that will affect you is the timeline for when you need the app.
Building a social audio app like Yalla requires careful planning, technical expertise, and ongoing user engagement. That's why consider a reputed social media app development company.
Build a Successful Social Media Platform Like Yalla with VLink!
VLink is a top-notch social media app development company that provides expert social networking app developers for Android and iOS platforms. From custom social networking website design to an extensive development process, our dedicated team of social audio app developers are skilled in connecting the world with a suite of services.
We implement cutting-edge technologies such as AI, ML, AR & VR, Blockchain & cloud computing to drive success to your business.
Here are some reasons to hire experienced developers to build the Yalla Like Social Audio App:
Innovative Technology

Proven Track History

Secured Infrastructure

Extensive Support Services

Cost-Effective Development Solution

100% Confidentiality on NDA

Dedicated Project Manager

Complete guidance from concept building to launching
To hire our experts for a social audio platform like Yalla, contact us!
FAQs
Frequently Asked Questions
What are the monetization models of the Yalla Like App?
Monetization models for a Yalla-like app include in-app advertising, premium features or subscriptions, virtual gifting, and sponsored content. Users can purchase virtual gifts to support content creators, while brands can pay for promotions and sponsored rooms to reach a wider audience.
Why should you invest in social media platform development like Yalla?
Investing in a social media platform like Yalla can be lucrative due to its potential for global user engagement and advertising revenue. Such platforms offer opportunities for user-generated content, live interactions, and community building, making them appealing for investors looking to tap into the growing digital social ecosystem.
How long does it take to build a social audio app like Yalla?
The time to build a social audio app like Yalla varies based on complexity, team size, and features. A basic version might take several months, while a comprehensive app with advanced features can take a year or more. Extensive testing and iterations may extend the timeline.