Whether it's food, groceries or medicines, on-demand services are a blessing for both people and entrepreneurs. For customers' everyday requirements, the expansion of on-demand grocery platforms has displaced traditional brick-and-mortar retailers. Even the online grocery delivery app market is expected to reach $187.7 bn by 2024, as shown below figure: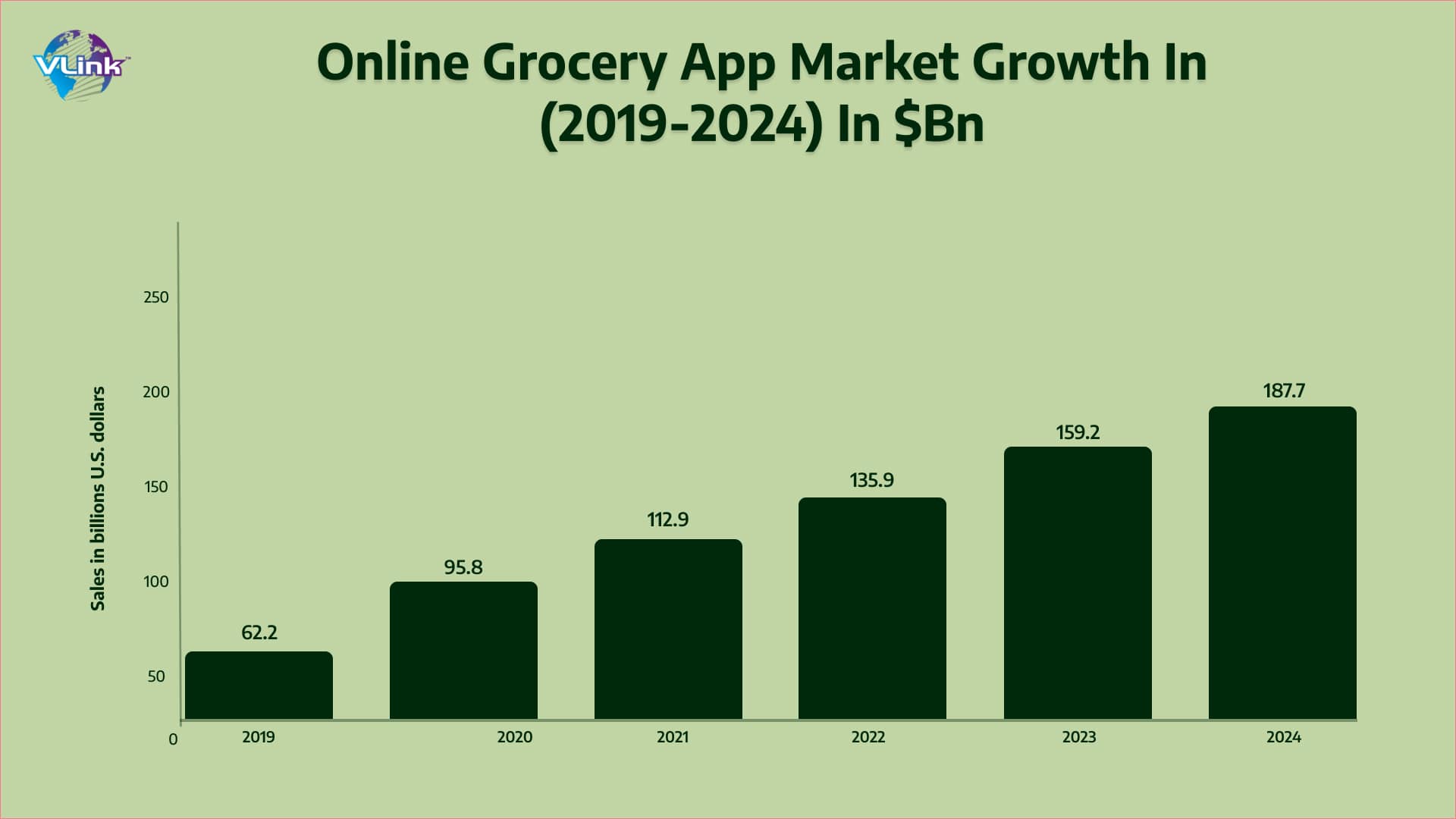 Instacart, Postmates, and DoorDash are famous grocery shopping and delivery service players. Instacart is gaining more popularity in the United States. Projected grocery sales of Instacart are shown in the chart below: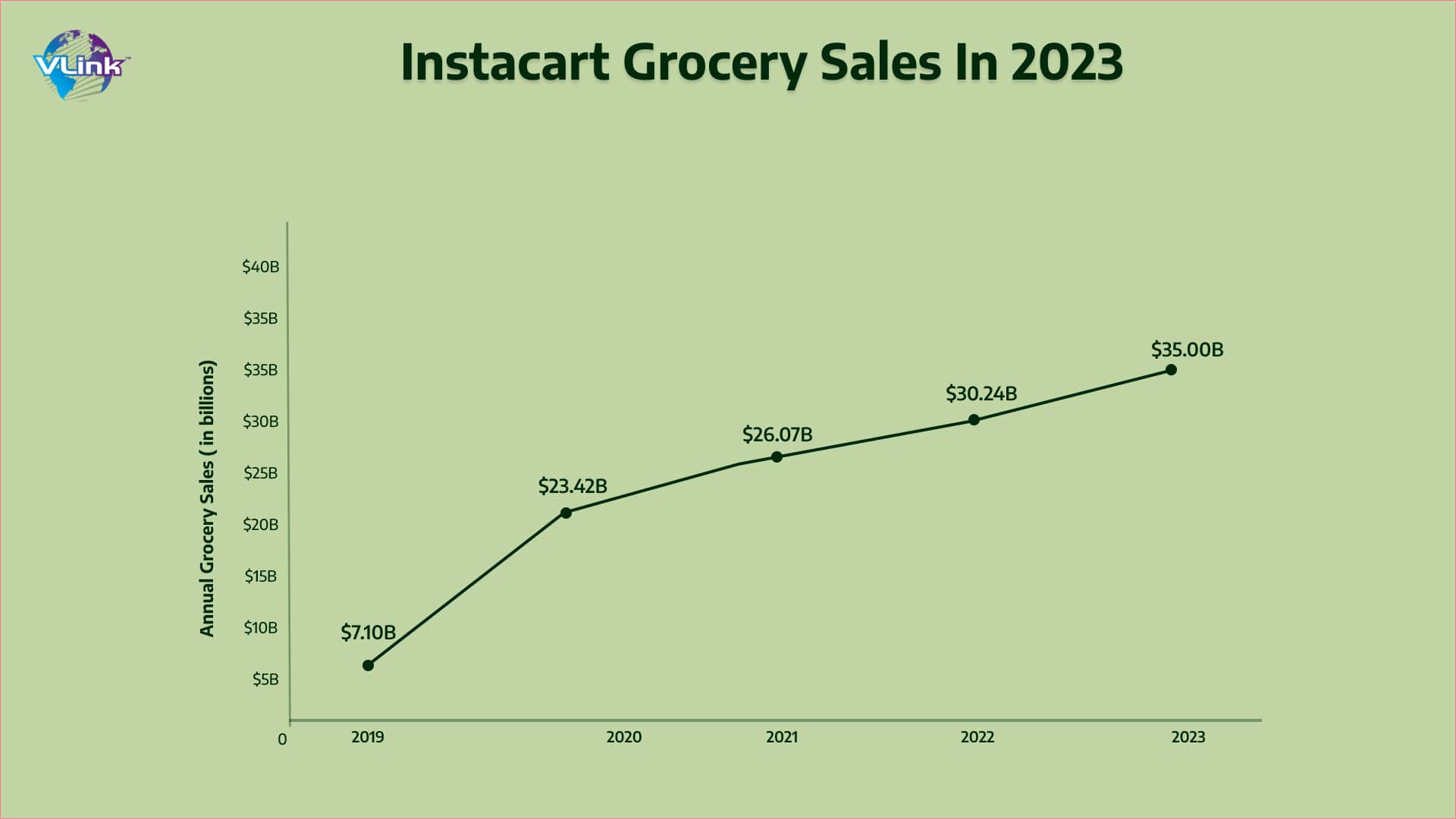 So, you want to take your grocery store online or build an on-demand grocery delivery app like Instacart. In that case, one question arises: "how much does it cost to build a grocery delivery app like Instacart?"
In this blog, you will learn the factors affecting the cost of developing a grocery delivery app like Instacart.
Let's start with its incredible market stats:
Why Should You Develop a Grocery Delivery App Like Instacart?
The market revenue of the online grocery sector is rising quickly. Customers place a high value on convenience, evident from the noticeable expansion of this on-demand delivery industry. Instead of waiting in line, many like purchasing goods online and delivering them on time.
Here are some stats on why you should invest in an on-demand grocery delivery app development like Instacart:
By 2025, online grocery sales will acquire 20% of the market

The grocery mobile app usage will increase by 80% in the coming months

The market's largest segment is Retail Delivery, with a projected market volume of

$486.50 billion in 2023

85% of households use Instacart for grocery shopping in the United States.
Here are some of the top reasons to build an on-demand grocery delivery app like Instacart:
Upskill your Brick-and-Mortar Store

Saves Time and Energy

Cost-Effective Business Model

Enhanced Customer Loyalty

Access to More Customers
Cost to Build Instacart Like Grocery Delivery App
The exact answer of how much Instacart-like online grocery app development costs is a number we find after identifying your business requirements and expectations from the project.
Grocery app development like Instacart costs can range between $38000 – $51000 for Android and $39000 – $53000 for iOS. This fee also relies on the hourly rates of the mobile app development company you partner with. So, it would be better to consider VLink as a reliable partner.
To carry out an estimation of the Instacart grocery app development cost, you must consider several factors. These factors are app complexity, feature levels, platforms you select, tech stacks, etc.
Also Learn: How much does it cost to build an iOS app.
Factors That Affect the Cost of Building a Grocery Delivery App Like Instacart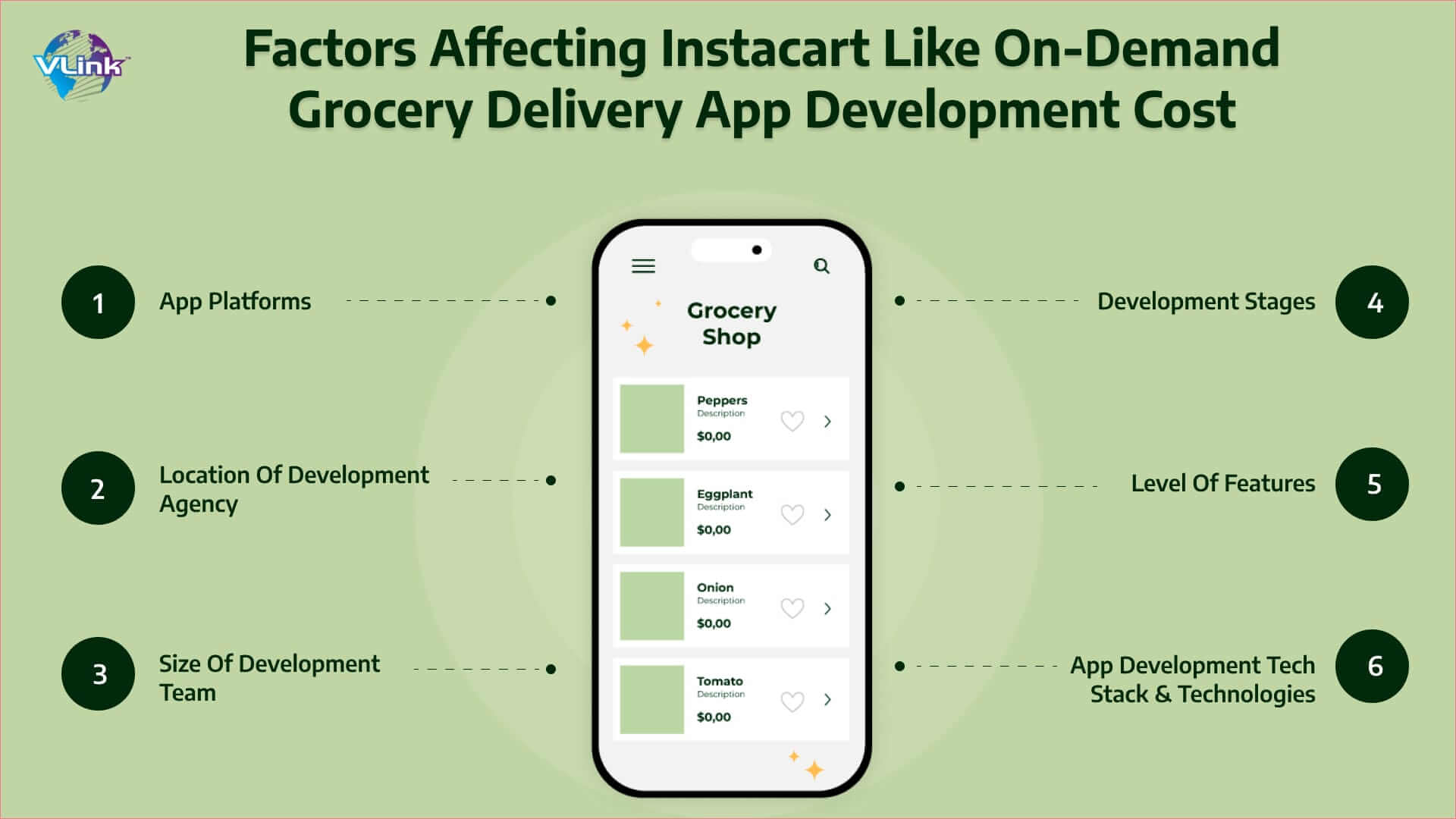 The size of the development team has a major impact on the cost of developing an on-demand grocery delivery service. QA testers, project managers, team leads, app developers, and app designers should all be on a development team.
A dedicated team of highly skilled developers must make an effective grocery delivery app. They must be well-versed in all the standards for grocery apps and have plenty of expertise to create a top-notch grocery delivery app.
App Developers: Mobile app developers include iOS App Developers, Android App Developers, and Back-end App Developers, among others.
App Designers: UX/UI designers & graphic designers with experience designing grocery delivery apps.
Project Manager: They have technical and managerial skills to solve issues.
App Testers: QA Experts come with relevant skills such as testing and bug tracking
In Eastern Europe, grocery app developers will cost around $79 to $140/hour.

In U.S., grocery app developers will cost- $50 to $240/hour.

Indian grocery app programmers will cost around $15 to $85/hour.
Also Learn: top 10 countries for hiring best tech talent and remote software engineers.
You will only incur a little expense if your program is created to serve a single platform. However, it may cost extra if you want your software to work on two or more platforms. Android and iOS are now the two most popular platforms for mobile apps.
Although more people use Android smartphones than iPhones globally, you must determine which platform you will employ. You may choose cross-platform grocery app development to attract customers of both platforms.
On average, the cost of building an app like Instacart on a single Android or iOS platform can range between $15000-$30000.

Developers use Tech Stacks to create an on-demand grocery app like Instacart, which might vary from business to business depending on their skill set and budget.
Required technology stacks for Instacart, like on-demand grocery app development:
Programming languages - JavaScript, Java, or Kotlin for building the app's front-end and back-end features.

Front-end development frameworks - React Native, Angular, or Vue.js.

Back-end development frameworks - Node.js, Ruby on Rails, or PHP.

A database management system - MySQL, MongoDB, or PostgreSQL.

Payment gateway integration - Stripe, PayPal, or Braintree.

Location-based services - Google Maps or Mapbox.

Push notification services - Firebase Cloud Messaging or Apple Push Notification Service.
Also Learn: Best software development tools to use in 2023.
The cost of developing a mobile app like Instacart includes much time. From making unique ideas to planning, designing & testing, each step requires specific professionals for careful examination. That's why the app's cost can go high.
The cost of developing a grocery app like Instacart can vary from $15,000 to $60,000. Here is the estimation of time and money for the app below in the table:
Development Stages
Estimated Time
Estimated Cost

Project Planning

2-4 weeks

$5,000 – $8,000

2-4 weeks

$5,000 – $8,000

UI/UX Designing

4-6 weeks

$10,000 – $20,000

4-6 weeks

$10,000 – $20,000

Front-end Development

8-12 weeks

$20,000 – $30,000

8-12 weeks

$20,000 – $30,000

Back-end Development

12-16 weeks

$25,000 – $40,000

12-16 weeks

$25,000 – $40,000

Quality Assurance Testing

4-6 weeks

$10,000 – $20,000

4-6 weeks

$10,000 – $20,000

Deployment & Maintenance

Ongoing

$5,000 – $10,000

Total Estimation

30-44 weeks

$15,000-$60,000

30-44 weeks

$15,000-$60,000
Also Learn: Restaurant app development complete guide before investing into online platform for restaurant business.
The two key components that impact the development cost most are features and functionality. The addition of advanced features will increase the cost of your on-demand grocery delivery app. Adding the essential functionality is essential for developing your grocery app. Adding extra features might increase your development costs.
Additional & basic features are shown in below figure: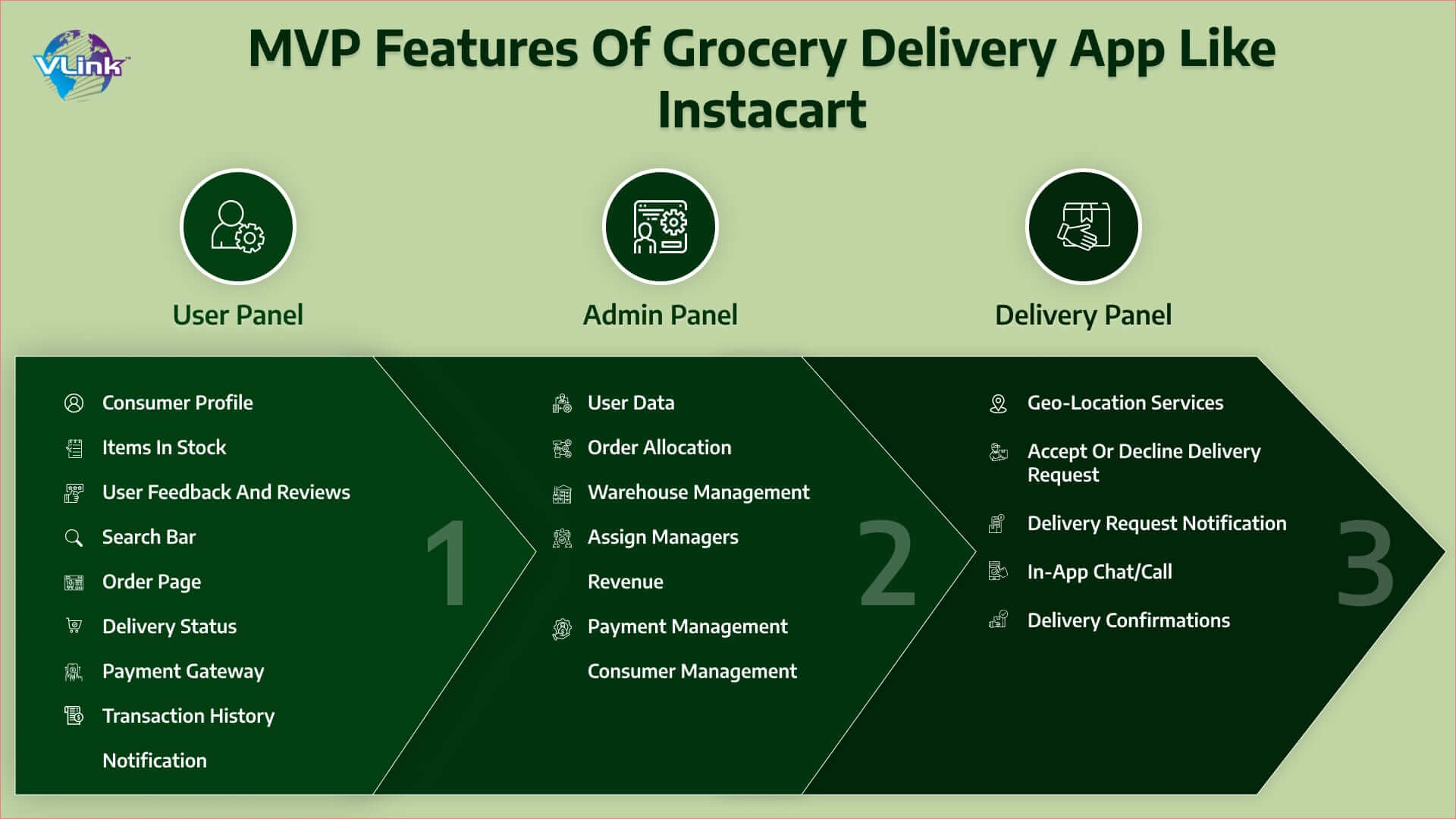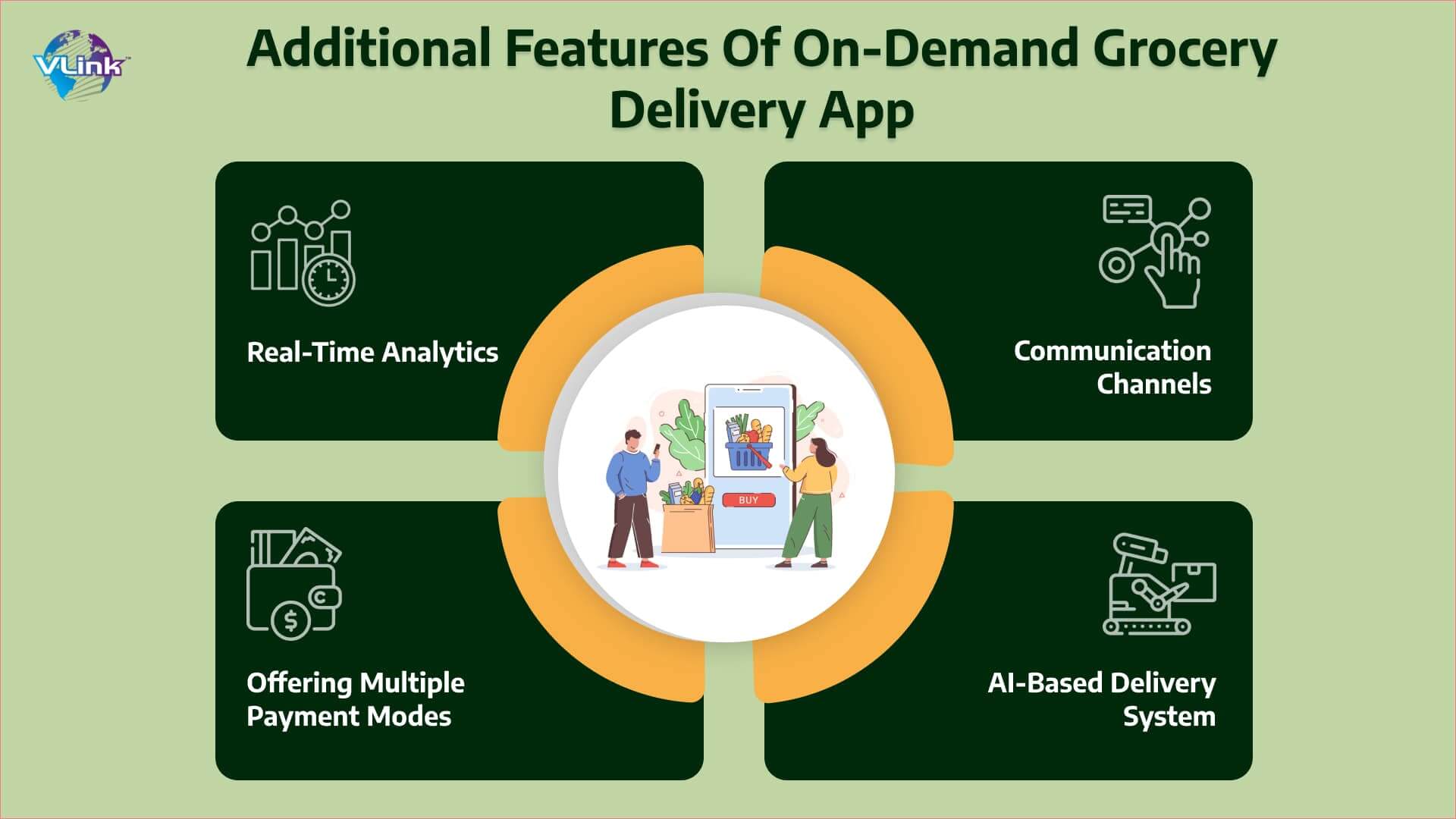 Consider VLink to Build a Grocery Delivery App Like Instacart!
Market analysis, development expenses, and choosing the ideal development partner are just a few of the considerations that must be carefully considered when building a grocery delivery app like InstaCart. For company owners, investing in a grocery delivery app may be lucrative due to the rising demand for online grocery delivery services.
Choosing a dependable development firm like VLink can guarantee that the on-demand grocery app is created with the highest quality standards and complies with the company's needs. We collaborate with the business to comprehend its demands and offer cost-effective solutions without sacrificing quality. After designing an app, our team provides software maintenance & support services as well.
Talk to a specialist about creating a grocery app like Instacart by contacting us now.

FAQs
Frequently Asked Questions
What is Instacart & how does it work?
Instacart is an online grocery delivery and pickup service. Customers select their preferred store through the app, shop for groceries, and schedule delivery or pickup. Personal shoppers fulfil the orders, and customers can receive groceries at their doorstep or pick them up at the store. It offers convenience and flexibility for grocery shopping.
How do you make money through Instacart, like Grocery Delivery App Development?
To make money through an Instacart-like grocery delivery app development:
Create the App: Develop a user-friendly mobile app for customers to place orders and for shoppers to fulfil them.
Partner with Stores: Collaborate with local grocery stores to list their products on your platform.
Charge Fees: Implement a revenue model by charging delivery, service, or subscription fees.
Advertise and Expand: Promote your app to attract customers and expand to new markets.
Monetize Data: Consider selling anonymized data insights to retailers for marketing purposes.
Continuous Improvement: Continuously enhance the app for user satisfaction and retention.
What are the best grocery delivery apps in the USA?
The USA's best on-demand grocery delivery apps include Instacart, Amazon Fresh, Walmart Grocery, Shipt, and Kroger.