People today value the fastest and most convenient way to buy, rent, or sell a property. Around 97% of people start their search for homes online. Even the real estate market size may grow at 5.2% CAR from 2022-2032, as shown in the figure below: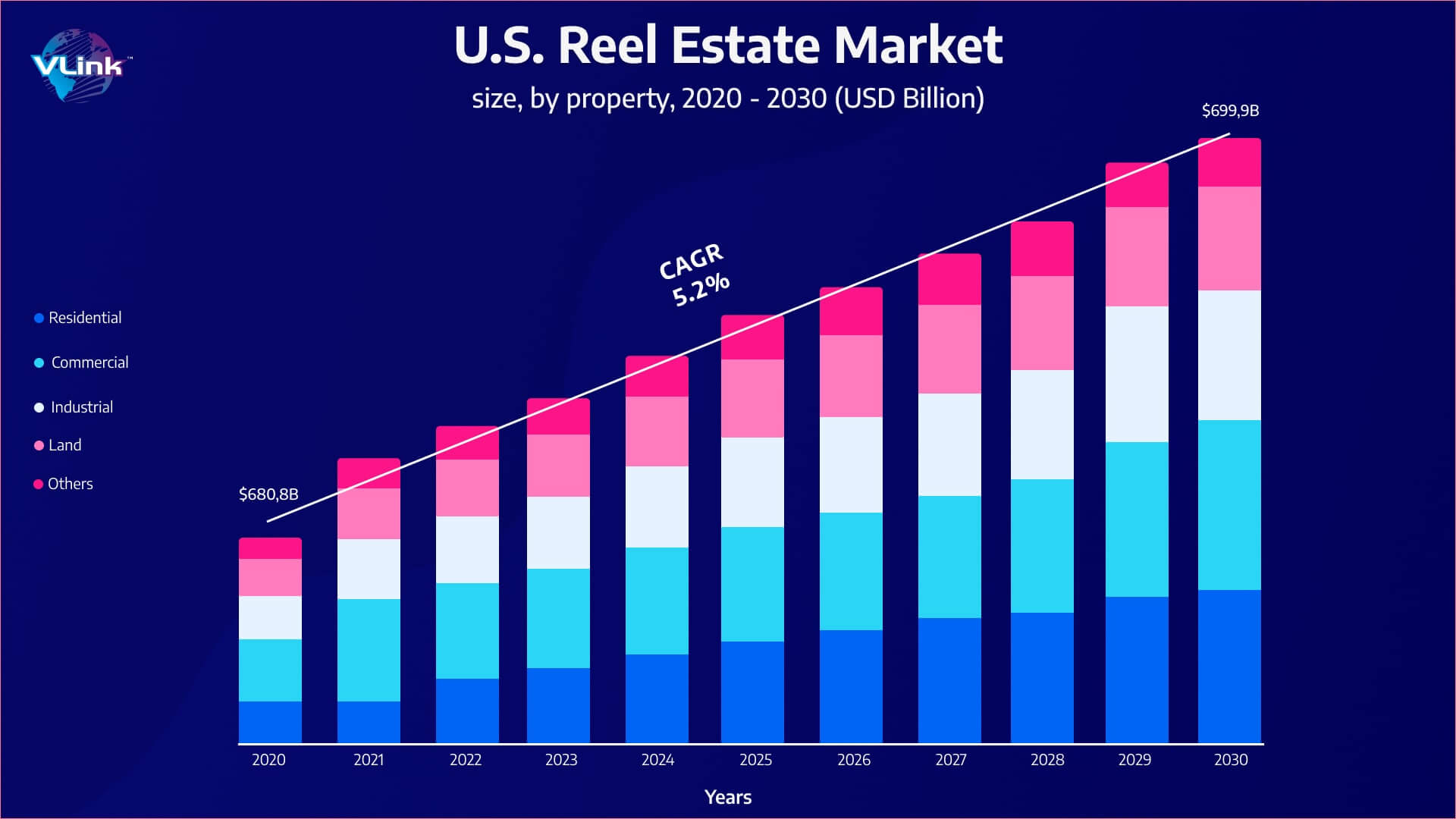 Now, it is high time to take your real estate business to an online platform. Having a unique real estate mobile app can help you stand out in your business in the competitive space. It is recommended to hire a professional mobile app development company for real estate mobile applications.
As there are a number of mobile app development companies, it has become difficult to choose the best one. Now the question arises: how do you find the one mobile app development company that will deliver the exact mobile app for your real estate business?
In this blog, we will explore some tips that will help you select the right agency to build a real estate mobile app.
Let's start with reasons to hire a professional app development firm in the United States.
Why Hire a Professional Mobile App Development Company for Real Estate Apps?
Here are several reasons why you should partner with a real estate mobile app development company:
Partners in application development simplify the existing development process, which reduces time to market. Their knowledge enables them to swiftly resolve app development difficulties, cutting down on development periods and hastening the launching of your product.
This adaptability is crucial for capitalizing on market opportunities and retaining an advantage over competitors.
Partners in app development bring a wealth of expertise and specific skills to the table. They are knowledgeable in design ideas, frameworks, and programming languages, so you can be sure that your app will be developed using the best tools available.
When you partner with a reputable app development company, you have access to a group of skilled professionals with a wealth of knowledge and abilities. By removing the need to recruit, develop, and oversee an internal staff, you can spend your time and money on other crucial aspects of your firm.
Expert app development partners have already overcome a variety of obstacles. It puts them in a position where they can identify potential risks early and put techniques in place to lessen them, resulting in a smoother development process.
Your business may focus on its core competencies, such as strategy, marketing, and customer interaction, by outsourcing app development. Each dedicated team may focus on its core capabilities and produce remarkable results thanks to the task division.
App development partners rigorously test their products on a variety of platforms and in a variety of usage situations to guarantee the app's performance, security, and functionality. With QA software & testing services, a completed product that is dependable and completely functioning.
As your app becomes more well-known and the user base grows, an application development partner can easily scale up the infrastructure and real estate app development features to meet growing demand. This scalability assures that your program will remain responsive and useful as more users download it.
App development partners stay current with emerging trends and technologies. They can suggest using cutting-edge advanced technologies like artificial intelligence (AI), machine learning, or augmented reality to enhance the functionality and user experience of your app.
Hire a Real Estate Mobile App Development Company in 6 Easy Steps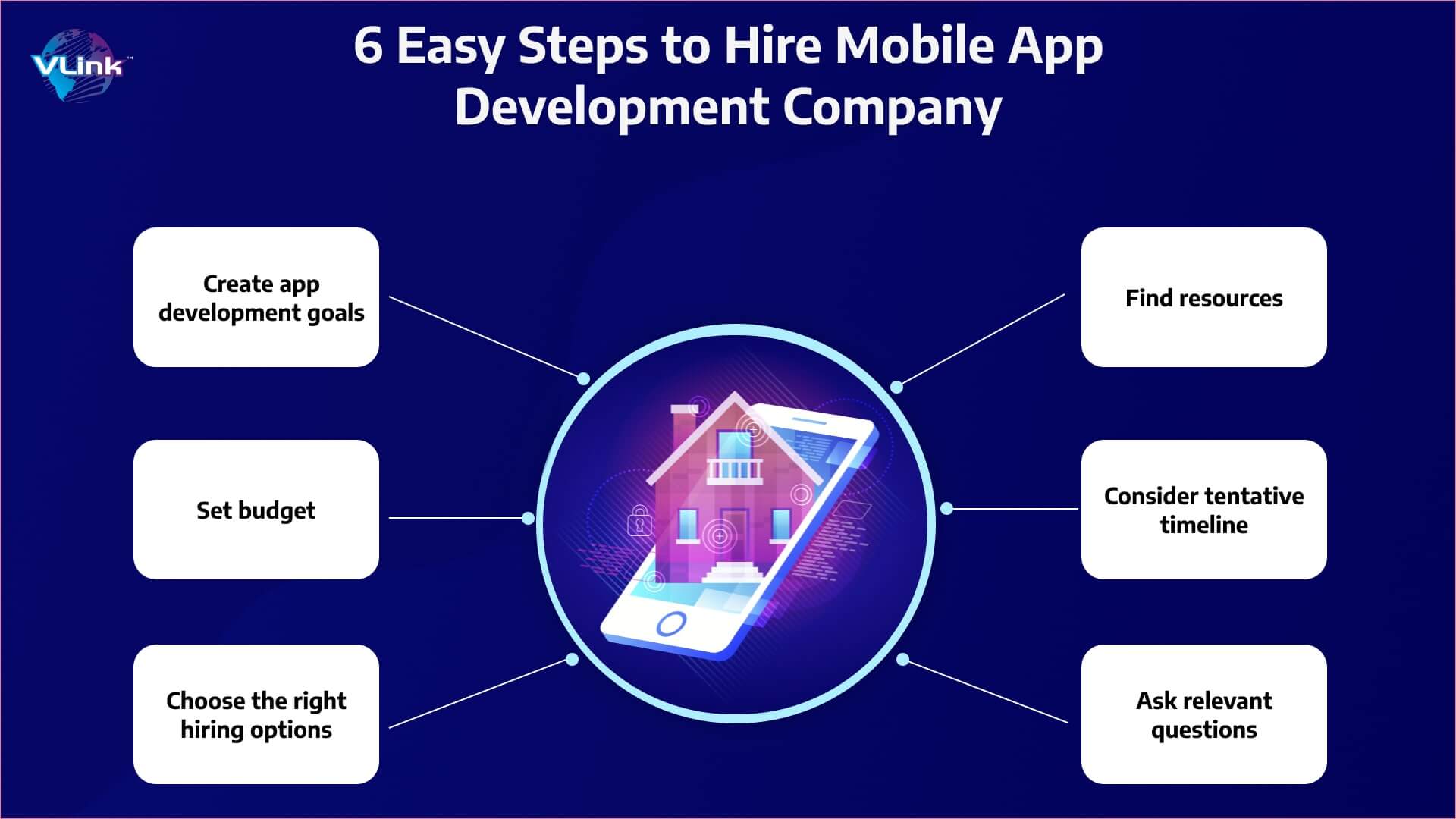 Before deciding the right way to hire app developers, start research about your app.
A free app is the right option to establish a relationship with your audience. However, once you start getting positive user feedback, you should monetize by using the in-app purchase method.
During the process of mobile app development for your business, you need to be specific about the product concept, design, and functionality. You will then explain the situation to your app developer and other partners.
Create simple templates and flowcharts for work procedures, software features you would want, and the end goals of you mobile app development services.
Any application company revolves around negotiating the cost of hiring an app developer. Depending on whether you're hiring an app developer for iOS or Android, you'll need to choose your budget.
It is highly recommended that you explain how much the app's manufacturing cost was. It makes sense to build up the app development budget depending on their experience and competence after you understand how to employ an app developer.
Budget estimation is essential as it helps you to decide how much you should invest in app development.
To choose a budget, you must pick the right app types, specifications, design, features, and developers.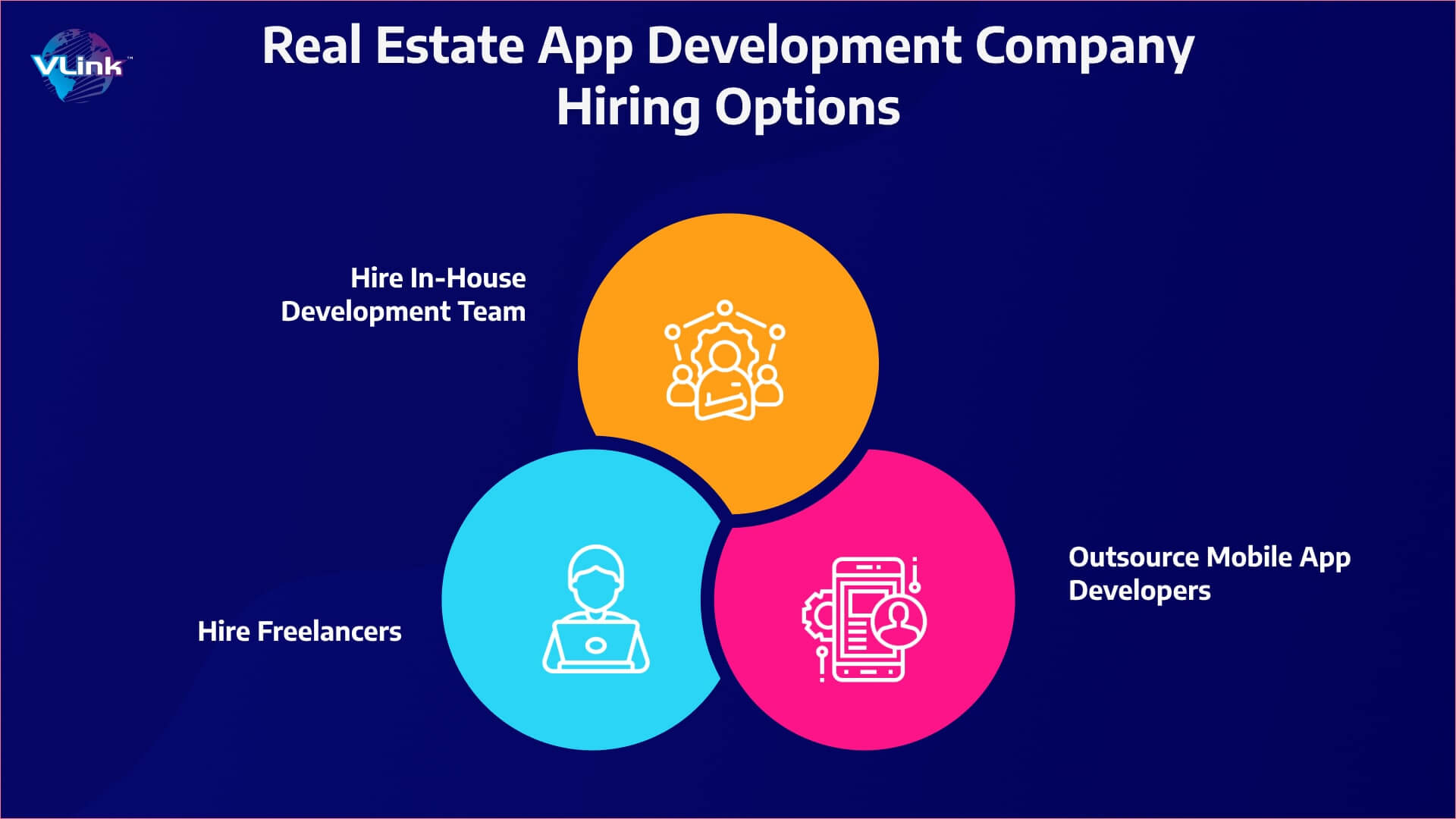 You have three options when looking for mobile app developers to hire: an in-house team, an outsourced organization, and freelancers. Let's go through each choice in more depth so you can decide which is best for your particular project.
Option #1 - Hire In-House Development Team
The most typical choice when seeking app development is to hire an internal team. However, assembling a knowledgeable internal team that can successfully implement your app concept is a difficult and expensive task.
You must conduct interviews, hire the best candidates, provide a workspace and appropriate accommodations, pay for medical insurance, and adhere to all laws and regulations set forth by the local government.
Option #2 - Hire Freelancers
Freelancing has become increasingly popular in recent years because of platforms like Upwork, which make it possible for companies to recruit startup developers at a reasonable price. Companies do not have to cover benefits like social security, vacation time, health insurance, and other incentives when engaging freelancers for a project.
Even though employing independent developers might be economical, they could be more effective and qualified for significant assignments.
Option #3 - Outsource Mobile App Developers
The most effective choice is to hire a mobile app development business on the outside. With this approach, you contract a group of gifted specialists. It is less expensive than creating an internal staff, and the hiring procedure requires none of your precious time, money, or effort.
Additionally, hiring outside developers gives you total scalability, flexibility, and dependability, relieving you of the pressure of the app development process so that you can concentrate on your main business activities. The result is the timely delivery of cutting-edge bespoke solutions you need to keep up in the fast-moving digital world of today.
Whether you hire a freelancer or a dedicated company, you need to ensure they are knowledgeable and reliable.
Follow the below-mentioned tips if you want to know how to employ a mobile app developer:
Do your research
You should be familiar with the benefits & drawbacks of the sector before hiring developers for your project. In addition, you can speak with a few professionals to learn how much it cost to build a mobile app.
Consider factors when build a successful mobile app, such as programming languages, average development expenses, developers' locations, etc. These factors will assist you in choosing the best technology partner to handle your project's demands expertly and within your budgetary constraints.
Check app developers' experience
Find out how much you know about creating applications. Ask whether you've ever developed an app like yours before.
Check portfolio
App developers, like doctors, should go through a screening process to make sure they are qualified for the position. What makes a certain programming language necessary? Is a basic or excellent user interface required for your mobile app?
After having answers to these queries, you can hire professional mobile app developers for your project.
Examining expertise in communication
Communication is an important factor for the hiring process. Your technology partner will only generate something that meets your objectives if they comprehend your specifications.
Know their technologies
Do you need a complex user interface for your program or something more straightforward? These answers will help to reduce the number of candidates.
Conduct the interview
Interview professionals to build a real estate app for your property business. If necessary, ask a professional for help locating an app developer and scheduling a consultation once you get in touch. In addition, there are a few things you should think about before speaking to someone.
Ask for clarity on these important topics during your initial discussions. By doing so, you'll decide whether hiring an iOS or Android developer is appropriate for your project.
References and prior evaluations

Industry-specific exposure

Programming tools

Growth Method

Supervision of Programs

Communication

Your app's time to market is important in determining the success of the mobile app. No company wants to lose out on the chance to benefit from the first-mover advantage.
Therefore, when recruiting mobile app developers, many firms search for a strong and agile staff.
You may expect to receive the finished product delivery in two to three months once you and the recruiting company have agreed on the price of hiring app developers and onboarding a respectable team.
Before making a decision, ask the selected companies the following crucial questions. You may always modify the list by adding or removing certain questions based on your circumstances.
Can I Coordinate with Your Past Clients?

What Mobile App Development Process Do You Follow?

What is Your Team Structure?

What Approach Do You Follow for UI/UX Design?

Do You Offer Post Launch Services?

What Communication Mode Do You Use?

Who Will Have Code Ownership?

Do You Allow Modification in the 'Scope of Work'?

Will You Develop a Wireframe?

What are the Exit Options?
How Much Does It Cost to Hire a Professional Real Estate App Development Company?
If you're curious about the expenses involved in creating a business app, it's crucial to take into account the geographical location of your app developers.
There are numerous factors influencing app development costs, with one of the most significant being the location of your developers, their level of expertise, and the specific skills they bring to the project. Consequently, the cost of hiring an app developer can vary widely, ranging from $40 per hour to $150 or more.
It's worth noting that a higher price tag only sometimes guarantees a higher-quality product, as it often depends on the economic conditions of the country where your developers are situated.
To provide a better understanding of wage disparities among app developers, consider the following based on their geographic location:
| | |
| --- | --- |
| Region | Cost ($/hour) |
| United States | $150 |
| United Kingdom | $100-$120 |
| Australia | $100 |
| Western Europe | $125 |
| Eastern Europe | $70 |
| India | $30 |
Also Learn: What is the cost to build mobile app in 2023.
Consider VLink as Your Real Estate Mobile App Development Partner!
Accelerate your real estate business with a dedicated mobile app development company like VLink. We offer professional real estate app development services that enable property agents, buyers, and sellers to connect through a single platform.
Our real estate app development services are customized to streamline business processes while offering wide exposure to clients and businesses. Here are some reasons why you should consider us for real estate mobile app development services:
With a proven track record of delivering reliable solutions

Our team of 500+ skilled app developers

Timely delivery

Cost efficiency

Ongoing support

A proven portfolio

FAQs
Frequently Asked Questions
What are the challenges you can face when hiring professional real estate mobile app developers?
Challenges when hiring professional real estate mobile app developers include:
Finding the right team with domain expertise.

Cost considerations.

Project timeline management.

Ensuring effective communication.

Addressing changing requirements.

Post-launch support.
It's vital to navigate these challenges to create a successful and feature-rich real estate app.
How do you find & hire skilled mobile app developers?
To find and hire skilled mobile app developers, follow these steps:
Define your project requirements.

Search on platforms like Upwork, LinkedIn, or specialized job boards.

Review portfolios, experience, and references.

Conduct technical interviews and assess communication skills.

Consider cultural fit and project budget.

Finalize a clear contract and work arrangement.
How do you build a mobile app for a real estate business?
To build a mobile app for a real estate business:
Define objectives and target audience.

Research competitors and market needs.

Plan app features and design user-friendly interfaces.

Select an app development approach.

Hire skilled developers or a reputable development company.

Develop, test, and refine the app.

Integrate necessary APIs and databases.

Launch and market the app.

Provide ongoing support and updates for users.

Continuously gather user feedback for improvements.