As a result of the digital revolution, music streaming has undergone significant transformation in recent years. Now, music streaming apps are ruling the market. With a 30.5% market share, Spotify has consistently stood out for its remarkable success and user loyalty.
Over 299 million people use Spotify, and 138 millions of those are paid members. When compared to Apple Music's 68 million members, Spotify is winning the battle right now.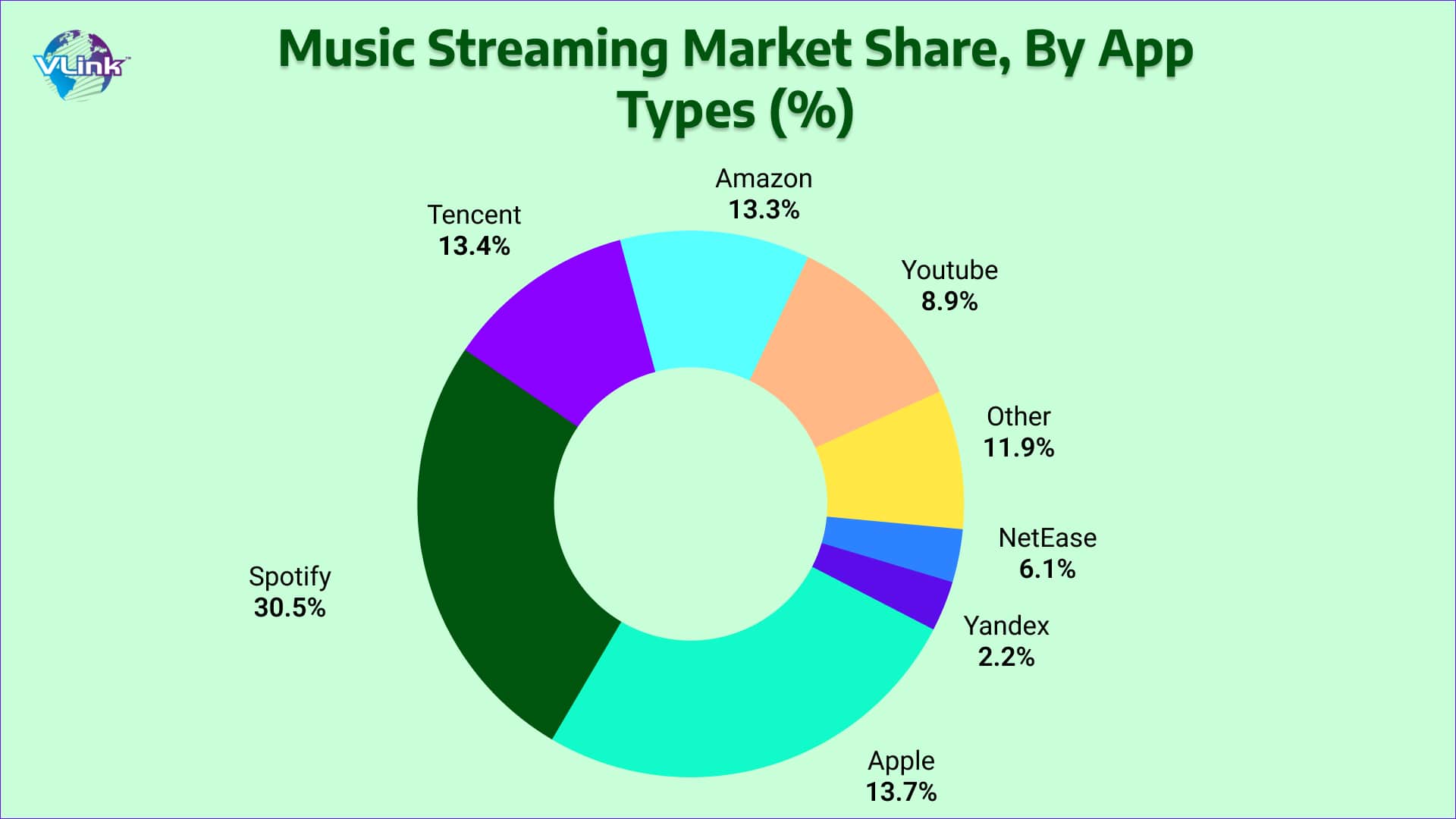 Their success is mostly due to a massive music collection and the ability to create customized playlists, but their UI/UX design has also been crucial to their rise to the top.
The UI-UX design of Spotify has completely changed the way we interact with music and audio material.
This investigation will investigate the fascinating story of how Spotify's UI-UX design drew in viewers and kept them interested.
UI/UX Case Study on Spotify
Here are the challenges Spotify faced while working on this music streaming app's UI/UX design with solutions:
Challenge
The purpose of Spotify is simple: "to help people listen to whatever music they want, whenever they want, wherever they want—in a completely legal and accessible way." Spotify aspires to continue to be the group leader in the media & entertainment industry. They hope to enhance user engagement and app retention as a result.
Solution
The solution is to enhance Spotify's social features. Understanding the demands of the users and creating a prototype of the new feature(s) that are smoothly integrated with the rest of the app will help establish the best course of action.
Let's come to Spotify's UI/UX journey, key design principles, and top strategies for outsourcing software development that have contributed to its popularity.
Strategies for How Spotify's UI/UX Design Wins Audience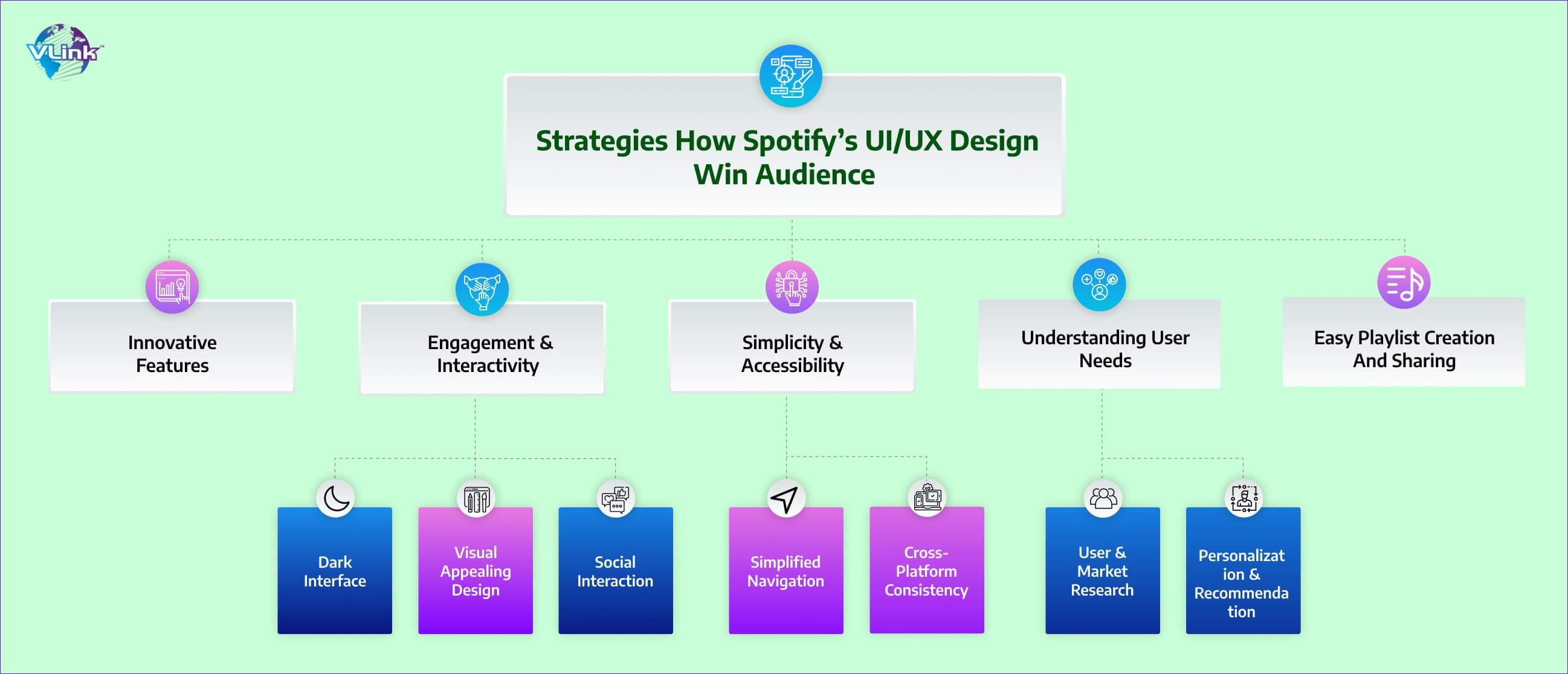 A. User & Market Research
Spotify's journey started with a deep understanding of user needs. Their dedicated team conducted extensive user research to gather various preferences of music enthusiasts.
Here are several research goals:
Analyze the demographics of music streaming services

Understand current market trends

Identify Spotify's competitors and their strengths/weaknesses

Determine users' frustrations/motivations/needs/goals

Understand users' experience with Spotify's social capabilities
Market research is crucial steps to understand your target audience & competitive market. Here are some market stats on Spotify's UI/UX.
B. Personalization & Recommendation
The strength of Spotify's UI-UX design lies in its capacity to provide each user with a tailored experience. For example: "Discover Weekly" and "Release Radar" playlists.
Spotify creates playlists with music that users are likely to like by examining user listening patterns and preferences. Users are kept interested by this degree of personalization since they may easily and continuously find new songs.
Additionally, the "Made for You" area offers custom playlists to give consumers the impression that the network actually appreciates their musical preferences.
Spotify's UI has a straightforward structure that makes it easy for users to go around the website. You are met with a clear, simple interface as soon as you launch the app or website. Users are encouraged to explore the platform without feeling intimidated by its simplicity of design.
It is user-friendly for both new and experienced users thanks to key functionality like searching for music, constructing playlists, etc.
C. Simplified Navigation
Users may use Spotify with ease thanks to its simple and clear layout. Users are guided through actions like browsing for music, making playlists, and maintaining their collection using simple menus and symbols. Users are more likely to stay on the site for longer, thanks to its simplicity.
D. Cross-Platform Consistency
Whether you're using the mobile app, desktop app, or online player, Spotify's UI-UX design is the same across all platforms and gadgets. Users won't need to re-learn the UI while switching between devices because of this uniformity. It is convenient for users and promotes loyalty and trust because of the consistency of the design.

E. Dark Interface
Although users may pick or switch between bright and dark interfaces in a variety of programs thanks to the more modern interface design trend known as "dark mode," Spotify has retained a dark UI from its start. Studies have shown that darker backgrounds with lighter writing are easier on the user's eyes and thus distinguish itself from Apple Music.
This level of aesthetic comfort helps to encourage them to keep using the program by encouraging their ongoing browsing. Furthermore, by making pictures, buttons, and prominent material stand out, the desired user flow is easier to follow.
F. Visual Appealing Design
The UI-UX design of Spotify prioritizes both usefulness and aesthetics. The user is immersed in the experience because of the use of vivid colors, interesting animations, and album art. For instance, the Now Playing panel prominently displays the album cover, resulting in an aesthetically appealing listening experience.
The whole user experience is improved by this aesthetic attractiveness, making it pleasurable to utilize the platform for extended periods.
G. Social Interaction
People's social connections are one of the key sources of music (sharing and finding). People need a platform where they can exchange music with their social connections.
Also Learn: How to build a social media app like Facebook.
Spotify incorporates social elements by allowing users to create and share playlists easily. Collaborative playlists and the ability to follow friends keep users engaged and foster a sense of community around music.
Spotify often rolls out cutting-edge innovations that improve the user experience. The "Blend" playlist, which mixes the listening preferences of two users, and features like "Spotify Wrapped," which gives users a personalized year-in-review recap, foster a sense of community and enjoyment.
These features not only keep people interested in the platform, but they also create buzz and enthusiasm about it.
Here are the key features of Spotify in the figure below: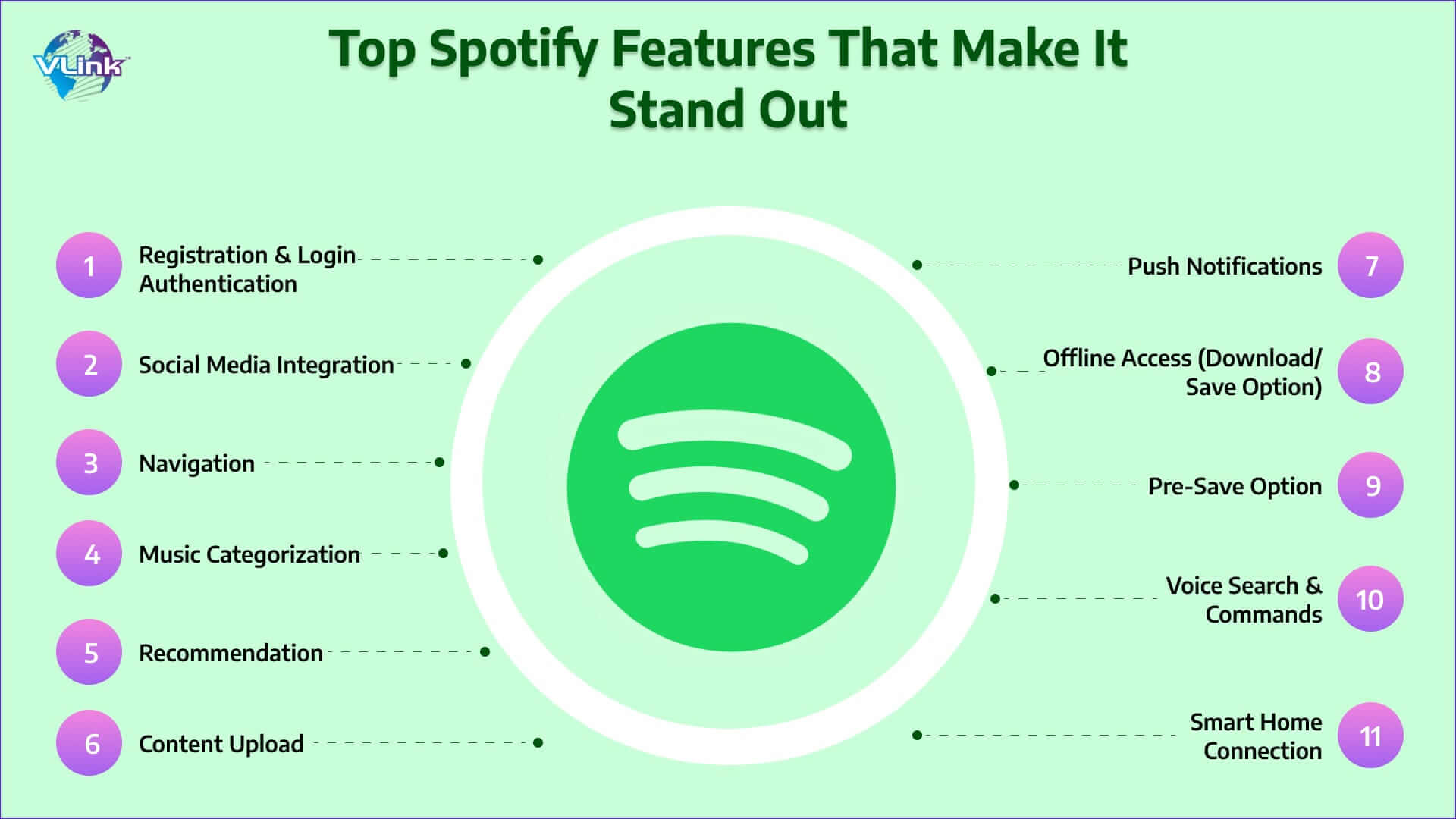 The way that Spotify's UI-UX design makes sharing and creating playlists simple is one of its most notable features. A drag-and-drop interface makes it simple for users to add music, build playlists, and rearrange tracks.
It's simple to share playlists with others, enabling users to work together on playlists and find new music. Users are encouraged to keep active and interact with others through music, thanks to the social component of music sharing.
Also Learn: Essential skills you need to look for when hiring UI/UX designer.
The Final Thought!
Spotify's extraordinary UI-UX design is, in large part, responsible for its success. Spotify has succeeded in building a compelling and immersive music streaming experience that keeps users coming back for more by placing a high priority on simplicity, personalization, aesthetic appeal, cross-platform consistency, and novel features.
Spotify's dedication to excellent design will probably be vital to its continuing expansion and success as the streaming business changes.

If you are also planning to launch a successful music streamlining app like Spotify, contact a reliable music streaming mobile app development company. At VLink, we understand your business issues and deliver you next-gen music streaming apps that match your brand.
To experience affordable and future-ready music streaming app development like Spotify, contact our experts!
FAQs
Frequently Asked Questions
How to build a music streaming app like Spotify?
To build a music streaming app like Spotify:
Start with market research to understand user preferences.

Design a user-friendly UI/UX.

Implement robust backend infrastructure for streaming.

Integrate with music databases or labels.

Employ algorithms for personalized recommendations.

Ensure cross-platform compatibility.

Prioritize app security and copyright compliance.

Continuously update and innovate.
How much does it cost to develop a music streaming app like Spotify?
The cost to develop a music streaming app like Spotify can range from $100,000 to $1 million or more, depending on features, platforms, complexity, and location of development. It includes design, development, licensing, infrastructure, and ongoing maintenance expenses.
What features make Spotify stand out from other music streaming apps?
Spotify stands out with features like personalized playlists (Discover Weekly, Release Radar), cross-platform consistency, collaborative playlists, social sharing, algorithm-driven recommendations, Spotify Wrapped, and exclusive content. Its user-centric design and vast music library set it apart, creating a highly engaging and immersive music streaming experience.