The pet care industry has surged to new heights of technology. Valued at $235.32 billion in 2022, the global pet care market is anticipated to rise from $246.66 billion in 2023 to $368.88 billion by 2030.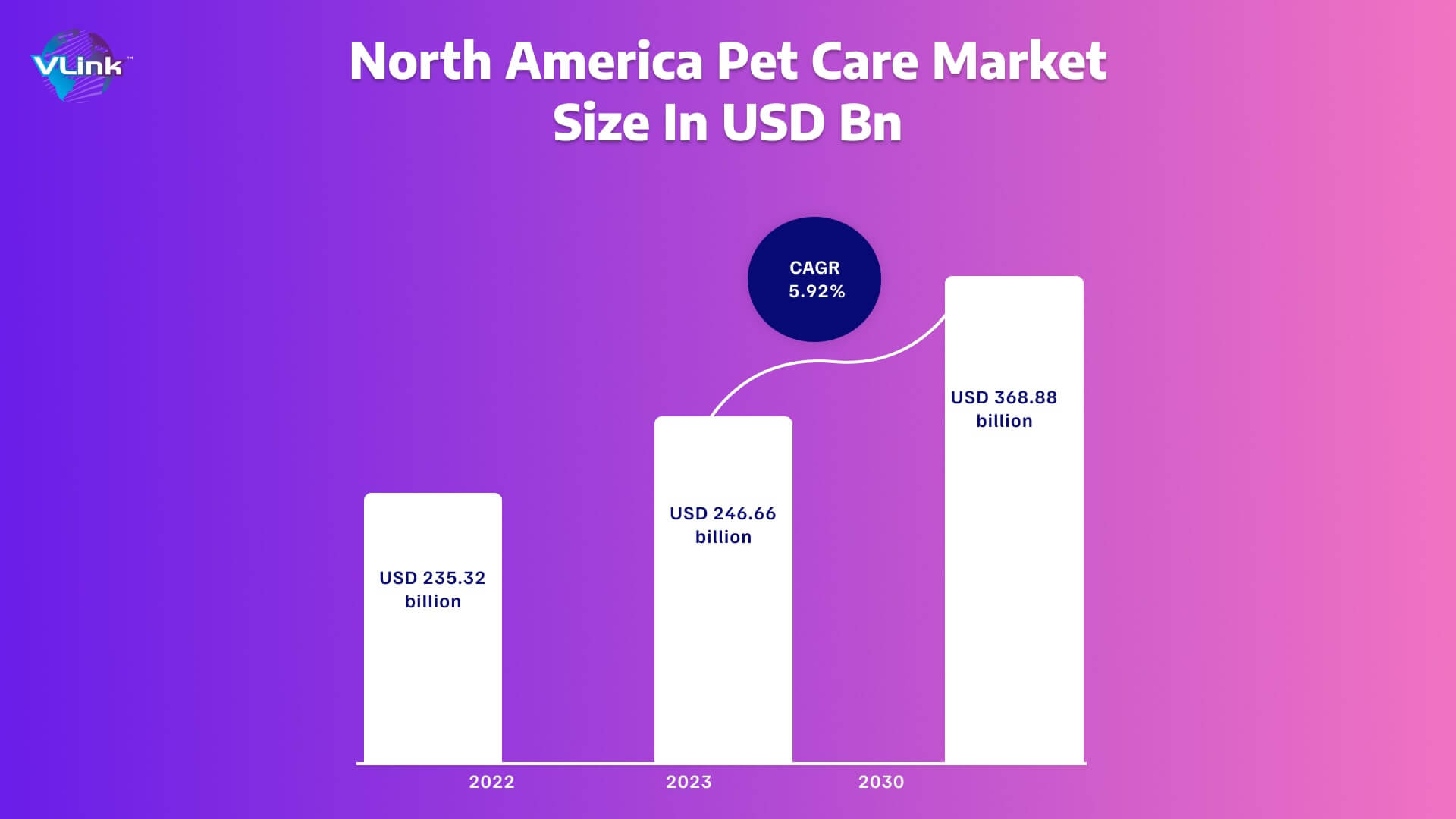 These apps not only enhance the convenience of pet owners but also present significant business prospects. In 2018, the market revenue for dog walking services exceeded $1 billion, growing steadily at 3% annually. It is anticipated to reach a valuation of $202.6 billion by 2025.
You may wonder if dog walkers can earn an impressive $2000 per week with just 40-50 hours of work. These figures underscore the significant business potential of pet care apps. In this blog, we will explore pet care app development details, including features, steps, and costs.
Why Should You Invest in Pet Marketplace App Development?
The pet tech market, driven by the rising adoption of IoT and AI-enabled pet care app development solutions, is anticipated to exceed USD 20 billion by 2025. Investing in the development of pet marketplace apps becomes a highly lucrative opportunity amid the thriving pet industry, currently valued at $2 billion with substantial growth projections.
The escalating trend of pet humanization is evident in the anticipated $10 billion valuation of the pet wearable market by 2027. It underscores the market's dynamic nature and the immense potential for innovation and growth in the pet-related technology sector.
As pet ownership experiences a substantial surge, the need for user-friendly platforms to exchange pets, products, and services such as grooming and veterinary care is escalating. The industry's robustness and the deep emotional bonds people share with their pets guarantee a consistently strong market.
Including features like vet consultations, personalized pet care, and community involvement enhances the app's attractiveness, fostering increased customer loyalty.
If you want to build a pet app, it's essential to consider the best features for your product.
Features of Pet App Development Solutions
Features of pet app development are divided into four categories:
Features for Pet Owners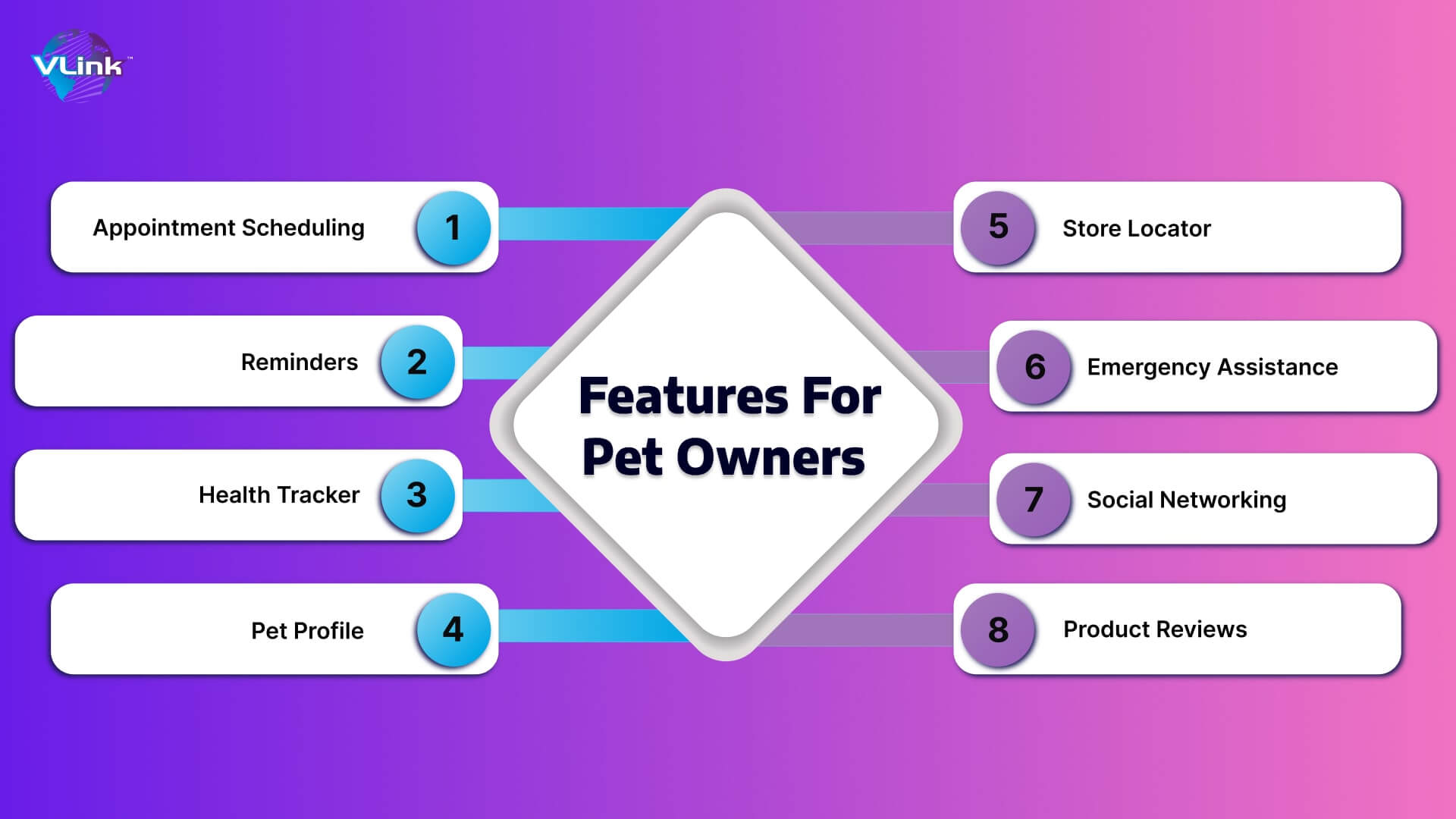 Appointment Scheduling
A crucial aspect of a pet care app is its appointment scheduling feature, enabling pet owners to effortlessly book appointments with veterinarians, groomers, and other pet care providers.
Utilizing the pet care app for appointment scheduling helps pet owners sidestep lengthy phone queues or extended wait times at the veterinary office, streamlining the process for greater convenience.
Reminders
Pet care apps should offer reminders for crucial dates like vaccination deadlines, appointments, and medication schedules. This functionality assists pet owners in maintaining organization and guarantees that their pets receive timely and essential care.
Health Tracker
A vital element of a pet care app is the health tracking feature, enabling pet owners to monitor their pet's health details, including weight, diet, and exercise routines. This data empowers pet owners to detect potential health issues early, facilitating timely adjustments to their pet's care regimen.
Pet Profile
An essential component of a pet care app is the pet profile feature, enabling pet owners to establish a comprehensive profile for their pets, incorporating vital details like breed, age, and medical history. This information proves valuable for pet care providers, such as veterinarians and groomers, enabling them to deliver more tailored and personalized care for the pet.
Store Locator
A valuable feature for pet owners is a local directory of pet stores, groomers, and other pet-related businesses. This feature enables pet owners to locate the products and services for their pets effortlessly.
Emergency Assistance
A pet care app must offer access to emergency services, including veterinary care or pet hospitals, in critical situations. This feature can save pets' lives and reassure pet owners.
Social Networking
Pet care apps can include a social networking function that enables pet owners to connect with fellow pet enthusiasts in their vicinity. This feature allows for sharing pet pictures and stories, exchanging tips and advice, and coordinating playdates for their beloved furry companions.
Product Reviews
Pet care apps enable pet owners to provide reviews and ratings for various pet products, including food, toys, and grooming supplies. This feature aids fellow pet owners in making informed decisions about their pet purchases.
In addition, leverage mobile app development for businesses to analyze the performance of these features and generate early-stage feedback.
2. Features for Admin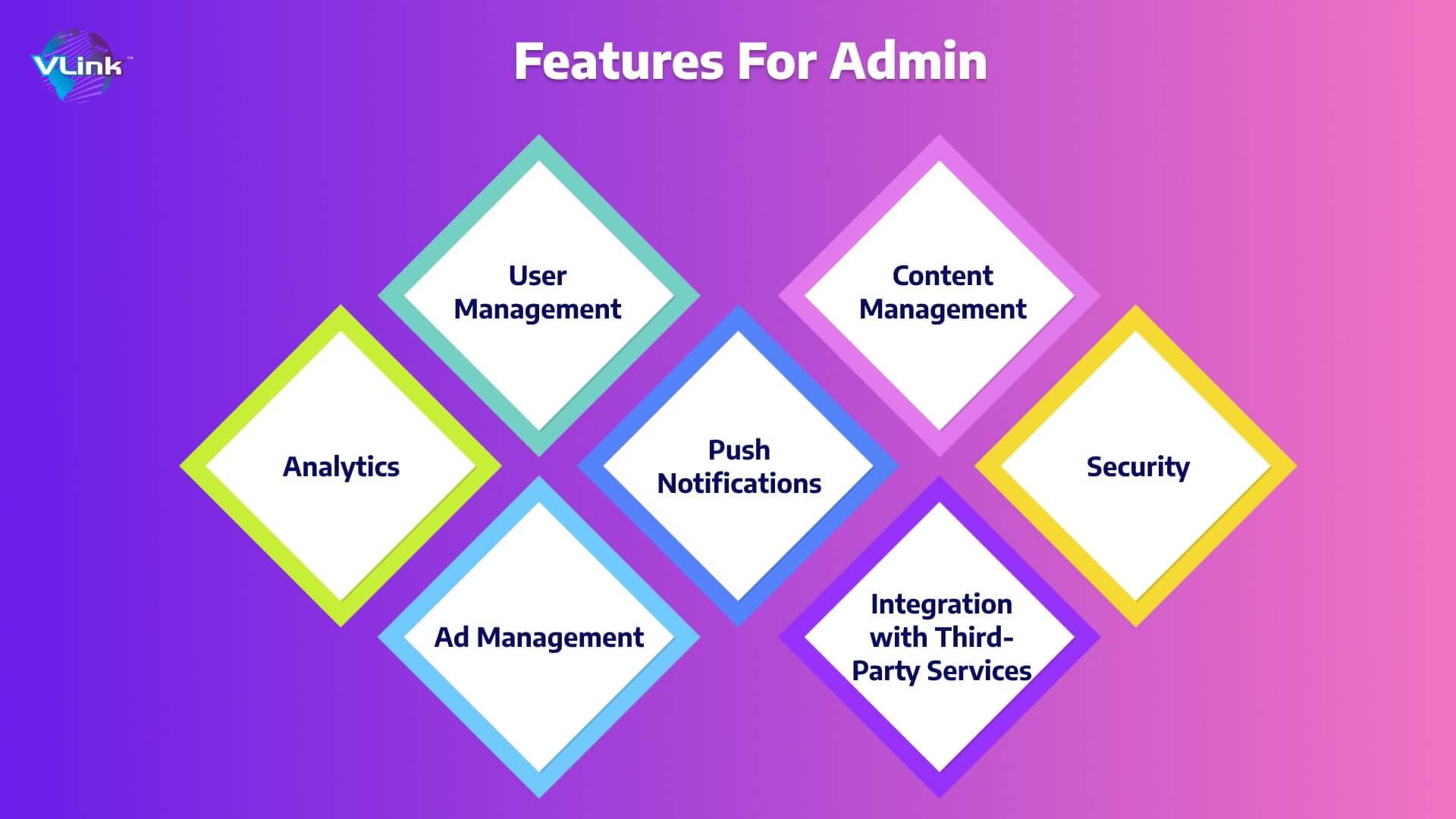 User Management
The administrator should be able to oversee user accounts and profiles, with the authority to add, modify, or remove user information as needed.
Content Management
The administrator should be able to control the app's content, which involves tasks like adding or modifying pages, blog posts, and other pertinent information. Utilizing content management services while developing a pet marketplace app can attract a broader audience.
Analytics
The administrator should have reporting and data analytic tools to monitor app usage, user engagement, and other essential metrics. This data is valuable for pinpointing areas needing enhancement and making informed, data-driven decisions regarding the app's direction.
Push Notifications
The administrator should be able to dispatch push notifications to users, informing them about new features, updates, or other critical information. You can use push notification strategies to improve engagement & revenue.
Security
The admin is responsible for safeguarding the app and user data, including implementing security protocols and addressing potential security breaches. Minimizing lack of input and secure network connection are some ways to build security into mobile app development lifecycle.
Ad Management
If an app incorporates advertisements, the administrator should be able to oversee the ad network. It includes tasks such as defining ad budgets, establishing targeting parameters, and monitoring overall performance.
Integration with Third-Party Services
The administrator should be able to integrate the app with third-party services, including but not limited to Google Analytics, social media platforms, or email marketing tools. Consider engaging full-stack remote dedicated development team, to incorporate additional functionalities seamlessly.
3. Features for Service Providers/Dog Sitters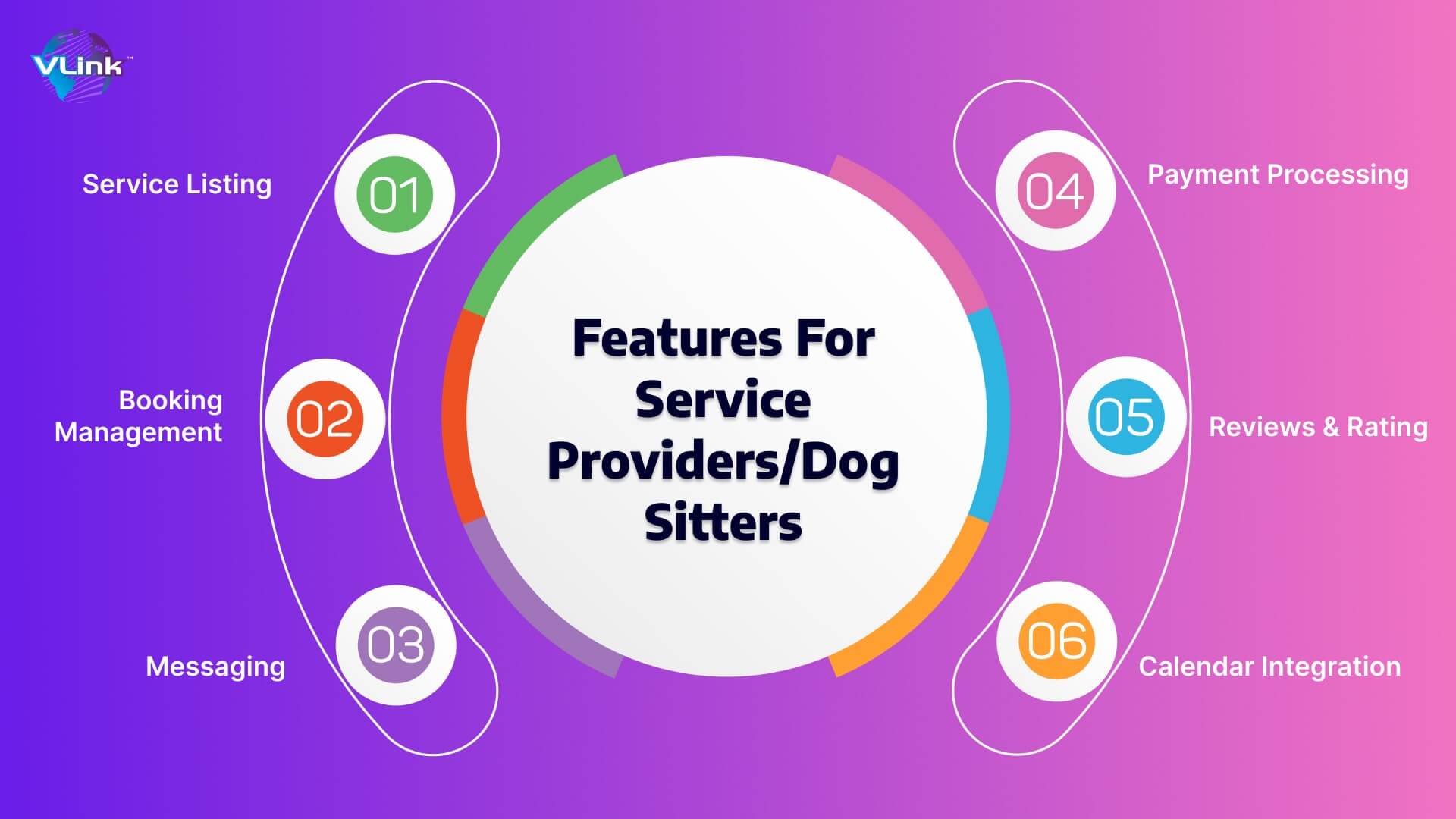 Service Listing
Service providers can build a profile and list their services, including their availability and pricing.
Booking Management
Service providers need the capability to oversee their bookings and appointments, encompassing the ability to accept or decline bookings, reschedule appointments, and update their availability.
Messaging
Service providers should be able to communicate with pet owners via an in-app messaging feature, facilitating the answering of inquiries, confirming appointments, and addressing any concerns or questions.
Payment Processing
The application must incorporate a payment processing feature, enabling service providers to receive payments for their services within the app. In developing a pet care mobile app, customization with appropriate payment gateways is essential for this feature.
Reviews & Rating
Pet owners need the capability to provide reviews and ratings for the service providers they engage with. This feature is instrumental in helping service providers enhance their reputation and draw in new clients.
Calendar Integration
The application should seamlessly integrate with the calendars of service providers, enabling them to manage their bookings and appointments efficiently. When developing a pet care app, it is imperative to incorporate this essential feature.
4. Advanced Features of Pet App Development Solutions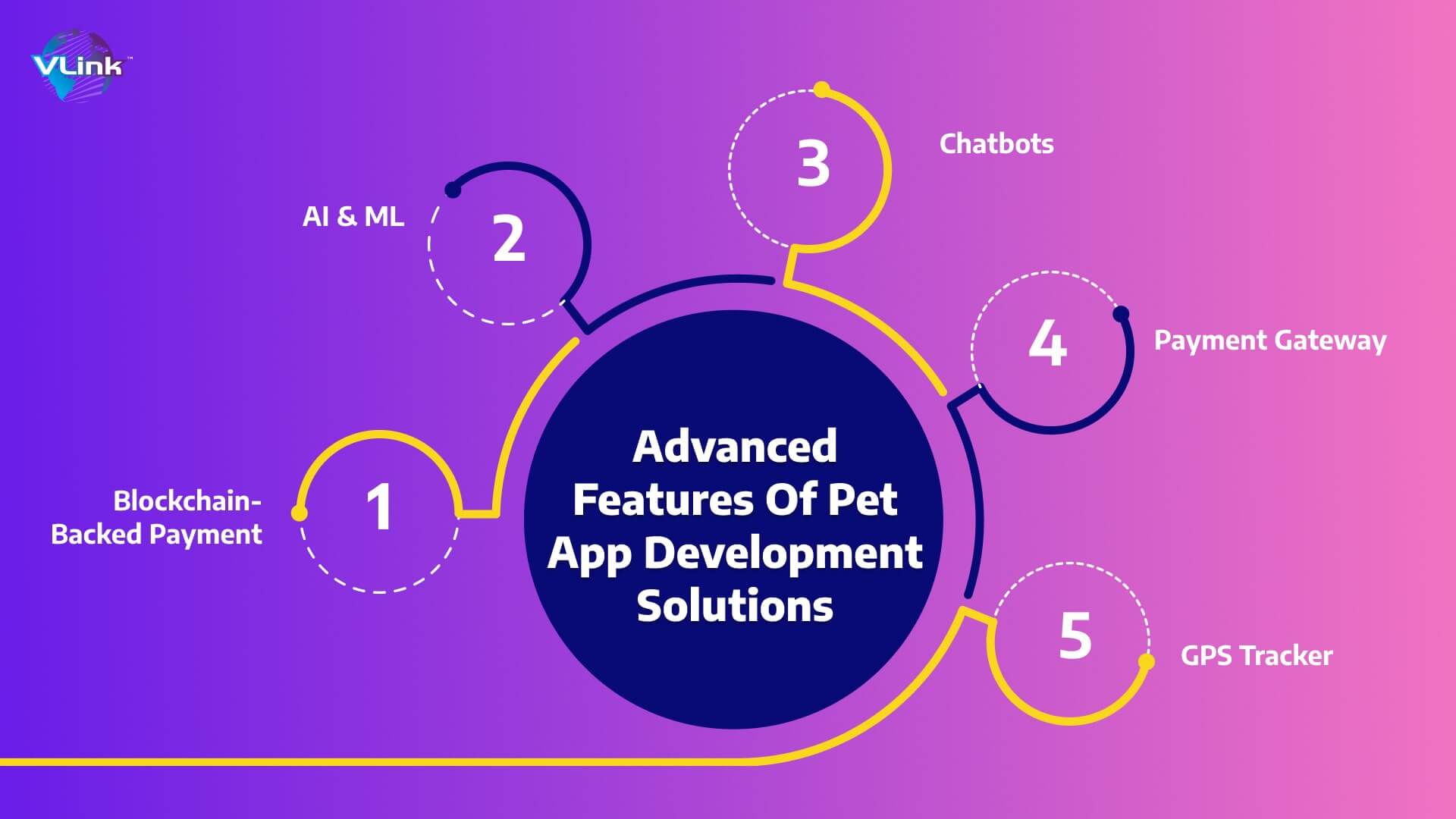 AI & ML
Integrating AI and machine learning services into your app can improve business decision-making and significant success. It opens the door to features such as facial recognition, intelligent user experiences, predictive analytics, business process monitoring, and enhanced cybersecurity.
Chatbots
Chatbots offer user-friendly interactions, saving valuable time for your skilled employees to focus on higher-quality tasks. They enhance brand reputation, expedite operations, and provide users with a human-like experience. The chatbot market is projected to reach a projected size of 1.25 billion by 2025.
Blockchain-Backed Payment
Leveraging our extensive expertise in blockchain, we can enhance the security of your software's payment system with an additional layer. The blockchain technology market is projected to reach $39 billion by 2025.
The cost can range between $25,000 to $75,000 for a medium-sized pet care application, while a comprehensive pet care application may exceed $150,000. Regular software maintenance is essential to ensure the seamless operation of your application.
Payment Gateway
Opting for custom pet care app development typically centers around revenue generation. Charging for different services and products is a primary objective. However, app developers should incorporate secure payment options, including wallets and UPI methods, to streamline user payments and avoid confusion.
GPS Tracker
The GPS tracker feature empowers users to stay informed about their pet's current location and can be utilized on various devices. Therefore, it is advisable to consistently include a GPS tracker option when developing a pet care app.
TechStacks to Build Pet App
Here are several robust tech stacks to build the best pet apps;
Mobile app frameworks like React Native or Flutter for cross-platform compatibility.
Backend development can leverage Node.js or Django with databases like MongoDB.
Integrate features with APIs, including technologies such as AI, machine learning, and GPS tracking for enhanced functionality.
Challenges to Develop a Pet App
Developing a pet mobile app comes with a lot of challenges. Here are key challenges a project team should be aware of.
Security Issues
Numerous pet care apps now utilize IoT technologies, which, being susceptible to hacking and data breaches, pose security risks. Apps manage all sensitive data. So, it's essential to integrate robust protection measures to guard against possible cybersecurity threats and data breaches.
Connectivity Issues
In the context of utilizing wearables and other devices, developers creating a pet care mobile app may not consistently have access to these gadgets. Consequently, ensuring seamless connectivity and effective data exchange can pose challenges.
Costs
As the competition increases in the pet tech market, app owners seek to enhance their solutions with cutting-edge features. It impacts development costs. Balancing cost-effectiveness and the desired functionality becomes challenging when working within a constrained budget.

How Much Does It Cost to Develop a Pet App?
Providing precise cost figures for your project depends on analyzing its unique aspects and complexity. When clients share their ideas, we meticulously assess requirements and offer estimates. Key factors influencing costs include tools and technologies, required functionality, the number of specialists, and project duration.
Typically, mobile app development costs range from $15,000 to $100,000, and similar estimates apply to building a mobile pet care app.
Build a Successful Pet App with VLink!
VLink, a premier pet care app development company, delivers customized solutions aligned with your needs. Our certified pet care app developers are dedicated to crafting excellence for your business, covering everything from features and user personas to product development strategies and designs.
We offer top-notch pet care mobile app development services within your budget. Explore our comprehensive range of expert services to turn your vision into reality. Rely on our skilled and tech-savvy on-demand assistance from our professionals at every stage of your pet care app creation.
Why Choose VLink for Pet App Development?
Custom Design

Flexible Engagement Model

Experienced Developers

Seamless Communication

On-Time Delivery

24*7 Support
For more information about pet app development, contact us!
FAQs
Frequently Asked Questions
How to build a successful pet mobile app?
To build a successful pet mobile app, identify niche features, prioritize user experience, integrate GPS and IoT for pet tracking, incorporate secure payment options, and leverage AI for personalized content.
Thoroughly test usability and security and engage users through social features. Regular updates and responsive customer support enhance long-term success.
How long would it take for pet mobile app development?
The time for pet mobile app development varies based on complexity and features. An essential app might take a few months, while a comprehensive one with advanced features can take six months or more.
What are the best pet apps for Android & iOS?
For Android and iOS, some popular pet apps include:
Pet First Aid (Android): Offers guidance for pet emergencies.

Pawtrack (iOS): Tracks your cat's location.

Rover (Android): Connects pet owners with dog walkers and sitters.

Puppr (iOS): Provides dog training lessons.

Pet First Aid (iOS): Offers emergency pet care advice.

Chewy (Android): Allows easy pet product shopping.
Choose based on your pet's needs and your preferences for features.